Audiobooks are becoming a global phenomenon, and Audible is playing a huge part in this. Audible has the biggest library of audiobooks with over 200,000 audiobooks available to listen to. Having that big of a library also makes it very difficult to find the perfect audiobook according to your liking. Some people are looking for free Christian Audible books to bring in some religious spirit. There are hundreds, if not thousands of Christian books available to choose from.
It can be a pain in the back, looking for the perfect read. So, in this article, we have compiled a list of the top 10 best Christian books on Audible. After learning about those Christian audiobooks on Audible, we discuss how to download any of your favorite audiobooks from Audible.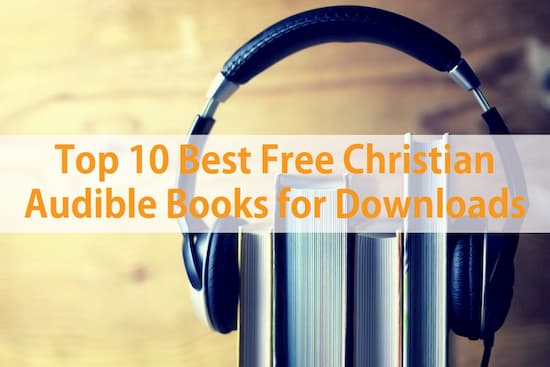 ---
10 Best Christian Books on Audible
1. Box of Butterflies
Box of Butterflies is a New York Times bestseller. It is one of the best Christian audible books. This book is filled with hope and encouragement, assuring you about God's comforting and calming presence in your life. This book has been written and narrated by Roma Downey.
2. Tactics, 10th Anniversary Edition
The Tactics, 10th Anniversary Edition is an expanded version of Tactics that includes updates and expansions on existing tactics. It also is filled with another chapter with all-new tactics and mini tactics filled with simple tricks to assist discussions. The author and narrator of Tactics are Gregory Koukl. It is no doubt one of the top Christian audible books.
3. So the Next Generation Will Know
If you are a Christian parent, educator, or youth leader, then "So The Next Generation Will Know" is the best book for you. This is written by two influential personalities, Sean McDowell and J. Warner Wallace, and is also narrated by them.
4. The Case for Christ
The Case Of Christ is a New York Times Bestseller and has over 5 million copies sold. It has credible evidence about Jesus of Nazareth is the son of God. It has been written by a former atheist and Chicago Tribune journalist Lee Strobel, and its audiobook is also narrated by Lee Strobel.
5. Confronting Christianity
Confronting Christianity discovers 12 questions that keep several of us from considering faith in Christianity. Confronting Christianity is one of the best Christians books available, and it also comes in audiobook. This book is both written and narrated by Rebecca McLaughlin.
6. The Rock, the Road, and Rabbi
The Rock, the Road, and the Rabbi are also a New York Times Bestseller. The Rock, the Road, and the Rabbi help you connect deeper with the Bible and your belief in Christianity. This book has been written by Kathie Lee Gifford and Rabbi Jason Sobel. Rabbi Jason Sobel is also the narrator.
7. A Long Obedience in the Same Direction
This book was written by Eugene Peterson forty years ago; millions of Christians have been inspired by its call too much deeper discipleship. The audiobook version of this book has been narrated by Lloyd James.
8. The Normal Christian Life
The Normal Christian Life is based on conversations that happened in Denmark during a trip to Europe in 1938-1939. Here Watchman Nee benevolences his views on what the normal Christian life should be and explains what "normal" is for a Christian. The audiobook of this version is narrated by Paul Michael.
9. Comedy Sex God
It is a funny and thoughtful adaptation of the life of the artist Pete Holmes and his quest towards Christianity. It is a part autobiography and part spiritual quest. This book is both written and narrated by Pete Holmes.
10. The Beginner's Bible
The vibrant and colorful illustrations escalate every word of The Beginner's Bible to produce one of the most touching and unforgettable experiences from the Bible that a young child can have. This book is written by Zondervan, and there is also an audiobook available for this book.
---
How to Download Free Christian Audible Books
AudKit's Audible Converter is a very powerful professional that you can use to download your favorite Christian audible books. AudKit Audible Converter is the best converter that allows you to download and convert audiobooks in any of the desired formats from the given options like MP3, AAC, M4A, etc. It can download and convert those audiobooks at speeds of up to 100 times than a normal converter. Now here is a quick step-by-step guide on how to download audiobooks from audible using AudKit's Audible Converter.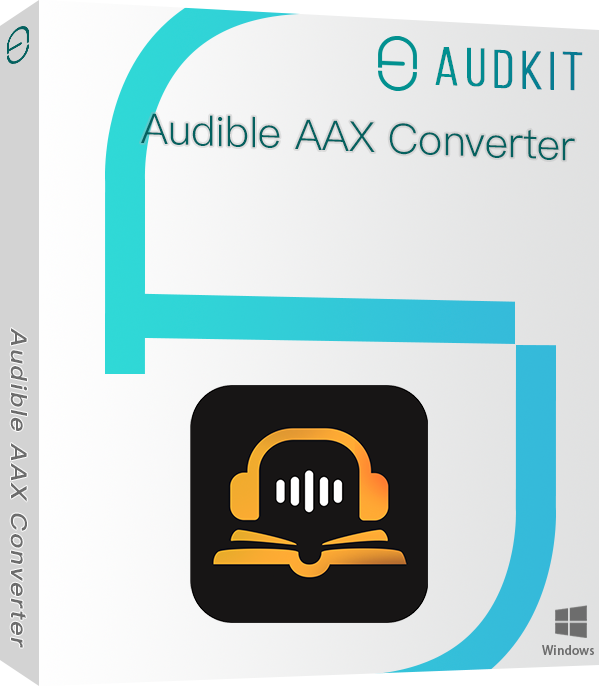 Maintain 100% raw quality for the AA and the AAX files.
An amazing speed of 100X more than the normal converting rate
Keep the original ID3 tags for customization
Automatically split Audible books into segments
Step 1 Launch the app and import the Audible Audiobook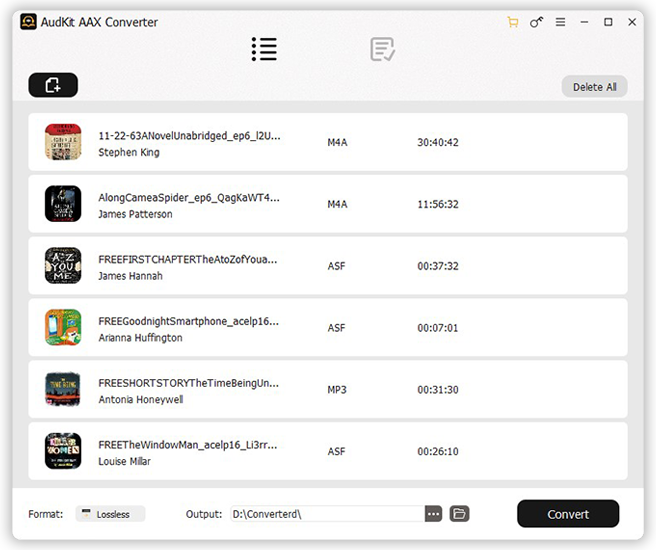 First, download and install the converter. After that, launch the converter once you are in the main interface. You can manually import the audiobook by clicking on the "Attach" button and searching for the desired audiobook. Click on the desired book, and it will be imported.
Step 2 Alter the settings and other parameters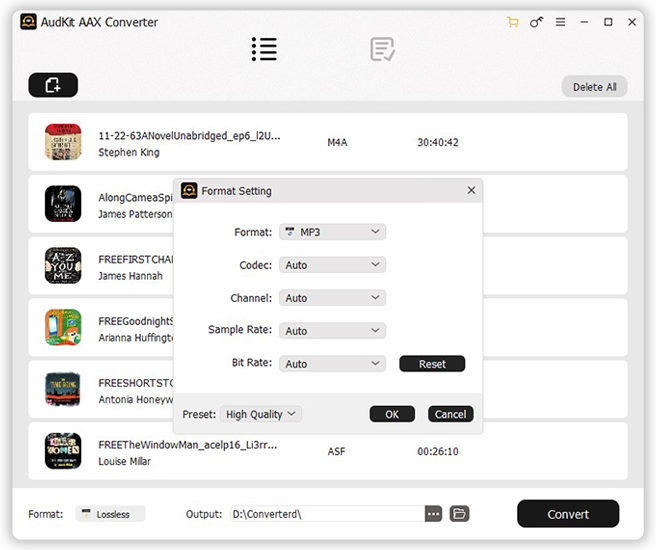 After importing the desired audiobook into the AudKit's Audible Converter, you can change the format of the audiobook and for that go to the "Format" section to select the desired format.
Step 3 Splitting and editing the audiobook into chapters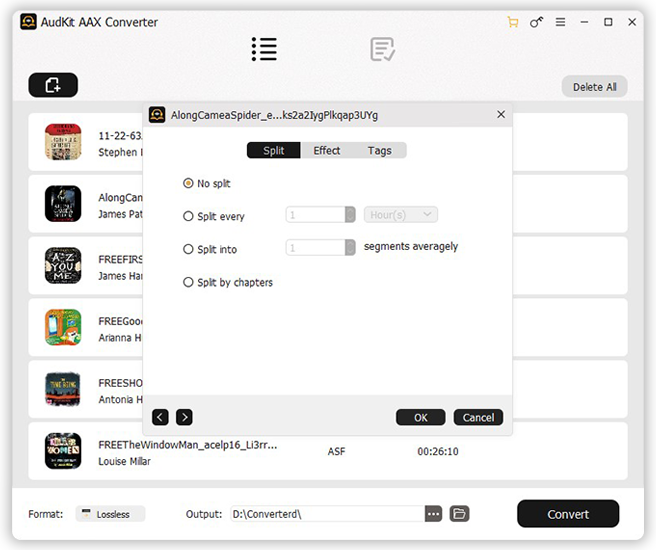 You can also edit the audiobook by clicking on the "Edit" button. Once you are in the Edit window, edit the audiobook or split the book according to your desired preference.
Step 4 Convert and downloading the audiobooks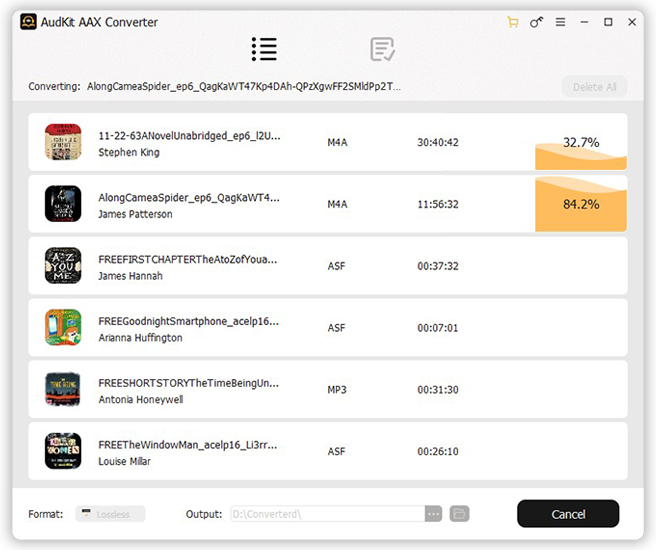 Now that you are done altering the settings according to your preference. Click on the "Convert" button; then, the audiobook will start downloading instantly. After downloading, it'll be stored locally on your desktop that you can listen to without being online.
---
Tip: Get More Free Christian Audible Books
1. Loyal Books
Loyal Books is one of the top free websites that allows you to listen to thousands of audiobooks without paying a dime. You can download those books and save them locally for offline use. You can also use the mobile app to listen to free Christian audible books on android.
2. Internet Archive
The Internet Archive offers you to download thousands of audiobooks for free. They have a library of more than 17,000 audiobooks available for free, where you can download and save your favorite audiobooks.
3. Lit2GO
Lit2Go, like other websites on this list, allows you to download from a huge library of free audiobooks. It also provides you with a PDF of the text version so you can also read the book if you want to.
---
Conclusion
Hopefully, this article will be able to help you decide what audiobooks to listen to. Once you are done deciding the book, AudKit's Audible Converter tool will come in handy. AudKit Audible Converter is one of the best tools available in the market.
---