Today Audible would have the most extensive online audiobook collection with over 200, 00 novels, original episodes, podcasts, etc. In making a huge of audiobooks, you can find something-fantasy, travel, history, politics, or maybe even self-help. That would be a tremendous amount to search, and that is why just now, we have compiled this collection of 20 of Audible's most notable books. Online or offline, you may connect to them anywhere you are.
We're going to keep updating this tab, so pop it back once you prepare for more tips. You can get a variety of perks-yet to listen to the best free Audible books and you do not need a subscription. You could also purchase titles from your account online, or to see if it's right for you, you could operate a convenient 30-day trial Audible preview.
---
Part 1. Top 10 Audible Free Books 2020
Let's look for the 2020 list of free books on Audible online.
1. The Other America – A Speech from The Radical King
In this free audiobook "The Other America – A Speech from The Radical King", listen to Wanda Sykes at her oratory best. Her rendition of "The Other America" speech by Martin Luther King is unique and makes for an inspiring listening experience for those who are interested in American history.
2. Professional Integrity (A Riyria Chronicles Tale)
If epic fantasy appeals to you, you definitely would want to listen to Professional Integrity (A Riyria Chronicles Tale) by Michael J. Sullivan for free on Audible. Brilliantly narrated by the acclaimed narrator Tim Gerard Reynolds, this short story will surely hook you into more of such epic fantasy shorts.
3. So Long, Lollipops
There's nothing as hair-raising as apocalyptic horror, and when you listen to Julia Whelan as she narrates So Long, Lollipops, the free Audible audiobook, you are sure to enjoy every moment of it. Zombies and deadly viruses will only rekindle your interest in Sarah Lyons Fleming and her fiction books.
4. The Jester (A Riyria Chronicles Tale)
An hour of high fantasy awaits you as you listen to The Jester (A Riyria Chronicles Tale) by Michael Sullivan. Tim Gerard Reynolds and his masterful oratory powers bring life to the fantasy world of epic proportions. No need to know anything about Riyria Chronicles, just enjoy this short story.
5. The Future of a Radical Price
Explore the revolutionary thinking of Chris Anderson as he gives voice to his own book in FREE: The Future of a Radical Price, available for free on Audible. Original ideas and foresight into business and technology are what make the New York Times bestselling author a treat to listen to.
6. The Undead
Dark, harrowing, spine-chilling… such are the feelings you get when you listen to the free audiobook version of The Undead, the zombie fiction series by R R Haywood, on Audible. Dan Morgan lends his voice to the gripping fantasy fiction-making this hour-long narrative bone-chilling at its best.
7. Crackanory Too Cracked for TV – exclusive to Audible
Embark on a roller coaster ride of emotions as you experience deadpan humor, irony, sarcasm in Crackanory Too Cracked for TV, the exclusive British TV series that's available exclusively on Audible as a free audiobook. Listen to British entertainers as they narrate short episodes in their own inimitable unique style.
8. Boardwalk Empire Free Bonus Material
Based on the American period crime drama Boardwalk Empire, The Speakeasy Guide to Prohibition Era Slang – Extended Edition audiobook comes exclusively free on Audible. Listen to 10 additional minutes of audio as Oliver Wyman reveals the origin of slang language used during the Prohibition era in the Americas of the 1920s.
9. Hospital
Augustus Berry, also known as "Mountain Man," is a hero of the apocalyptic suburbs. Everything he can, he retrieves with what's left around. About what he's doing where he travels, he is very patient, getting impatient, taking no excessive risks, and contemplating any choice before he chooses to visit a hospital on the outskirts of the city.
10. Paul Bloom talks to Susie Bright
Susie interviewed Yale psychologist Paul Bloom throughout this snippet from In Bed with Susie Bright about his groundbreaking, best-selling novel, how pleasure Works: The scientific knowledge of Why We Love What We Do. Paul and Susie are speaking about sexual satisfaction and how we view them, how Enjoyment Works relies on ideas from child development, psychology, social psychology, and neuroscience.
---
Part 2: Download & Play Audible Books Free on any Device
AudKit Audible AAX Converter has been the main audiobook converter for converting Audible AA / AAX audiobooks to MP3, WMA, AAC, M4A, FLAC, M4B, etc. at speeds 100X super higher. It integrates with several healthy and competent features like constructed-in audiobook splitter, editor ID3 tags, lossless content performance, and more. To know how and when to use AudKit Audible Converter, keep following the step-by-step guide.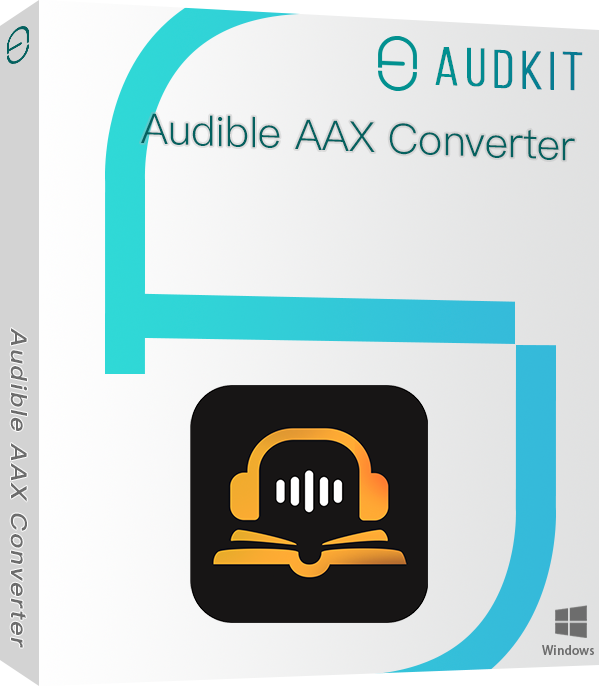 Remove AAX protection from Audible audiobooks
Download audiobooks for offline playback without the Audible app
Convert Audible books to MP3 and multiple common audio formats
Automatically separate Audible books relying on chapters, hours, etc.
Preparation: Download and install the AudKit Audible AAX Converter. You will install the free version for Mac or Windows on your device by right-clicking the 'Install' key before buying the AudKit Audible Converter. It helps you to transform the first 1/3 material to test the output from each free Audible book for android. To help you complete the transformation, you don't need to install any additional features.
Step 1 Launch and Activate Audible AAX Converter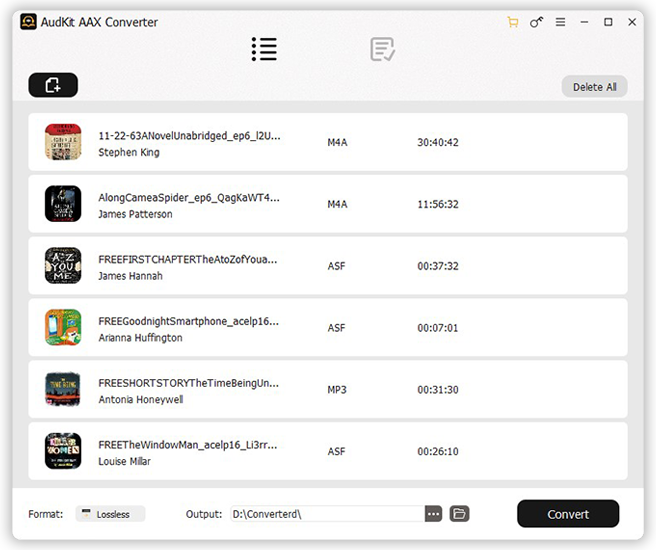 There have been two simple ways to upload Audible AA / AAX translating audiobooks. Tap on the 'Attach Files' button, and therefore, all free books on Audible appear in the new screens. You can pick audiobooks by batch and press the 'Open' button to load them instantly.
Step 2 Adjust Audible performance and other parameters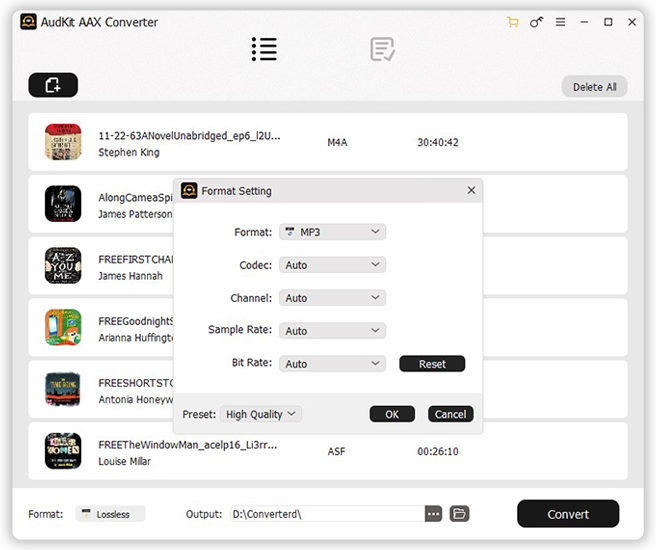 When importing all Audible books through AudKit Audible Converter, kindly click on the 'Format' section at the bottom-left center to start the configuration window. Output standards such as Lossless, MP3, FLAC, WAV, AAC, M4A, and other standard audio formats specified as per your requirements.
Step 3 Start Converting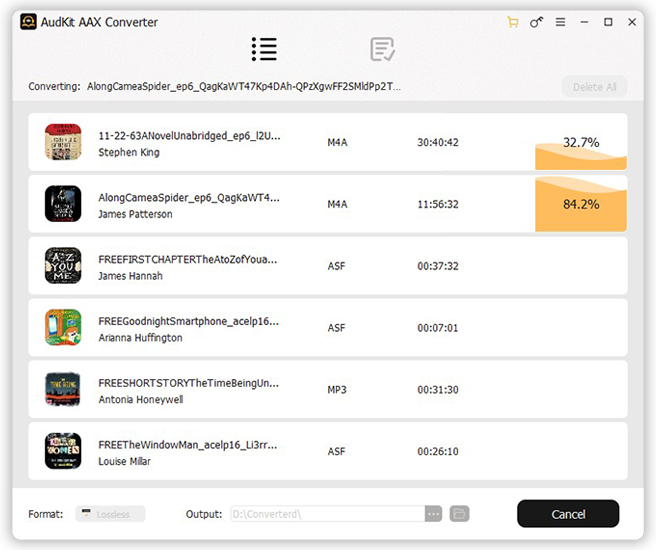 Now just hit the 'Convert' button to start downloading and converting Audible books on the computer. The downloaded Audible files are saved in the 'Converted' output folder. You can find it by hitting the folder icon.
---
Conclusion
Well, these are the top books available for free on audible. Audible is a great platform to enjoy your favorite books and stories. You can utilize your free time with this and can convert your boring hours into happy hours. AudKit Audible AAX converter is the great amongst all. You can convert the files in WMA, AAC, MP3, M4A, FLAC, M4B, etc. format.
So, enjoy your happy hours with Audible free books and download it for easy access.
---