It could be a party this weekend but come Monday, you may want to roll down some serious hits to keep you busy as you dash to complete that 10-page project. Assign a specific playlist for different moments in time. Spotify throws millions of songs to stream and download. You can also create the best music library from this top music streaming service. But you aren't going to get the best out of your library if you don't organize your music Spotify. Keep your music in a neat database and make it simple to retrieve any group at will.
Creating a playlist for every season is the first step to having an organized library. With this, you won't need to go through millions of tracks or playlists to listen to your favorite hit. Learn in detail how Spotify playlist manager can work best for you.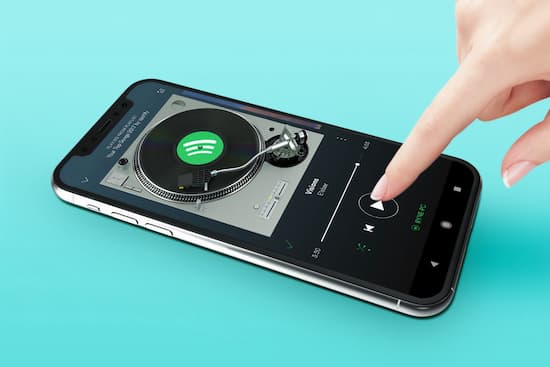 ---
Part 1. Spotify Playlist Organizer/Manager: What Is It?
Spotify playlist organizer is an application that helps users to easily organize their playlists within the Spotify app. With this app, you can sort songs using various parameters like artists, albums, and names, for quick reach.
Features
Easily create folders – Creating playlists and folders is a major feature of Spotify Playlist Manager. These folders will help you organize and systematically keep your files. You can also have sub-folders and divide the songs within different folders and sort them out by old/new songs, remixes, album names, and so on.
Save songs and albums – Make your library filtered by your favorite hits. Do this by clicking the 'Heart' button adjacent to the title of the song you like. All these songs will be labeled 'Liked' and will automatically be added to your favorite songs, creating a list of your recent favorite hits.
Follow artists – This is another feature to quickly drive you to artists you love listening to. Once you like an artist, you'll always get their new releases as soon as they are out. Find your favorite artists by going to the 'Search' menu and perusing the 'Artists' section within the Spotify app. You can also discover your favorite artists by right-clicking any song.
Temporary playlists – You don't have to lock all your new-found liked playlists forever. You can form a rotation playlist and add temporary playlists as soon as you discover them. This makes them easily retrievable.
---
Part 2. Best Spotify Playlist Organizer/Manager – Top 3
Several Spotify playlist organizer apps are available for easy arrangement of your favorite Spotify hits. Let's look at the top 3 apps currently soaring in the market.
1. Organize Your Music
This app works quickly to help you organize your playlist. Follow these steps.
Select the music you wish to organize. This can be your previously liked songs, music from the artists you follow, or the music you've added to your playlist.
Then click on the 'Organize Your Music' option. If prompted, then login with your Spotify credentials. Otherwise, if you have logged in before, the app will place your tracks in several bins. It can be Moods, Genres, and so on.
Pick one of the bins. You can also preview the songs in the bin you have chosen at this stage.
Then go to your library and select the songs you wish to add to the playlist. Whatever songs you select will be added to your 'Staging Playlist'
Check whether you are happy with it and if so, click the 'Save' button to save your playlist to Spotify.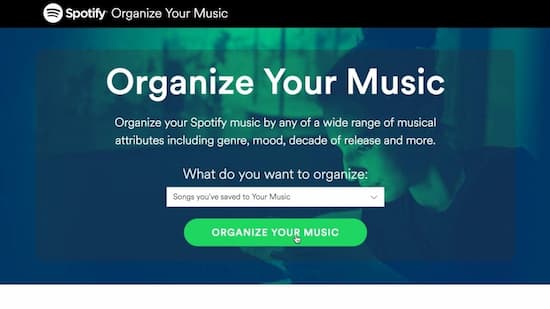 2. Smarter Playlists
This is a web Spotify playlist organizer used to create new playlists by combining numerous music sources. These can be pre-programmed playlists, genres, albums, and artists.
First, choose sources for your songs. It could be an album or an existing playlist.
Then use a filter to decide which songs to include in your album or playlist.
Decide how different sources should be included in your playlist. You can decide to shuffle your songs or just play one song from every source.
Finally, import and save your playlist on Spotify.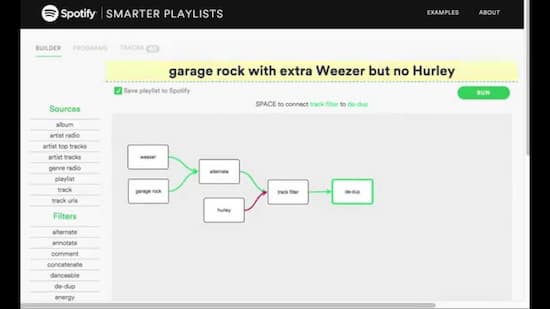 3. Sort Your Music
This is another Spotify playlist organizer app that will sort your playlists by a wide range of musical attributes like energy, loudness, dance-ability, and so forth.
First, log in with your Spotify account credentials.
Next, pick the playlist that you want to work on.
Sort your playlist by going to the 'Playlist table' and then click on the column heading. Organize it by albums, loudness, artists, etc.
Lastly, save your sorted playlist to Spotify.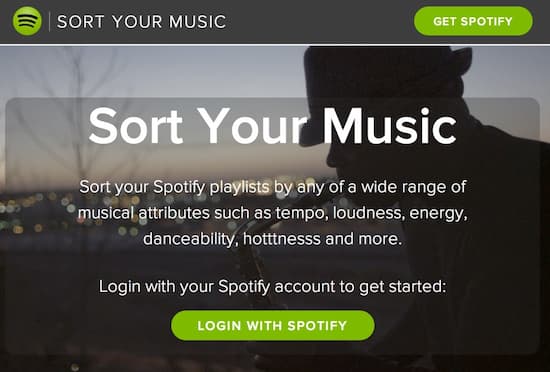 ---
Bonus: How to Organize Spotify Playlists on a Local Device
You can also use the best playlist organizer for Spotify to organize your playlist on the local device. AudKit Spotify Music Converter is specially designed to download Spotify-protected playlists and convert them into playable formats. This app supports to convert Spotify to MP3, FLAC, WAV, AAC, and so on.
Additionally, AudKit works at super-speed, reaching 5X in general. Use it for batch downloads of up to 100 audio tracks at once. To crown it all, AudKit lets you listen to Spotify offline playlists without Spotify ads interruption.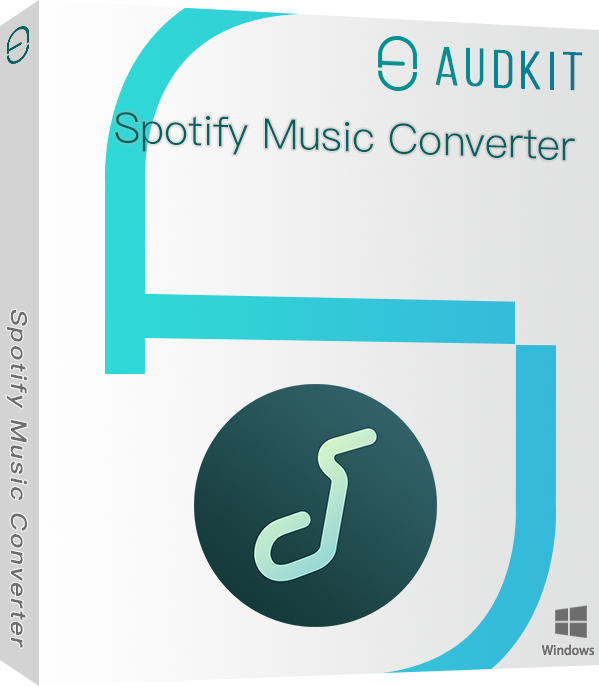 Batch download Spotify songs at 5X
Convert Spotify playlists into popular output formats
Customize output settings for multiple devices
Keep lossless sound quality and ID3 tag information
Learn how to use AudKit Spotify Music Converter to download Spotify songs on your computer for local management.
Follow these steps to download and convert your Spotify songs for local management.
Step 1 Launch AudKit and import Spotify songs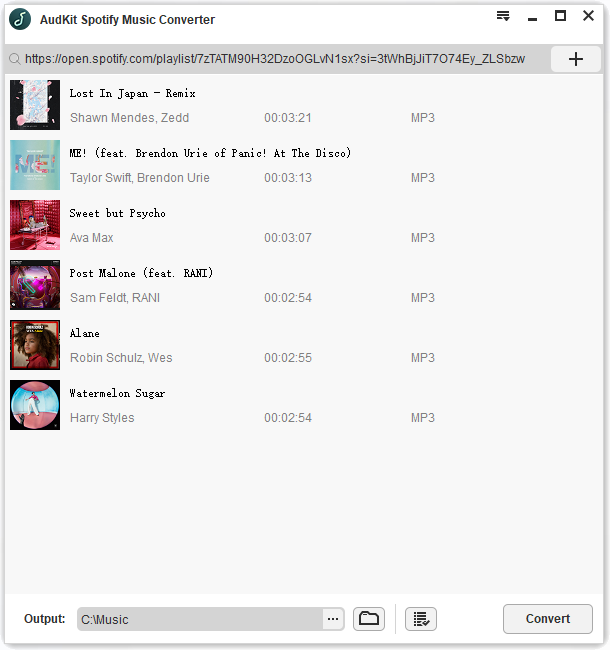 Once you download and install the AudKit Spotify Music Converter on your computer, open it, and automatically the Spotify app will also open. Then import the songs you wish to convert from Spotify app. You can copy-paste the URL link of the songs to the search bar or drag and drop them to the main window of AudKit.
Step 2 Set output formats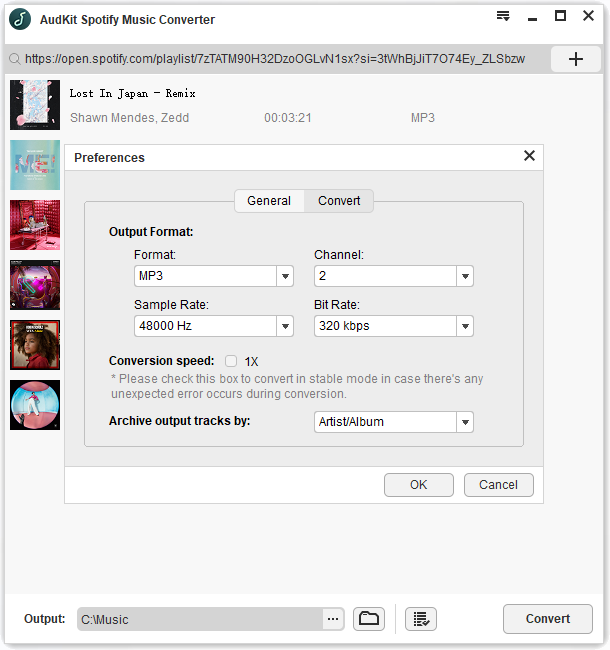 To set the parameters, go to the 'Menu' icon > 'Preferences' > 'Convert' options. You can enter the settings page. Then you can change the settings which include the sample rate, bitrate, output format, and many others.
Step 3 Convert Spotify songs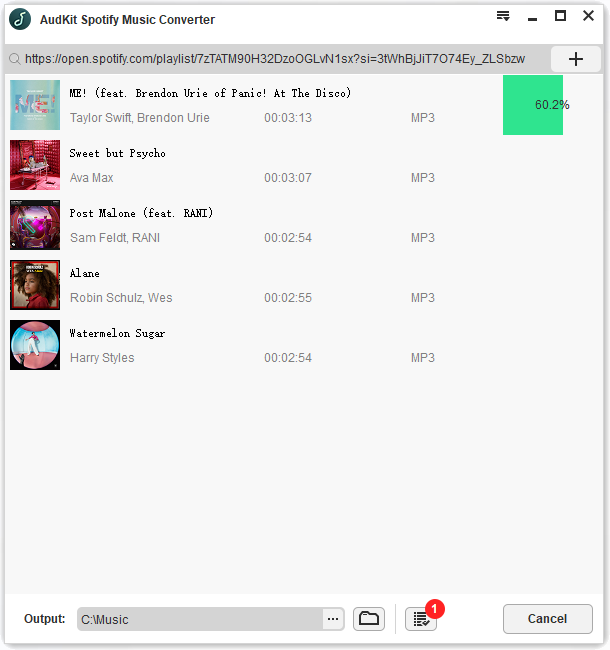 Lastly, click the 'Convert' icon once more to ascertain that the set parameters are correct and you want to convert them. Wait as the app converts your Spotify songs. once completed, hit the 'Converted local folder' and allocate the converted songs. You can now use the Spotify playlist manager to organize your songs as you want them grouped.
---
Conclusion
Don't get mixed up anymore with your Spotify songs. Use these Spotify organize for your music and make it easy to reach all your tracks in one click. Furthermore, convert your Spotify songs for local management with AudKit. The steps are as easy as 1-2-3 but with amazing results.
---