When it comes to cooperating with other brands, Spotify leads the way. In May 2015, Starbucks Coffee Company signed a deal with Spotify to establish a multi-year partnership that will link its 7,000+ locations in the U.S. with over 60 million Spotify users for a unique music ecosystem. The Starbucks Partner Hours app is a leeway for a minimized payout on Spotify subscriptions. Likewise, users can get gifts and discounts on coffee drinks, and Spotify Premium for free. As there is much more to know about Starbucks, let's dive into more insights in the next section.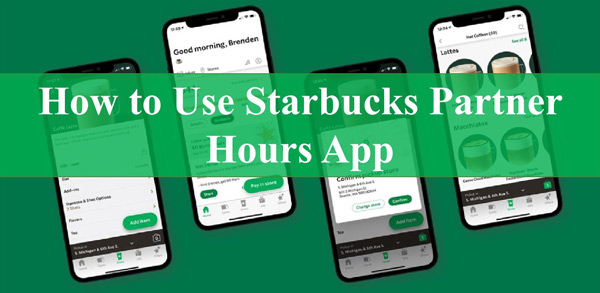 ---
Part 1. Starbucks Partner Hours: Things You Need to Know
You could already be yearning to know what Starbucks Partner Hours are and reasons to acquire them. Starbucks, in itself, is the largest chain of coffee brands, with its Corporation headquarter in Seattle, Washington. Starbucks partners are its employees working in its store while Starbucks partner hours are the special hours that are awarded to these employees for some special facilities like refreshments and entertainment.
Apart from attaining Spotify Premium for free, Starbucks Partners gathers other benefits which include:
Paid time off and holiday pay.
Mental health resources and assistance programs.
Free beverages like coffee while on duty.
Promotional emails.
Access to training resources and materials.
Career development opportunities.
Discounts on Starbucks partner brands and merchandise.
And the Starbucks Partner Hours app for partners makes the work more convenient, you will find its pros of using it:
Communicate with co-workers and access schedules through the app.
Employees can easily view their schedules, swap shifts with others, and request time off.
The app promotes swift communication like messaging and sharing updates among co-workers.
It is convenient and employees can easily check their schedules.
The app sends notifications to employees when their schedules are updated.
---
Part 2. How to Download Starbucks Partner Hours App
Starbucks Partner Hours app supports both Android and iOS devices. Ensure that you have an internet connection on your device then follow these steps to download and log into the app to use it.
Step 1. Open Google Play Store for Android or App Store for iOS devices respectively.
Step 2. Search for the "Starbucks Partner app" for download.
Step 3. Once found, click on the "Download" tab to download it.
Step 4. Install the app and provide other needed information when the app prompts you; like email address and password.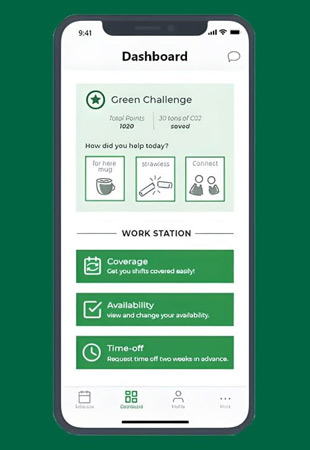 Starbucks Partner Hours Login Procedure
After a successful download and installation, it's now time to log into the app.
Step 1. Head to the official website of Starbucks Partner Hub.
Step 2. Click on the "Partner Number of Username" field and key in your username.
Step 3. Then, go on to enter your password in the "Password" field.
Step 4. Hit on the "Sign In" button. You'll then be redirected to the Hub dashboard.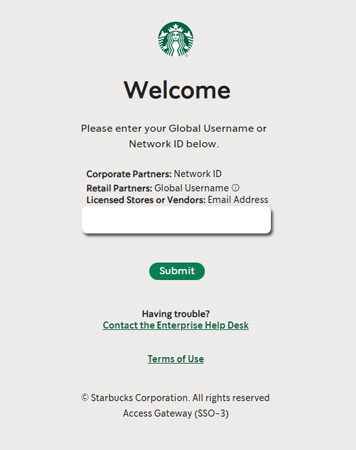 ---
Part 3. Why Is Starbucks Partner Hours App Not Working
Even though the sign-up and login process may work out well, you could still be facing some Partner Hours Starbucks app errors. These could be:
Your internet is not working hence there is no access.
Perhaps you have put incorrect login information or you've left out some characters.
An inactive partner account may cause login issues. Ensure your account is fully active for use.
An older version of the Starbucks Partner Hour app may also bring an issue.
How to Fix Starbucks Partner Hours App Issues
1. Input the Correct Login Information
Missing or wrong character cases will cause an app error. Ensure that you don't miss any lowercase characters and input them all correctly.
2. Proper Internet Connection
Once your network doesn't work as needed, it is most likely to cause a null-up and not log in.
3. Update the Starbucks Partner App
Occasionally update the Starbucks Partner app for a better experience. The old version may have caused tons of issues.
4. Re-log into an Expired Session
Your session could have expired after leaving the portal idle for some time. Simply re-login and check if the problem is solved.
---
Part 4. Starbucks Partner Spotify Benefit: Get Spotify Premium
Among the benefits of the Starbucks Partner is the free Spotify Premium you get. Here are the steps to acquire Spotify Premium free for a month. Please note that you don't need a Premium subscription for this. If you have one, then you must cancel your subscription first to use this option.
Step 1. Enter the Spotify Starbucks Partner Hours website and click "Get Premium" to log into your Spotify account. If you are new to Spotify, simply sign up for a Spotify subscription.
Step 2. Next, connect your account with Spotify's Partner Provisioning Portal to link Spotify and Starbucks verification systems.
Step 3. Enter your Starbucks Global User Name to verify that you are a Starbucks Partner. This is your "2-character country code + your Starbucks Partner number". Then click on the "Get Premium" tab.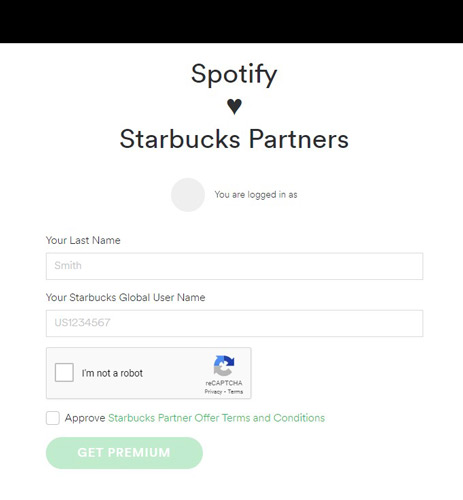 Step 4. Please wait for about 2 hours for your new subscription to be activated. Once you are registered, begin listening to Spotify Premium for free.
---
Part 5. How to Access Spotify Without Starbucks Partner Spotify Premium
What if you're not a Starbucks employee, and you still look for a way to get Spotify for free? There are many ways for you to get Spotify free trial for 6 months. However, to get Spotify songs on other devices, you have the option to obtain Spotify without premium. A third-party app, AudKit Spotify Music Converter, can come to your rescue and convert your Spotify tracks into common output formats.
The AudKit Spotify downloader supports downloading music from Spotify to FLAC, WAV, and MP3, among others. The app works at a high speed of X5 rate while keeping up to 100% lossless sound quality of your files. It will safely preserve the albums, titles, track numbers, genre, and so forth. More so, you can customize the output parameters like codec, channel, and bit rate.
When it comes to listening to your tracks, you wouldn't need a Premium version and yet you can skip your tracks and enjoy your tracks without the annoying ads. You'll enjoy your tracks on any MP3 player or device anywhere, without an internet connection.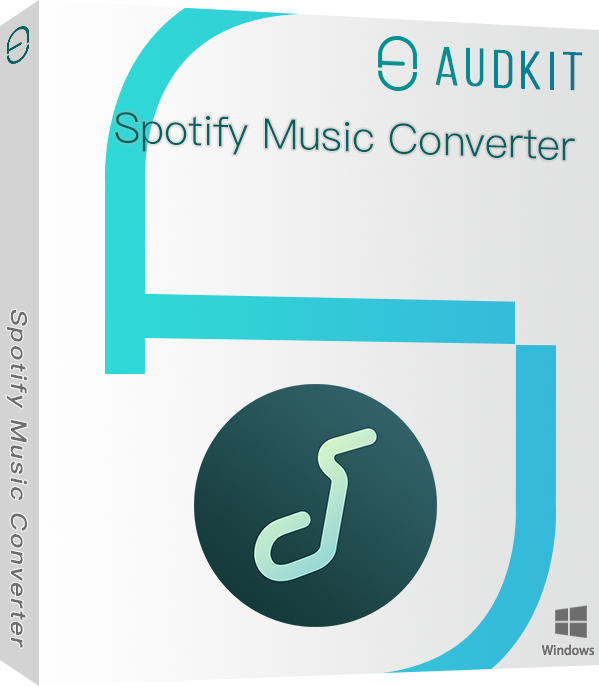 It works at a fast rate of X5 for lossless conversion
Preserve all ID3 tags and metadata information like genres and artists
Easily customize the output parameters like sample rate and bit rate
Convert Spotify files into several output formats like WAV, FLAC, and AAC
A Guide to Using AudKit to Download and Listen to Spotify Offline Without Premium
AudKit Spotify Music Converter lets you listen to Spotify hits even without a Spotify Premium account. It supports both Mac and Windows OS systems. To download a preferred version, hit on the "Download" tab above. Then install and launch the app on your computer.
Step 1 Add Spotify music playlists to AudKit software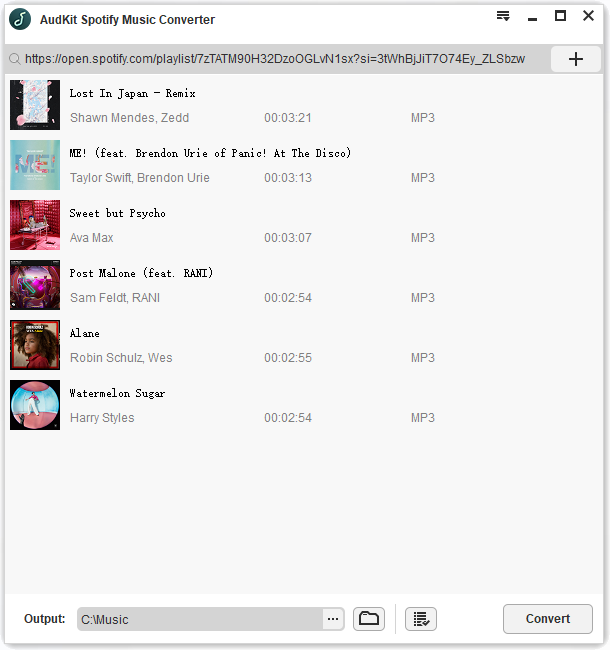 On the Spotify app, choose the Spotify album or playlist that you want to convert from your library. Next, right-click on the album or playlist and hit on the "Share" > "Copy Song Link" option then paste it into AudKit's search box. Next, click on the "+" tab to import the album or tracks.
Step 2 Check and edit Spotify audio settings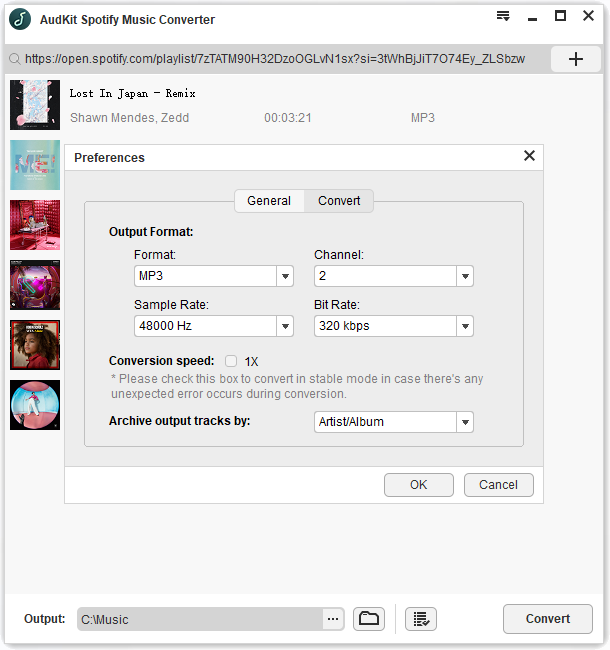 From the Menu tab on the AudKit app, choose the "Preferences" option, then begin to set the output format and other parameters. The audio settings are included in the "Convert" section. It has the bit rate, channel, sample rate, etc. Check if the entry is good, then, click on the "OK" tab to confirm your entries.
Step 3 Get Spotify music tracks onto your computer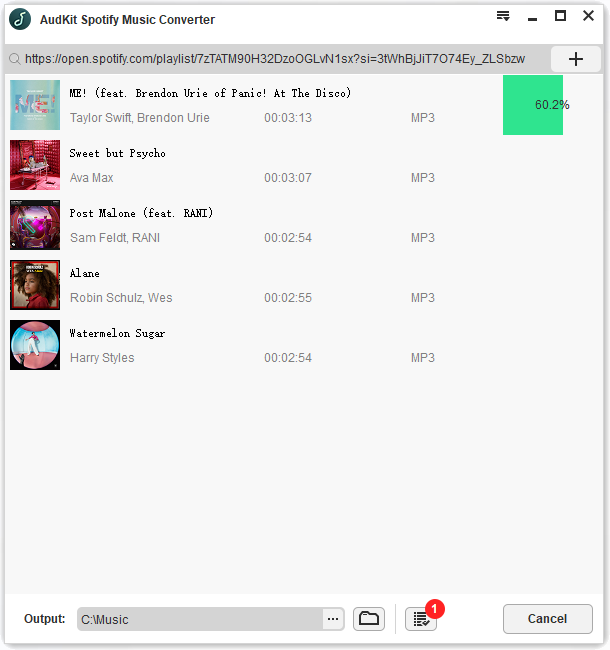 Finally, click on the "Convert" tab to let the program begin the conversion process. Once completed, locate your converted Spotify tracks in your computer's local disk. You will then be able to listen to Spotify offline without premium. And to play them on other devices, simply transfer them using a USB cable or other methods for playback as the Spotify files are unprotected.
---
Part 6. Final Thoughts
Are you a Starbucks Partner and wish to enjoy the amazing benefits that come with the app's integration into Spotify? You just learned how to get the Starbucks Partner Hours app to loop you into the enormous benefits. On top of that, some users may want to stream Spotify over other apps or devices with premium, the Spotify app has limits and to surpass that, you can opt for the AudKit Spotify Music Converter for all output formats in quick steps.
---