You are an Audible audiobook fun and perhaps what hinders you from enjoying your favorite chunks of stories is lack of access to certain audio sounds on several devices. Yes, Audible.com encodes its files in AAX format, such that it is not recognized by third-party players if it has not been authorized. Here is where the conversion from AAX to WAV becomes important. When you convert your files to WAV, you make it possible to access your Audiobooks while keeping 100% quality.
What happens is that WAV format doesn't apply compression to the files bitstream. Rather, it stores your audio recordings in separate sampling rates and bitrates. Basically, nothing much is deducted from your file. WAV files remain larger, making it easy for the file size to maintain the same audio quality. But again, when you convert your files to WAV, you get a close replica of the original audio source. So, why not check out how the best AAX to WAV Converter works.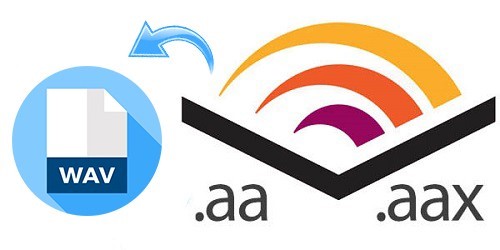 ---
Part 1. Best AAX to WAV Converter: AudKit Audible Converter
You are likely to be met by the digital protection technology on any Audiobook that you download from Audible.com. This makes it tough to use Audible audiobooks as freely as you wished. Perhaps you want to enjoy your Audible audiobooks outside the Audible.com browser.
The only way out is to find some good AAX to WAV converter that works smartly to remove the protection from Audible audiobooks. AudKit Audible Converter has stood the test of time when it comes to converting AAX to WAV among other formats. Follow proceedings for how to use it to convert AAX files.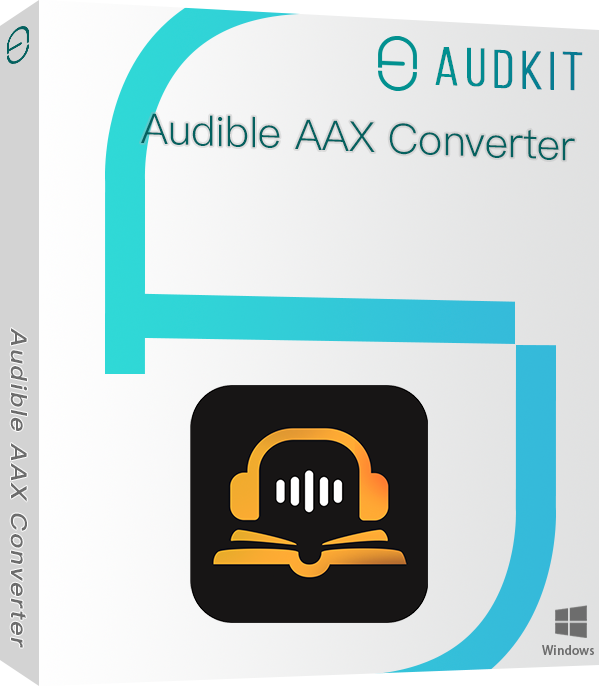 Cut large Audible books into smaller chunks by chapters
Losslessly convert Audible files with keeping all the ID3 tags
Freely customize parameters of output Audible audios
Encode AA/AAX audiobook to WAV, MP3, AAC, and more
---
Part 2. How to Convert AAX to WAV: Simple Steps
Know how to use the best AAX to WAV freeware to help you to break-even the protection technology and convert AAX audiobooks to WAV files in simple steps. Follow these steps.
Step 1 Add the downloaded Audible audiobooks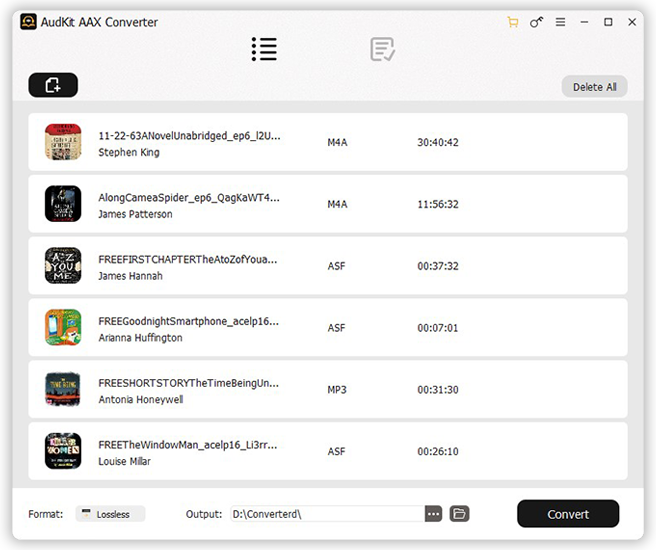 Once you download the Audible audiobooks to your computer, next launch the Audkit Audible Converter to start the conversion process. Most importantly, add your downloaded Audible files to the app by dragging and dropping the files to the app window. You can also use the 'Add Files' option to add your files.
Step 2 Choose the output format preference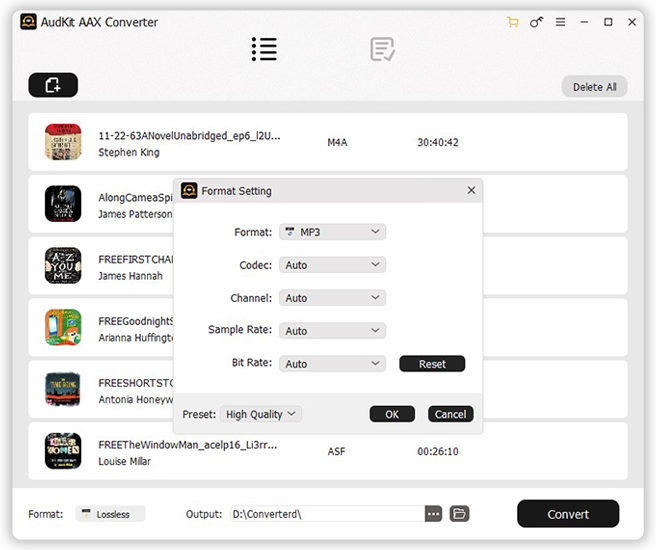 With your downloaded audiobooks added to the AudKit window, it's now time to edit your additions. Click the 'Edit' icon and select the preferred output format as well as other parameters. These include the bit rate and audio codec among other options. Likewise, you can split the larger audiobooks into smaller chunks of chapters for easy listening.
Step 3 Convert Audible audiobooks to WAV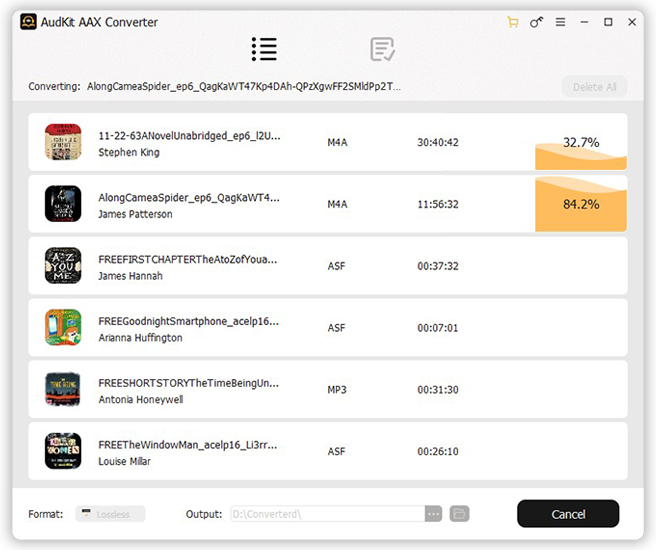 The last step is to export your Audible files to WAV audio files. Click the 'Convert' button and let the software convert and save your downloaded Audible audiobooks in WAV format.
---
Part 3. What is WAV & How to Open it
Advantages of WAV format
WAV format incorporates a lossless compression technique and does not lose its quality during the compression process.
The files are stored in small chunks, making it easy to access your files from any point.
They can easily be converted into other output formats like MP3 and AAC.
These files are perfect for preserving the master recordings is you have enough storage space.
There is the ease in moving the audio files between platforms.
Disadvantages
Since WAV files are uncompressed, they eat up more memory space.
The conversion process is slow as compared to other output formats.
How to play open WAV on the computer
Note that files with the .WAV extension opens via a media player app such as VLC player, iTunes, Windows Media Player, QuickTime among many others. You should, therefore, install a media player on your computer before playing your WAV files.
To play your WAV files, peruse through the 'Converted' WAV files on your computer from the 'Converted' folder.
Double-click the WAV icon. Alternatively, click on the file and press the 'Enter' button on your keyboard. Your audio file will be open in the default media player program that plays your files.
You can also open WAV with other programs other than the default one.
In this case, right-click your WAV file and a 'Menu' list will pop up.
Next, hover your mouse over the 'Open With' menu option. A list of commonly used audio players will pop up. Choose the desired program that can play your WAV file.
Choose the program and then click 'OK' to play your WAV file.
Extra tip
Remember that not any program can play your WAV files. You should opt for a 'Media player' program that is compatible with your .WAV audio files.
---
Conclusion
You don't have to be good at decryption technology, but you can still convert AAX to WAV format with ease. WAV files have more advantages over other formats. It gives you accurate and lossless format, retaining all the nitty gritties of the original file. Therefore, the best converter tool will guarantee you the chance to get your AAX files in WAV format for all the benefits it gives.
AudKit Audible Converter is a multi-purpose and comprehension audio converter that works in shorter periods. It ensures that your Audible audiobooks are converted to any format of choice for playing outside the Audible.com app.
---