In today's digital age, music streaming has become the norm for many music enthusiasts. Spotify, one of the leading streaming platforms, offers a vast library of songs at your fingertips. However, sometimes you may want to convert Spotify to WAV format for a better audio experience. This article will guide you through the process of converting Spotify music to WAV online, free and losslessly with the best Spotify to WAV converters.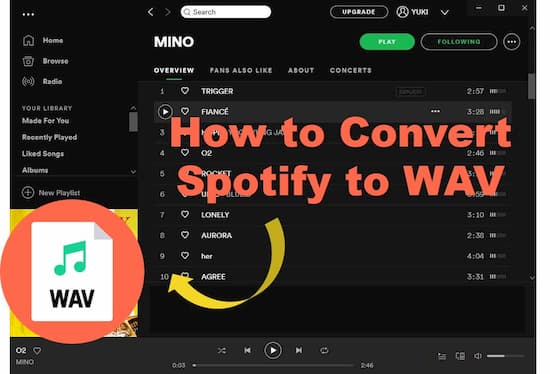 ---
Part 1. Overview of Spotify to WAV
Why Download Spotify to WAV
Spotify tracks are encoded in OGG, and you can't play them on CD players. WAV is a lossless audio format widely used in Windows systems and popularly supported by most CD burners due to its uncompressed audio quality. Here are some reasons why people often search to convert Spotify playlist to WAV.
🌈 Higher audio quality: WAV format offers higher audio quality and lossless compression for audiophiles and professionals who require the best sound fidelity.
🌈 Compatibility: It is supported by media players on devices where Spotify is not available, making it a good option for people who want to bring Spotify music to more places with WAV file support.
🌈 CD burning: To burn WAV files to an Audio CD, it should be saved at 44,100 Hz with 16 bits per sample. WAV files are always large, making it a good option for burning CDs from Spotify.
🌈 Radio broadcasting: WAV format is often used by some radio broadcasters like BBC Radio, Global Radio, and more.
What Are the Factors of Choosing Spotify to WAV Converter
🍃 Output Audio Quality: Look for a Spotify converter that supports multiple output formats such as WAV, MP3, FLAC, AAC, M4A, and M4B. This will ensure that you can play your converted Spotify songs on various devices and players.
🍃Conversion Speed: Nobody wants to wait hours for their songs to be converted. Make sure the Spotify to WAV downloader can convert Spotify songs at 1X or higher speed.
🍃Batch Conversion: If you have a large number of Spotify songs to convert, look for a converter that supports batch conversion. This will save you time and effort.
🍃Platform Compatibility: Make sure the converter is compatible with your operating system, whether it's Windows, macOS, or Linux.
🍃Price: Consider the price of the converter, as some converters are free while others require a subscription or one-time payment.
🍃Customization Options: Look for a converter that allows you to customize the output audio quality, such as adjusting the channel, sample rate, and bit rate according to your needs.
---
Part 2. How to Convert Spotify to WAV Losslessly – Best Spotify WAV Downloader
If you have searched for a Spotify to WAV converter online, you may find out there are many similar Spotify converters in the market. After comparing and testing several popular products, we selected the best one, AudKit SpotiLab Music Converter.
Taking the best of each popular Spotify software, AudKit Spotify Converter could be the best Spotify WAV converter. Built in the most advanced converting techniques, this smart tool works at 5X or faster speed in most cases, converting Spotify music to WAV, FLAC, MP3, AAC, M4A, and other most-used audio file formats.
Besides, the ultra-large capacity of AudKit allows you to batch import and convert Spotify tracks. Therefore, you can import all of your Spotify playlists to this converter in one click. After the conversion, the converted Spotify files maintain the same quality as the original streams. That is to say, with the help of the AudKit Spotify Music Converter, you can get Spotify WAV files losslessly.
Main Features of AudKit Spotify Music Converter
Convert Spotify to WAV losslessly at 5X speed
It can convert Spotify songs, playlists, and albums to WAV format without any loss in quality. The conversion process is also very fast, with a speed of up to 5X.
You don't need a premium account to download Spotify music as your own and listen to it offline without any restrictions.
Keep 100% audio quality and all ID3 tags after converting
All the original audio quality and ID3 tags are retained after the conversion process. This means that you won't lose any information about the song, such as the artist, album, or track name.
Support multiple kinds of audio formats for your choice
Apart from WAV format, it also supports other audio formats such as MP3, M4A, FLAC, and more. You can choose the format that suits your needs.
Batch conversion of Spotify music
You can convert multiple songs, playlists, or albums at once with AudKit Spotify Music Converter. to save you time and effort.
Easy to use interface
The interface of AudKit Spotify Music Converter is user-friendly and easy to navigate. You don't need any technical skills to use it.
How to Use AudKit Spotify to WAV Converter
Please choose the right version of the AudKit Spotify Music Converter from the Download button above. Then let's see how to use this best Spotify link to WAV converter to download and convert Spotify music to WAV with free account.
Step 1 Import Spotify playlist into AudKit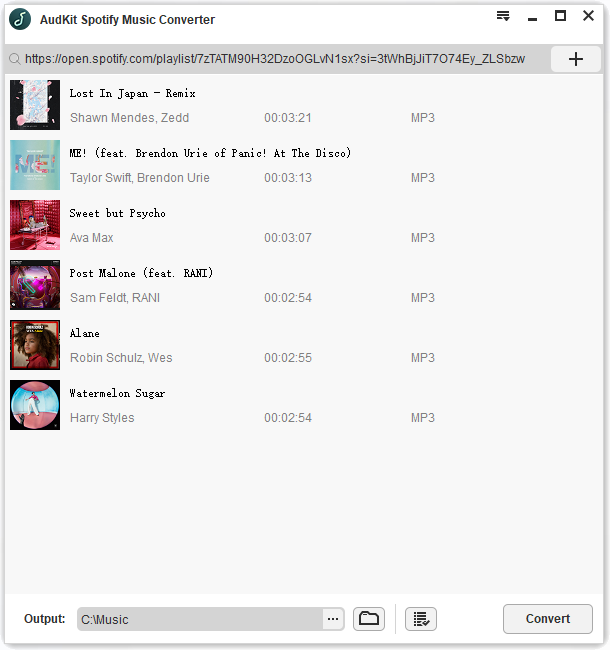 Just drag and drop the playlist or song from the Spotify app to AudKit Spotify Converter. Alternatively, you can copy and paste the URL of the playlist or song to the search box of this converter. Then click the plus icon to add it.
Step 2 Reset the Spotify output format to WAV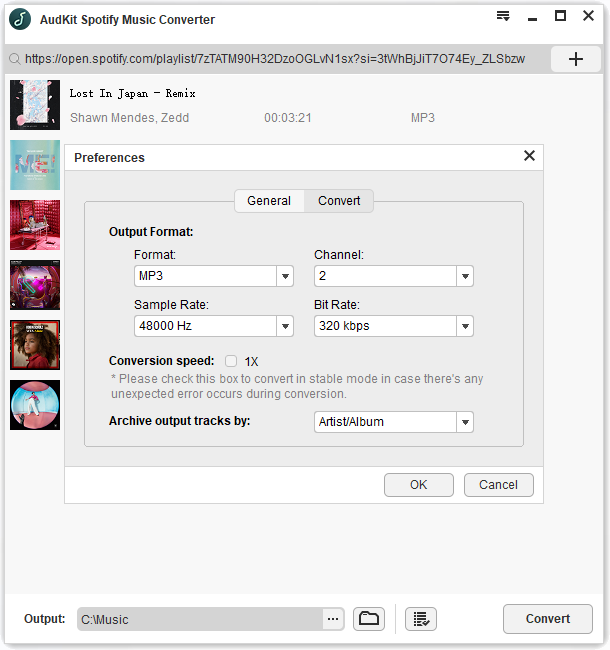 On the main interface of AudKit, please open the menu icon to choose the 'Preferences' and then the 'Convert' part. Then you can enter into the settings page. Please reset the output format of Spotify music to WAV. If you want to keep the original audio quality, please reset the bitrate to 320 kbps, and the sample rate to 48000 Hz, and then edit other parameters as you like.
Step 3 Begin to download WAV from Spotify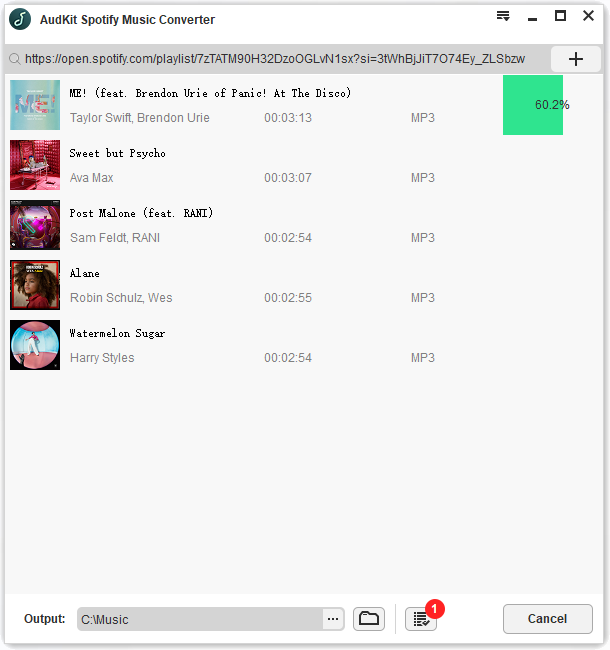 Tap the 'Convert' tab from the lower right corner of the main window. In general, the app will start to convert all Spotify selections to WAV at a 5X faster speed. When the converting process is done, please follow the pop-up tips to unfold the local folder. After that, you can enjoy listening to Spotify WAV music offline on any device and platform without limitations.
---
Part 3. How to Convert Spotify to WAV Online – Apowersoft
If you prefer using online tools instead of downloading and installing third-party tools on your computer, Apowersoft Free Online Audio Recorder is a reliable option. It is a free audio recording software that allows users to record any sound from various audio inputs, including Spotify. It provides lots of output audio formats including WAV, MP3, AAC, FLAC, WMA, etc. for playing Spotify on any music player and portable devices smoothly.
In addition, Apowersoft Spotify to WAV online converter is developed for website owners, personal bloggers, online education platforms, and others to host the application on their web pages. This allows their users to record Spotify track to WAV online free. The API also allows customization for specific needs.
Pros

One-click to start recording audio online without downloading any software.
Can record system audio and microphone in high quality.
Can record audio from web browsers, media players, and other applications.
Multiple recording formats (WAV, MP4, AAC) .
Cons

Cannot directly edit the recorded audio.
Audio quality may not be as good as some other audio recording software.
How to Use Apowersoft Spotify WAV Downloader Online
Step 1. Go to the official website of Apowersoft Free Online Audio Recorder.
Step 2. Hit the Start Recording button to download a small launcher.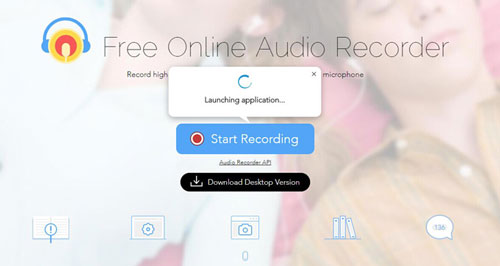 Step 3. Select System Sound as your recording audio source.
Step 4. Play the Spotify music you want to record and click on the Record button on Apowersoft Online Audio Recorder to initiate the Spotify music recording.
Step 5. The recorded Spotify audio file will be saved in MP3 format by default. However, you can also click "Convert" to choose the WAV format option.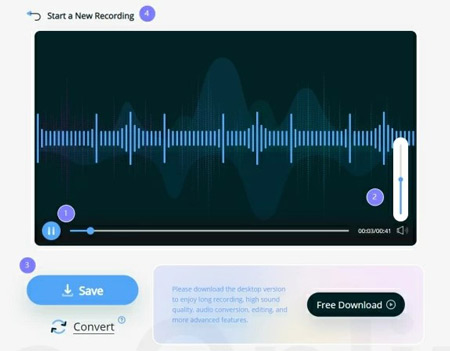 Step 6. When the recording is finished, click the "Stop" button to end the recording and save the recorded Spotify WAV file to your computer.
---
Part 4. How to Record Spotify to WAV Free – Audacity
Another option for converting Spotify playlists to WAV is by using Audacity, a popular free audio recording software. It is one of the best Spotify recorders that can record Spotify in WAV format. It can record audio via microphone or mixer, or digitize recordings from other media. So, you can use it to record Spotify music from your computer.
Because it is an open-source platform, you can find and use it completely free of charge. It can be used as an alternative to the free Spotify WAV converter. It is easy to use and available for Windows, macOS, GNU/Linux, and other operating systems. Not only WAV, but it also supports other output audio formats such as MP3, AAC, etc. As a powerful audio recorder, you can even edit your sound files.
Pros

Free and open-source audio recording and editing software.
Record both playing audio and live sound.
Cons

Doesn't have a real-time preview.
Limited multitrack capabilities.
Sometimes there are synchronization problems between tracks.
How to Use Audacity Spotify to WAV Converter Free
Step 1. Download and install Audacity on your computer.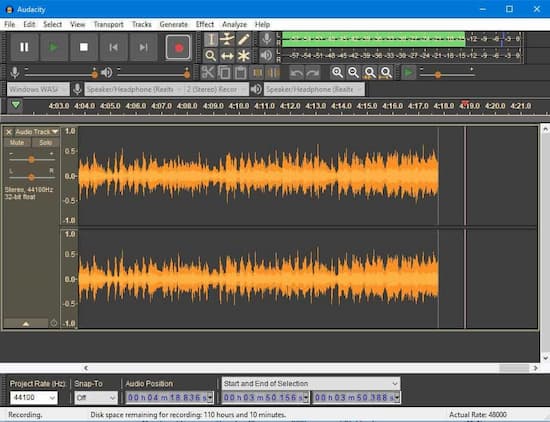 Step 2. Hit the Audio Setup toolbar at the top of Audacity. Then select Windows WASAPI as the host.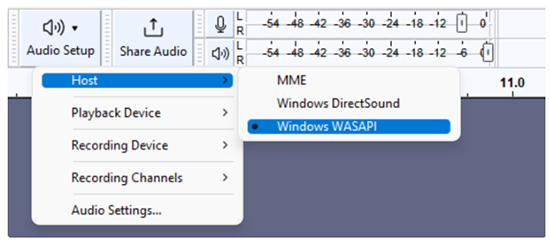 Step 3. Tap the Audio Setup toolbar again to select the recording device as your Speaker.
Step 4. Select the Reference option from Record. Then turn off the Software Playback to avoid damaging your computer.
Step 5. Hit the Options button to select the audio output format as WAV.
Step 6. Click the Record button while playing a Spotify song at the same time. Audacity will automatically rip Spotify music to WAV for free.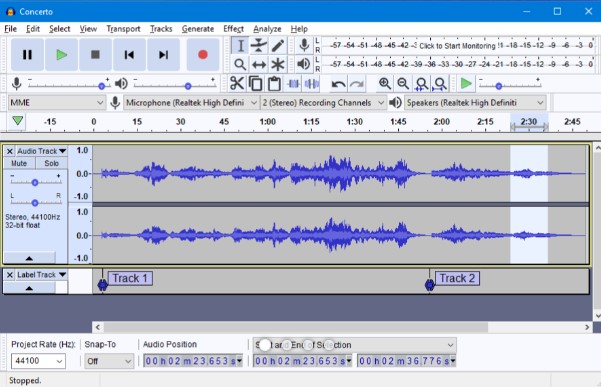 ---
Part 5. Which Is the Best Spotify to WAV Converter Online
There are 3 tools available to get Spotify WAV download in this article. However, it's essential to choose a reliable and efficient tool that can maintain the audio quality and preserve metadata information. In this comparison table, we will compare these 3 three popular options to determine which one is the best Spotify to WAV converter online free.
| | | | |
| --- | --- | --- | --- |
| | AudKit Spotify Music Converter | Apowersoft Audio Recorder | Audacity |
| Compatible System | Windows/Mac | Online | Windows/Mac/GNU/Linux |
| Output Formats | WAV, MP3, AAC, FLAC, M4A, M4B | MP3, AAC, OGG, FLAC, WMA, WAV | WAV, AIFF, MP3, Ogg Vorbis, FLAC |
| Audio Quality | Lossless | Lossy | Lossy |
| Conversion Speed | 5X | Real-time | Real-time |
| ID3 Tags | ✔️ | ❌ | ❌ |
| Metadata Information | ✔️ | ❌ | ❌ |
| Customization Settings | ✔️ | ❌ | ❌ |
| Recommends | ⭐⭐⭐⭐⭐ | ⭐⭐⭐⭐ | ⭐⭐⭐ |
After evaluating these aspects, it is clear that AudKit Spotify Music Converter excels in most categories. It offers fast conversion speed, high output quality, an intuitive user interface, extensive customization options, and stable performance. Additionally, it provides extra features like ID3 tag preservation. While Apowersoft audio recorder and Audacity have their merits, they fall short in certain areas. Therefore, for users seeking the best Spotify to WAV converter, AudKit Spotify Music Converter is the recommended choice.
---
---
---
Part 6. FAQs of Spotify and WAV
Q1: Is It Legal to Convert Spotify to WAV?
A: The legality of converting Spotify tracks to WAV depends on your purpose. Converting songs for personal purposes is generally legal.
Q2: What Devices Support Spotify WAV Files?
A: WAV files are widely supported by various devices, including computers, smartphones, tablets, and portable music players. You can enjoy your converted Spotify tracks in WAV format on most devices without compatibility issues.
Q3: Is MP3 or WAV Better for Spotify?
A: WAV files offer superior audio quality compared to MP3, as they are uncompressed and retain all the original audio data. However, they also occupy more storage space. Choosing between MP3 and WAV depends on your preference for audio quality versus storage efficiency.
Q4: How to Add WAV Files to Spotify
To add WAV files to Spotify, you need to first import them into your local files on your computer. Then you can upload local files to Spotify in FLAC or WAV.
---
Part 7. In Conclusion
Converting Spotify tracks to WAV format allows you to experience music in its purest form, with no compromise on audio quality. There are various methods available, including using AudKit Spotify Music Converter, Apowersoft, and Audacity. With the right tools at hand, you can elevate your music listening experience and enjoy your favorite Spotify tracks in high-fidelity WAV format.
---