Dolby Atmos is quite irresistible. You find it in everything from big home theatre systems to small mobile phones. Even though it was initially designed to be used for movie theatres, it has escalated to be a new form to remix music from both famous and renowned musicians. Atmos soundtracks find themselves in the midst of various systems, including traditional surroundings, or are played with headphones. But can you find Dolby Atmos on Audible? This is a fact we want to unravel in the consequent topic. Dive in!

---
Part 1. Does Audible Support Dolby Atmos?
Dolby Amos is an audio surround sound format that is majorly used to create immersive 3D sound interpretation. Atmos was first installed in 2012, though minimal, but increased over the years. So far, it has seen adaption to a home theatre format, Dolby cinema, recording, and mixing. There on, Dolby has continued to partner with other systems like NetEase for special audio and implementation of Atmos support on compatible devices.
The latest partnership is Audible Dolby Atmos which sees Dolby come to the audiobook collection for the immersive spatial audio experience. With this, users can access various titles in Dolby Atmos and experience virtual soundscape narration with full effect. Creators can also, add multidimensional sound to any content while creating layers for an immersive experience.
The best Audible plans available for Dolby Atmos are through Audible membership. The plans start at $7.95 monthly after the free trial.
Dolby Amos and Stereo operate similarly as they both use audio objects. However, Dolby will move anywhere in a 3D space while Stereo sound is panned to the left and right. Dolby will give you sound from all around you including above and behind while Stero is a one-way channel.
---
Part 2. How to Listen to Audible Books in Dolby Atmos
It is very simple to listen to Audible Dolby Atmos titles as you don't need any additional service other than a Dolby Atmos-enabled device and headphones. And to enjoy it, make sure your device and Audible application are on the latest version. Here are the steps.
Step 1. First, launch the Audible app on your device and click on Profile from the bottom of the home screen.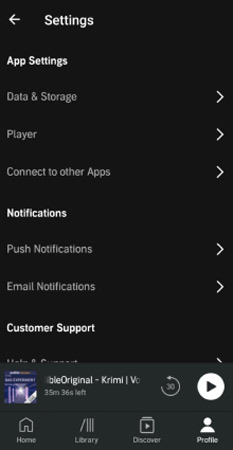 Step 2. Go to the Settings icon and click on the "Data & Storage" option to check whether the Spatial Audio toggle is on.

Step 3. Next, search for an audiobook that supports Dolby Atmos. The website contains several lists of titles accessible on the homepage.
Step 4. Then, check if the book you wish to listen to supports Dolby Atmos. Do this by typing "Dolby Atmos" into the search bar of the Audible website. It's available if a Dolby Atmos badge appears next to the title.
Step 5. If a book is available in Dolby Atmos, you can access it by pressing on the "Play" tab on your Audible app.\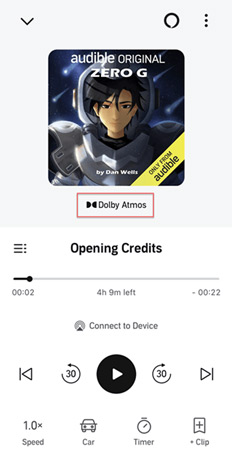 Note: You can explore more titles that are in Dolby Atmos on Audible here.
---
Tips: How to Convert Audible Audiobooks to Play Elsewhere
Other than playing audiobooks on the Audible app, you can also get Dolby Atmos Audible to play elsewhere. AudKit Audible AAX Converter can help you stream your audiobooks on any device without an internet connection. With this AudKit app, you can download your Audible files easily in a few steps.
It will convert your Audible AAX to common output formats like M4A, AAC, MP3, and M4B. This app also keeps lossless sound quality and retains the ID3 tags like genres, albums, titles, etc. Likewise, it offers you more choices to personalize the Audible output parameters like channel and bitrate or split the Audible book files into smaller chunks for easy management. The downloading speed is perfect, managing up to 100X rate with batch conversion ability.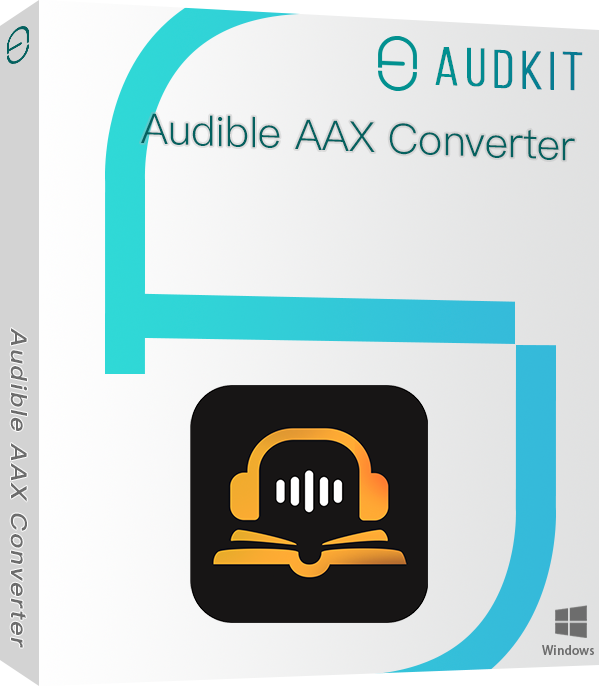 Key Features of AudKit Audible Converter
Convert Audible AAX to MP3 and multiple plain audio formats
Maintain the lossless sound quality of the original Audible books
Offer 100X conversion speed for quick and efficient conversion
Preserve original ID3 tags and allows for easy organization
How to Download Audible Books to Different Formats
Follow these steps to convert audiobooks from Audible into common output formats and then play them anywhere.
Step 1 Install and register AudKit Audible AAX Converter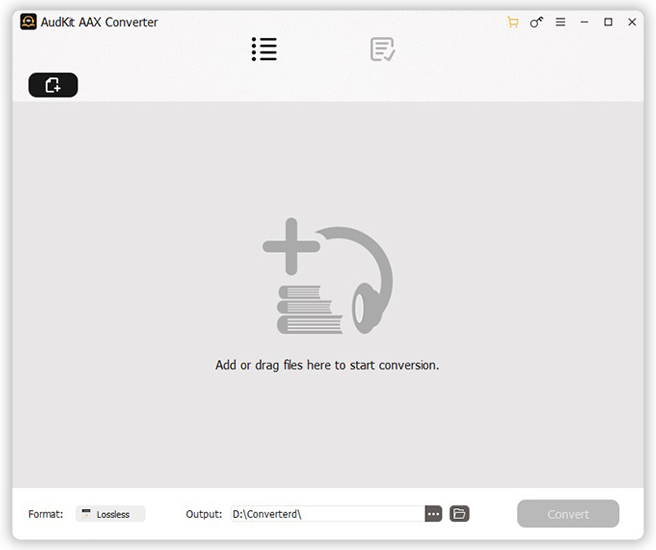 First, download and install AudKit Audible AAX Converter on your computer. However, the free version only allows you to convert the first 1/3 content. It is worth registering the AudKit app to eliminate the restriction and convert the full file. You can hit on the three horizontal lines and then choose the "Register" option.
Step 2 Import Audible books into AusKit Audible Converter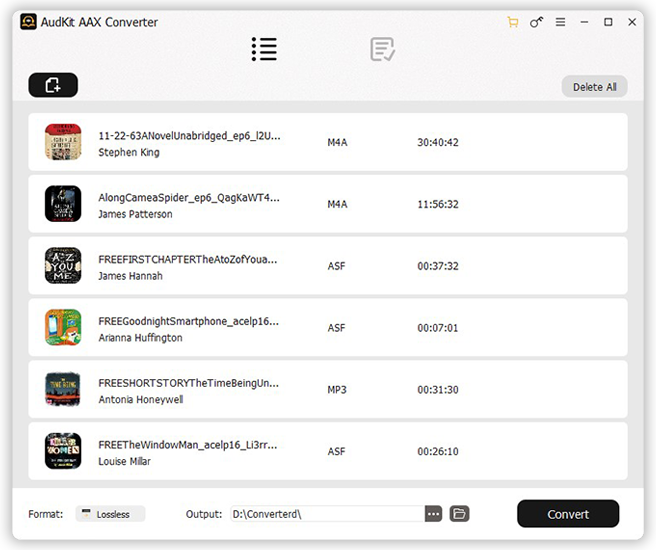 Click on the "Add Files" button to choose the Audible audiobooks to add for conversion. Then, hit on the "Open" icon to load them automatically. Or, you can simply open the folder where the audiobooks are in and drag and drop them to the AudKit Audible AAX Converter.
Step 3 Change Audible book's audio formats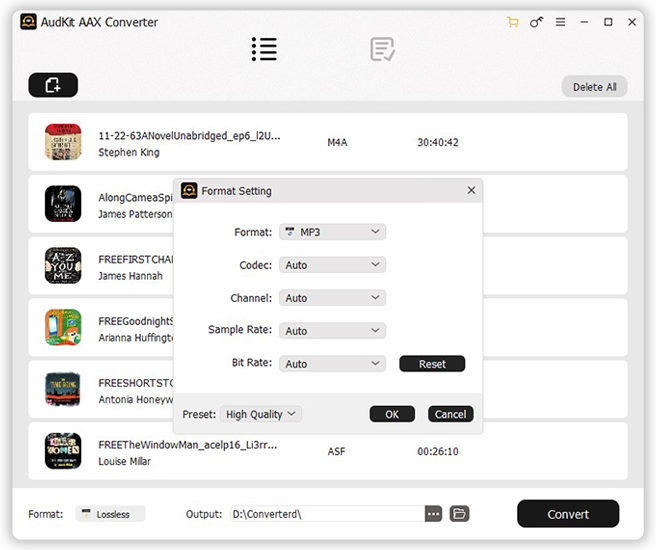 Hit on the "Format" tab to choose the output format like Lossless, FLAC, WAV, AAC, etc. Also, go ahead and customize other parameters like audio channel, sample rate, and bit rate.
Step 4 Split Audible books into smaller segments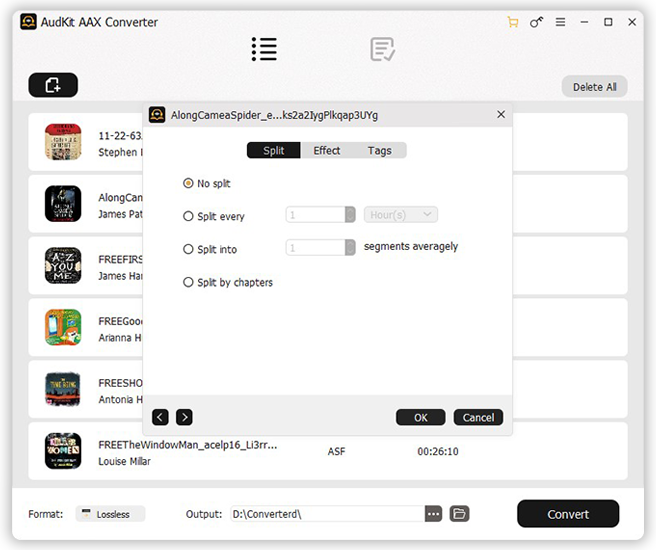 AudKit Audible Downloader enables you to edit your files as desired. Click on the "Edit" button to choose the output format then customize the ID3 tags like title and year from the "Tags" section. Likewise, you can split larger Audible books into smaller sections from the "Split" tab.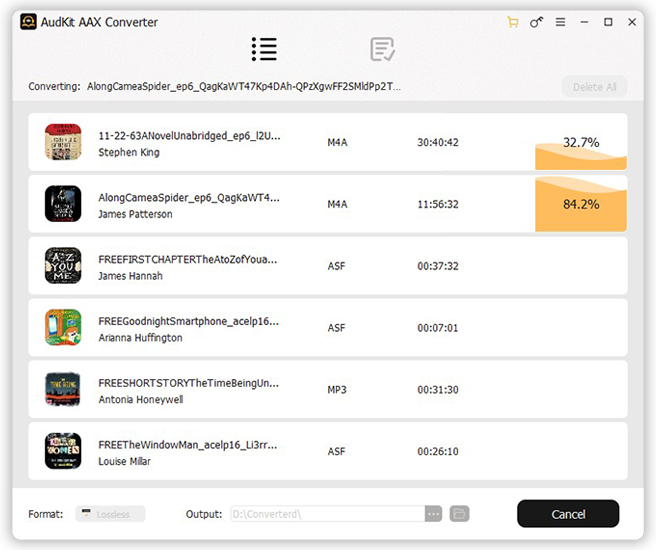 Confirm your entries, then hit on the "Convert" tab to download and convert Audiobooks files to common formats at 100X speed. The chosen Audible files should be stored on your computer and you can then use them wherever you want.
---
FAQs about Audible Dolby Atmos
Q1. Which Devices Support Audible Dolby Atmos?
To listen to the Dolby Atmos audiobooks in Audible, you will need to know what devices support this sound technology. For Audible, these include Android TV, Google TV, Apple TV, Chromecast, Web, Mobile devices, Amazon Fire Tablets, Apple iPhones, and iPads, among others.
Q2. What Audible Books are in Dolby Atmos?
Not all of the books in Audible are in Dolby Atmos, if you want to know whether your book is Dolby Atmos, you can check whether there is a badge next to the title. If you've downloaded the Dolby Atmos titles, before, you will need to re-download the audiobook again to enjoy it. And to discover more options, you can find Audibles on the catalogs of Kids and Family, Fiction and Drama, Live Shows, Soundscapes, and Podcasts, among others.
---
Final Thoughts
You can now enjoy Audible books with an amazing experience, thanks to the partnership Audible has with Dolby Atmos. You can also customize Audible Dolby Atmos bitrate and other parameters via AudKit Audible AAX Converter. It works at a high speed and will offer original content.
---