When was the last moment you read a novel or an interesting magazine article? Do you spend your days reading tweets, Facebook status updates, or the directions on the bag of instant oatmeal? If you're one of the persons who don't read regularly, you might be missing out on some of the best fiction Audible books.
Listen to some of the greatest writers on Audible if you haven't had the opportunity to sit down with a good book recently. In this article, you will be introduced to the top 10 fiction/nonfiction books on Audible in 2022.
Before you continue, sign up for a free Audible trial with your Amazon account to make getting through that stack easier. Some of our faves have big-name casts with familiar voices, while others are simply the author or a voice actor sharing the work; some are brand-new, while others are old literary texts resurrected through your headphones.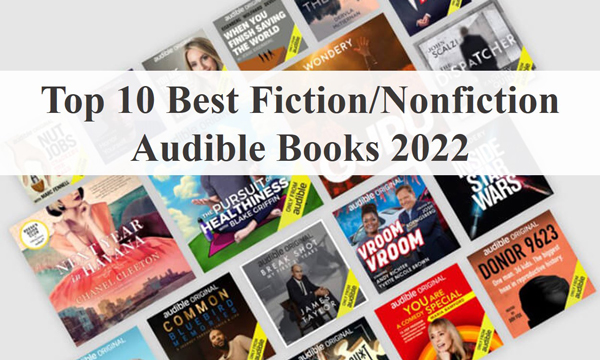 ---
Part 1. Top 10 Best Fiction/Nonfiction Books on Audible
1. H.G. Wells: The Science Fiction Collection by H.G. Wells
H.G. Wells is frequently referred to as the "Father of Science Fiction" and is one of the best Audible science fiction books. Now you can listen to all five of H.G. Wells' science fiction books in one place. The collection comprised unabridged recordings of the works performed by Hugh Bonneville, Jason Isaacs, Sophie Okonedo, David Tennant, and Alexander Vlahos and was inspired by movie director and H.G. Wells fanatic Eli Roth.
2. Can't Hurt Me: Master Your Mind and Defy the Odds by David Goggins
The youth had been a nightmare for David Goggins. Poverty, prejudice, and physical abuse colored his days and nights. He set records in other endurance contests, inspiring Outdoor magazine to name him The Fittest (Actual) Person in the US. He reveals his extraordinary life experience in Can't Hurt Me and demonstrates that most of us only use 40% of our potential. The 40 percent rule and Goggins' tale illustrate a path that anyone may take to drive through suffering, destroy fear, and reach their full potential.
3. Orphan Train by Christina Baker Kline
Orphan Train is a compelling tale of upheaval and endurance, second chances, and unexpected companionship in modern Maine and Depression-era Minnesota. It highlights the real life of trains that carried thousands of abandoned children from the Ease Coast to the Midwest between 1854 and 1929. It's really an immersive story that you cannot miss.
4. JK Rowling's Harry Potter Series
The magical world of Harry Potter captivated a generation. The Harry Potter audiobook mainly talks about how Hagrid rescued Harry from the terrible Dursleys to the rising battles against the fearsome (and highly wicked) Lord Voldemort. It's really wonderful that both children and adults can get something from it.
5. Untamed by Glennon Doyle
Untamed is a romantic memoir and an electrifying wake-up telephone, soulful and raucous, compassionate and robust. It's the story of how one mother discovered that a responsible mother shows her children how to live fully rather than dying for them.
6. The Subtle Art of Not Giving a F*ck by Mark Manson
A famous blogger cuts through the nonsense in this generation-defining self-help book to teach us how to stop striving to be optimistic all of the time so that we can become far better, happier people.
7. Harry Potter and the Sorcerer's Stone by J.K. Rowling
If the letters start falling on the doormat at number four, Privet Drive, Harry Potter hasn't heard of Hogwarts. His horrific uncle and aunt swiftly seize them, who address them in green ink yellowish parchment with a purple twist. After, on Harry's eleventh birthday, Rubeus Hagrid, a magnificent beetle-eyed giant of a man, shines in with some fantastic news: Harry Potter is a wizard. He's also been accepted into Hogwarts School of Witchcraft and Wizardry.
8. A Promised Land by Barack Obama
Barack Obama tells the story of his unlikely transformation from a young man searching for his identity to the leader of the free world in the stirring first volume of his presidential memoirs, describing in personal detail both his political education and the pivotal minutes of his historic presidency, a period of transformation and chaos.
9. Believe It by Jamie Kern Lima
Jamie Kern Lima, the founder of IT Cosmetics, tells the incredible but true story of how a struggling waitress turned her anti-establishment ideas into a bestselling international sensation. Eventually, selling the company for more than a billion dollars and appointing the first female CEO in L'Oréal's 100-year history.
10. Think Again by Adam Grant
The bestselling author of Giving and Take and Originals examines the critical skill of rethinking: learning to question your own and other people's statements, which can help you achieve professional greatness and life intelligence.
---
Part 2. How to Download Audible Books as Local Files
Above are the 10 best fiction/nonfiction books on Audible. You can choose some that you are interested in. If you would like to enjoy Audible audiobooks on other devices, you can refer to this part. Because Audible books are all encrypted in AA/AAX formats, you can only listen to them on the Audible app. Thus, we are here to give you a professional tool to make Audible books available on other devices.
AudKit Audible AAX Converter is a professional tool to help you download Audible books as local files. You can also use it to convert Audible audio formats to multiple kinds of plain formats. Then you are able to enjoy Audible audiobooks on any other portable devices.
Unlike other AAX converters, this Audible AAX converter allows downloading Audible files without installing the iTunes program or approving an Audible account. You can listen to audiobooks on any device using our Audible book converter without having account authorization.
Not only this, it downloads and converts the best fiction books on Audible at lightning speed. It runs at up to 100X speed thanks to superb decryption technology. Apart from converting Audible to a range of plain audio files, this best Audible audio converter also gives you the option of setting the output format to Lossless when listening to audiobooks.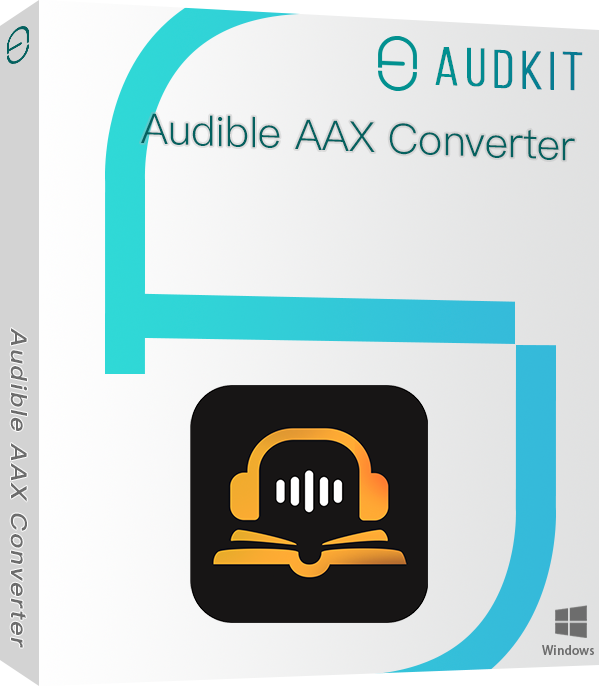 Quickly download Audible books as local files
Convert Audible books to MP3 and other audio formats
Keep Audible AA/AAX files in lossless quality
High download and conversion at up to 100X
Detailed Steps to Download Audible Books as Local Files
Now let's see how to download Audible books as local files. After downloading, you are capable to listen to Audible books on any device you want.
Step 1 Import Audible books to AudKit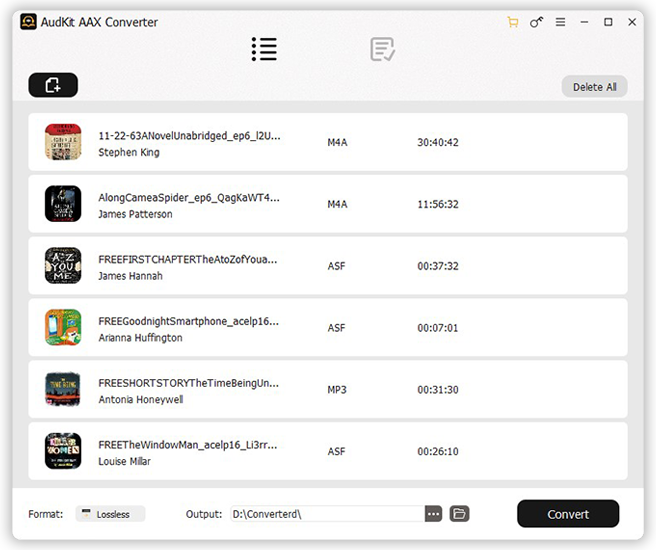 AudKit enables you to drag and drop Audible audiobooks to it directly. Alternatively, you can click the 'Add Files' button near the top left on AudKit. This will open your computer's storage folder. You can select the folder that stores your Audible books. Then click 'Open' to load Audible books.
Step 2 Adjust output settings of Audible books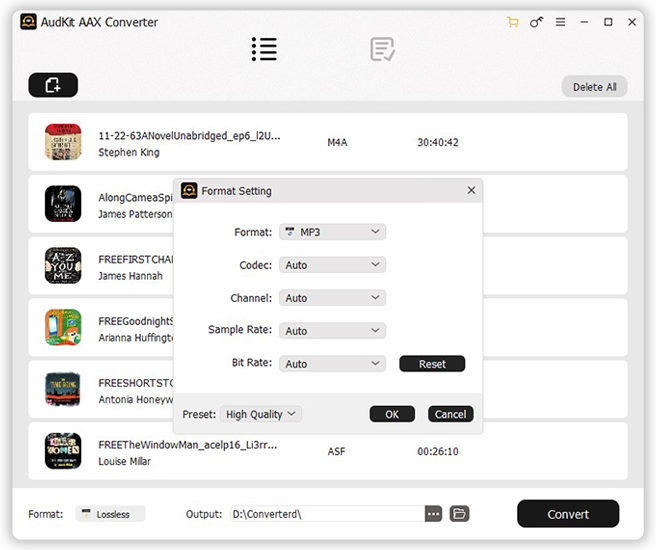 Click the 'Format' tab at the bottom left to open the setting window. You can define the output format and customize other parameters. To become compatible with most devices, you can set the output format as MP3. You can also choose other audio formats like Lossless, FLAC, WAV, AAC, and M4A. If you choose formats except for Lossless, you are able to customize the bit rate, sample rate, audio channel, and so on.
Step 3 Download and convert Audible books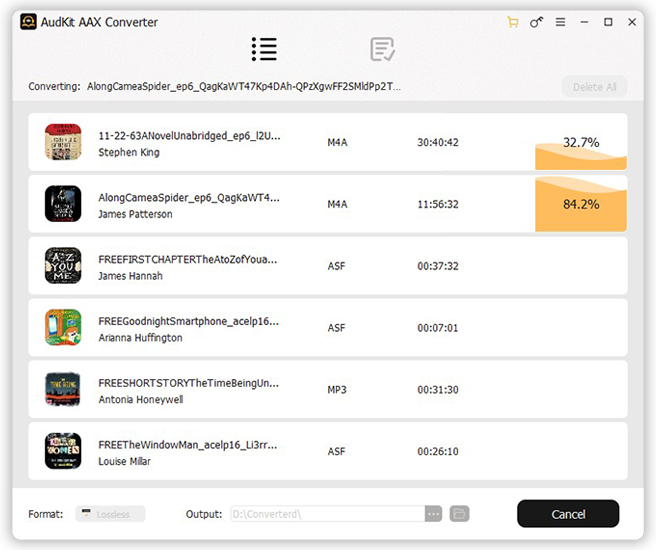 After doing all the adjustments, you can launch the conversion process by clicking the "Convert" button. AudKit will download Audible books you added depending on your settings. Just wait a little moment, you will get Audible books as local files on your computer.
---
In the Summary
AudKit Audible Converter is a fantastic assistant to get complete control over the best fiction books on audible and the best nonfiction books audible, with so many powerful features, including perfect output audio quality and rapid conversion speed, many output formats, and more. After the Audible books have been formatted, you may preview them in the built-in audiobook player or instantly transfer them to your favorite portable devices and players for unlimited playback.
---