Audiobooks are becoming the next big form of entertainment after video entertainment. There are a lot of book readers who want to read their favorite books but don't have time to do that because of the fast life. Those readers are moving the audiobooks. Audiobooks allow you to listen to your favorite books on the go.
If you are a fan of audiobooks, you might have bought an audiobook on a CD that won't run on an audiobook player. That is because those audiobooks on CDs are in MP3 format and the most common format for the audiobook is AA and AAX. That is why they don't get recognized as audiobooks on audiobook players. Now the question arises that how to convert those audiobooks from MP3 to AA or AAX format.
In this article, we are going to discuss many different ways to convert MP3 to an audiobook.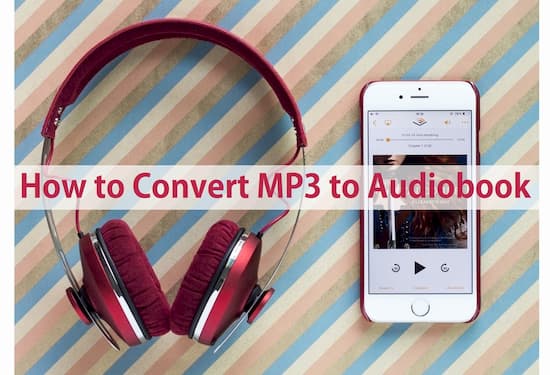 ---
Part 1. How to Convert MP3 to Audiobook with Chapters
In the first method of this article, we are going to explain how to convert MP3 to audiobooks with chapters using iTunes. iTunes is a very famous and all-in-one media player. It can run almost any form of media. It is not just a media player; it also has many other features like converting MP3 files into audiobooks. We are going to give you a guide on how to convert MP3 to an audiobook.
Step 1: Make sure that you already have iTunes installed on your computer. Now launch iTunes, open the "Music" category, and then to locate your audio files, click on "Library."
Step 2: Now right-click on the desired audio file, click on "Get Info," and then click on the "Edit Info." To select multiple items, hold Ctrl or Command button, then select each file individually.
Step 3: Now, change the "genre" to "Audiobook" in the "Details" and check the box next to the "Album is a compilation of songs by various artists."
Step 4: Now change the media kind to "Audiobook" from the "Options" tab. Now all your selected audio files will convert to audiobooks. It will also treat multiple files as different chapters. It will convert MP3 to an audiobook with chapters.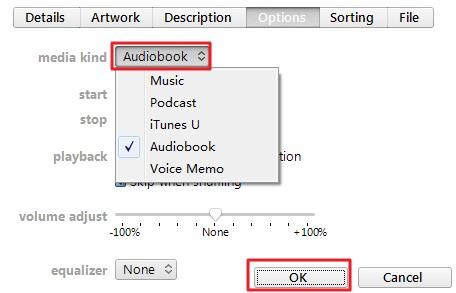 ---
Part 2. How to Convert MP3 to Kindle Audiobook
Kindle allows you to download the Audible app on Kindle fire models. You can then listen to audiobooks from Audible on your Kindle device. If you have an audiobook in MP3 format, you can not listen to it on Kindle devices directly. Therefore, here are some steps that you can follow to convert MP3 to Kindle audiobook.
Step 1: Firstly, you have to install an audiobook player on Kindle fire. For MP3 players, we suggest you download the OverDrive media player on your Kindle device.
Step 2: Now that you have an MP3 media player on Kindle, connect the Kindle device to your computer using a USB cable. Your computer will recognize your Kindle immediately.
Step 3: Now open your mounted Kindle device on your computer from the native file explorer.
Step 4: Now open the audio folder in other windows where you have your MP3 audiobook. Choose the desired audiobook and copy it. Now paste the MP3 audio file into the Audible folder for OverDrive to recognize it. If you are using any other media player, then paste the audio file in the "Music" folder.
---
Part 3. How to Convert MP3 to AAX Audiobook
Now that you how to convert MP3 files to audiobooks using iTunes. The only downside of that method is that it only works for IOS devices and not on android devices. Now, if you want your audiobooks to work on your android device or if you are not a tech enthusiast, we have a simple alternative method to get your job done.
You can convert your MP3 audiobooks to AAX audiobooks using AudFree Audiobook Converter. Here is a quick 3-step guide on how toconvert MP3 to AAX audiobook.
Step 1: Import the MP3 audiobook into the AudFree Audiobook Converter by clicking on the "Add Files" button.
Step 2: Alter the output format and other parameters according to your desired preference to get a more personalized and high-quality result. In this case, change the format to AAX.
Step 3: Now, simply click on "Convert," and the audiobook will be converted into AAX format.
---
Tip: How to Convert Audiobook to MP3
AudKit Audible AAX Converter, is an amazing tool that is perfect for both professional and domestic use. This converter allows you to convert Audible audiobooks to MP3. Audkit also supports many formats like MP3, AAC, M4A, etc. it can convert at up to 100x the speed of the normal converter. You can change the parameters to get the highest quality possible. It also has a powerful editor that allows you to split the audiobook into chapters. Now we are going to give you a step-by-step guide on how to convert Audiobooks into MP3 using Audkit Audible Converter.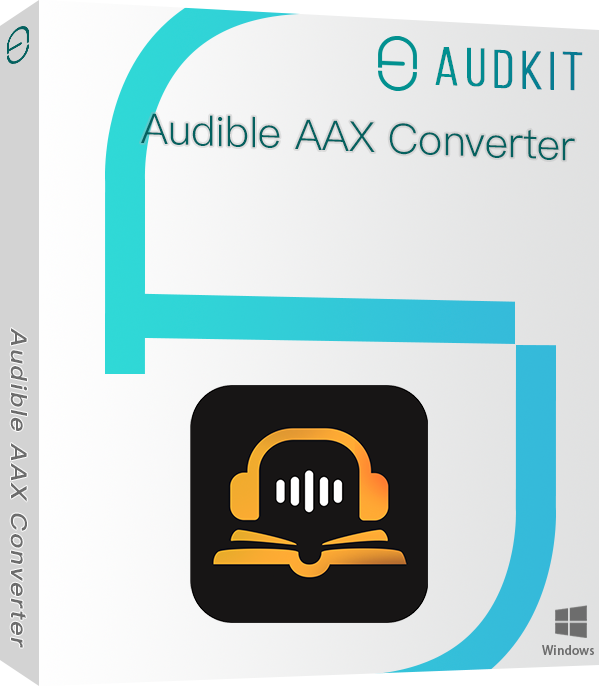 Render your audiobook files in AA/AAX formats
Remove format protection from Audible audiobooks
No limit on the number of downloading audiobooks
Automatically split audiobooks into segments or chapters
Step 1 Launch the app and import the Audible Audiobook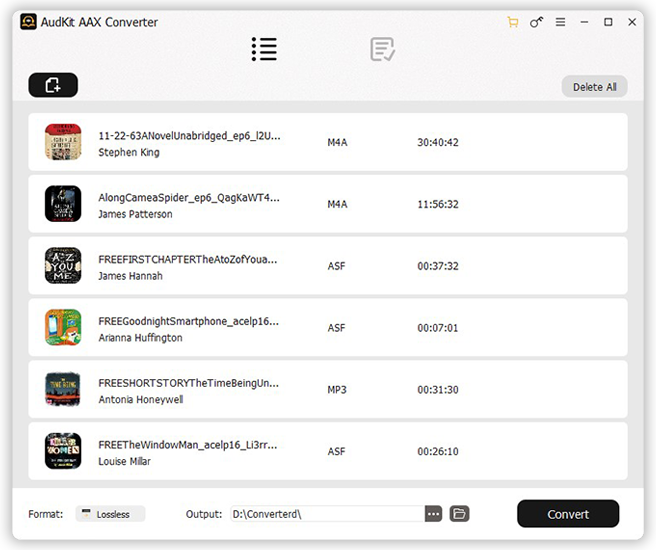 The first step is to launch the Audkit Audible Converter and import the audiobook. To do that, you have to click on the "Attach" button then manually search for the desired book.
Step 2 Edit the settings and other parameters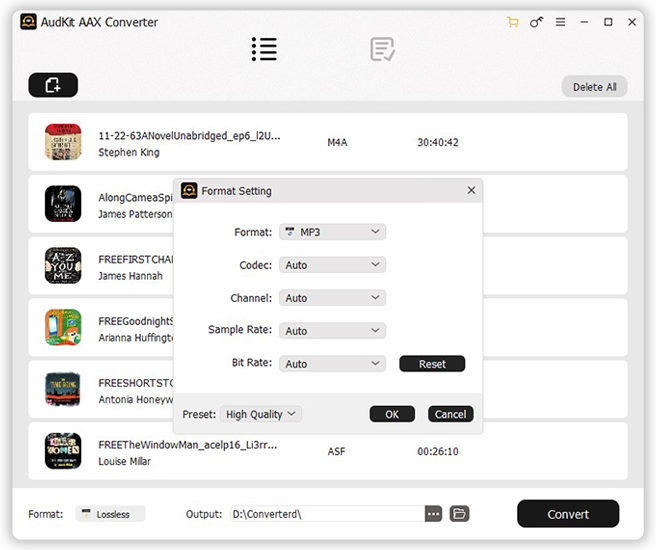 After importing, you have to change the format from the format settings. Click on the "Format" button and choose the format to MP3. You can also change the other parameters like bitrate, sample rate, codec, channel, etc.
Step 3 Splitting the audiobook into chapters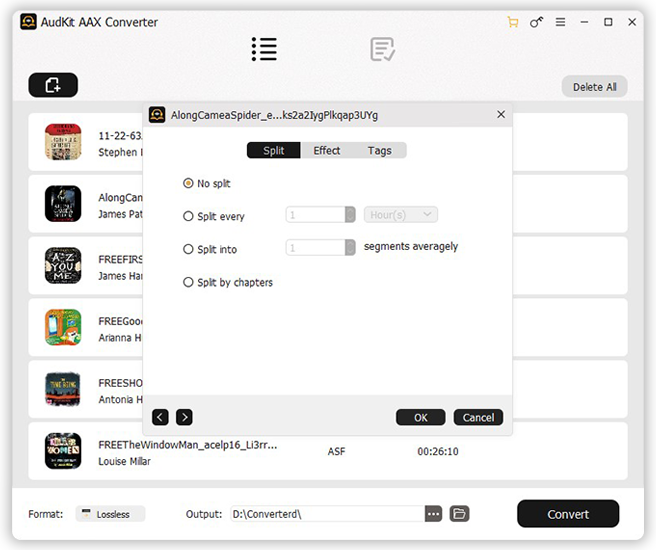 Here you can split the audiobooks into chapters by going to the "Split" settings. Here you can split the audiobook into chapters.
Step 4 Convert and downloading the audiobooks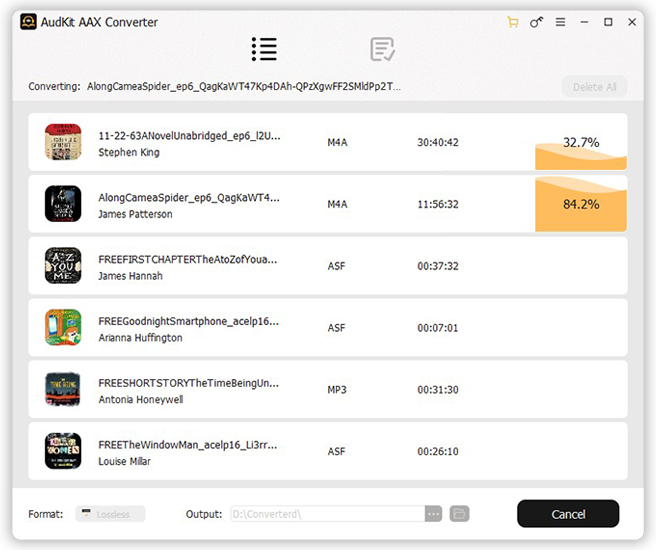 After you are satisfied with your settings, you simply have to click on the "Convert" button, and this app will do the rest of the work for you. After it is done converting, it will be stored in your computer locally in an MP3 format.
---
Conclusion
In this article, we discussed how to convert MP3 files to audiobooks using different methods, and in the end, we also discussed how to convert audiobooks to MP3. If you want to convert your audiobooks into MP3 format, Audkit Audible Converter is the best converter to do that.
---