Audible is a leading provider of spoken audio content, such as audiobooks and radio shows. They offer a wide variety of books read by professional narrators. However, Audible books come with protection to prevent unauthorized distribution and may limit the user's ability to use and access their purchased content. This technology can be inconvenient for users who want to listen to their books on different devices or platforms or back them up for safekeeping.
Are you tired of being restricted by device limitations, format restrictions, and protections on your Audible books? Our comprehensive guide will show you how to remove Audible DRM. With our help, you can listen to your Audible books on any device, convert them to different formats such as mp3 and m4a, and have more flexibility and control over your audiobook collection. Don't settle for less. Follow our guide and experience the true freedom of your Audible library.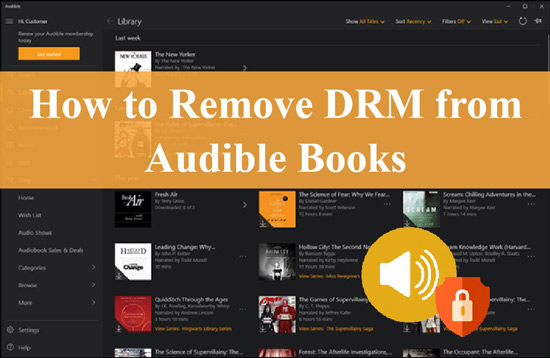 ---
Part 1. What Is Audible DRM?
Audible DRM (Digital Rights Management) is a technology that prevents unauthorized distribution and piracy of Audible's digital audio content, such as audiobooks. This technology encrypts the content, making it only accessible to authorized devices and platforms authorized by Audible. It allows users to listen to their Audible books on multiple devices or platforms or make copies of them for backup or other purposes.
Additionally, Audible limits the number of devices authorized to use a specific key, typically only allowing a few devices per account. If a user wants to listen to an audiobook on multiple devices, they must authorize each device separately and can only listen to it on the authorized devices.
---
Part 2. How to Remove DRM from Audible – Optimal Way
Are you tired of being locked into specific devices or platforms for your audiobook listening? Discover how to remove DRM from Audible books and open up new possibilities. Various third-party software options are available online that claim to be able to eliminate the protection from audiobooks. AudKit Audible AAX Converter is one of them.
AudKit Audible AAX Converter is a third-party software that can remove the protection from Audible audiobooks. The software is user-friendly, easy to use, and can convert Audible audiobooks quickly at 100X. It also maintains the original quality of the Audible books while downloading them into MP3, AAC, WAV, and other multiple formats. With this software, users can play their audiobooks on any device or platform without restrictions imposed by protection.
One of the additional features is batch conversion. This feature allows users to convert multiple audiobooks at once, making the conversion process more efficient and convenient. Users can select multiple files and start the conversion process, saving them much time.
The AudKit software as well provides options to customize the output settings like bit rate, sample rate, and channels to optimize the output quality according to their preferences. The software also preserves the ID3 tags of the original audiobook files, such as title, author, cover, etc., which ensures that users retain important information about the Audible book during the conversion.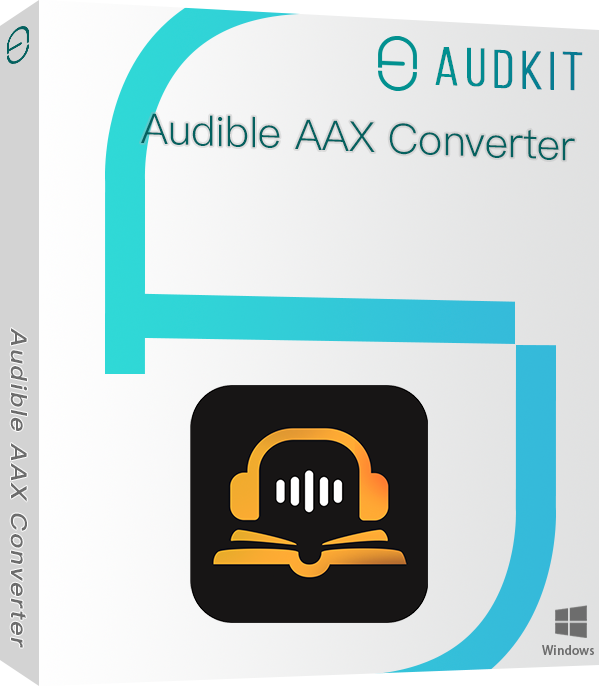 Easy-to-use interface with a simple conversion process
Able to keep high output quality and ID3 tags of Audible files
Download Audible to multiple output formats to remove DRM
Start the Audible books downloading at 100X quick speed
Unlock the power of your Audible audiobooks and experience seamless listening everywhere you go with AudKit Audible AAX Converter. Follow the easy steps below and enjoy Audible audiobooks on any device, anytime, anywhere.
Step 1 Import Audible audiobooks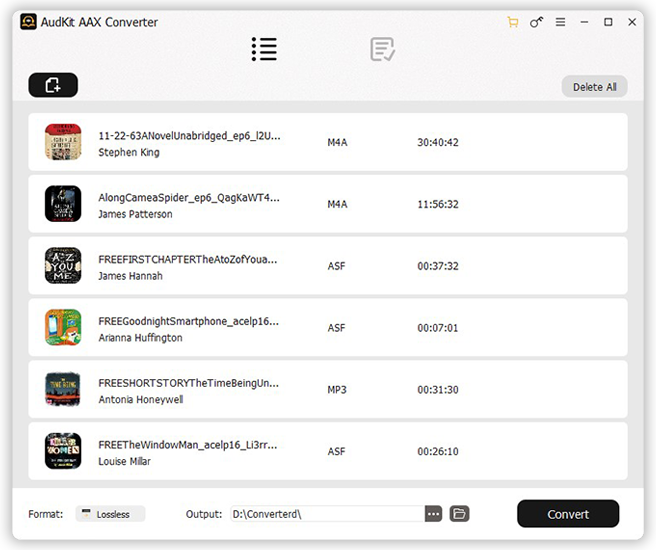 Go to the official website of AudKit Audible AAX Converter and click on "Download". Then launch the AudKit application on your PC once it has been installed. Tap the "Add Files" icon from the top-left, select the Audible audiobook you want to convert, and click "Open".
Step 2 Adjust output settings for Audible books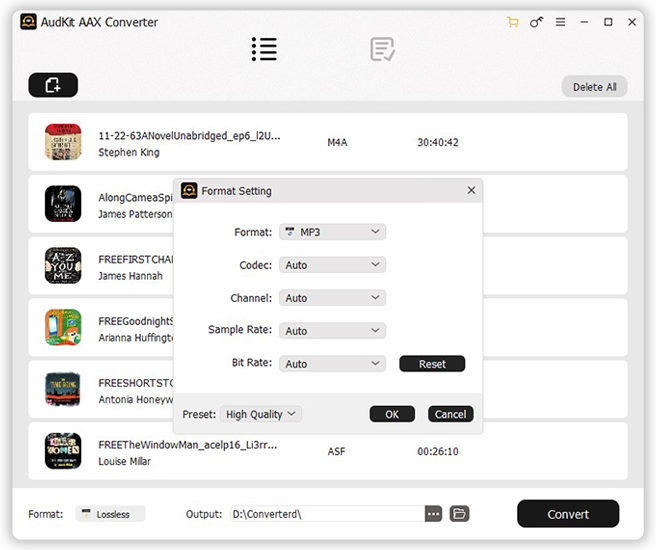 Click on the Format option down below and choose the output format and output settings (such as bit rate, sample rate, and channels) that you prefer. Tap the Edit icon next to each audiobook, you can adjust the effect, edit ID3 tags and split the Audible book into segments.
Step 3 Download Audible books to remove DRM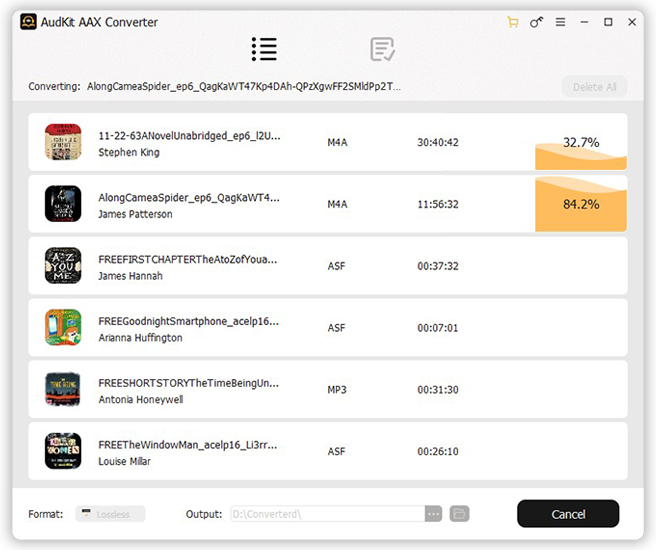 Once all parameters are set, start the downloading conversion by clicking the "Convert" option. It will download audiobooks from Audible into the audio format you choose. Once the conversion is complete, you will find the protection-free audiobooks in the specified output folder and play them anywhere.


Note:
If you want an all-in-one tool to remove DRM from all your audio, look no further than AudKit Apple Music Converter. It will remove DRM from protection from Apple Music, iTunes songs, and Audible audiobooks, as well as, common audios.
---
Part 3. How to Remove Audible DRM Free on Windows/Mac
Frustrated with device restrictions on your Audible audiobooks? If you're looking for free DRM removal, inAudible can help. InAudible, available on Mac and Windows, is a protection removal software that enables unrestricted listening on any device. Follow the simple steps below on windows for the freedom to listen to your favorite Audible audiobooks with ease.
On Windows
Step 1: First, you must download and install the inAudible software on your Windows computer, and then open the software.
Step 2: Next, tap File to locate and import the Audible audiobook files you want to get rid of the protection from and define the output destination.
Step 3: Adjust the audio formats from Output Type. Additionally, inAudible for Windows offers advanced chapter customization options, click on the Adjust Chapters to access the "Advanced Cutter/Chapterizer" window for even more flexibility.
Step 4: After that, initiate the conversion process for your Audible file by clicking the "Begin Conversion" button.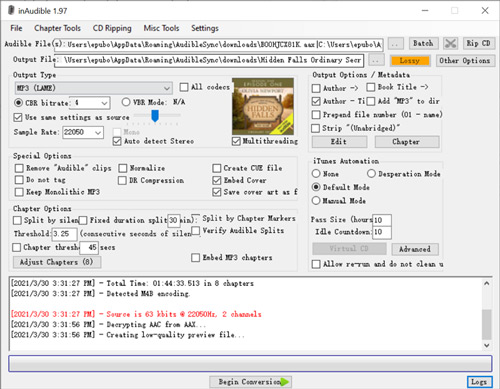 On Mac
Step 1: Download, install and start up the inAudible app on your Mac computer.
Step 2: Select the Audible books by clicking the three-dot icon next to the Input line.
Step 3: Adjust the codec, sample rate, and other settings for Audible if you need.
Step 4: Click the "Begin Conversion" button to start downloading Audible books on Mac to remove DRM from Audible files.
Wait for the conversion to complete. The output files will be saved to the destination folder you specified. You will be able to import the converted Audible files into your media player and enjoy them without protection.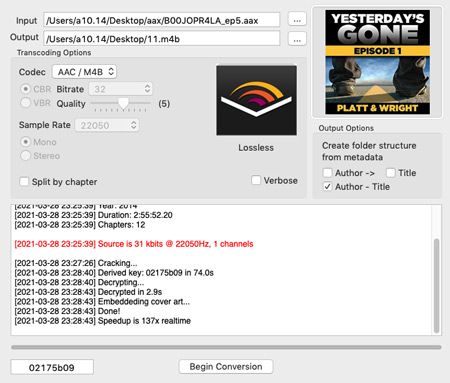 ---
Part 4. How to Remove DRM from Audible Books Free Online
What if you want to use an online tool to remove DRM from Audible audiobooks? Then say goodbye to Audible's restrictions with 123apps Online Audio Converter which is a web-based application that allows users to convert audio files from one format to another, such as MP3, WAV, AAC, and more.
Follow the steps below to convert Audible book files for use on different devices or platforms, such as smartphones, tablets, or media players that may not support certain audio formats, and enjoy your favorite audiobooks.
Step 1: Go to the 123apps website. From Navbar, select Audio Converter under Converters.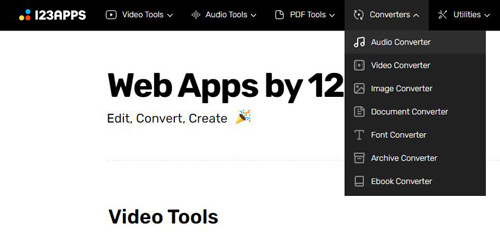 Step 2: Click the "Open files" button to select the audio file of your Audible.
Step 3: Select the output format to convert Audible to MP3, WAV, FLAC, or other formats.
Step 4: When it's ready, click the "Convert" button to start the conversion process.
Step 5: Once the conversion is complete, you can download the converted file by clicking on the "Download" button.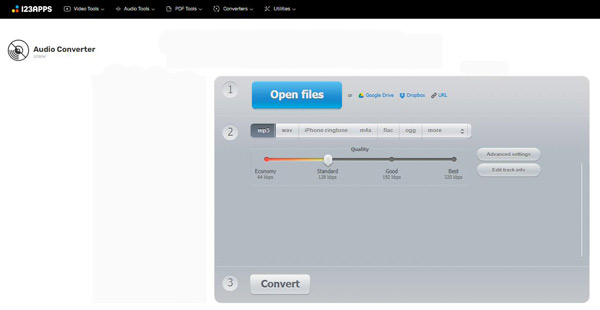 ---
Part 5. Conclusion
By introducing what Audible DRM is and the ways to remove Audible DRM Mac/Windows/online, it is helpful if you follow the steps properly. It allows you to enjoy your favorite books without being limited to one device. If you are looking for the optimum way to get rid of the protection from Audible books using third-party software, AudKit Audible AAX Converter is your choice. Give it a try!
---