Among the three major video game consoles is the PlayStation besides Nintendo Switch and Xbox One. This eighth-generation console found its rightful place in late 2013, launched to pass the button from PS3. It's actually better with full features as compared to its predecessors. You can stream gameplay and upload screenshots at the click of a button. And controlling PS4 just got better with its "Updated Controller" feature.
Together with the "Remote Play" is good enough. But can you get Audible on PS4? That's a misery that this article and even users await to unravel. We will discuss the ways about Audible PS4 and sort out the best ways to stream Audible on it.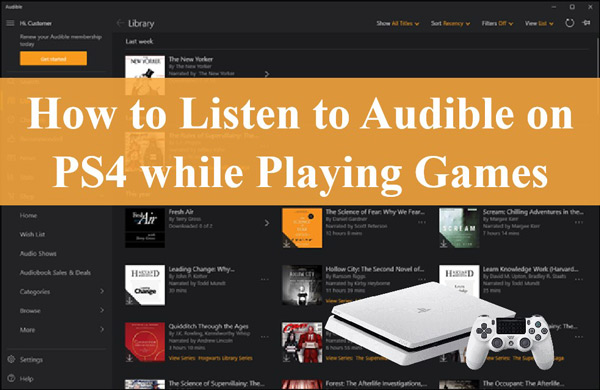 ---
Part 1. Can You Get Audible on PS4?
"Is there an Audible app for PS4?", some users look for an answer to this question. Unfortunately, PS4 doesn't have the chance to install the Audible app.
Even though PS4 doesn't have an Audible app, you can still use other means to stream Audible PS4. These include using the PS4 internet browser or simply converting your Audible to common output formats. For this, you need a reliable tool to remove the restriction from Audible.
And to meet your needs, we will discuss these 2 ways to make the Audible app PS4 possible for you to listen to. Let's first check how to get Audible for PS4 via the web browser.
---
Part 2. How to Listen to Audible on PS4 by the Browser
The first method to play Audible on PS4 can be through the internal browser. One issue with this way is that it can't run in the background. However, it is easy for you to stream Audible books with its app. Check out the steps.
Step 1. Launch the PS4 console and wait for the home screen to avail.
Step 2. Next, select the "Internet Browser" option.
Step 3. Log into your "Audible.com" account. You'll then manage to access the library.
Step 4. Hit the PS4 console "Start" button and begin searching for Audible books to play.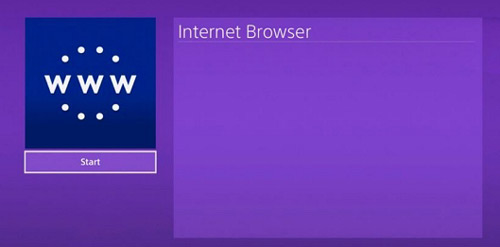 ---
Part 3. How Can You Get Audible for PS4 – Required Tool
The above option has limited features such as not playing Audible in the background on PS4. Another option on how to listen to Audible on PS4 as background sound can be converting Audible into plain formats. You need a tool to download Audible books offline and that is AudKit Audible AAX Converter.
It works in a few steps to give you compatible formats for PS4. Losslessly convert your Audible AA/AAX to MP3, and AAC, among other formats supported by PS4. The AudKit tool works at 100X speed, enabling the conversion of numerous files in a go. It can also preserve the ID3 tags to give 100% original files. When it comes to organizing your files, the AudKit Audible AAX Converter can split your audiobooks from Audible into segments by either chapter or time frame.
Nonetheless, you get what you want with AudKit Audible AAX Converter. Easily customize your audiobooks by changing the parameters like bit rate, channel, and effects such as pitch. Once all is achieved, freely play your Audible files on PS4 or any other device without needing an internet connection.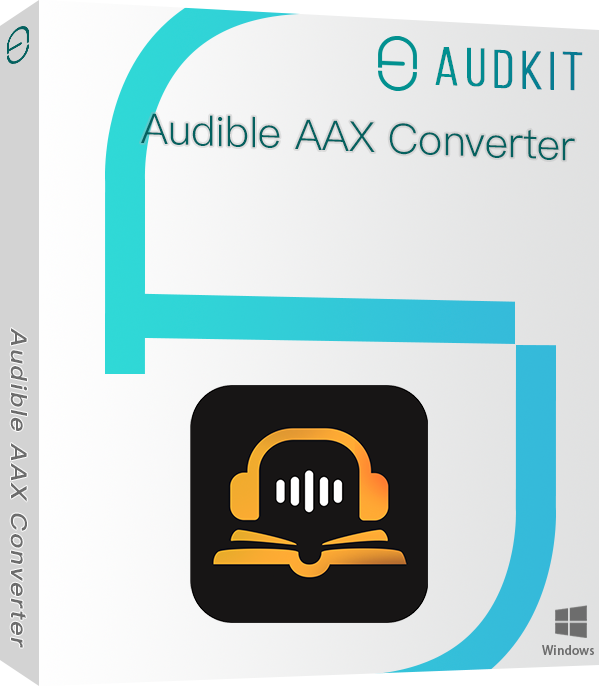 Keep 100% audio quality with original metadata preserved
Convert Audible to common formats like AAC, MP3, etc.
Works at a lightning downloading speed of 100X rate
Split Audible books into sections to play them on PS4
How to Download Audible Offline for Playing on PS4
It is possible to listen to Audible on PS4 once you convert your Audible files. Visit the official website of AudKit to download and install the Audible AAX app. However, this first move will only manage to convert the first third for the Audible audiobook. You, therefore, need to register AudKit software and break all limitations of the trial version. Click on the "Register" option to buy and get a registration license and registration code. Then fill in your licensed information as required.
Step 1 Upload Audible books to AudKit software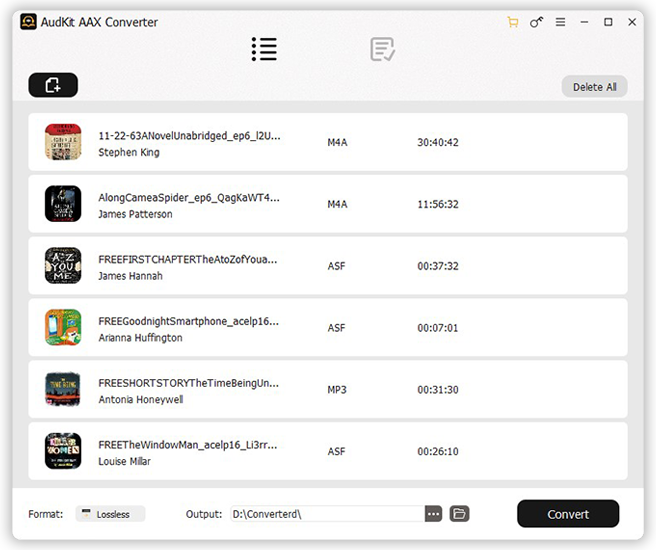 Click on the "Add Files" button to enable all Audible files to show up. Then, select the files you wish to convert by clicking on the "Open" option to load them. Likewise, you can drag and drop your Audible books into the AudKit Audible AAX Converter's interface if you are dealing with a few files.
Step 2 Reset Audible output format for PS4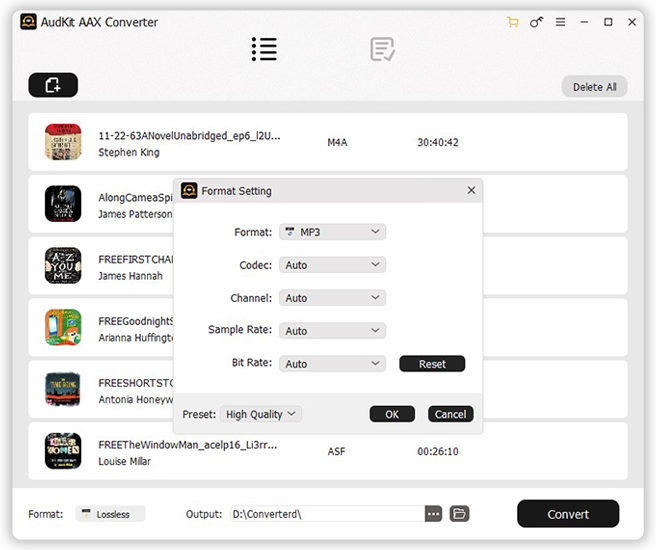 Click on the "Format" tab located on the below left to launch the Format Settings window and begin to customize the output format and other settings. Choose the compatible audio formats for PS4, such as MP3, AAC, AC3 and others. Likewise, go on to customize the attributes such as sample rate, bit rate, audio channel, etc.
Step 3 Split and edit Audible books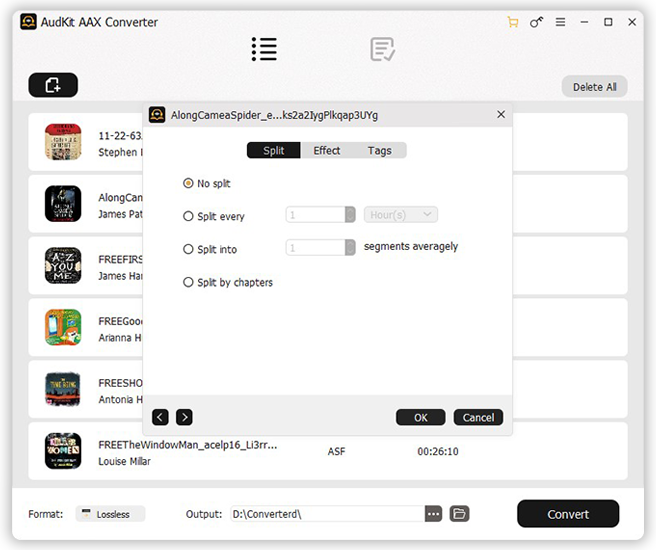 Your added Audible audiobooks have two icons each shown if your cursor hovers over them. The first is the "Edit" tab used to customize the ID3 tags under the "Tags" section. These include titles, years, albums, and genres, among others. Then move on to the "Split" section to split your Audible books into manageable sections as well as the "Effects" section to adjust the speed, volume, and pitch as you wish.
Step 4 Convert Audible books into the formats supported by PS4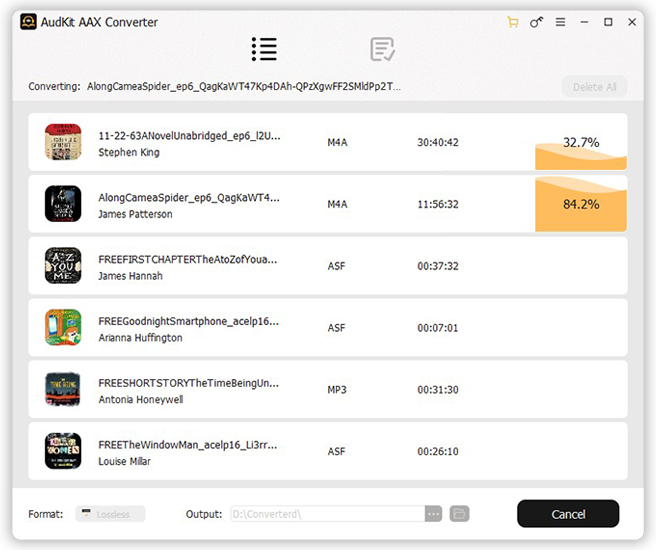 After confirming the settings by clicking "OK", then click on the "Convert" tab on the below right to let the AudKit app start the conversion process. It will download and convert your Audible files to the earlier set parameters. You then can find the downloaded Audible books by tapping the folder icon or directly searching from your local drive.
How to Transfer Downloaded Audiobooks to PS4 through USB drive
You finally have your Audible books at hand and can't wait to add them to PS4 and stream them. Well, check out how to move the converted Audible files from your computer to PS4 by copying Audible books to USB.
Step 1. Connect your USB drive to your computer and wait for it to be recognized.
Step 2. Check for the Audible audiobook's folder, right-click on it, then hit the "Send to" option. Select the USB drive as the destination.
Step 3. Then "Safely Eject" your USB drive from your computer. It may crash if it's not given ample time to show the "Safe to Remove" alert.
Step 4. Now, connect the USB drive to your PS4 console.
Step 5. Boot up your PS4 and you'll notice the "Media Player" appear automatically.
Step 6. Finally, click on the "Media Player" icon then start playing the Audible files from the USB. It will sound in the background as you continue to play your game on the PS4 console.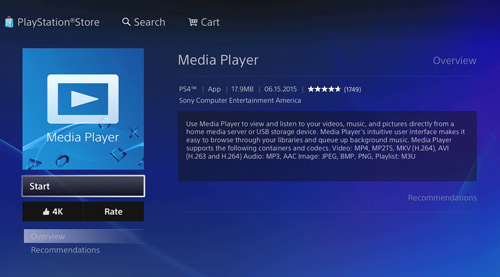 ---
Part 4. Conclusion
Even though the Audible PS4 is still far-fetched, and if you are one of the people who wonder how can you listen to Audible on PS4, other options like playing with the Browser or using a conversion tool are still at bay. You can engage with Browser if you don't mind limited features. However, AudKit Audible AAX Converter will give you the real deal if you want to use advanced features like split and edit. And most importantly, you can play the converted Audible audiobooks in the background.
---