Roblox is a multiplayer gaming platform through which you can play a variety of games. Playing music while playing games is one of the topmost priorities of users. What platform can help you in playing music better than Spotify? Yet, many of you have no idea how to listen to Spotify while playing Roblox. In this article, you will find the best answer to questions like how to play Roblox while listening to Spotify. Thus, get ready to have more adventures with Spotify and Roblox together.
---
Part 1. How to Play Spotify While Gaming Roblox on Mobile/PC
Now, no one can take breaks from playing games on mobiles and PC. If you don't know how to play Spotify while playing Roblox on your mobile and PC devices, this section will help you. It is the essential way to stream Spotify while gaming Roblox.
Step 1. You first need to open Spotify on your device and play the song of your choice.
Step 2. Following this, go to Roblox and start a game, and you will notice that Spotify music is stopped. No need to worry because you can play it again without opening Spotify again.
Step 3. Open your notification panel and tap on the "Play" icon. Thus, Spotify music will start again.
---
Part 2. How to Listen to Spotify Without Pausing
If you want to play music without stopping by Roblox, you can do this without following any complicated procedure. The Roblox allows users to upload music files and play Spotify in the background. You will need to know how you can get music from Spotify locally. Thus, have a look below to learn about Spotify Roblox download.
How to Get Music From Spotify Locally
A best-in-class tool through which you can download Spotify music on your device is AudKit Spotify Music Converter. With this tool, you can batch-download Spotify songs in lossless quality. It also supports various formats, such as MP3, ACC, and more. Thus, you can download Spotify songs in your desired formats. Above all, it has a 5X faster conversion speed, so you can get songs on your local drive swiftly.
Moreover, it doesn't require you to have the premium version of Spotify to download the songs. You can use the free Spotify account to get Spotify track links to get them to download for offline use. And the AudKit will make it effort to preserve the audio quality and ID3 tags.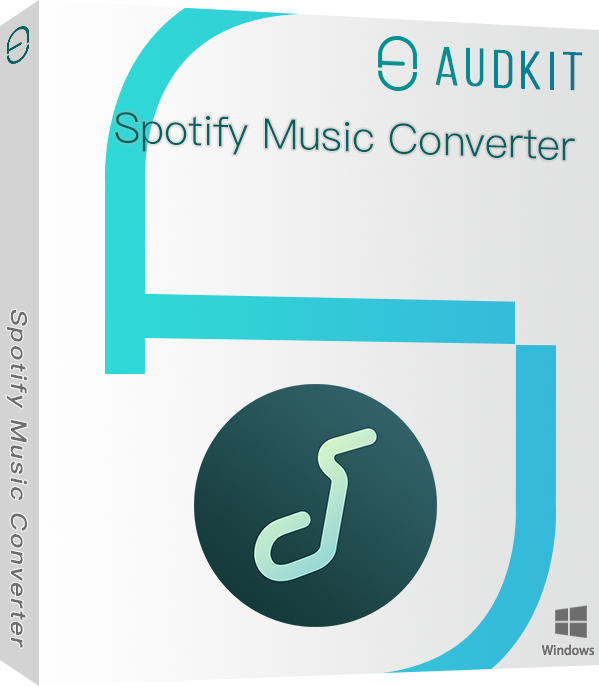 Listen to Spotify music without any format restrictions once downloaded
Not only music, but you can also download albums and playlists from Spotify
No internet requirement, and you can play Spotify on Roblox offline
You can download multiple Spotify songs simultaneously at 5X speed
By following the steps listed here, you can download music from Spotify for uploading to Roblox.
Step 1 Select Spotify songs to the AudKit converter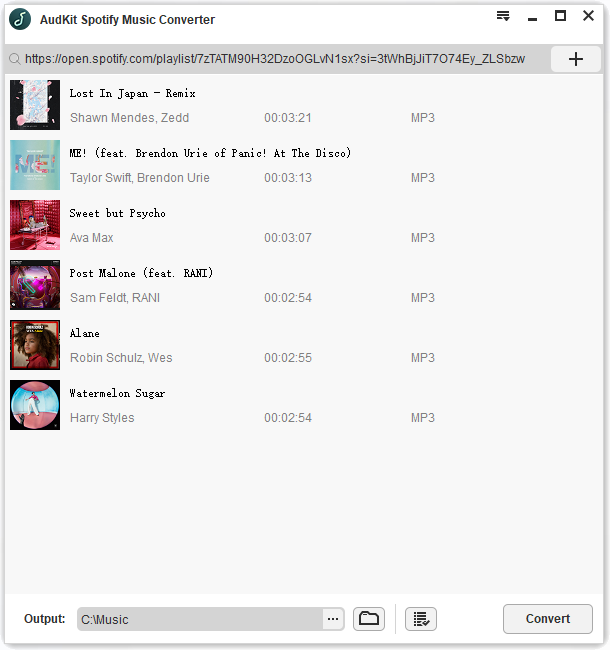 Initially, download AudKit Spotify Music Converter on your device and launch it. With this, Spotify will be opened automatically. Hereafter, browse the song that you wish to download and select it. Then, click "Share" and select the "Copy Song Link" option. Once the link is copied, go to AudKit Spotify Music Converter and paste the link into its interface. You can click on the "+" icon to load all of them.
Step 2 Personalize Spotify music settings for Roblox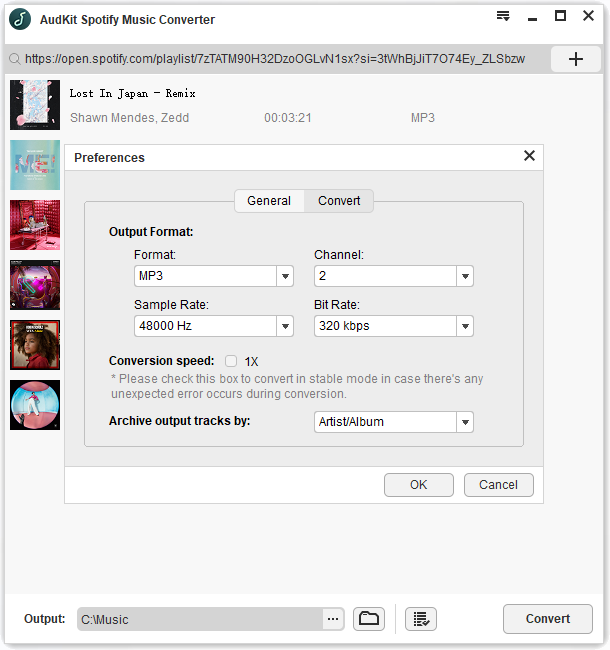 Next, click "Menu" from the taskbar on AudKit Spotify Music Converter and select "Preferences" from the dropdown. You need to click on the "Convert" option from the new window and then adjust the parameters as you like. The output formats for Spotify music have MP3, WAV, FLAC, AAC, M4B, and M4A. Meanwhile, the bit rate, sample rate, etc. can be modified to enhance your output quality.
Step 3 Download music files for Roblox Spotify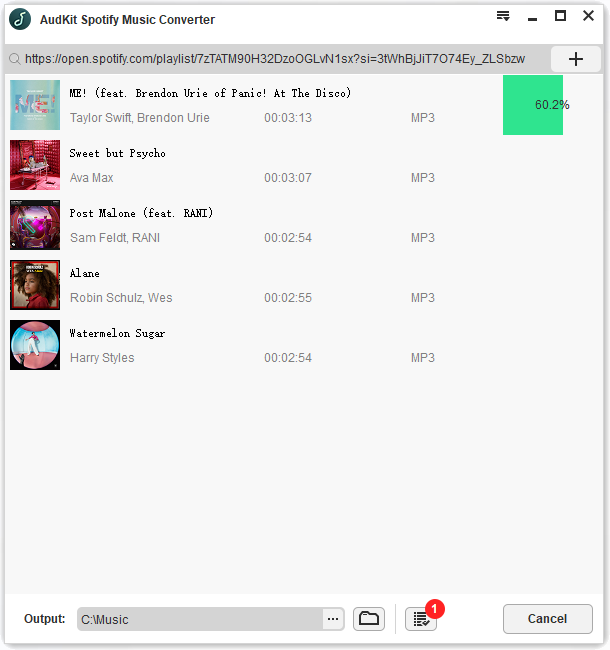 After customizing and saving the Spotify songs settings, click on the "Convert" button at the bottom right corner of the AudKit Spotify Music Converter. The AudKit program will start downloading Spotify music to your computer. Once the songs are downloaded, you can use them as per your need.
How to Upload Spotify Files for Playing in the Background
Now that you have downloaded the Spotify songs, you must be wondering how to play Spotify on Roblox. The audio in Roblox is basically created with the sound object. You can customize the sound just as you like. Follow the steps below to add Spotify songs to Roblox:
Step 1: Access your web browser, go to the "Create Audio" page, and tap the "Start Creating" button. Here, you can upload the song of your choice.

Step 2: Once the song is uploaded, you will see it on the audio page. Click on the page and copy its "Numeric ID" by clicking on the URL.

Step 3: Following this, go to "SoundService" and insert an object called "BackgroundMusic".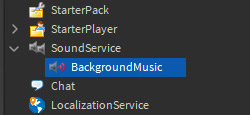 Step 4: Find the "SoundId" to paste the copied Numeric ID and hit the "Enter" key. Click "Preview" to know if the sound is accurate.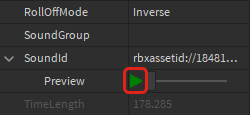 Step 5: Now, open "StarterPlayer" and select "StarterPlayerScripts". You have to create a "LocalScript" with the name "MusicPlayer". After this, create two variables' names, "SoundService" and "BackgroundMusic," and use the "Play" function to start the music.

---
Part 3. Extra Info about Spotify Island Roblox
Music and video games cannot be entertaining if not together. You have knowledge about any games that offer entertaining music to boost your adventure and experience. On Spotify Island Roblox, famous artists also sell the merchandise that the fans were eagerly waiting for. Above all, you can now play your favorite games while listening to your favorite artists without interruptions.
There are also many ways to collect unique and desired merchets with endless possibilities. It has uncountable games, including Treasure Hunt Stimulator, Escape Prison Obby, Defense Until, and more. From the avatar shop, you can also get the avatar of your liking. The Roblox Spotify event also provides many surprising gifts for the users, such as the 5 Petal Backpack, Butterfly Wings – SUNMI, and more.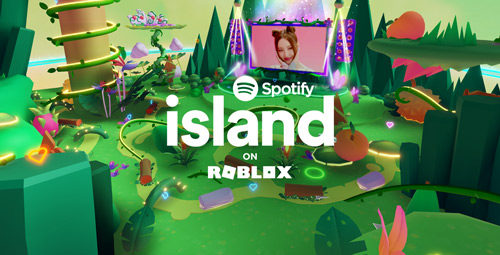 ---
Part 4. In Conclusion
As this article states, you can now play Roblox along with listening to your favorite tracks without hassle. It has two methods for you to stream music. One is running the Spotify app and playing tracks in the background. Another is adding music files to Roblox and setting it as background music.
You can learn how to listen to Spotify while playing Roblox from the above discussion. And to facilitate the process, we introduce one of the best tools that can help you listen to Spotify music without the internet is AudKit SpotiLab Music Converter. You can use it to download Spotify to MP3 and easily upload songs by following the guide.
---