Music works as a soul for its lovers because it has now become one of the most important parts of everyone's life. So, Spotify is one such platform where you can listen to millions of songs of your choice with the best quality sound. Now obviously there are places where the internet is not available or Wi-Fi is password-protected, and what if there you need to enjoy your music?
So obviously you might try to download and convert Spotify to M4A for offline listening. After all, Spotify itself provides a download option as well. But the result could be different from what you think.

---
Part 1. Spotifiy Music Downloads are Not Truly Downloaded
The Trouble with Spotify
Well, have you ever realized that even if you download a music file from Spotify still it does not exist in your computer storage? Yes, that is true, and you might have not even realized it till now, because you were just troubling yourself with trying to open all those files with Spotify.
Well, the truth is that if you have a Spotify Premium subscription then you have the option to download any music from Spotify, but downloading those files does not mean that now you have free access to those downloaded files, but those downloaded files are for you to listen to them offline with Spotify.
Still, if you want to locate those files in your computer storage then find the Spotify storage folder in C Drive, and there you can see all your downloaded files, but these are just useless for you.
Spotify Restrictions
Even if you try to change the extension for these files, still you will find nothing. Besides even if you end your Premium subscription, then all these downloaded files will disappear automatically.
At this point, you will realize that you should have tried some kind of Spotify to M4A converter instead of wasting your time with downloading them. What Spotify does is that it uses an encrypted file extension for their downloaded files, and due to that encryption you are unable to use those files with any third-party application.
---
Part 2. Best Spotify to M4A Converter: AudKit Spotify Music Converter
Find the Best Converter
It is obvious that now most of you would like to know how you can convert Spotify to m4a, well the answer is really simple that all you need is a Spotify to M4A converter.
Before you get into this, there is something else as well that you need to know about Spotify, that it does not allow any third party application to have access to the music of Premium membership. This thing annoys most of you because there is so much other software as well that you would just love to use for listening to your favorite music. Like what if you are traveling to a different country, where Spotify has not yet started their service. So, imagine yourself without music for even a single day? It is hard, right?
Enjoy Your Music Anytime
So, you need to see a Spotify to M4A Converter, to enjoy your music anytime and anywhere without any restriction. So, for that purpose, AudKit Spotify Music Converter is just the right platform that you were looking for. The best thing about this software is that it works both ways, which means you can also add M4A files to Spotify. This statement may get you in the confusion that how to add M4A to Spotify? Well, it is now possible, with this AudKit Spotify Music Converter. Furthermore, it also allows you to download Spotify Music directly, without even getting any kind of subscription.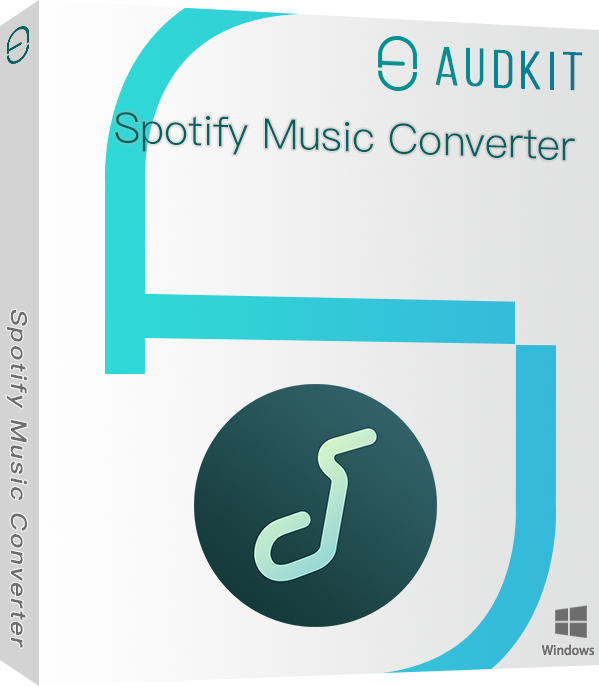 Convert Spotify music to M4A and other regular formats
The conversion works at 5X or faster amazing speed
Save raw metadata from the original Spotify tracks
Remove ads from the Spotify tracks without Premium
---
Part 3. How to Convert Spotify to M4A: 3 Steps
Preparation: This software is available in two different versions, for Mac, and Windows. Download and install according to your operating system. Once you have downloaded and installed AudKit Spotify Music Converter, then the next step is to activate it by entering the license. This license key will be provided to you via email.
Now comes the step by step guide to convert Spotify music to M4A, and no doubt this whole process is really simple and easy to understand.
Step 1 Add the wanted Spotify songs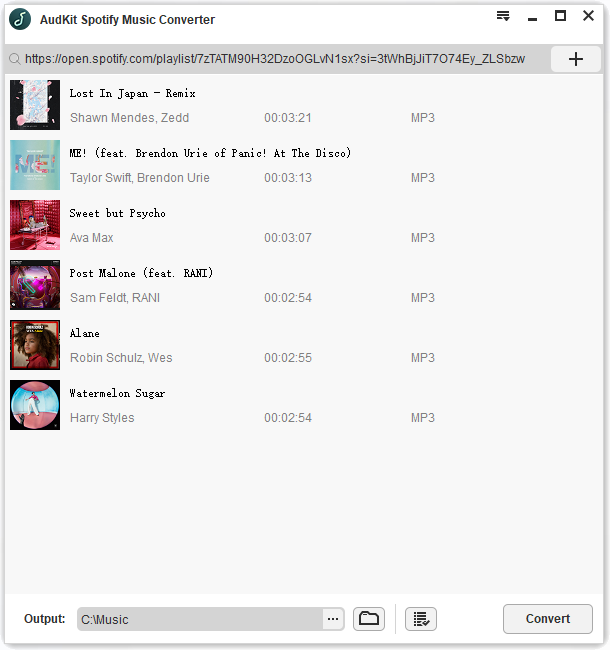 Simply open the Spotify app, it does not matter if you are using the free or premium version. Select your favorite song, and choose the option to share a song. Now a list of options will open up for you, and among these options, there will be one for Copy Song Link. Select that option, and now share link for that song is copied to your clipboard. Now open AudKit Spotify Music Converter, and paste that share link in the search dialogue box.
Step 2 Reset the output format to M4A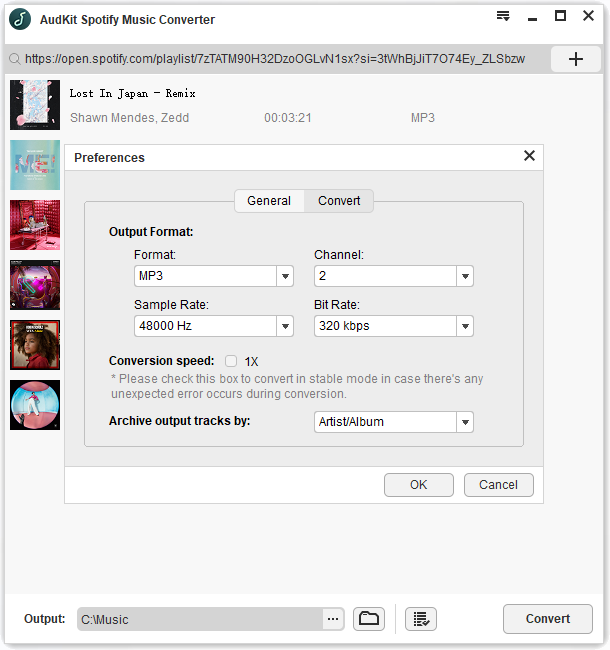 Once the song is imported, then you are all set to choose the output for that song. As for extension, you need to select M4A, as obvious. Then if you are a sound expert, and you want to make some advanced changes, then change the settings of a few other parameters as well accordingly.
As AudKit is already trying to speed the whole process, so they have set your default settings to 5x for a fast Spotify to M4A conversion. Remember that there might be a possibility that the song loses its stability after this fast conversion, so you should better change its normal speed.
Step 3 Convert Spotify songs to M4A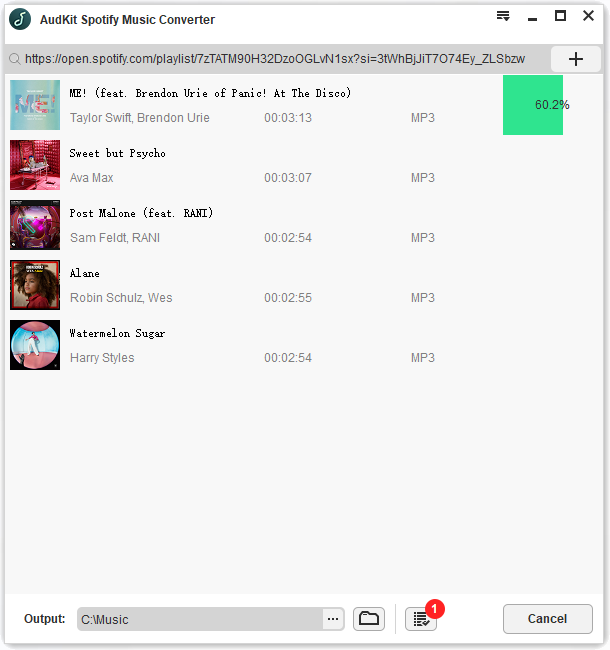 Once you are done with all details, then simply press the "Convert" button, and the process will get started. In the end, you will find an M4A file already saved in your computer storage, ready to be played with the same quality as you used to get over Spotify. So basically, AudKit Spotify Music Converter is an all in one Spotify to M4A converter.
---
Final Words
Furthermore, to save your time, you can also choose multiple files to convert Spotify music to M4A. Moreover, the best thing about this software is that it has compatibility with most of the media players, which means it does not matter which media player you are using from your end.
---