The world's largest library of Audiobooks, Audible, offers the chance to purchase any file you wish to listen to. You can buy your files from iTunes or Audible.com. However, you'll realize that it's only possible to play such files through the Audible official app. And they are normally protected by Audible's Digital Rights Management hence, encoded in AA or AAX file format. So, you must remove the DRM-protection if you wish to play your audiobooks from your iPhone or other devices. This quick guide will show you how to convert AAX to M4B for compatibility.
You may be wondering why M4B?
Simple; these are audiobooks! Yes. Files that end with the .M4b extension are categorized as audiobooks. They use the MPEG-4 part 14 container format. And when you convert your files to M4B, you can bookmark your recording at whatever point. This means that you can pause your audiobook and bookmark it with the aim of resuming at that point later on. It automatically saves you the agony of skipping through your audiobook to find the exact point you left at. Likewise, you can split up your audiobook in chapters to mimic a physical book. You automatically get manageable chunks that help you pick on your listening from any point. You may already be yearning for ways to convert AAX to M4B. Well, that's our next topic.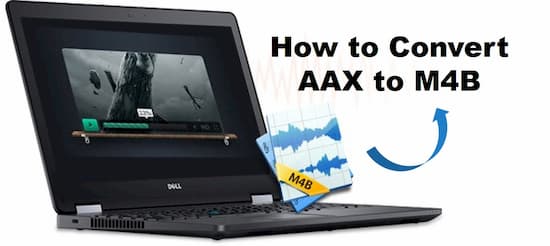 ---
Part 1. Convert AAX to M4B Free: Best AAX to M4B Converter
As earlier hinted Audible.com encrypts its files in AA or AAX and is only playable on the Audible app. You, therefore, need to convert them to enjoy your Audible audiobooks on other devices. Convert AAX to M4B free with the best software, AudKit Audible Converter. It is developed for Audible users to help convert Audible audiobooks to universal formats like M4B among other formats.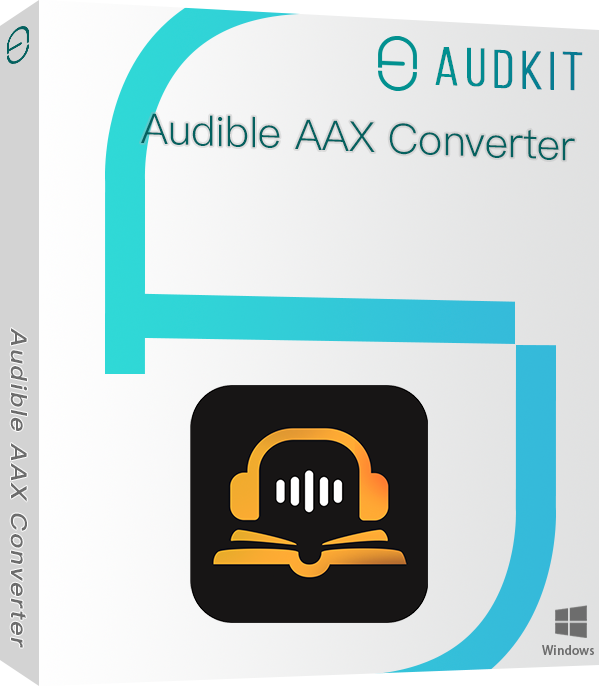 Save Audible AA/AAX converted audiobooks without data loss
Keep the chapters and ID3 tags for your encoded audiobooks
Split audiobook into multiple segments by chapters and time frame
Freely customize and adjust the output settings
---
Part 2. How to Convert AAX to M4B on Mac and Windows
Follow these steps to convert the protected AA and AAX audiobooks to M4B or other universal formats at superfast speed.
Step 1 Add the downloaded Audible audiobooks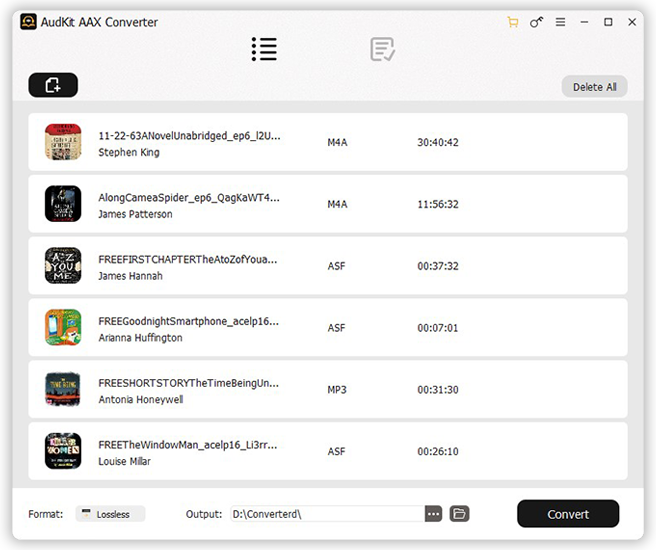 First, download the Audible audiobooks to your computer. Then launch AudKit Audible Converter. Next, drag the downloaded Audible files to AudKit's window. Alternatively, you can click the 'Add Files' icon in the AudKit app.
Step 2 Choose output format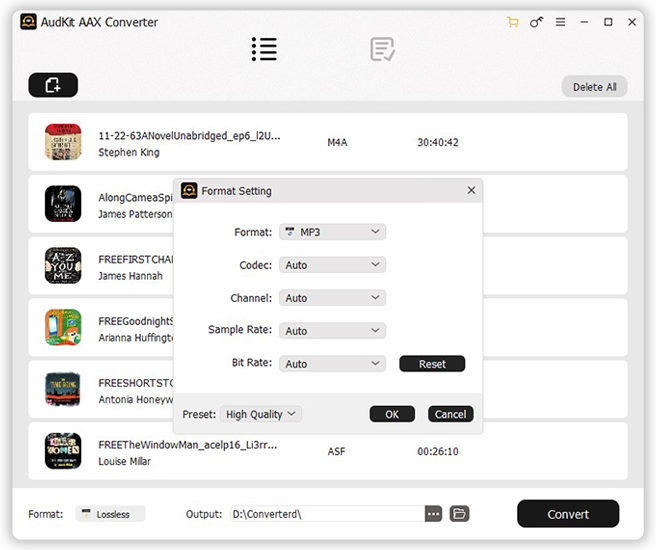 Once the downloaded audiobooks are loaded to the AudKit conversion window, you can start the editing process. Click the 'Edit' icon to choose the output format and set parameters. Among the changes you can set is the bit rate, sample rate, audio codec, among others. Besides, you can split the larger audiobooks into smaller chapters. Also, choose the 'M4B' format option.
Step 3 Convert Audible audiobooks to M4B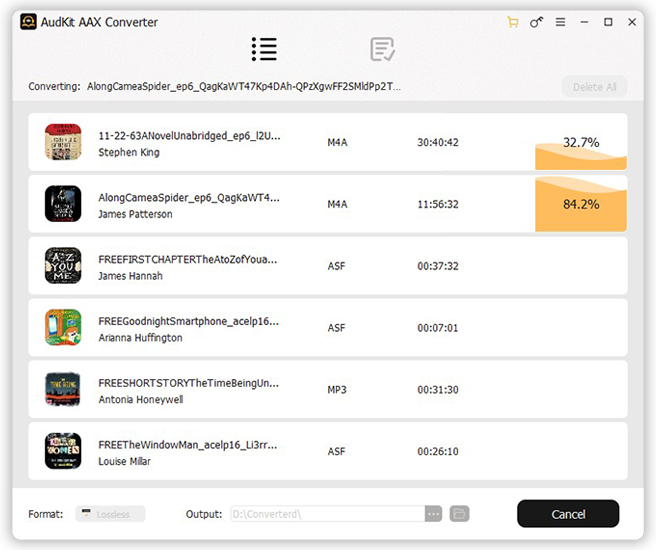 Confirm that the settings are correct then hit the 'Convert' button to commence converting Audible audiobooks to M4B format. The conversion time will depend on the number of Audible files. Finally, check the 'Converted' folder to locate your DRM-free M4B files.
---
Part 3. Convert AAX to M4B Online: 2 Ways
You can also convert AAX to M4B online. Check out these two ways to convert your Audible audiobooks without downloading any software.
Way 1. Convert AAX to M4B online with Convertio
Key Features of Convertio
Converts Apple music files to M4B, MP3, FLAC, and other formats.
It has an intuitive interface.
Free update and support.
Step 1. Visit Convertio website
Since you don't need to download this tool, the first step is to visit the Convertio website. Open your browser and enter into this site.
Step 2. Load AAX files
Click the 'computer' tan then select your AA or AAX files. Choose the output format as M4B.
Step 3. Convert your AAX files
Hit the convert button and your AAX file swill be converted to Audible M4B.
Way 2. Convert AAX to M4B online with Wondershare Online UniConverter
This is a converter tool that will help you to convert AAX to M4B free. It has robust backend support and reliable servers that grants flawless online services to the end-users. You don't need any installation to convert AAX to M4B Mac or Windows. Follow these steps for a cost-effective audio conversion process.
Key Features of Wondershare Online UniConverter
Supports over 1000 audio formats.
It can convert multiple files in batch.
Nil second waiting for uploading and downloading.
It is 30X faster than any online conversion tool.
Step 1. Upload AAX File
Go to the Wondershare Online UniConverter website. Check out for the Add File '+' sign. Hit the Add File sign to add your Audible audiobooks from the Audible.com app. You can also drag and drop your files to the conversion window.
Step 2. Convert AAX to M4B
Next, click the 'Convert' button to convert your AAX files. Remember to choose the audio output format as M4B.
Step 3. Download Converted M4B
Lastly, click the 'Download' button to save your converted M4B files. You can now access your downloaded files from your computer to be played on any Media Player.
---
Conclusion
Converting your AAX files to M4B has been proved easy with the best AAX to M4b Converter. The AudKit software has a cutting edge ability to remove the encryption and give you lossless output quality. Meanwhile, you can engage the free online tools for a quick turnaround. The two online versions may have a slug at providing lossless quality. However, you can still be sure of the utmost performance when you use the best conversion tool in the market.
---
Learn More: AAX vs M4B
AAX file formats are associated with the Audible Enhanced Audiobooks. Audible.com uses this format to encode its files, rendering them unplayable on none Audible.com apps. AAX files are multimedia digital audiobooks that are more detailed. They are regarded as reading materials that comprise of images, videos, links, timeline, among other multimedia. Likewise, AAX files are perfect supplement materials for interactive learning. That's why they are widely used in children's books or Audible Kids.
And it doesn't end there!
You require an Audible account and a minimal subscription fee to play the enhanced audiobooks.
M4B file format is a MPEG-4 Audiobook file. This is the format that's used by iTunes to store audiobooks. This format is mainly used on podcast and audiobook files. M4B files also contain audio and other metadata such as hyperlinks, chapter markers, and images. It is the hyperlinks that help in bookmarking a recording at any point. And that's the main reason for opting for M4B files. You can conveniently pause and resume from where you last left by bookmarking that point. Likewise, you can split a large audiobook into smaller chapters using the chapter markers.
---