In recent years, wireless earbuds have mostly replaced wired headphones by music fans and travelers. One such example is Samsung's Galaxy Buds, allowing listeners to bypass tangled cords while experiencing high-quality audio. Connecting these wireless earphones to a music streaming service like Spotify can improve the user experience, which allows users to easily navigate music and other audio content while on the road. Despite this, some users often wonder how to make a Galaxy Buds Spotify connection.
If knowing how to connect Samsung Galaxy Buds to Spotify and fix any issues that might occur is your top priority, this article will help you! We will also discuss ways to fix Galaxy Buds connectivity issues with Spotify and how you can listen to offline music in these headphones. Without revealing more, let's get into the mix!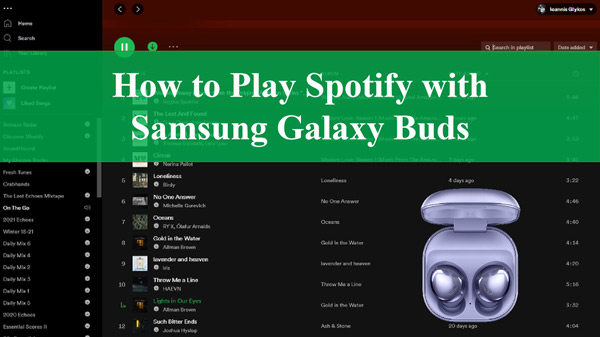 ---
Part 1. How to Control Spotify with Galaxy Buds via Spotify Tap
Spotify Tap is a feature added to the Galaxy Buds that enables users to manage Spotify audio without touching their phone. It works by programming the Galaxy Buds' touchpad to identify tap patterns equivalent to predefined Spotify instructions. Thanks to this function, users can enjoy a more streamlined and hands-free experience when listening to music on the move.
Using Spotify Tap to manage music playing on the Galaxy Buds is a great method to integrate the two services. It makes listening more convenient by removing the need to pull out one's phone whenever one wants to stop or skip a song.
Pre-Requisites of Controlling Spotify with Galaxy Buds via Spotify Tap
Both the Spotify and Galaxy Wearable apps must be downloaded and installed on your mobile device.
Galaxy Wearable is pre-installed on Samsung phones and can be downloaded from the Google Play Store by anybody with an Android device.
So, here's how to connect Galaxy Buds to Spotify using Spotify Tap:
Enable Spotify Tap
Step 1: Tap on your Galaxy Buds in the Galaxy Wearable app.
Step 2: Scroll down to Touch Controls and choose Touch and hold.
Step 3: You'll see that you can pick Spotify as one of the choices to control by selecting either the left or right earpiece. Then, press Done.
Note: You can also choose whether Spotify should continue playing the previous song or begin a new one depending on your preferences. Select your preference by tapping on Start with.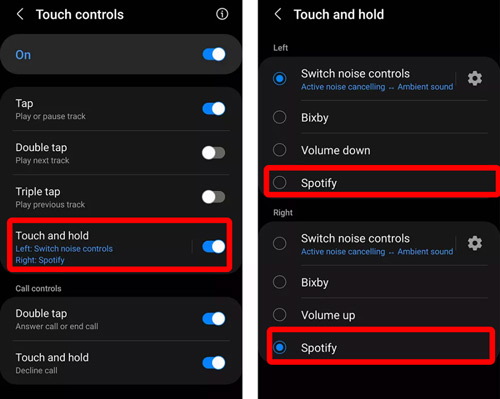 Use Spotify Tap
Note: To utilize Spotify Tap, Spotify must be running in the background on your phone.
Step 1: For a second, tap and hold on to the earpiece you designated to Spotify. Spotify will begin playing when you hear a beep.
Step 2: Tap and hold on to the same earbud again to stop or restart playing.
---
Part 2. How to Fix Galaxy Buds Not Working with Spotify
Samsung's Galaxy Buds are well-known wireless earbuds that provide a high-quality listening experience. However, some users can have problems connecting their Galaxy Buds to Spotify, such as the buds not functioning or the app failing to connect.
Fortunately, there are a few workarounds for Galaxy Buds not functioning with Spotify. Users can attempt the following five fixes.
Fix 1. Ensure Your Devices are in Range
The first fix is to ensure that both devices, the Galaxy Buds, and the phone, are within range of each other. If the two devices are too far away, the Bluetooth signal between them can fade or disconnect.
To guarantee a steady connection, go closer to the phone or keep it near the earphones.
Fix 2. Check the Volume on Your Device
You can examine your device's volume settings. The Galaxy Buds feature volume controls that are independent of the phone.
Make sure the volume on the Galaxy Buds is cranked up and that the volume on the phone is not muted or too low. Increasing the volume can resolve any audio or connection difficulties.
Fix 3. Repair Samsung Galaxy Buds
Try using the phone to fix the Galaxy Buds. Navigate to the phone's Bluetooth settings, pick the Galaxy Buds, then hit "Forget"/"Unpair" to remove them from the list of associated devices.
After that, place the earphones back into the charging case and reconnect them to the phone. This should clear up any difficulties with the connection.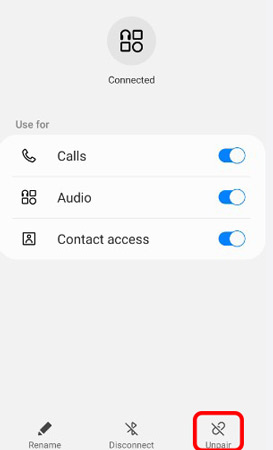 Fix 4. Make Bluetooth Device Discoverable
The fourth solution is to enable Bluetooth device discovery. Only one smartphone can be connected to the Galaxy Buds at a time.
If the earphones aren't connecting to Spotify, ensure the Bluetooth device isn't already linked to another device, such as a tablet or laptop. Disconnect the earphones from other devices and enable Bluetooth discovery in the phone's settings.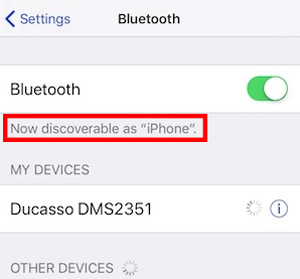 Fix 5. Reinstall the Spotify App
A faulty or outdated software version can sometimes prohibit Galaxy Buds from operating with Spotify. Remove the app from your phone and reinstall it from the app store. This should bring the app up to date and resolve any Galaxy Buds Spotify issues.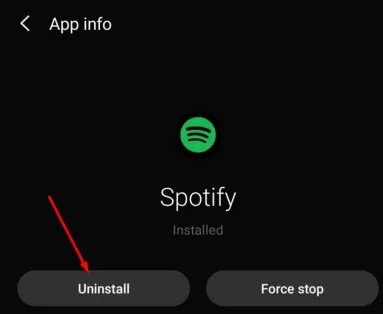 ---
Bonus Time: Downloading Spotify Offline Free for Galaxy Buds
Listening to Spotify music offline is a privilege of Spotify Premium users, however, users of the Galaxy Buds can now utilize the AudKit SpotiLab Music Converter to download Spotify offline for free. This app lets users download their favorite Spotify songs, albums, and playlists and convert them to local audio files suitable for Samsung Galaxy Buds.
One of the most useful features of the AudKit SpotiLab Music Converter is its ability to convert Spotify music to various output formats such as MP3, FLAC, WAV, AAC, and others. Users can utilize this option to choose the format that best meets their requirements and preferences. Furthermore, the program assures lossless sound quality throughout the conversion process, ensuring that the converted files keep the same quality as the original Spotify songs.
Another great aspect of the AudKit SpotiLab Music Converter is its quick converting speed. The app can convert Spotify audio at 5X speed, allowing you to download and convert big playlists swiftly. Furthermore, the program retains the Spotify songs' original ID3 tags, including the title, artist, album, and other information, making organizing and managing the downloaded music simple.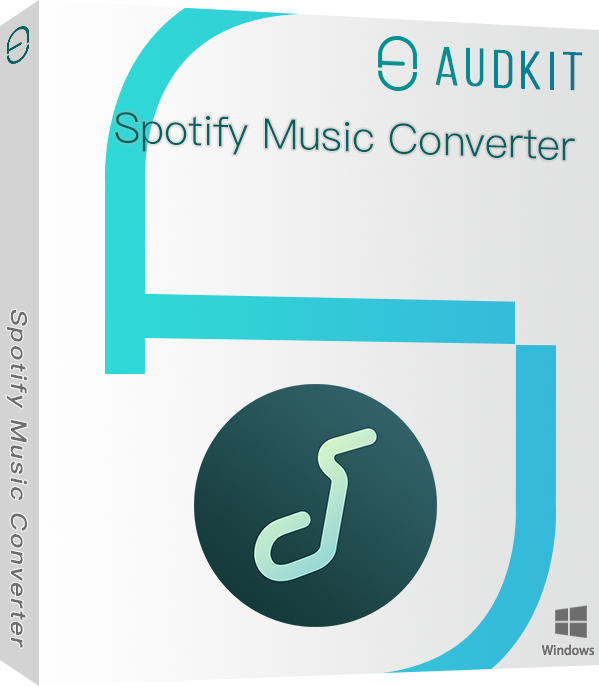 Convert Spotify music to various output formats
Ensure lossless sound quality and original ID3 tags for Spotify
Get Spotify to the computer with a fast conversion speed of up to 5X
Download and listen to Spotify music tracks offline without a premium
How to Use AudKit SpotiLab Music Converter to Convert Spotify
Step 1 Paste Spotify links to import songs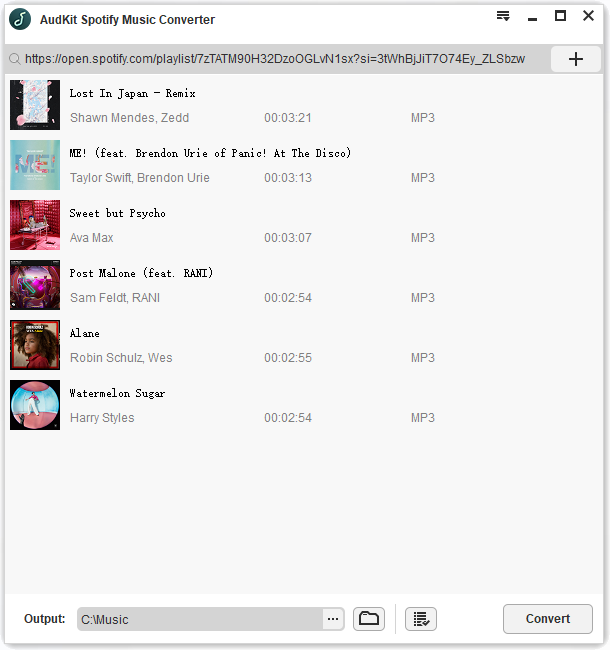 First and foremost, download AudKit Spotify Music Converter and launch it on your PC. To add music content, go to the Spotify music library and click the song by using the right mouse button > choose "Share" then "Copy Song Link" to copy and paste the URL into the search bar of the AudKit app, then press the "+" icon. Alternatively, you can add Spotify recordings to the converter by dragging and dropping them.
Step 2 Adjust Spotify audio output for Galaxy Buds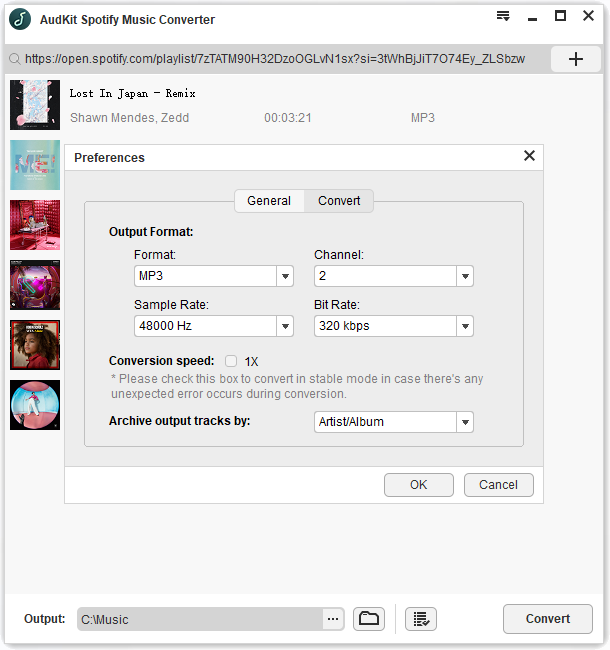 Next, tap Menu > Preferences from the toolbar/menu bar. On this window, select the Convert menu item to alter the output format of Spotify to MP3, AAC, M4A, M4B, FLAC, or WAV. Other adjustable parameters include channels, sample rate, bit rate, and the means for preserving output recordings. Click OK to save the settings.
Step 3 Start downloading Spotify offline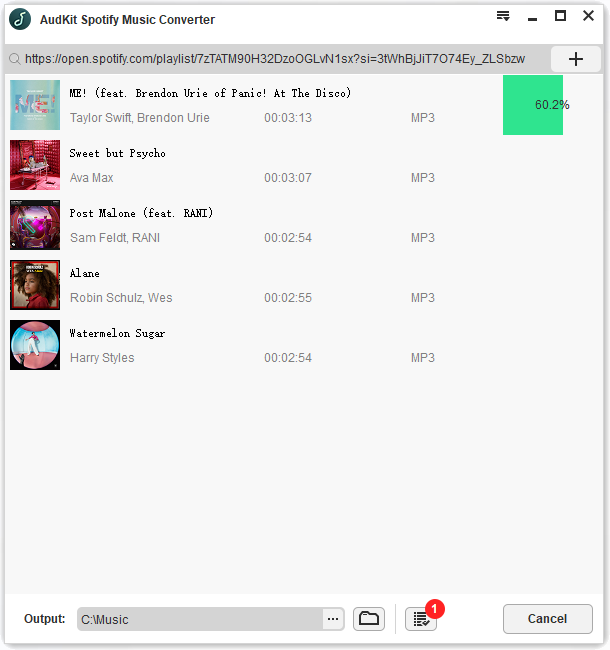 In the end, hit the Convert icon in the screen's corner to begin the conversion process. Once completed, click the folder icon at the bottom to locate and play the downloaded Spotify songs. Then, you can transfer the Spotify files to your phone and get Galaxy Buds Spotify offline playing.
---
In Conclusion
There are several ways to improve the connection between your Galaxy Buds and Spotify, such as using Spotify Tap to manage your music on the headphones or troubleshooting the Samsung Galaxy Buds Spotify issues. In addition, using AudKit SpotiLab Music Converter, you can effortlessly listen to your favorite music from Spotify even when you don't have access to the Internet.
The multiple options available in AudKit SpotiLab Music Converter make it a great choice for playing Spotify music offline without premium on Galaxy Buds. The software delivers a high-quality and time-efficient music experience by converting Spotify audio to many output formats while maintaining lossless sound quality and retaining original ID3 tags.
---