Hey friends! I need to know can you use Airplay with Spotify? I searched for several ways but didn't get anything helpful. I want to use Spotify Airplay on multiple devices like iPhone, Mac computer, Homepod, and Apple TV. Please let me know if you have some valuable suggestions. Thank you.
—— User from Spotify Community
Are you wondering does Spotify work with Airplay? The answer is yes. Spotify and AirPlay can work together. Apple allows its users to use Spotify on devices like Mac, iPads, iPod Touch, and Apple TV via its incredible Airplay feature. The benefit of using Airplay is that you are free to play Spotify on multiple devices without using wires and cables.
This article will provide accessible, common, and useful methods on how to Airplay Spotify on multiple devices. You will then be able to connect Spotify to Airplay to use on Apple TV, Homepod, and your Mac device. Read the article, and try the ways.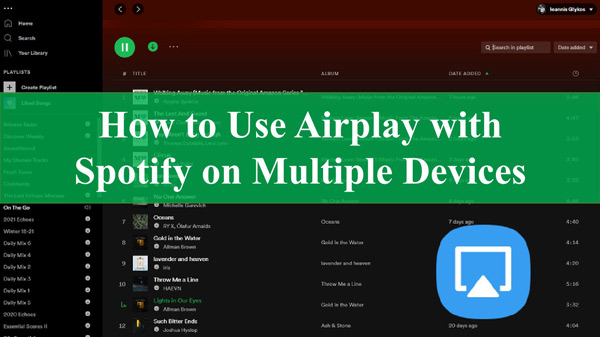 ---
Part 1. How to Airplay Spotify from Mac to Other Devices or Visa
Apple allows users to play Spotify on Mac through Airplay with easy processing. You can stream your favorite Spotify music from your Mac to other devices via Airplay.
How to AirPlay Spotify from Mac to Other Devices
The steps to use AirPlay with Spotify from Mac to other devices, like Apple TV are very simple, you can refer to the following:
Step 1. Please install, download, and open Spotify for Mac on your computer. Then log into your account details.
Step 2. Search and find favorite songs that you'd like to AirPlay. Then, please click the 'Play' button to play them.
Step 3. There is a 'Device' icon on the media player, please hit on it. Select 'More Devices' to choose the available device that you'd like to stream Spotify music.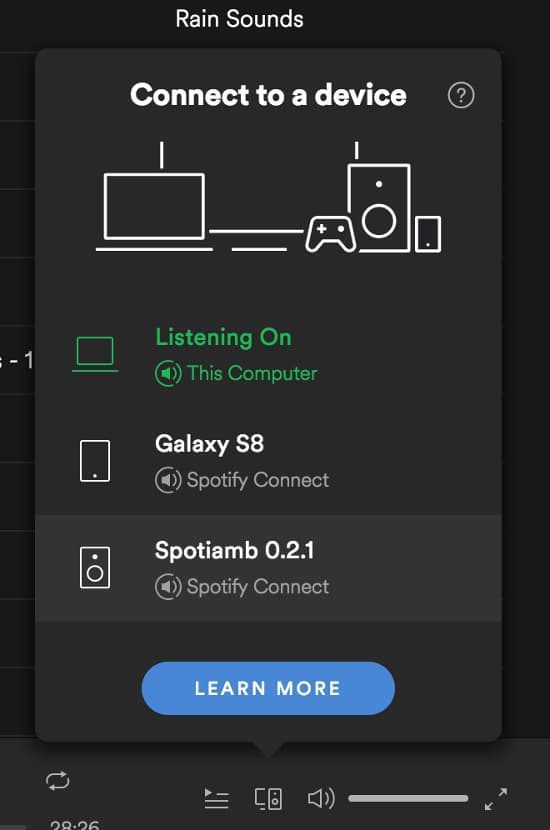 How to AirPlay from Spotify to Mac from iPhone
To use Spotify on a Mac computer from your iPhone via AirPlay, you must keep some necessary things in mind. The first thing is that your iOS device must have enough space. Secondly, your iPhone's or iOS device's memory should be a lot for Airplay. You should have a powerful internet connection and enough phone memory. Follow the given steps:
Remember: Airplay will not disturb your performance.
Step 1. Use the same Wi-Fi connection on both your iOS and Mac devices.
Step 2. Hold the Alt key on your Mac computer and click on the 'Volume' menu bar icon.
Step 3. Now, open the Menu bar. Here you will see the 'speaker' icon; click on it.
Step 4. Find your iOS device under the displayed Airplay devices.
Step 5. Your iPhone or iOS device is now connected to your Mac via Airplay. Enjoy listening to Spotify via Airplay on your Mac computer.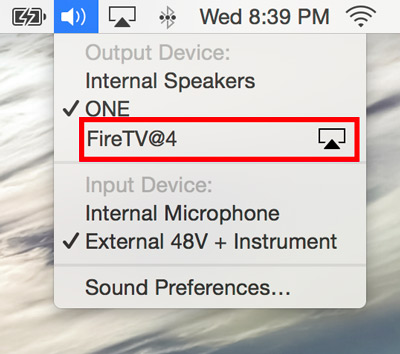 ---
Part 2. How to AirPlay from Spotify on Apple TV
Another beneficial usage of Airplay is playing Spotify on your Apple TV. This allows you to stream your favorite Spotify songs and enjoy them anytime on your Apple TV. Follow the below step-by-step process for playing Spotify on AirPlay to Apple TV.
Remember: Ensure an active internet connection and an active Spotify Premium plan.
Step 1. Turn on your Apple TV, and launch your iOS device. Check if your Apple TV and iOS device have the same internet connection.
Step 2. Now open the Spotify app on your iOS device. Head toward the control center by swiping up from your iPhone's bottom.
Step 3. Airplay can be played through Bluetooth, so ensure it's turned on.
Step 4. After that, tap on the Airplay option and select your Apple TV under devices to play Spotify Airplay.
Step 5. Once your iOS device is synced with your Apple TV, choose Spotify songs, albums, or playlists to play on your Apple TV.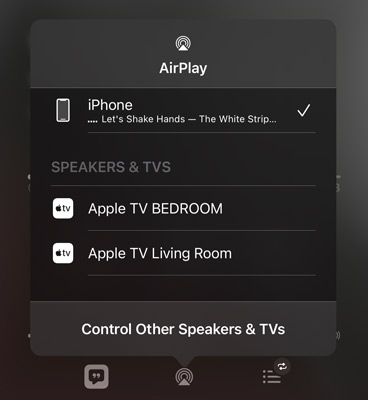 Now, you can easily play Spotify on Apple TV via Airplay whenever you want without any difficulty.
---
Part 3. How to Use Spotify with Airplay on HomePod
If you want to stream Spotify on your HomePod through your iPhone, Airplay will easily do this for you. You must ensure that your HomePod and Airplay are connected successfully. If they are connected, your iPhone will play Spotify on AirPlay on your HomePod.
Important to Note: Ensure to have a stable Wi-Fi connection.
Step 1. Open your iOS device or iPhone and launch Spotify app on it.
Step 2. Navigate your Spotify music tracks, choose a song, and start playing it.
Step 3. After that, see the speaker icon on the screen's bottom and click on it.
Step 4. You will see the option of selecting a device. Choose Bluetooth or Airplay, and then select your HomePod.
Step 5. If music is previously playing on your HomePod, you need to tap on the Replace icon to change the playing music to a Spotify song.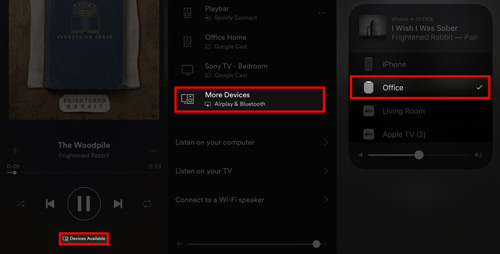 This is how you can easily stream Spotify via Airplay on HomePod.
---
Part 4. How to Play Spotify on Multiple Devices without Airplay
Apple has now made it easier for users to play their favorite Spotify music via Airplay on multiple devices. The only problem is that sometimes, connecting two devices get serious issues via Spotify on AirPlay. And you will not be able to stream Spotify on devices like HomePod, Apple TV, and Mac via AirPlay. It's better to download your favorite Spotify songs and play them offline on these devices without Airplay and an internet connection.
The best way to download Spotify music is through AudKit SpotiLab Music Converter. This fantastic tool enables you to convert music from multiple platforms and play anytime and anywhere. You can convert Spotify songs into multiple audio formats like MP3, WAV, AAC, FLAC, and more. Also, with fast 5X speed, AudKit SpotiLab converts your Spotify music within minutes.
Users get into trouble while downloading their music or songs because of losing their original ID3 tags. But with AudKit Spotify Music Converter, your Spotify songs will remain in their original ID3 tags like titles, albums, artist names, etc. Also, the converter provides lossless sound quality for your downloaded Spotify songs.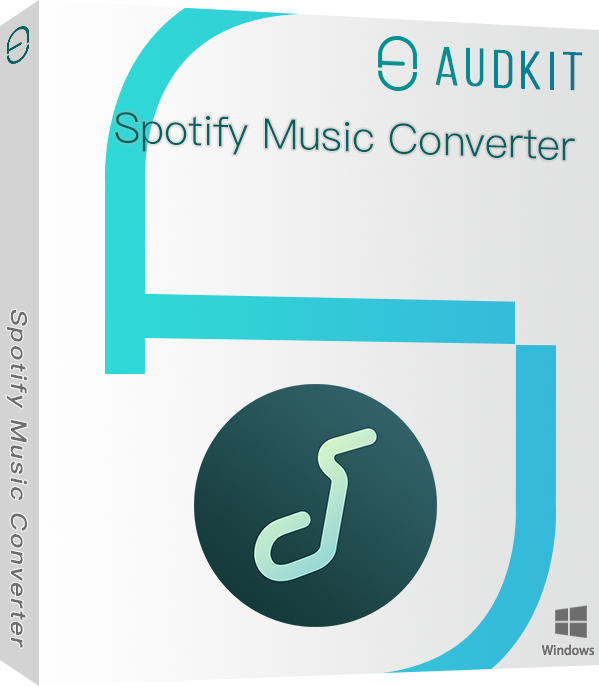 Main Features of AudKit Spotify Music Downloader
Convert Spotify music into MP3, FLAC, WAV, and more
Download and convert Spotify songs at 5X faster speed
Play Spotify on multiple devices without AirPlay
Provides lossless sound quality with original ID3 tags
Follow the given step-by-step guide for using AudKit SpotiLab Music Converter:
Remember to install and launch AudKit SpotiLab Music Converter on your Mac and Windows PC. Also, ensure to have a stable internet connection to avoid any inconvenience.
Step 1 Import Spotify Songs to SpotiLab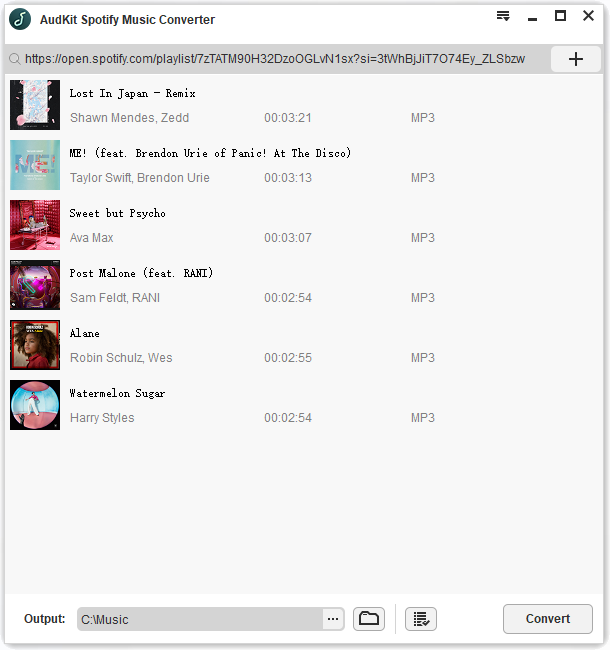 Open Spotify and select the songs, albums, or playlists you want to download. Copy the song's link and paste it into the search bar of the SpotiLab and click on '+'. You can also drag and drop the Spotify song to the converter.
Step 2 Set Output Parameters and Customize the Output Format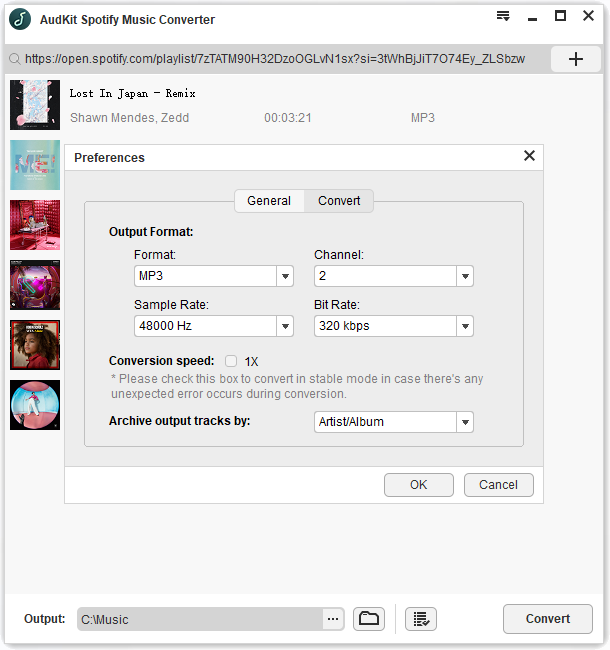 You will see a Menu icon at the top of the converter. Click on it and then select 'Preferences' and 'Convert'. The converter allows you to set output format and parameters like bit rate, channel rate, sample rate, and codec. Set Spotify to MP3 audio format and move to the next step.
Step 3 Convert and Download Spotify Music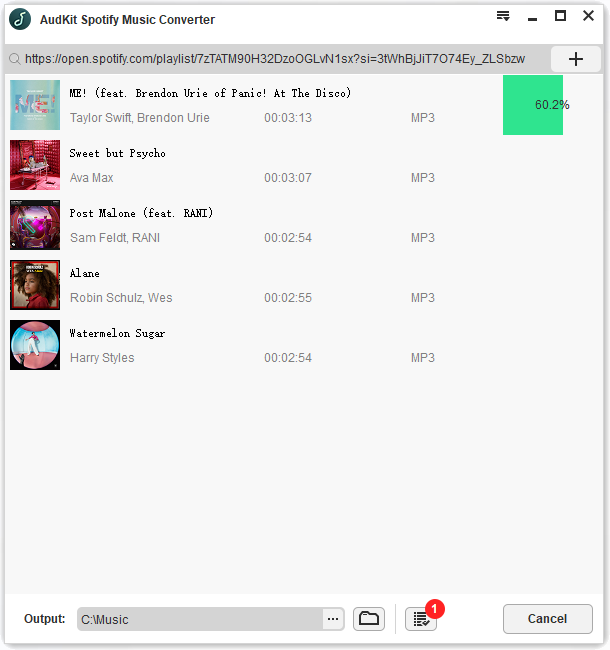 Click on the 'Convert' button at the bottom of the converter. The conversion process will start, and your selected Spotify songs will be downloaded after some minutes. Once the downloading is complete, you can locate the song by clicking on the 'Converted' option at the bottom.
Now you have successfully downloaded your favorite Spotify songs. Transfer the songs through a USB cable to any device and enjoy playing Spotify without Airplay and the Internet.
---
Part 5. Conclusion
You now have detailed answers to your question: Can you Airplay Spotify on popular devices? Airplay helps you avoid wires to make a connection between two devices. You must try the above methods for playing use Airplay with Spotify on multiple devices.
If you get into trouble with Spotify on AirPlay, AudKit SpotiLab Music Converter will help you. It can download Spotify music to computer with fast and easy processing. Then you can listen to Spotify music on other devices like Apple TV, HomePod, and Mac without Airplay.
---