Spotify has surpassed all other music streaming services during the last several years. Spotify's popularity continues to grow, surpassing 158 million premium subscribers in 2021.
By purchasing the Spotify SHOWTIME package, you will receive Spotify Premium, SHOWTIME, and even Hulu Basic. This is one of the finest offers available in the Spotify Premium bundles. But it is only open to students for a prolonged four-year term. In this article, you are going to learn more about Spotify Hulu SHOWTIME. Besides, to know about another way to get Spotify Premium features without being a premium member.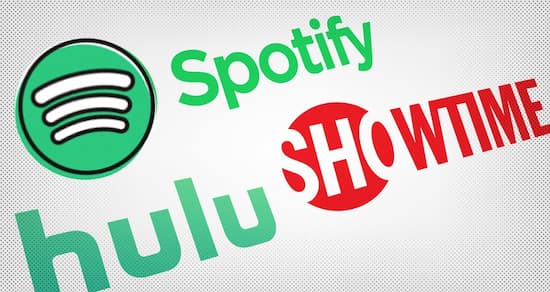 ---
Part 1. SHOWTIME with Spotify and Hulu with Spotify
Spotify Student Premium offers the premium membership of SHOWTIME, Spotify, and Hulu. Other Spotify subscriptions, such as Spotify Duo ($12.99/mo.) and Spotify Family ($14.99/mo. ), do not include Hulu and SHOWTIME with Spotify. After your first free month, Spotify Student Premium generally costs $4.99 per month. This Premium plan is really attractive, right? Before you get it, it is better to know more detailed information about SHOWTIME and Hulu.
Hulu
Hulu Basic costs $5.99 a month and includes hundreds of episodes and movie titles. In comparison to other streaming behemoths, Hulu's standard package is one of the cheapest. There are, but, certain limits. Hulu with Spotify, for example, is ad-supported and does not allow you to download content for offline watching. So, if you want to get the most out of Hulu, you'll need to be near a Wi-Fi connection. You will also be unable to share your membership with friends or family because it does not support simultaneous streaming.
SHOWTIME
SHOWTIME is also included in the Spotify and SHOWTIME Premium package. SHOWTIME, like HBO, is a premium channel that delivers a plethora of popular blockbuster movies and original material. Its repertoire includes many fan-favorite programs such as Billions, Homeland, and Shameless. A Most Violent Year, Ex-Machina, Hustlers, Room, and The Amityville Horror are among the films available through the site.
---
Part 2. FAQs about Spotify Hulu SHOWTIME
1. Will Hulu and SHOWTIME be available in my Spotify app?
Nope. You'll still go to Hulu or SHOWTIME to view TV and movies on compatible devices or on hulu.com or SHOWTIME.com. And go to Spotify to listen to music, podcasts, and other content.
2. How do I access Hulu or SHOWTIME?
Once you accept the offer, follow the instructions we give to activate your Hulu and SHOWTIME accounts. You will be prompted to either create a new account or log in to one of your current ones.
3. I'm new to Premium, but I already have a Hulu membership; can I use it?
If you have a Hulu (ad-supported) subscription without any premium network add-ons and you pay Hulu directly. Your existing Hulu account can be combined with your Spotify Premium Student subscription, now with Hulu and SHOWTIME – all for $4.99/month.
4. I'm new to Premium, but I already have a SHOWTIME subscription; can I use my SHOWTIME account with Premium?
You may continue to use your current SHOWTIME account. You must cancel your current SHOWTIME through Spotify payment. And then when the due date has passed, activate SHOWTIME from your Spotify Services page.
---
Learn More: How to Get Spotify Advanced Features without Premium
To take benefit of the Spotify Hulu bundle, you must first ensure that you have the Spotify plan. To join up, go to spotify.com and click the three-barred icon in the upper right corner of your screen. Select Premium, then scroll down to the Student plan and click 'Get Started.' If you already have a free Spotify account, simply sign in and press the Upgrade option.
To get advanced features without joining any premium plan, AudKit SpotiLab Music Converter is one of the greatest choices. This software is a beautifully designed yet simple-to-use Spotify music downloader and converter. It allows you to download Spotify songs, albums, playlists, radio, and so on to your local computer. Also, convert Spotify to MP3, WAV, M4A, or other commonly used formats.
The converter is available in two versions: Windows and Mac. With it, users can remove Spotify ads, offline listening to Spotify songs, rearrange and play Spotify songs in the order they wish. The entire conversion goes through with no quality loss at lightning 5X speed.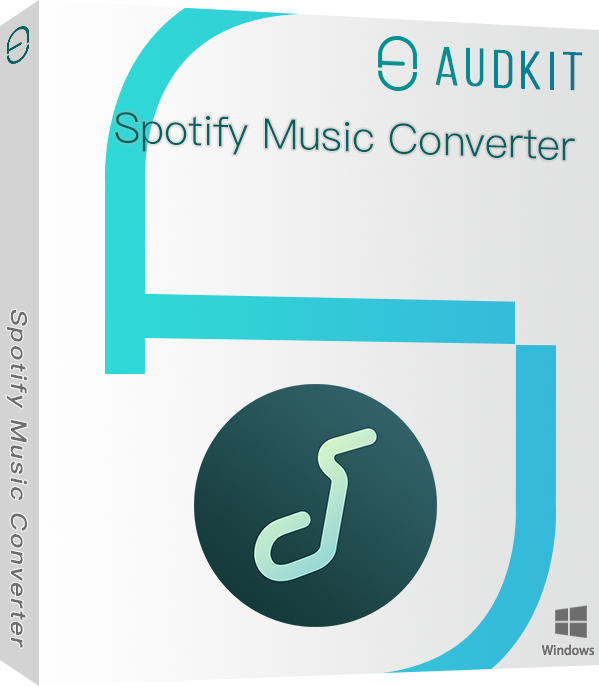 Download Spotify music to offline listen to
Convert Spotify tracks at 5X amazing speed
Save original ID3 tags of Spotify songs
Break the limits to play Spotify on any device
How to Install and Activate AudKit Spotify Music Converter
Step 1 Download and install AudKit Converter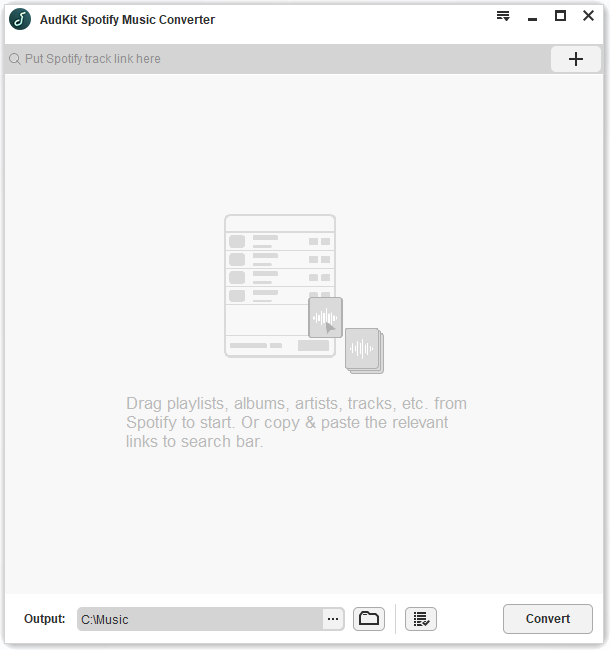 Download and install AudKit Spotify Music Converter on your PC. Go to the top taskbar and select Menu > Register. Then, to activate the full version, copy and paste your license email and registration code.
Step 2 Import Spotify tracks to AudKit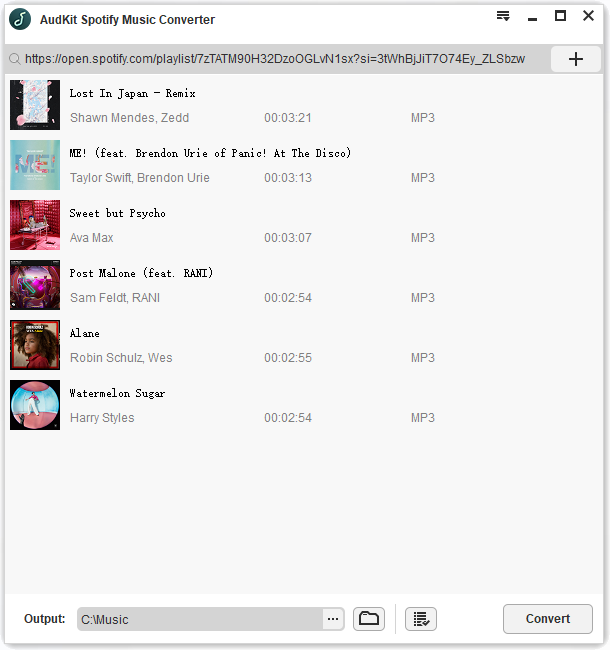 Directly drag and drop the tracks to the main screen of AudKit from the Spotify library. Or you can copy and paste the Track Link or Playlist Link to the search bar in AudKit.
Step 3 Reset the output settings as you need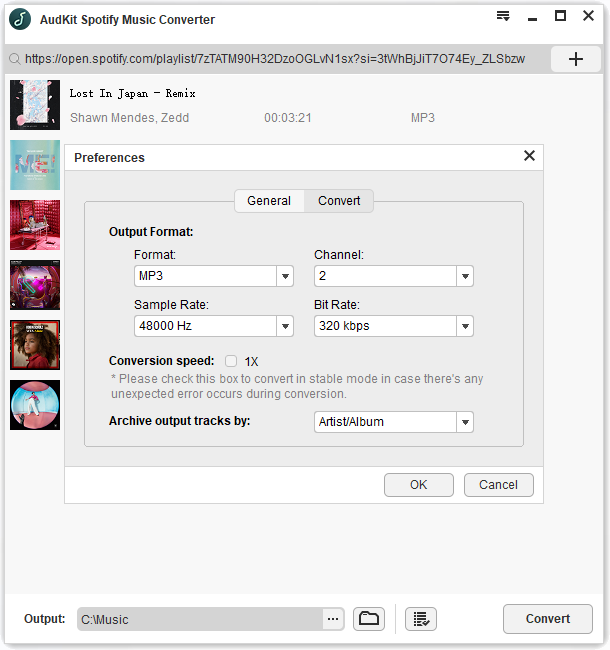 Open the Menu > Preferences. On the Setting page, change the output settings for Spotify songs according to your need.
Step 4 Begin downloading and converting Spotify tracks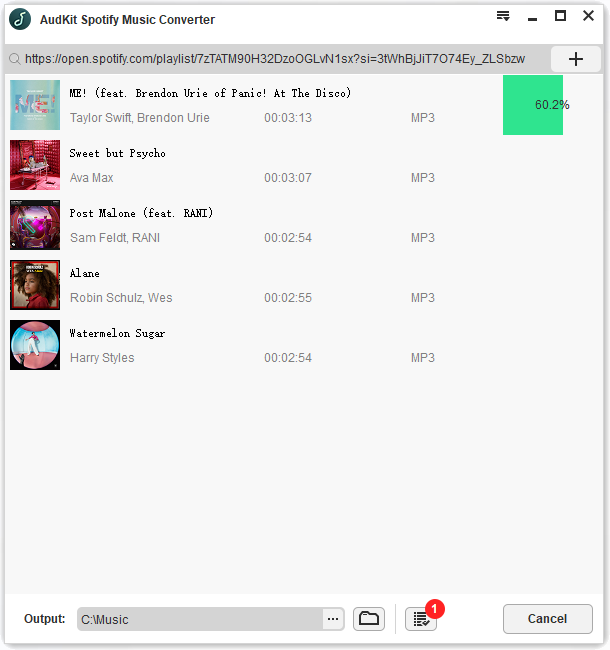 From the bottom-right corner, tap the Convert button to begin the conversion. When the conversion is complete, all downloaded Spotify songs will be stored in the local folder. You can now transfer and play Spotify music on any device, at any time, and from any location.
---
Bottom Line
Spotify Hulu SHOWTIME offers the rhythms, whether you want free music or ad-free premium membership. But, the Hulu and Spotify Premium package is only accessible with the Student plan. As a result, if you are not a student, you will be unable to get the package. And If all else fails, you can always listen to Spotify songs offline with AudKit SpotiLab Music Converter.
---