Spotify is one of the most used music streaming platforms because it lets you listen to over 70 million songs with just one subscription. So, no matter which music genre you like, Spotify will have that for you. Plus, the songs are of excellent quality, which enhances your music listening experience. Since Spotify is so popular, you can now get a Spotify widget on your Windows 10 and Mac PC and easily control the songs without having to go back to the actual app. For example, the Spotify widget will let you pause, play, and skip your current songs.
Since not many people are familiar with the Spotify widget and want to learn how to go about the OBS Spotify widget and other ways, this article will help you understand how. We have covered every detail in steps to make the whole process of adding the Spotify Desktop widget for you.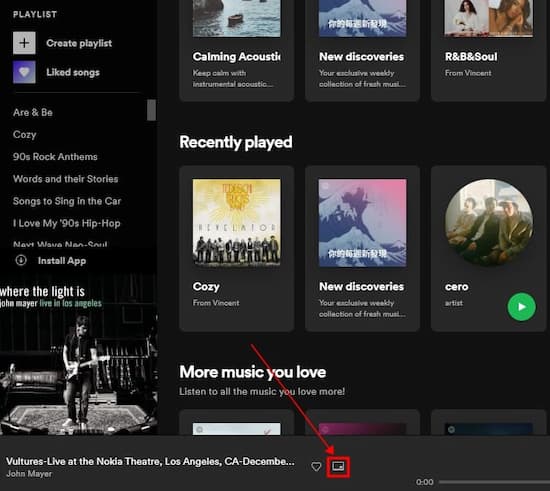 ---
Part 1. How to Use Windows 10 Spotify Widget
Before we tell you how to get Windows 10 Spotify widget, please note that Spotify doesn't have a mini player. So, you will need to rely on other methods to be able to do that. However, since the official player won't allow you to add a mini player to your desktop, we have prepared different ways to try.
Method 1: Spotify Widget on Chrome
For the first Spotify Windows 10 widget, you can try Google Chrome. The best part about this method is that Spotify is available for Chrome. You can get the mini-player on your Chrome browser to leverage the features easily.
Step 1: Launch Chrome.
Step 2: Go to spotify.com
Step 3: Get the Spotify web player.
Step 4: Sign in and start playing a song.
Step 5: You will see a mini-player icon. Click on that.
Step 6: The album art will get pinned to a small window.
This window will enable you to play, pause, and even jump to the following songs.
Method 2: Lofi Spotify Mini Player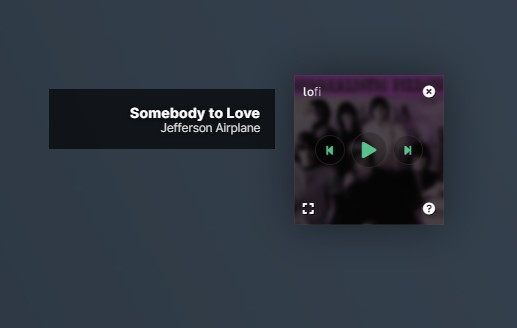 If you don't want to add the Spotify mini-player to Chrome, you can try Lofi. This tool will let you control your Spotify songs easily as well.
Step 1: Visit lofi.rocks
Step 2: Download the app.
Step 3: Log in to Spotify.
Step 4: The player will be displayed.
---
Part 2. How to Use Spotify Widget Mac?
To get Spotify widget Mac, you can first try method one that we shared for Windows 10, the Chrome method. If not, we have two other ways for you. Try them out.
Method 1: Alfred Spotify Mini Player
One of the best tools to use to play Spotify songs is Alfred Spotify Mini Player. This mini player is easy to use and comes with good features. For example, you can go to quick mode, search for songs, listen to a podcast, display current tracks, and so on.
Step 1: Visit Alfred Spotify Mini Player.
Step 2: Download the workflow.
Step 3: Set it up on the Mac.
Now start using the mini player and enjoy your Spotify songs.
Method 2: Spotify MiniPlay
Don't get confused with the name. It's not an official tool of Spotify. This mini-player shows you the details of the song that is being played. In addition, it lets you control your songs.
Step 1: Visit MiniPlay.
Step 2: Download the tool.
Step 3: Set it up and start listening to Spotify songs.
The app will show you the album art, let you control the song, go back or listen to the next song.
---
Part 3. How to Create Streamlabs Spotify Widget?
This section will help you understand how you can add Spotify to Streamlabs OBS.
Step 1: Launch Spotify.
Step 2: Queue songs that you want to listen to.
Step 3: Go to the SLOBS Editor screen.

Step 4: Look for the Mixer tab.
If you are already playing the songs, then you may see some bars, which will be under Desktop Audio, and they should be moving. If you are facing trouble, just check out the step 5 and 6.
Step 5: Check the volume for Desktop Audio.
Step 6: If you want to play Spotify songs while speaking through the microphone, slide the volume bars.
This is how you get the Streamlabs Spotify widget.
---
Learn More: How to Listen to Spotify on the Desktop without Limits
The methods that we have shared will let you listen to Spotify songs easily; however, each comes with some drawbacks. For example, if you are using Spotify mini-player on Chrome, you will play Spotify songs in 192kbps only. Even third-party tools will have some limitations.
So, if you want to play Spotify songs whenever you want to and without any restrictions, try AudKit SpotiLab Music Converter. It's an easy-to-use software and will let you unlimited Spotify songs in a jiffy. Moreover, you can convert them to different audio formats as well. You can download AudKit Spotify Music Converter on your Mac computer or Windows computer.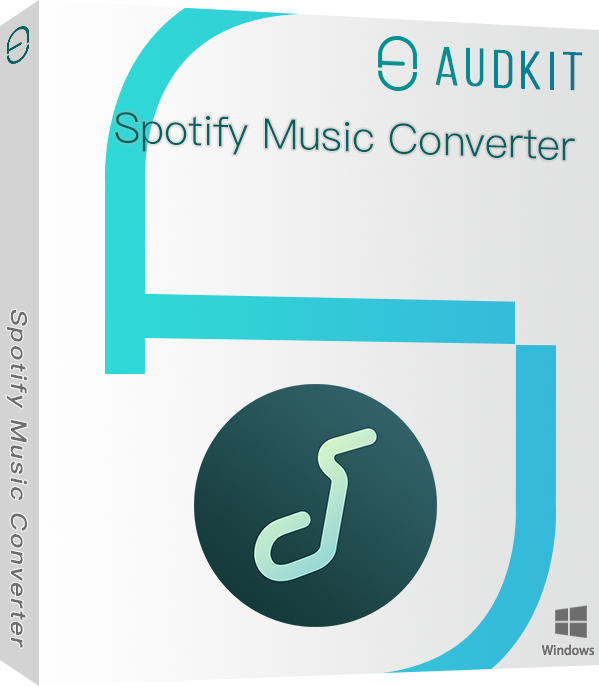 Batch conversion with 5X speed
Convert Spotify songs to MP3 and more
Listen to Spotify songs offline and on any device
Retain complete ID3 tags and lossless quality
Stepwise Guide to Use AudKit Spotify Music Converter
Step 1 Download and add songs to AudKit SpotiLab Music Converter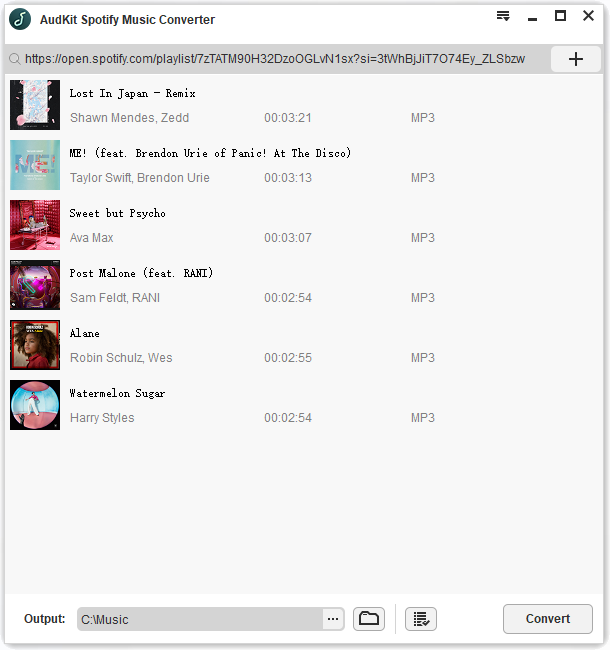 Visit AudKit Spotify Music Converter and download it. Launch the tool and add the Spotify song/songs to convert and download them.
Step 2 Customize Spotify output parameters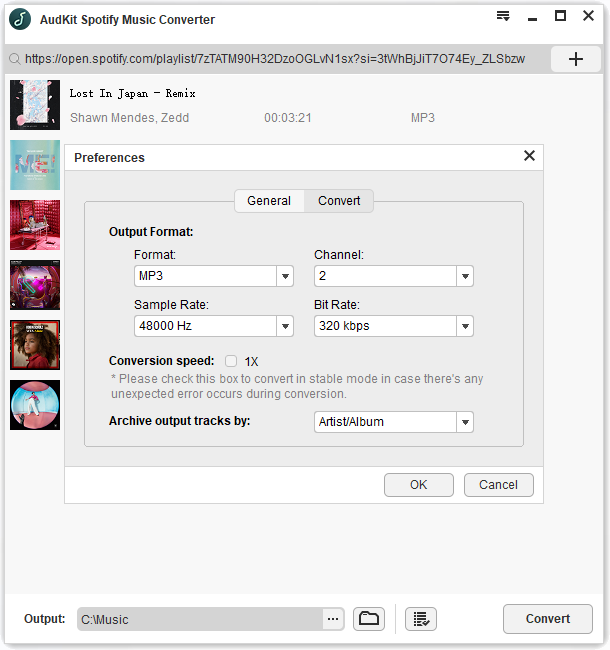 Now, customize the output format to WAV, M4B, MP3, AAC, etc. Also, set the audio attributes, such as bit rate, sample rate, channels, etc.
Step 3 Convert and save Spotify songs on the computer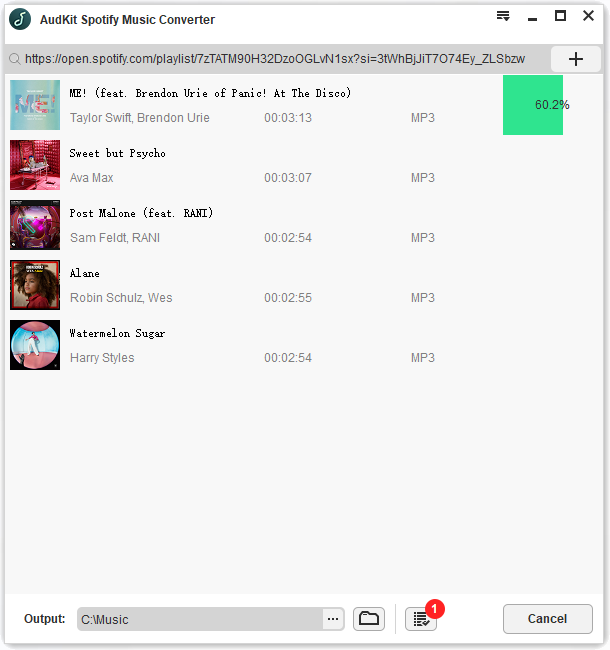 Click on the convert option to begin the conversion process. To locate the songs, hit the folder icon. Finally, transfer the songs to your computer or any device.
---
Part 5. Conclusion
That's all. You now know how to get Spotify widget for Windows and Spotify widget for Mac. Also, if you want to listen to Spotify songs forever, you have AudKit Spotify Music Converter. However, do remember that the methods that we have shared will have some drawbacks. So, to eliminate such restrictions, you can get AudKit Spotify Music Converter.
---