You've just bought a SanDisk MP3 Player and are all set to enjoy music on Spotify. You've downloaded your favorite tracks from Spotify and realize that your SanDisk MP3 Player cannot recognize Spotify audio. If you are a music lover, this is bad news!! But fortunately, there is a solution to this and it's totally free!!
Spotify is a hugely popular music streaming service, with tons of audiobooks, artists, playlists, albums, live radio. It comes with a free service and Spotify Premium, where you get ad-free playback. But Spotify is protected, and the Ogg Vorbis format which Spotify uses to encode its audio makes it impossible for SanDisk MP3 Player to recognize it. So how to play Spotify music on Sandisk MP3 Player?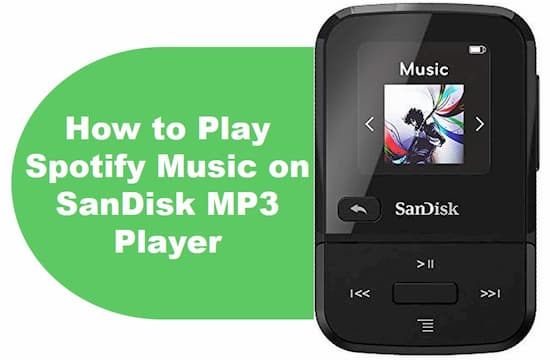 ---
Part 1. Stream Spotify Music to Sandisk MP3 Player: Best Tool
You just need a reliable Spotify to MP3 Converter software. And that's when you will need to download AudKit Spotify Music Converter.
This is the best tool you'll need if you wondering how to load music from Spotify on the SanDisk mp3 player. It has so many features that you can enjoy your downloaded Spotify music audio anywhere, anytime. A highly advanced converting technology is at the heart of the AudKit Spotify Converter. It not only preserves the original metadata and audio quality you get in Spotify, while converting into MP3 format, but also gives you full freedom to edit the ID3 tags so that you can find audio tracks based on artists, titles, albums, and other parameters.
You will download Spotify music at 5X speed, and the conversion takes just 1 minute. Whether you want playlists, podcasts, live radio, audiobooks, music albums, the AudKit Spotify Converter will convert all of these into a lossless MP3 audio format. AudKit Spotify Converter is both a Spotify downloader and an MP3 converter. You will be free of the irritating ads you get your Spotify free version, and even if you are enjoying Spotify Premium plans, you will find the AudKit Spotify Converter a convenient way to enjoy Spotify music.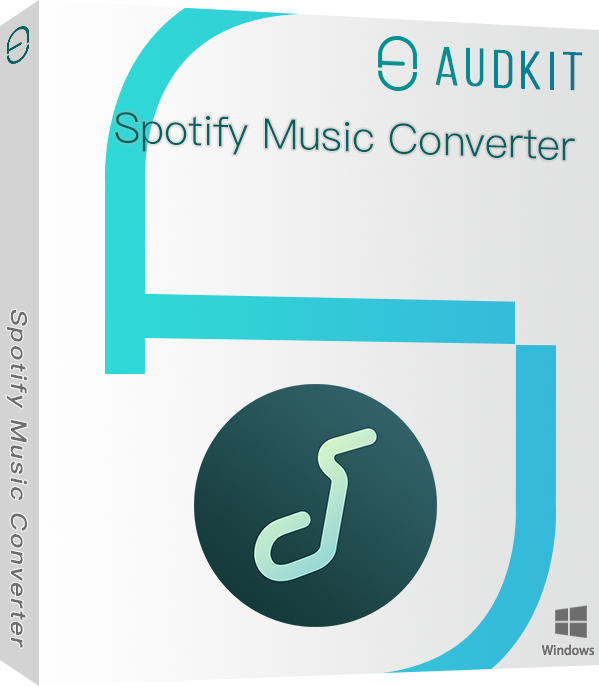 Support multiple Spotify content formats like MP3, AAC, WAV, etc.
Fast working speed in a 5-times fast conversion rate
No loss in output quality after conversion
Available to Spotify music offline listening without Premium
---
Part 2. How to Load Music from Spotify on SanDisk MP3 Player: Tutorial
AudKit Spotify Converter is available for Windows OS and Mac and is free for download. It will remove the protection from Spotify audio and convert it into a lossless MP3 audio file, the most commonly used format for listening to songs, podcasts, audiobooks, playlists, albums, or live radio. Follow the instructions given below, and you can enjoy all of your downloaded audio from Spotify in your SanDisk MP3 Player.
Preparatory Step Download AudKit Spotify Music Converter
Once you've downloaded the free version of AudKit Spotify Music Converter, the Spotify app will also open simultaneously on your desktop. If not, you will have to download the Spotify app. The free version only converts 1 minute of each audio file downloaded from Spotify. If you register on AudKit Spotify Music Converter you can unlock all the features of this wonderful software.
Step 1 Load songs from Spotify into AudKit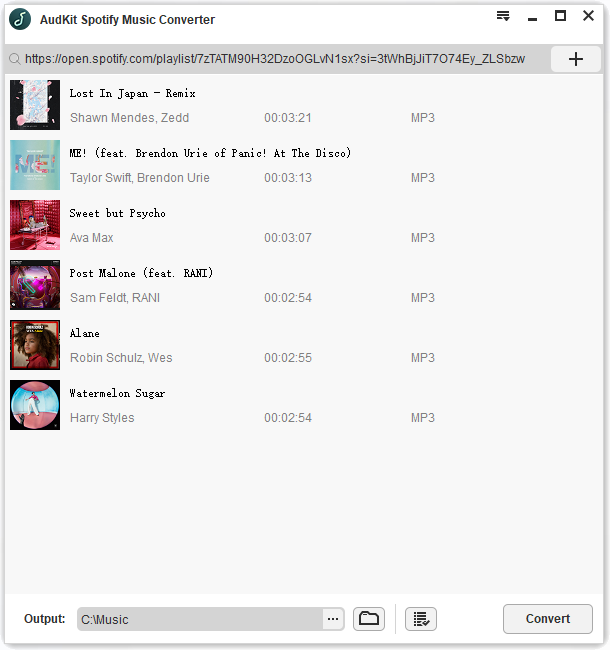 Browse the tracks you would like to convert into MP3 audio in Spotify. After the results show up in Spotify, you can drag and drop the tracks directly into AudKit Spotify Music Converter.
Alternatively, you can click on the three dots at the end of the track, and go to Share > Copy Song Link. Now paste this link in the search bar of AudKit Spotify Music Converter, and you will see it displayed in the tracks to be converted into MP3.
Step 2 Customize the audio track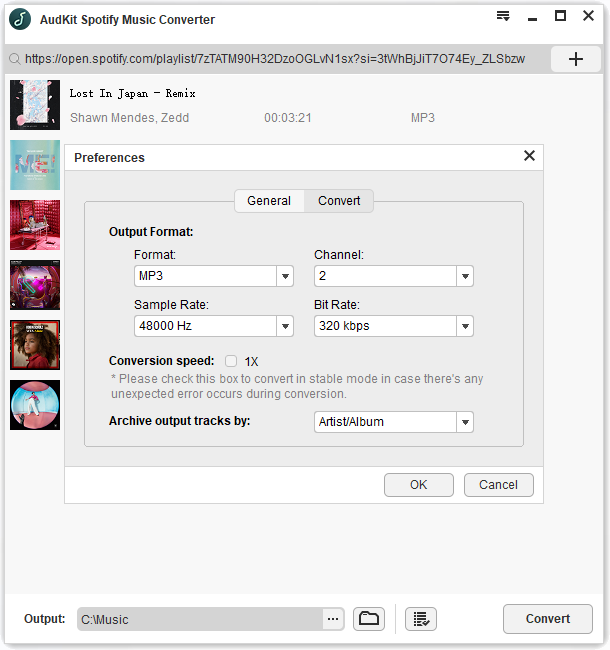 You can customize the audio track before you convert it into MP3. Select different audio formats like MP3, WAV, FLAC, AAC, etc. You can do this by choosing "Preferences" from the menu.
Step 3 Convert Spotify into MP3 audios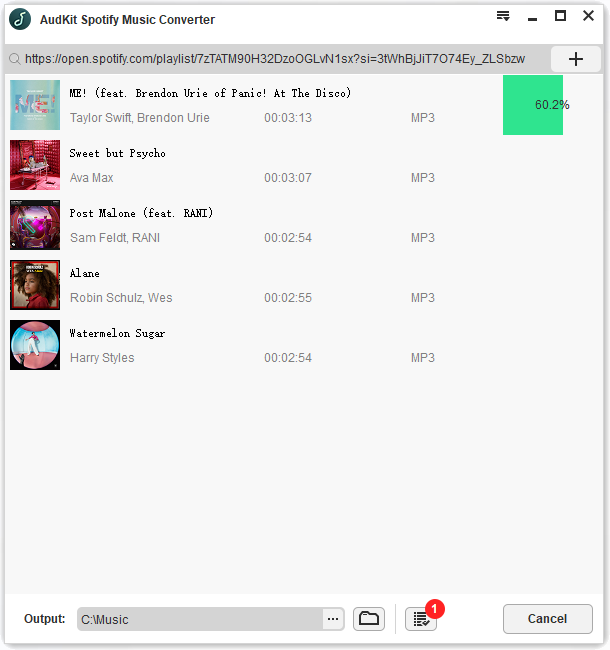 In this step, you will do the actual conversion from Spotify into MP3. Clicking on the Convert button at the bottom of the AudKit Spotify Music Converter interface will start the conversion process. Conversion will be shown beside each track. After the conversion, you can see all MP3 tracks by clicking on the Converted button at the bottom of the AudKit Spotify Music Converter. These MP3 tracks can now be transferred to your SanDisk MP3 Player and enjoyed at leisure.
Step 4 Transfer converted MP3 to SanDisk MP3 Player
Connect your SanDisk MP3 Player to your computer. Now locate the folder where you had saved the MP3 audio files that you had converted using AudKit Spotify Music Converter. Copy the files and paste it into the internal memory of the SanDisk MP3 Player. You can alternatively drag and drop the MP3 audio files into SanDisk MP3 Player, and enjoy many hours of music playback.
---
Conclusion
The above steps are all that you will need to follow to transfer Spotify music to the SanDisk MP3 player. It is the easiest way to enjoy sublime music that you want to enjoy without the clutter that comes with searching for music all the time on the internet, subscribing to Spotify plans. No need for prepaid Spotify subscription plans, no distracting ads, no internet. You can play your favorite music offline with the help of AudKit Spotify Music Converter.