Spotify is a popular music streaming service with millions of songs. It isn't hard to find music for that perfect moment on it. You can either do this through your Spotify free account or the premium version. But when it comes to playing Spotify music on any device and player without restriction, one of the icings on the cake might be to convert Spotify to MP3.
Fortunately, there are ways to convert Spotify to MP3, allowing you to download and listen to your favorite songs on any device. In this article, we will discuss the benefits of converting Spotify music to MP3 and provide a comprehensive guide on how to download Spotify songs to MP3 on different platforms.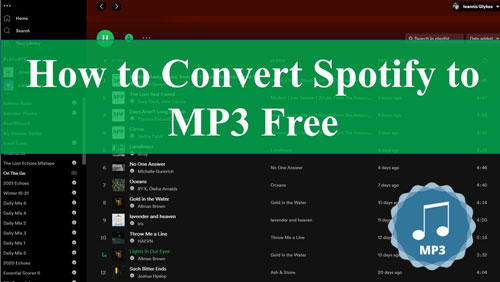 ---
Part 1. Key Benefits of Converting Spotify to MP3
There are many tools available to convert Spotify songs to MP3 on your computer or mobile device. But before getting started to introduce them one by one, let's discuss the benefits of having Spotify convert to MP3.
✅ 1. Offline Listening: By downloading Spotify MP3 songs, you can listen to your favorite music offline without any internet connection.
✅ 2. Compatibility: MP3 is a widely accepted audio format that can be played on almost any device, including smartphones, tablets, computers, and even some car stereos. Thus, you can enjoy your MP3 Spotify music on any device.
✅ 3. Quality: MP3 files are compressed, but they still offer high-quality sound that is almost indistinguishable from the original source. By making Spotify download MP3, you can enjoy the same sound quality without sacrificing storage space.
✅ 4. Portability: MP3 files are small in size, which makes them easy to store and transfer. Then you can carry your entire MP3 music library with you wherever you go.
✅ 5. Unlimited Playback: All Spotify users can enjoy unlimited playback and skip as many Spotify songs as they want.
✅ 6. Ownership: You can own the MP3 files and can do whatever you want with them. You can transfer Spotify songs to other devices, burn them onto CDs, etc.
---
Part 2. How to Convert Spotify to MP3 Free on PC and Mac
Audkit Spotify Music Converter
Compatibility
Windows and macOS
Best for
✔️ Convert Spotify to MP3, WAV, FLAC, and multiple output formats
✔️ Come with conversion speeds of up to 5X
✔️ Maintain 100% sound quality with ID3 tags
✔️ Available for Spotify free and premium users
Cons for
❌ You need to update to its premium version to unlock its conversion length limitation.
Price
Lifetime free trial (full version starting from $14.95)
Ratings
⭐️⭐️⭐️⭐️⭐
AudKit Spotify Music Converter remains to be among the best software to download Spotify playlist to MP3. The software is specifically designed for all Spotify users and can convert Spotify tracks to commonly desired audio output formats, like MP3, AAC, FLAC, WAV, M4A, and M4B.
Under perfect network conditions, it can download Spotify songs to MP3 at 5X download speed. Then you can access the unprotected Spotify MP3 files in your PC's local folder. What's more, music lovers can also choose to save Spotify songs at 320kbps bitrate and 48000Hz sample rate to enhance the quality of Spotify music.
How to Convert Spotify to MP3 with Free Account Losslessly
Step 1 Launch and import Spotify music to AudKit SpotiLab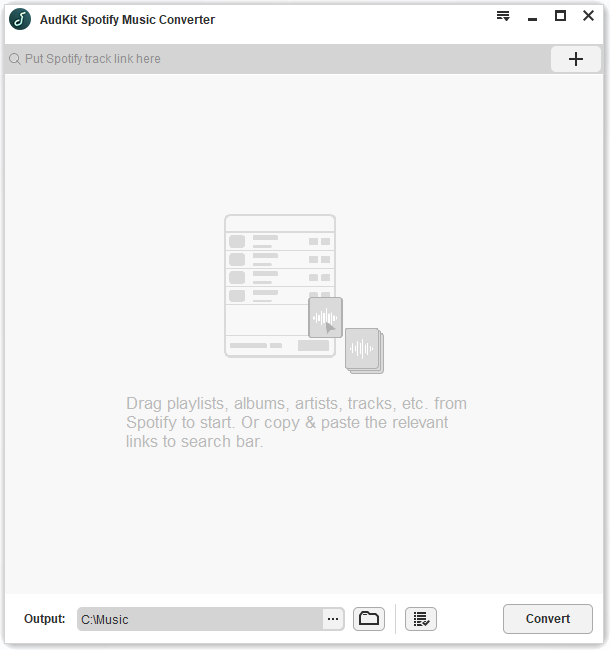 Click the Download button above to download and install AudKit Spotify Music Converter on your computer. Launching it will make the Spotify app appear automatically. After that select the song, album, or playlist you want to convert to MP3. Copy the track link and paste it into the search bar, after which press the Add button to import the target song.
Step 2 Change Spotify output settings to MP3 for free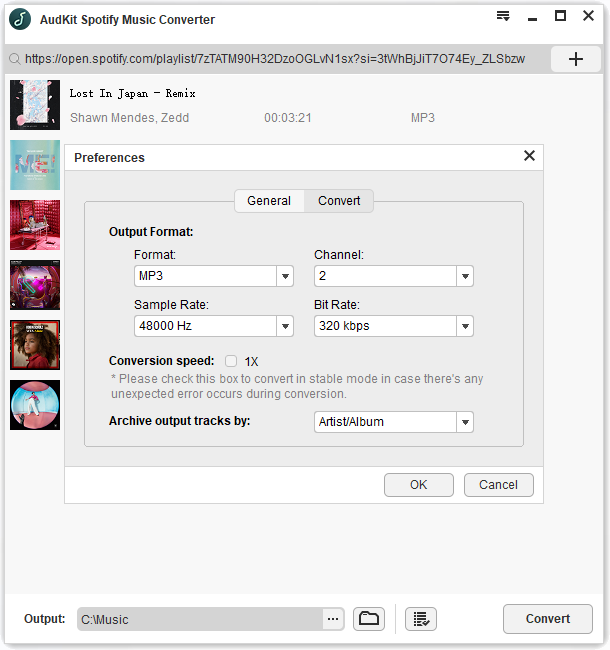 Now, you can switch to the Convert bar by going to Menu > Preferences in the upper right corner. At this point, you can start to set the output format of Spotify music to the desired MP3 or other common formats you need. Of course, you can also customize various output parameters of Spotify MP3 songs, including bitrate, sample rate, etc.,
Step 3 Download and convert Spotify songs to MP3 free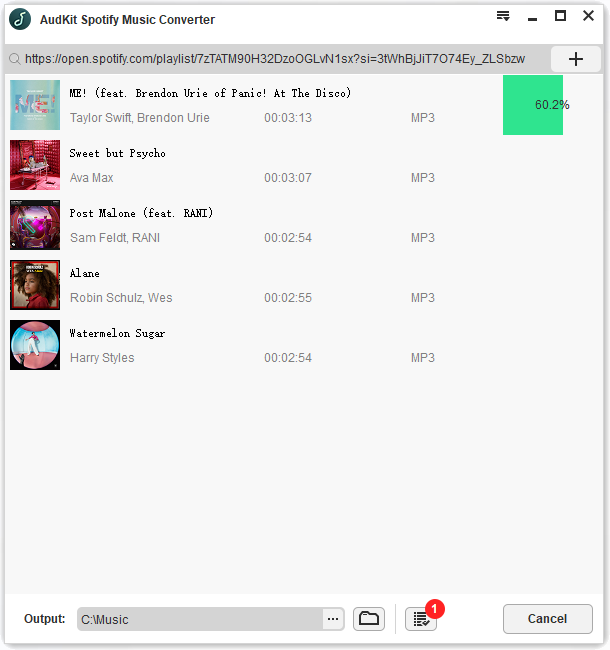 Click the Download button at the bottom right corner to start the download and conversion process. After the conversion process is finished, all downloaded Spotify MP3 files will go to your local destination folder. After that, you can transfer and play Spotify MP3 songs on any device anytime and anywhere.
💥 [Test Result] You should download the Spotify desktop app to use this third-party software on your computer. It works on Spotify free and premium accounts to convert individual Spotify songs and whole playlists to MP3. The conversion speed is fast and the output quality is lossless.
---
Part 3. How to Record and Download MP3 from Spotify
Audacity
Compatibility
Windows, macOS, Linux
Best for
✔️ Free and open source
✔️ Cross-platform compatibility
✔️ Simple and user-friendly interface
✔️ Provide a wide range of audio editing capabilities
Cons for
❌ It's an incomplete program, meaning you'll have to separately install encoders/plug-ins
❌ The program is unstable since there are known and unknown existing bugs
Price
Free
Ratings
⭐️⭐️⭐️
Audacity is a free and open-source audio editing software. It allows users to record, edit, and manipulate audio files with a wide range of tools and effects. With it, You can capture audio from Spotify and other audio sources via your PC's internal speaker. Audacity supports multiple audio formats and offers features such as multi-track editing, cut/copy/paste functionality, and the ability to apply various effects to audio files.
It will also output Spotify in MP3 or WAV format to enhance Spotify's compatibility with other devices. It is available for Windows, macOS, and Linux, making it accessible to users on different operating systems. Audacity is known for its user-friendly interface and extensive plugin support, allowing users to customize and enhance its functionality according to their needs.
How to Rip and Download Spotify to MP3 via Audacity
Step 1. Open Audacity and hit the Edit button from the toolbar. Press the preference tab.
Step 2. Head to Devices and click the Host button in the audio host box. Select Windows WASAPI since it's the preferred sound recording method on the computer.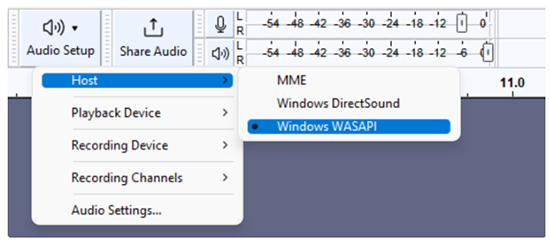 Step 3. Next, head to Recording and uncheck the Software Playthrough. This will avoid the re-recording of your tracks that creating an increasingly high echo that may damage your PC.
Step 4. Hit the red Record button in Audacity and start playing your tunes on Spotify.
Step 5. Once done with the recording, click Stop to make Spotify download to MP3 or other desired format.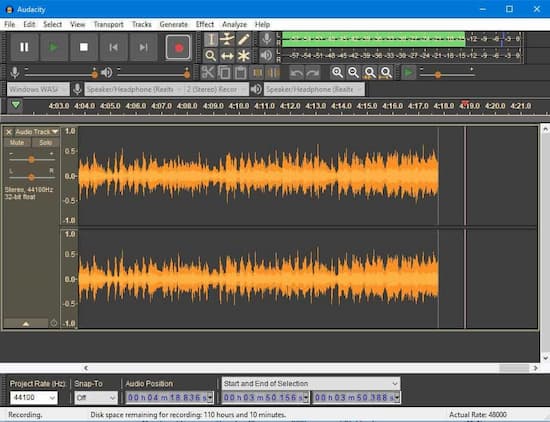 ✨ [Test Result] It's difficult to adjust the audio settings in Audacity to make it record music from Spotify. And it wastes time to do the real-time recording. However, it provides some powerful editing features for users to edit Spotify MP3 files, such as cutting and merging.
---
Part 4. How to Download from Spotify to MP3 Free
Soundloaders
Compatibility
Windows, macOS
Best for
✔️ Automatic metadata retention
✔️ No Spotify account required
✔️ No limit to the number of songs you can download
Cons for
❌ Only allow you to download single Spotify songs
❌ Output format is only MP3
❌ Required to install the application
Price
Free
Ratings
⭐️⭐️
If you're looking for a free and easy way to download Spotify song to MP3, Soundloaders is an excellent option. It is a free tool that allows you to download songs from Spotify and convert them to MP3 format. It's a simple and straightforward tool that doesn't require any technical knowledge. You can download and convert Spotify music to MP3 format in just a few clicks.
How to Download Music from Spotify to MP3 with Soundloaders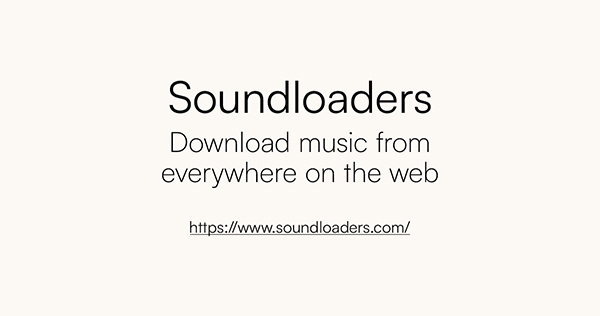 Step 1. Open your web browser and go to the Soundloaders website.
Step 2. Find Soundloaders Spotify Downloader and install its application.
Step 3. Go to the Spotify website and search for the song you want to download.
Step 4. Copy the track link and paste it into Soundloaders' search bar and click the Search button.
Step 5. Click on the Download button next to the song and wait for the download process to finish.
Step 6. Once the download is complete, the Spotify song will be saved in MP3 format on your device.
✨ [Test Result] Although it is free to download Spotify music, it can only download singles and not full albums. Additionally, the tool used to be available online, but now requires users to download an app. This may be inconvenient for some users who prefer to use online tools instead of downloading software.
---
Part 5. How to Convert Spotify to MP3 Online Free
SpotifyDown
Compatibility
Online
Best for
✔️ A simple user interface
✔️ One-click conversion
✔️ No need to download or install special software
✔️ Can be used on mobile web browsers
Cons for
❌ It may not apply to podcasts, audiobooks, etc.
❌ Contain ads or malware that can harm your computer.
❌ It may not be as reliable as paid Spotify to MP3 converters.
Price
Free
Ratings
⭐️⭐️⭐️
SpotifyDown is one of the new-released tools these days to download songs, albums, and playlists without using a Spotify account. It doesn't require you to install any software on your computer but enter its official website via any web browser on all devices.
It has an advanced setting for users to customize output parameters and bring a good listening experience. And it claims to block Spotify ads without any problem while converting Spotify to mp3 free online. The following is its simple user tutorial.
How to Download Spotify Music to MP3 Online Free Using SpotifyDown
Step 1. Open the Spotify desktop app or its Web Player to find songs that you'd like to download. And then click the three-dots icon to copy the Spotify URL.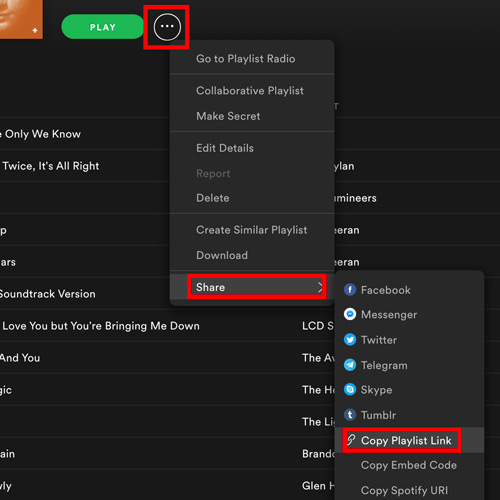 Step 2. Enter the SpotifyDown website and paste the Spotify link to the text address bar. Or click the Paste button to load them automatically.

Step 3. Hit on the Download button to select wanted songs and it will start to download the target Spotify music to MP3 for free.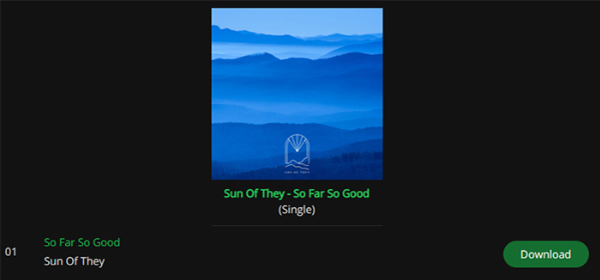 ✨ [Test Result] When you visit this website, it will require you to check internet security. After that, you will see the official homepage with a detailed introduction and user tutorial of its free online Spotify to MP3 converter. There are many ads on the website. Please be careful to avoid clicking it. There is no option to download the whole Spotify playlist. You need to press the download button again and again to download individual songs.
---
Part 6. How to Download Spotify Songs to MP3 on Android/iPhone
# 1. SpotiFlyer
SpotiFlyer
Compatibility
Windows, macOS, Linux, Android
Best for
✔️ Download Spotify music for free
✔️ Cross-platform compatibility
✔️ Support for multiple music platforms
Cons for
❌ The quality of the downloaded songs may not be as good as the original songs
❌ There is a risk of getting caught and having your Spotify account banned
❌ It does not support batch conversion, so download speed can be slow
Price
Free
Ratings
⭐️⭐️⭐️
SpotiFlyer is a third-party app that allows users to download music from online sources like Spotify, YouTube, Gaana, and SoundCloud. It's available for Android, Windows, macOS, and Linux. With it, you can download Spotify albums, tracks, playlists to MP3, so you can play them on any device. SpotiFlyer is available on F-droid and is free with no ads.
How to Convert Spotify to MP3 Android via SpotiFlyer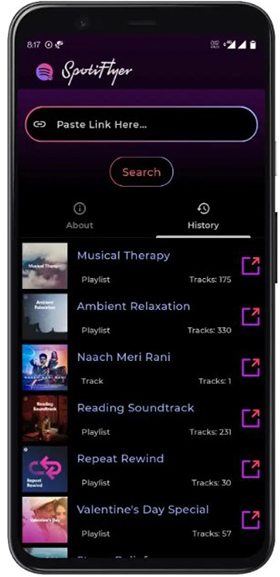 Step 1. Download and install SpotiFlyer on your Android device.
Step 2. Open the Spotify app and select the song you want to convert to MP3.
Step 3. Click the three dots and then click Share > Copy Song Link.
Step 4. Paste the link into the SpotiFlyer input field and tap the Search icon.
Step 5. Press the Download All button to download MP3 Spotify file.
✨ [Test Result] It's not an official Spotify app and isn't endorsed by Spotify. Some say that SpotiFlyer may contain malware or viruses that can harm your device. There have also been reports of SpotiFlyer downloading malware or other malicious software onto users' devices.
# 2. Telegram
Telegram
Compatibility
Android, iOS
Best for
✔️ It can manage a batch download of as many Spotify songs at once
✔️ It can also work with Deezer
Cons for
❌ The conversion process is not stable
❌ Download tracks with matching names, not the originals from Spotify
❌ Only download MP3 files
Price
Free
Ratings
⭐️⭐️
What about downloading Spotify music to MP3 iPhone? Telegram bots would be helpful. Telegram Spotify Downloader Bots are interactive bots that allow users to download Spotify playlists, albums, and tracks directly onto their devices. These bots can also be used to perform other tasks like converting files, checking emails, and playing games.
How to Convert Spotify to MP3 iPhone via Telegram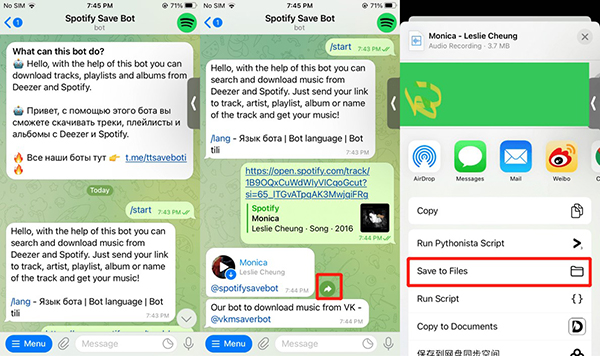 Step 1. Open the Spotify app on your iPhone and find the song you want to download.
Step 2. Copy the URL of the song and open Telegram, then search for the Spotify to MP3 bot.
Step 3. Click the Start tab and paste the URL of the song into the bot.
Step 4. Click Send to begin downloading songs and tap the Download icon to save Spotify MP3 music files to your iPhone.
✨ [Test Result] You can use Telegram bots to download Spotify songs and convert them to MP3 files. However, not all bots are secure and safe. Bots may collect user data, including personal information and chat history. Security researchers have found Telegram bots that can command and control malicious Android apps, and even exfiltrate data from Telegram chats.
---
Part 7. Which Is the Best Way to Convert Spotify to MP3
The following table shows the complete comparison of the above methods we mentioned.
| | | | | | | |
| --- | --- | --- | --- | --- | --- | --- |
| | Audkit Spotify Music Converter | Audacity | Soundloaders | SpotifyDown | SpotiFlyer | Telegram |
| Compatibility | Windows, macOS | Windows, macOS, Linux | Windows, macOS | Online | Windows, macOS, Linux, Android | Android, iOS |
| Output Format | MP3, FLAC, WAV, AAC, M4A, M4B | MP3, WAV, AIFF, AU, FLAC, Ogg Vorbis | MP3 | MP3 | MP3 | MP3 |
| Conversion Speed | 5X | 1X | 1X | 1X | 1X | 1X |
| Download Quality | Lossless Quality | Low Quality | Low Quality | Low Quality | Low Quality | Low Quality |
| Keep ID3 Tags | ✔️ | ✔️ | ✔️ | ✔️ | ✔️ | ✔️ |
| Secure | ✔️ | ❌ | ❌ | ❌ | ❌ | ❌ |
| Ratings | ⭐️⭐️⭐️⭐️⭐️ | ⭐️⭐️⭐️ | ⭐️⭐️ | ⭐️⭐️⭐️ | ⭐️⭐️⭐️ | ⭐️⭐️ |
There are several ways to convert Spotify songs to MP3. While all of these tools have their pros and cons, Audkit Spotify Music Converter stands out as the best option due to its high output quality, fast speed, and ease of use. We hope that this article will help you make the best choice out there.
---
---
---