Since Spotify is a popular music streaming app with millions of songs, it isn't hard to find music for that perfect moment. You can either do this through your Spotify free account or the premium version. But when it comes to playing Spotify music better, one of the icings on the cake might be to convert Spotify to MP3 free.
If you don't care about the ads and just want to shuffle play Spotify songs, the Spotify-free version should be sufficient for you. On the other hand, ad-free songs and offline downloads are features that Spotify premium account holders enjoy. However, such a Spotify to MP3 conversion isn't possible with a free or premium Spotify version. To convert Spotify to MP3, you'll need a Spotify to MP3 converter.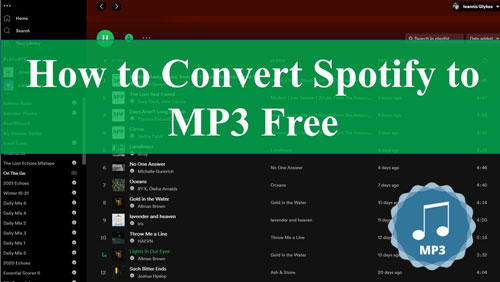 ---
Part 1. Why Spotify MP3 Converter
The songs downloaded through your Spotify premium account are limited or protected. This means they can only be played inside the device with the Spotify app. For you to enjoy your Spotify playlist offline on any device you want, you'll need a professional MP3 converter.
In today's article, we delve deep into some of the professional Spotify MP3 converters you can use for that elevated and seamless listening experience.
---
Part 2. Convert Spotify to MP3 Free: 3 Tools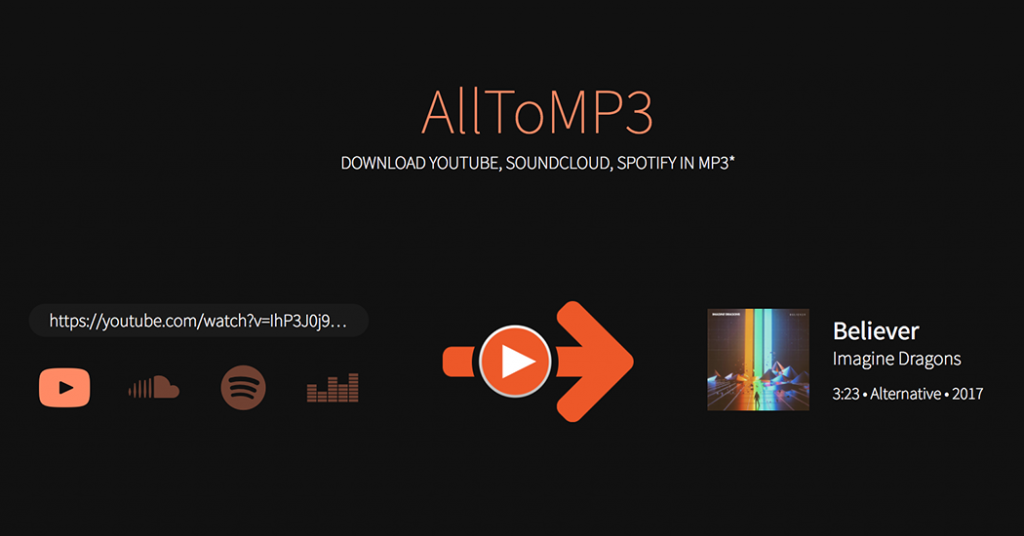 1. AlltoMP3 Spotify Music Converter
It's open-source software that works with other platforms such as SoundCloud and YouTube. It works with Mac, Linux, and Windows. Matching it to other MP3 converters that merely convert clips to MP3, this software preserves the lyrics, artwork, and tags of Spotify songs. It further comes with a search engine aiding one's search through different platforms. Users may experience bugs or glitches since the app is still under development, You can convert Spotify songs to MP3 for free with this amazing tool by following the simple process below.
Step 1. Install and launch AlltoMP3 from your PC.
Step 2. Head to Spotify, copy the link to your favorite song and toggle back to the AlltoMP3 search box to paste the link.
Step 3. Hit the download button to convert and save the playlist in your library.
Pros
The software is open-source, meaning it is completely free
Easy and simple to use
Cons
It offers a slow conversion process
Doesn't come with user support and offers no audio editing features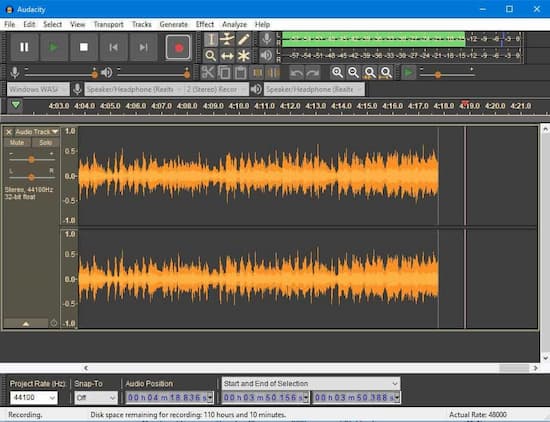 2. Audacity Spotify to MP3 Converter
This is another open-source audio and digital recording software. You can capture audio from various sources such as your PC's internal speaker and output it in MP3 or WAV format to enhance Spotify's compatibility with other devices. The software further allows you to mix your recordings according to your needs while adding effects to your Spotify tracks. It's available for Mac, Linux, and Windows. Below is a quick guide on how to use the software.
Step 1. You'll need to alter the settings before Audacity records your Spotify music. Open Audacity and hit the edit button from the toolbar. Press the preference tab.
Step 2. Head to Devices and click the host button in the audio host box. Select Windows WASAPI since it's the preferred sound recording method on the computer.
Step 3. Next, head to recording and uncheck the software playthrough. This will avoid the re-recording of your tracks that creates an increasingly high echo that may damage your PC.
Step 4. Hit the red record button in Audacity and start playing your tunes on Spotify. Once done with the recording, click stop and save your recording in any desired format.
Pros
It's open-source, meaning its free of charge, and comes with community support for continuous improvement
It's compatible with Windows, Linux, Mac, and OSX
Cons
It's an incomplete program, meaning you'll have to separately install encoders/plug-ins
The program is unstable since there are known and unknown existing bugs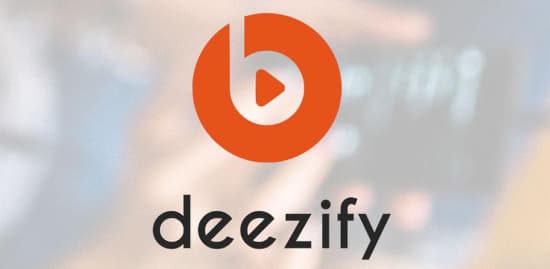 3. Deezify Spotify Music Converter
Deezify is a Chrome extension that allows one to convert Spotify to MP3 online without any limits and ads absolutely free. You can download your music from a host of streaming services such as Xbox, Spotify, and Deezer. The downloaded music gets stored in MP3 format which makes it convenient to enjoy it either on your PC or mobile device without any limitations. You can further filtrate ads easily and be compatible with Mac, Linux, and Windows.
Step 1. Head to the drop-down menu at the end of Chrome's address bar and install the Deezify plug-in.
Step 2. Once installed, open Spotify and play your selected music. Deezify will aid you in converting it to MP3.
Pros
Downloads Spotify songs quite fast
It's free
Cons
The audio output quality is compromised
The app is not stable since it's still in the developmental stages
---
Part 3. How to Convert Spotify to MP3: Professional Tool
The AudKit Spotify Music Converter remains to be among the best software to convert Spotify playlists to MP3. The software was specifically designed for Spotify and can convert Spotify tracks to commonly desired audio output formats. It comes packed with the latest converting kit making it a must-have on our list. Below is just one of its striking features.
The software can max up its download speeds up to 5X or more in perfect network conditions. For instance, you'll only need 10 minutes or less to download a batch of 100 songs. What's more, you will have access to your offline, unprotected files in your PC's target folder. You get to experience Spotify premium privileges freely through unlimited skips and ad-free songs. Not only that, music lovers now get the option of maintaining their playlist's original quality by selecting a bit rate of 320kbps and 48000Hz to match Spotify's original quality.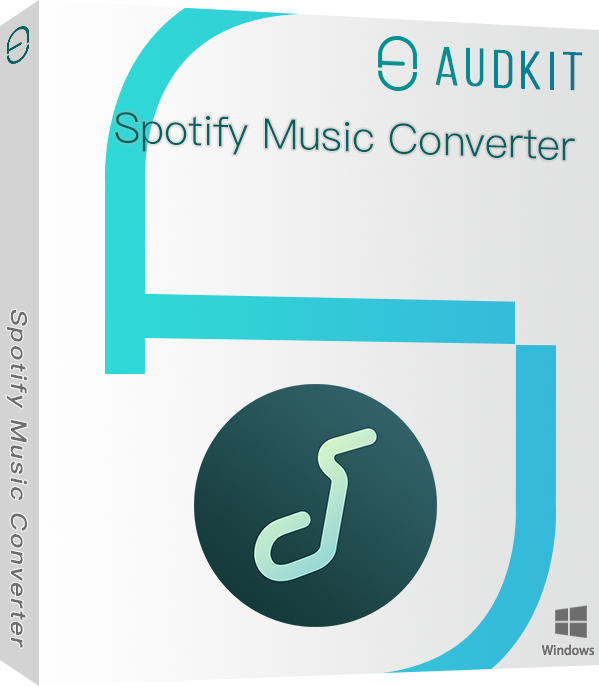 Key Features of AudKit Spotify Music Converter
Multiple output audio formats are available
Comes with conversion speeds of up to 5X
Maintains 100% sound quality with ID3 tags
Able to customize output for an enhanced experience
How to Convert Spotify Playlists to MP3 by AudKit
Step 1 Launch and import Spotify music to AudKit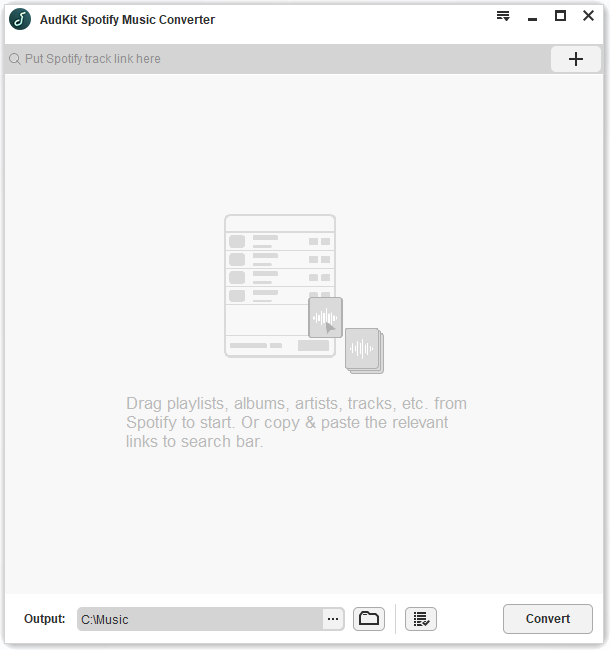 Head to the link above, download, install and register AudKit Spotify music converter on your computer. Launching it will make the Spotify app appear automatically. Remember, the trial version only allows you to convert 1 minute of each song.
Step 2 Change Spotify output settings for free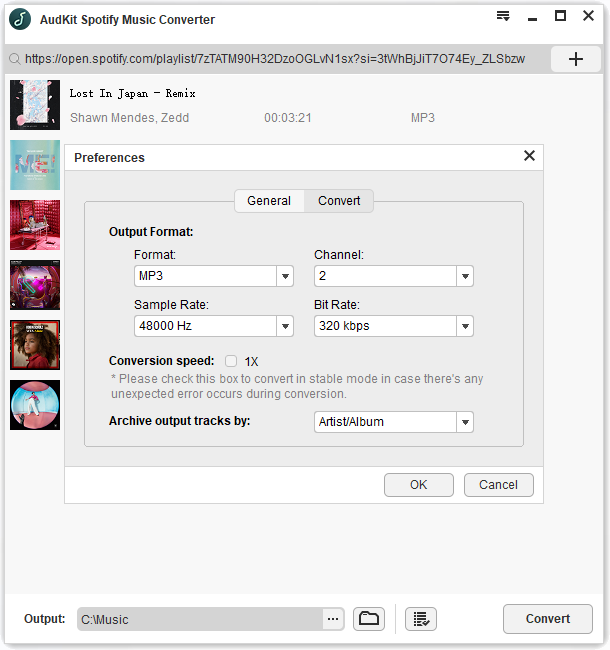 Add your playlist, songs, or albums from your Spotify app to your AudKit music converter. You can easily do this by dragging and dropping songs from your app to your converter. Once done, customize your list to the desired output format (either MP3, WAV, FLAC, M4B, etc.). You can do this from the top taskbar by hitting menu > Preferences.
Step 3 Convert Spotify playlists to MP3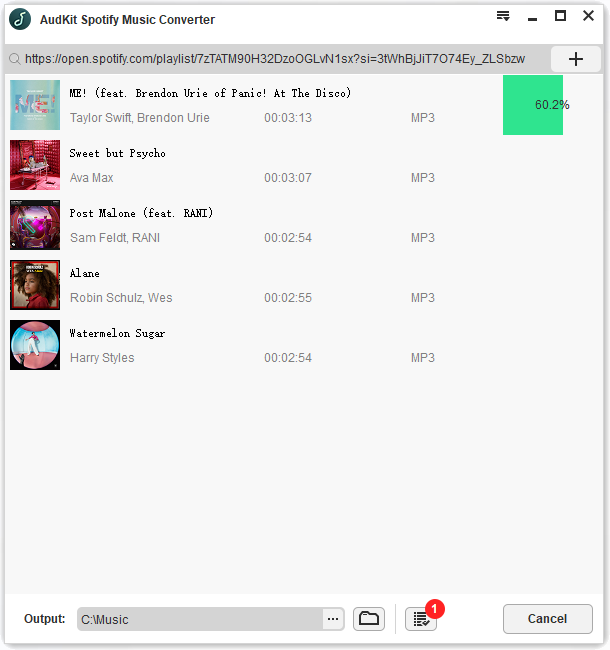 Start the download and conversion process. Once the process is done, all downloaded files will find their way to your targeted folder. Transfer and play your Spotify songs on any device, anywhere, and at any time.
---
Part 4. Wrap Up
The following table pits the AudKit converter to other Spotify converters in the market and we have to say that AudKit by far outweighs all.
| | | | | |
| --- | --- | --- | --- | --- |
| | AudKit | AlltoMp3 | Audacity | Deezify |
| Cost | Not Free | Free | Free | Free |
| Multiple Output Audio Format | Yes | No | Yes | No |
| Compatibility | Highly compatible | Highly compatible | Highly compatible | Not Compatible |
| Download Quality | High Quality | Low | High Quality | Low |
If you want to convert Spotify offline files to MP3 free of charge, there is a myriad of free software at your disposal. However, we advise you to look further in between the lines and weigh your options as to what you stand to gain and the sacrifices you have to make. We hope that this article will help you make the best choice out there.