Your Spotify Premium subscription plan will give you all the best music in the world at your fingertips. No irritating ads, offline playback, and other premium features are there for you to enjoy. But try importing Spotify music on VLC Media Player and you realize that Spotify music and VLC Media Player don't go hand in hand!!
In fact, you cannot import Spotify music into any media player. You're left with no option than to just open your Spotify app and listen to your favorite songs. But it means that you are missing out on all the rich features that make VLC Media Player such a popular choice for music playback.
No matter how hard you scan the internet for all possible solutions to sort out this incompatibility problem that's bugging you, you won't get it!! Why you may wonder. Fortunately, help is at hand. Just read this article, where you will find out the reasons and an easy solution to sorting this problem out.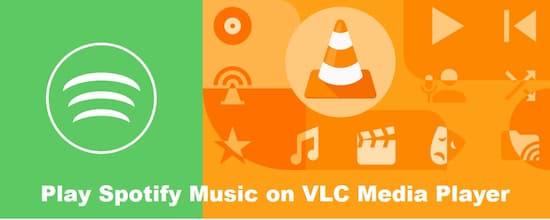 ---
Part 1. Stream Spotify Music to Sandisk MP3 Player: Best Tool
VLC Media Player supports most audio formats like MP3, WMA, AAC, Vorbis, Real Audio, etc. You can stream music and audio playback using VLC Media Player. Spotify music is encoded using Ogg Vorbis and protected. This gives copyright to Spotify music. This protection does not allow VLC Media Player to recognize Spotify music.
So if you would somehow remove this encrypted protection of Spotify music tracks, then VLC Media Player would instantly recognize the audio format used by Spotify. To do this you would require software that will not only remove the protection but makes it easy for VLC Media Player to play the music downloaded from Spotify.
---
Part 2. Play Spotify Music on VLC Player: Tool You Need
AudKit Spotify Music Converter lets you play Spotify music on a VLC media player. This is possible with some cutting-edge features that are bundled into this software. You can convert Spotify playlists, tracks, albums, audiobooks, into lossless audio formats. This preserves the quality of the original audio even after converting into various audio formats like AAC, MP3, FLAC, WAV, etc. Doing this will enable you to play the audio on any device, e.g. Android, iPhone, iPod, Mac OS, Windows OS, Desktops, Laptops, music systems, etc.
You get a conversion speed of 5X in AudKit Spotify Music Converter. Audiobooks, songs, playlists, albums, podcasts, radio, and all the variety of channels you get in Spotify get converted into common audio formats that are popular. You also gain full control over the converted audio, giving you total freedom to edit ID3 tags and editing titles, album, and artist information. This makes it easy for VLC Media Player to manage and search for the required audio track. You can also change parameters like Bit Rate, Channels, Audio codecs so that the audio gets played in a variety of players including car audio systems, home theatre systems, headphones, etc.
You will download Spotify music at 5X speed, and the conversion takes just 1 minute. Whether you want playlists, podcasts, live radio, audiobooks, music albums, the AudKit Spotify Converter will convert all of these into a lossless MP3 audio format. AudKit Spotify Converter is both a Spotify downloader and an MP3 converter. You will be free of the irritating ads you get your Spotify free version, and even if you are enjoying Spotify Premium plans, you will find the AudKit Spotify Converter a convenient way to enjoy Spotify music.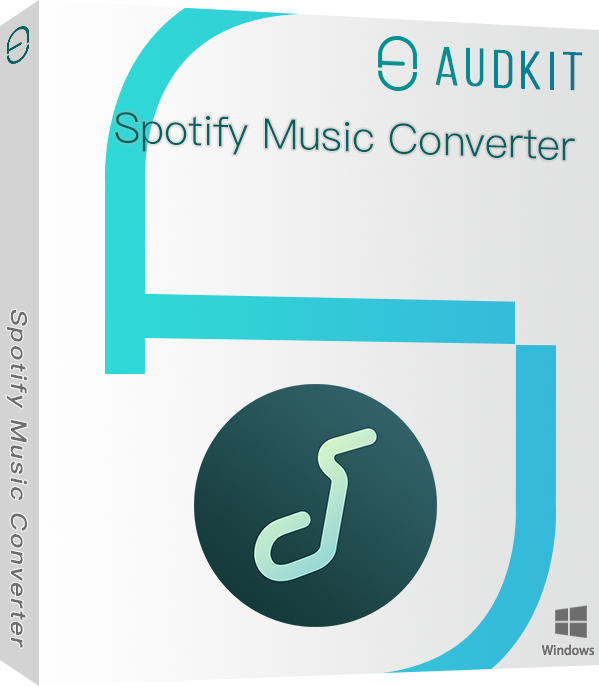 Support multiple Spotify content formats like MP3, AAC, WAV, etc.
Fast working speed in a 5-times fast conversion rate
No loss in output quality after conversion
Available to Spotify music offline listening without Premium
---
Part 3. How to Download Spotify on VLC Media Player: Step by Step
AudKit Spotify Music Converter is available for Mac and Windows OS and the free version converts 1 minute of audio. So to enjoy all benefits, go for the full version instead. You will need to follow the below steps to play Spotify music on the VLC player.
Preparatory Step Download AudKit Spotify Music Converter
Browse for AudKit Spotify Music Converter and install it on your Windows/Mac computer. You will also need to install the Spotify app. If you have not done so, AudKit Spotify Music Converter will automatically prompt you to install Spotify. The free version of AudKit Spotify Music Converter will only convert 1 minute of Spotify music into the desired audio format. To activate the full version, you will need a license email and registration code.
Step 1 Add songs, playlists, podcasts from the Spotify app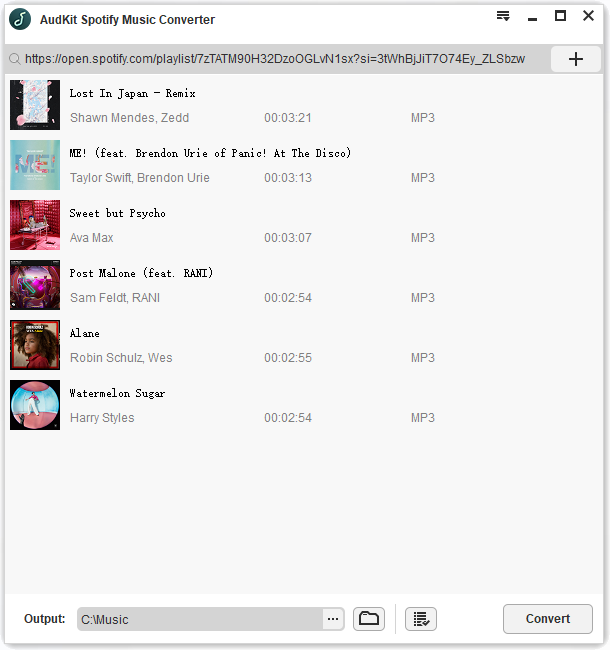 Browse Spotify for the tracks you want to play in VLC Media Player. You can just drag and drop the tracks into the main interface of AudKit Spotify Music Converter. Or alternatively, you can click on the three dots that shows beside the track, and go to Share > Copy Song Link. Then paste the copied link on the search bar of the AudKit Spotify Music Converter and click on the + button to add the file for conversion.
Step 2 Customize Spotify audio format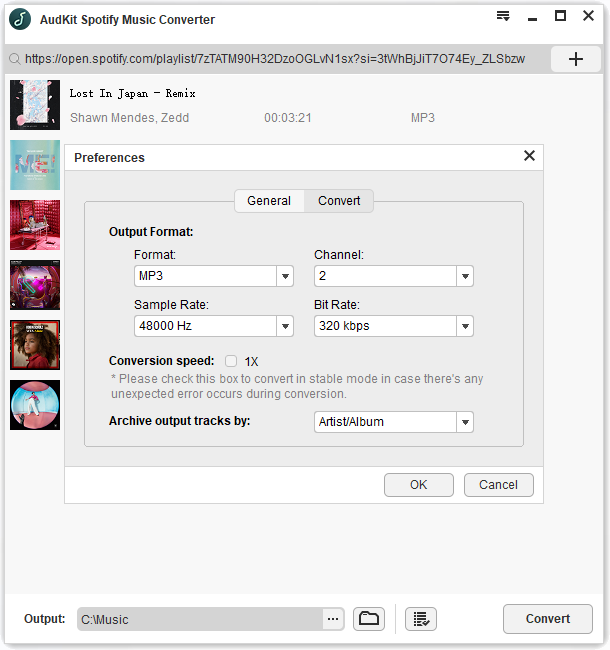 Before converting Spotify music, you can change the audio format and other parameters. You can do this on the main interface of AudKit Spotify Music Converter itself. On the top taskbar, go to the Preferences option. You can change output format options such as audio type, bit rate, channel, sample rate, etc. You can even slow down the conversion rate to 1X speed instead of the 5X default speed rate of conversion.
Tip: You can change the output folder where you can save the converted Spotify tracks. Click on the folder icon from the bottom of AudKit's interface. And locate the destination folder where you would like to save the audio files.
Step 3 Convert Spotify into MP3 audios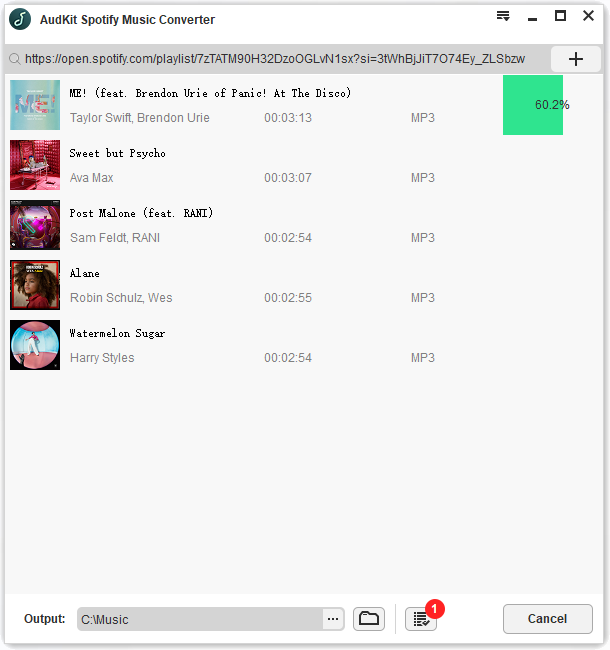 After you've queued up the song list in AudKit Spotify Music Converter, or even if it is a single track that you want to play in VLC Media Player, you can do it. Click on the Convert button and the conversion process will show up beside each audio track. And after the conversion process is done, you can see the converted audio by clicking on the Converted button at the bottom of the AudKit Spotify Music Converter interface.
You are now ready to play them in VLC Media Player. In VLC Media Player, open the file, or Open Folder where you have saved the converted Spotify tracks, and play them.
---
Conclusion
Using AudKit Spotify Music Converter is the best way to play Spotify music on VLC Media Player. User-friendly interface and clear functionality will make it smooth to operate AudKit Spotify Music Converter and give you the freedom to transform Spotify music into the format of your choice. Play it in VLC Media Player and enjoy Spotify music anywhere, everywhere.
---