Spotify is a digital music, podcast, and video service. With Spotify, you can access millions of songs and other works from authors all over the world. Simple tasks like playing music are completely free, however, Spotify Premium is also an option. You may create collections of music and podcasts, get recommendations based on your taste whether or not you have premium, and much more! Spotify is accessible on a variety of devices, including computers, phones, tablets, speakers, TVs, and automobiles, and Spotify Connect makes switching between them simple.
What occurs, however, if Spotify won't open on Mac? Internet connection problems, software glitches, hardware problems, missing updates, or Spotify outages are a few of the primary causes of the Spotify not working on Mac issue. You'll need to conduct some troubleshooting to swiftly identify the issue and solve it so you may listen to your preferred Spotify music offline on Mac once more.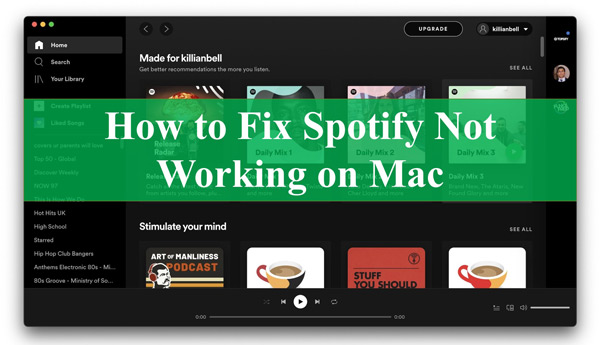 ---
Part 1. 10 Main Solutions That Will Fix Spotify Not Working on Mac
In this guide, you can learn 10 solutions to fix the Spotify app for Mac not working issue. Take 4-5 minutes to solve your problem and enjoy Spotify on Mac again!
Before we start, you can check your Internet connection and the @SpotifyStatus account on Twitter. If these two are normal but Spotify not opening on Mac issue still exists, you can move on to the troubleshooting steps below.
Solution 1. Restart Your Mac
If your Spotify on Mac not working, you can first try to restart your Mac. Restarting your Mac is as simple as selecting the Apple menu > Restart. It is the simplest and sometimes the most effective way to solve the Spotify Mac app not working issue.
Solution 2. Restart Spotify
Any software issues that might be preventing Spotify from opening on your Mac are typically fixed by restarting the Spotify app. Select the Spotify app window and then select Apple Menu > Force Quit.
Solution 3. Update Spotify to Fix Spotify Not Working on Mac
If your Spotify is not the newest version, Spotify not working on Mac issue may occur due to incompatibility issues. So, you can try to update Spotify on your Mac.
Step 1. Launch the Spotify app on your Mac. Click on Spotify in the Menu Bar. Click the About Spotify option from the drop-down menu.
Step 2. When the About window opens, you may see a line saying there's a newer version available. Upon doing so, click the white for a download link.
Step 3. After downloading, install the latest Spotify app on your Mac. Then check if Spotify works.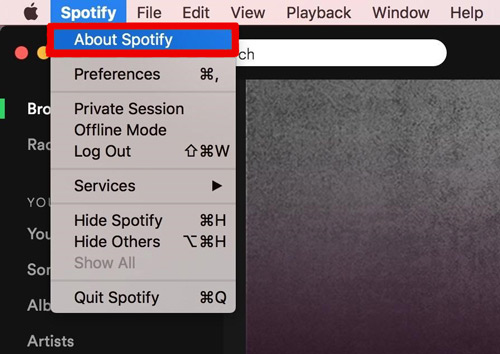 Solution 4. Update Your MacOS
Similarly, if your macOS is late, Spotify won't work due to the incompatibility issue. So, you can try to update macOS on your Mac. From the Apple menu in the corner of your screen, choose System Preferences. In the System Preferences window, click Software Update. Click Upgrade Now.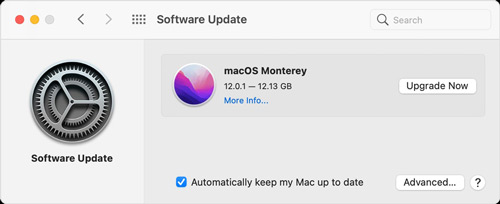 Solution 5. Reinstall Spotify
You can also try to reinstall Spotify to solve Spotify not opening on Mac issues. Select Quit Spotify from the menu bar by clicking Spotify. Open Finder > Go > Library (hold the Alt key if the Library isn't visible). Open Caches and delete the "com.spotify.Client" folder. Click back and open Application Support. Delete the Spotify folder. Finish by downloading and installing Spotify.
Solution 6. Turn Off Hardware Acceleration
If Spotify downloads Mac not working, you can try to turn off the hardware acceleration on your Mac. Hardware acceleration is to remove some of the load from your Mac's CPU so that everything else runs smoothly. Therefore, Spotify may already have hardware acceleration enabled by default. However, this could also be the reason why Spotify suddenly stops working. As a result, you will have to disable it.
Step 1. Go to the Apple menu, choose "System Preferences", and then go to the "Energy" control panel.
Step 2. Uncheck the box next to "Automatic graphics switching".
Step 3. Take note of the paragraph stating that the MacBook Pro's battery life may be affected. "When automatic switching is disabled, your computer will always use high-performance graphics. This may decrease battery life." – if you are not OK with that, do not disable this option. Then close out of "System Preferences".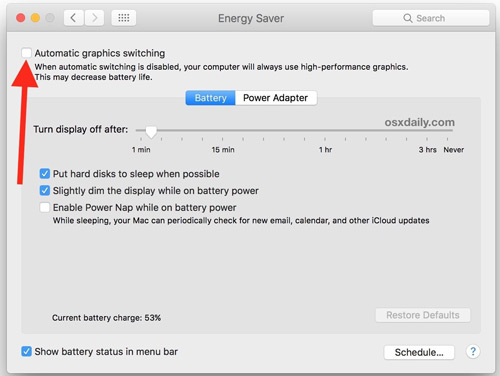 Solution 7. Clean Up Your Hosts File
If the above solutions still cannot solve your Spotify won't open on Mac, you can clean up the "hosts file" and see if you can open Spotify again. The hosts file is an invisible but essential part that essentially works for your Mac.
Double-click the hosts file (on the desktop), and it will open in TextEdit (or any default text editor on your Mac). Erase everything in it by pressing Command + A to select all and then press the delete key.
Solution 8. Temporarily Disable Your Firewall
The firewall in your Mac may be blocking Spotify due to a security issue, preventing the application from opening or working properly. Temporarily disable the firewall and check if you can open Spotify again.
Click on the Apple menu just located in the upper left corner of your screen. Click View after selecting System Preferences. Now, choose security, and then click on the Firewall tab. Now click on the button just next to 'Allow all incoming connections' to disable Firewall.

Solution 9. Disable Your Antivirus
If you install a third-party antivirus for your Mac, it may flag Spotify as malware and you may not be able to open or use the application. Disabling the antivirus software may solve this problem. The principle is similar to Firewall.
You ought to see the antiviral symbol in the Mac menu bar. Either right-click it or just left-click it to bring up a drop-down menu. Click the ideal function such as Disable or Stop and if it asks for any confirmation, hit Confirm.
Solution 10. Avoid Spotify Won't Open on Mac
If the above 9 solutions still do not work, you can try to use other music players on your Mac to listen to Spotify music. In that way, you can get away from all the frustrations and listen to your favorite and recent songs for free. You don't need to worry about Spotify not working on Mac issues.
All you need is the AudKit SpotiLab Music Converter. It can download more than 82 million Spotify tracks, playlists, albums, podcasts, audiobooks, and radio stations. After downloading, you will get the original sound quality of all Spotify songs. This clever Spotify downloader lets you load up to 100 tracks at once. Additionally, there is no maximum conversion limit for Spotify songs.
Not only that, different audio formats are supported by AudKit Spotify Music Converter. Spotify for Mac and PC may be downloaded with just one click by bulk importing a large number of songs from your free or premium account via AudKit Spotify Music Downloader.
There are two versions of the converter available: one for Windows and one for Mac. Now that the correct AudKit Spotify Music Converter version has been released, users can download and activate it quickly and without sacrificing audio quality to convert Spotify to MP3.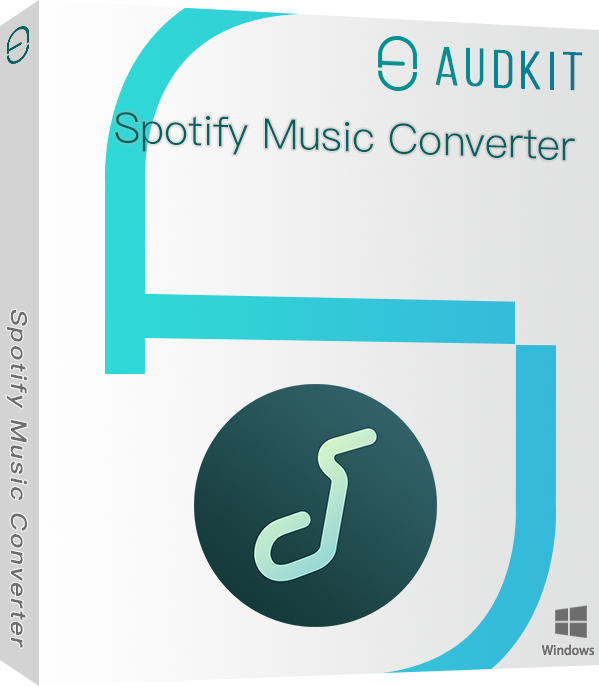 Main Features of AudKit Spotify Link Downloader
Batch convert Spotify audio to MP3 and other formats at a 5X faster rate
Download Spotify songs for offline listening on any player, speaker, etc.
Retain all of the song's ID3 tags as well as the original quality
Download music from Spotify to your local computer
Here is a detailed tutorial on how to use AudKit Spotify Music Converter to avoid Spotify not opening on Mac issues.
Step 1 Add your favorite Spotify songs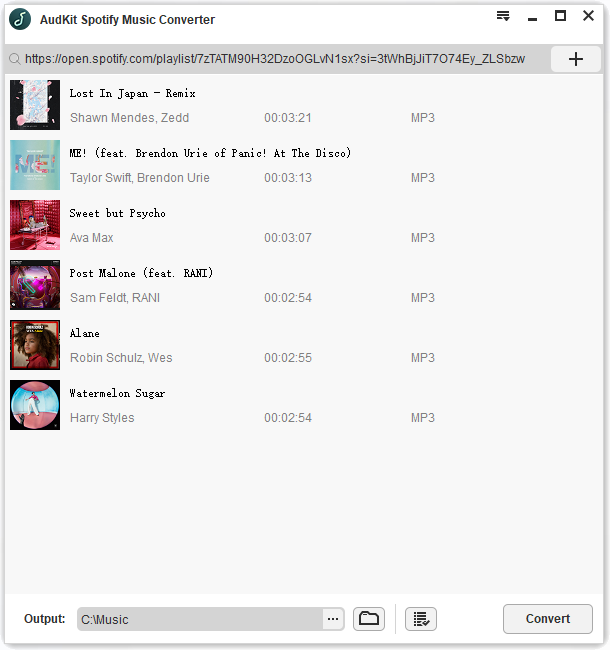 Regardless of whether you are a paid or free user of Spotify, you may browse and choose music, albums, or playlists through the app. Right-click the song you want to share and choose Copy Song Link. Then, in the AudKit interface, paste the link into the search field. To import it, select the "+" tab. Alternatively, you might simply drag and drop tracks from Spotify into the converter.
Step 2 Select the output preferences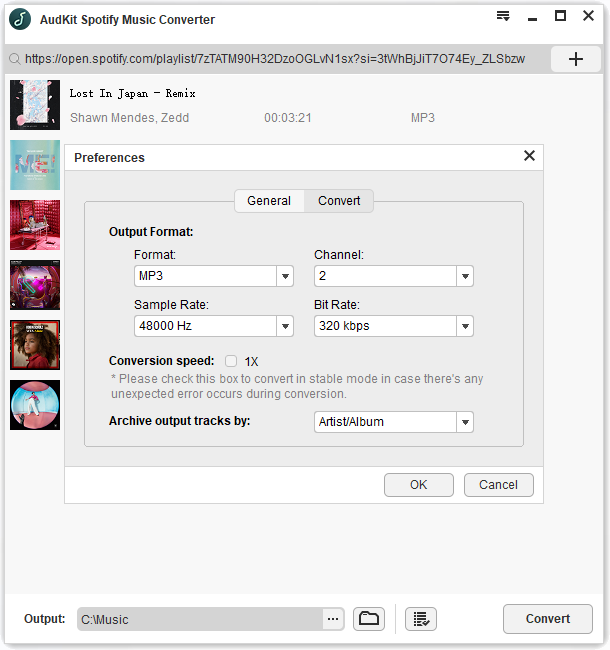 Select Preferences from the Menu on the top taskbar. Then select the Convert option. You can change the output format back to MP3, AAC, M4A, M4B, FLAC, or WAV. Other audio characteristics that can be changed include channels, sample rate, bit rate, and how output tracks are archived. The AudKit Spotify Music Converter for Windows runs at a 5X speed by default. Please set the conversion speed to 1X if you need a more stable conversion. By default, the AudKit Spotify Music Converter for Mac operates at 1X.
Step 3 Download Spotify songs for listening to other music players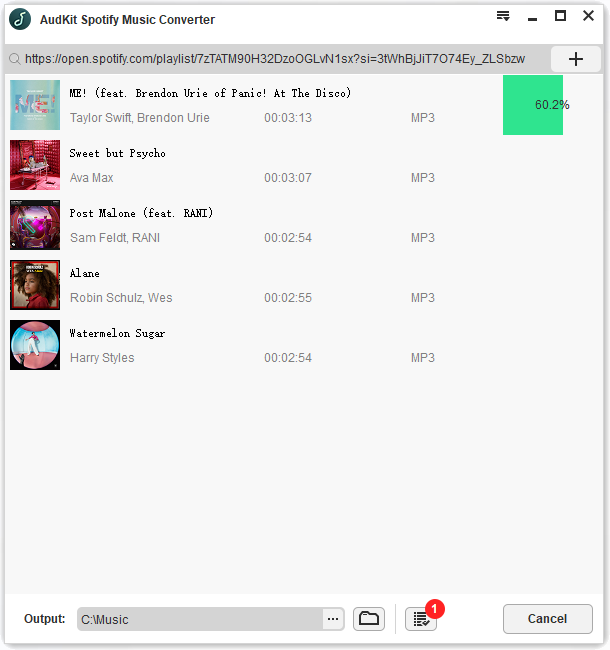 In the lower right corner, tap the Convert button. Depending on your needs, the program will begin the conversion to download Spotify music on Mac. All Spotify songs that have been downloaded will be saved as MP3 files on the local folder once the conversion process is complete. By clicking the folder symbol at the bottom, you may find the folder. Spotify music can now be downloaded and played on any device, anytime, anywhere.
---
Part 2. Conclusion
"Why won't Spotify open on my Mac?" Spotify not working on Mac is an issue that is caused by complex reasons. But it can be fixed with simple tips and tricks. The above fixes are sure to solve your problems in a minute. Out of all the solutions, AudKit Spotify Music Converter can help you resolve complex Spotify issues instantly without any data loss. Try our little guide and enjoy the amazing benefits offered by the most powerful software in town.
---