Music is one of the most famous forms of media and is listened to all over the world. Music is listened to by people from every place. In the 19th century, music was listened to on radios and TVs. Music was relatively very expensive to listen to as compared to nowadays. Nowadays, music can listen on online music streaming music platform, which is relatively very time efficient and cheap. Spotify is one of the most famous music streaming services on the internet and has a library of over 60 million songs.
Now sometimes, when listening to Spotify on Windows and Mac devices, some errors occur that stops Spotify from producing sound. So, in this article, we are going to explain some basic tips that you can use to solve the Spotify no sound issue. Later in this article, we are going to explain a very efficient way of solving the no sound problem.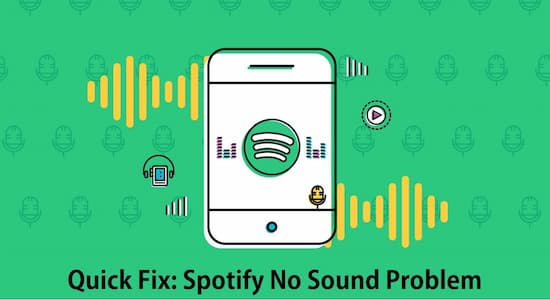 ---
Part 1. How to Fix Spotify Web Player No Sound
Now we are going to explain some basic techniques that you to use to solve the problem of Spotify web player no sound.
Method 1. Having a Stable Internet Connection
Spotify is an internet-based app, so it needs a stable internet connection to keep working perfectly fine. One of the easy ways to solve the internet issue is to use a LAN cable network instead of WIFI as they provide a more stable internet connection.
Method 2. Restarting the App
Sometimes most of the basic issues of an app can be solved by simply restarting the app. The error can occur because of some faulty code, which can be solved by a software update. But you can try restarting the app to solve the no sound on Spotify issue.
Method 3. Removing Uncertified Sound Apps and Reinstalling the App
Now, if you download an uncertified recording app, the chances are that you will have issues with the Spotify app. Because when you download an uncertified recording app, it changes the virtual sound card of your phone and doesn't change it back to the default one when the app is turned off. So that way, it causes issues on the Spotify app.
Method 4. Freeing up the RAM
Now, if you are playing songs online, they have to be converted in the runtime scenario, so it can take much more RAM than other usual apps. We suggest you close other apps working in the background to free up some space.
Method 5. Restarting the Device
If all the above methods do not seem to work for you, we have one last option that you can go for, and it can most probably solve your problem. You can try restarting your phone as sometimes it, not the app that is causing the issue; it can be the phone itself.
---
Part 2. How to Fix Spotify No Sound on Windows/Mac
Now we are going to introduce an app that allows you to solve the issue of Spotify no sound Windows 10. AudKit Spotify Music Converter is a remarkable, dedicated application that is devoted to Spotify. It downloads music from Spotify and afterward changes over it into the wanted format. AudKit Spotify Music Converter permits you to download music, playlists, collections, and so forth from Spotify to MP3, WAV, M4A, and so forth that you can browse.
We can utilize AudKit Spotify Music Converter to download tracks from Spotify that we can tune in to on any multiplayer while being disconnected. It can download music at up to 100% lossless quality by holding ID3 Tags and significant metadata. It can change over at up to 5x the speed of a typical converter.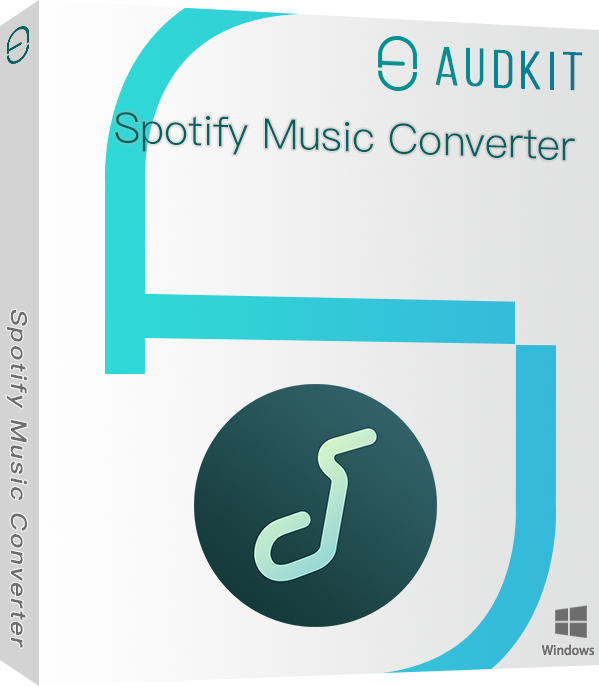 A library of multiple output audio formats
Furnish an ad-free listening experience
Allow converting at up to 5x speeds
Keep original sound quality and ID3 tags
Now follow the given steps to learn how to use it.
Step 1 Launch and import music from Spotify to AudKit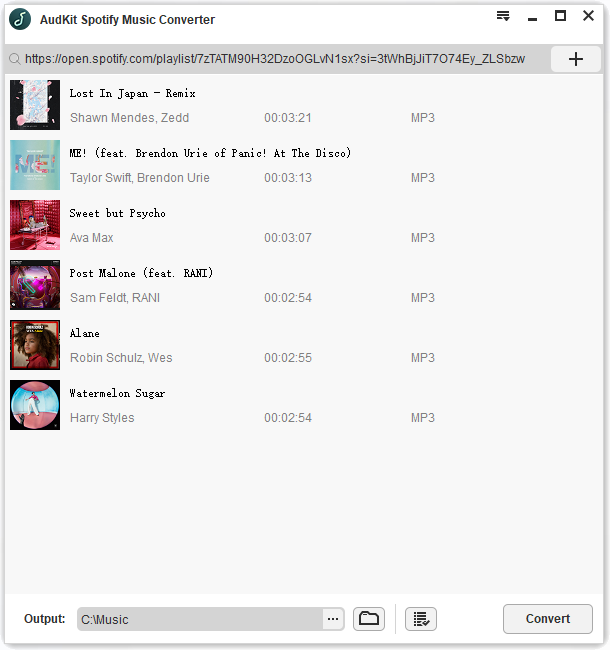 You have to import the songs from Spotify into the AudKit Spotify Music Converter. To do that, you just have to open the AudKit Spotify Music Converter and click on the add button. Then simply import the songs by manually looking for the desired songs in the local storage.
Step 2 Change the format of the music and other parameters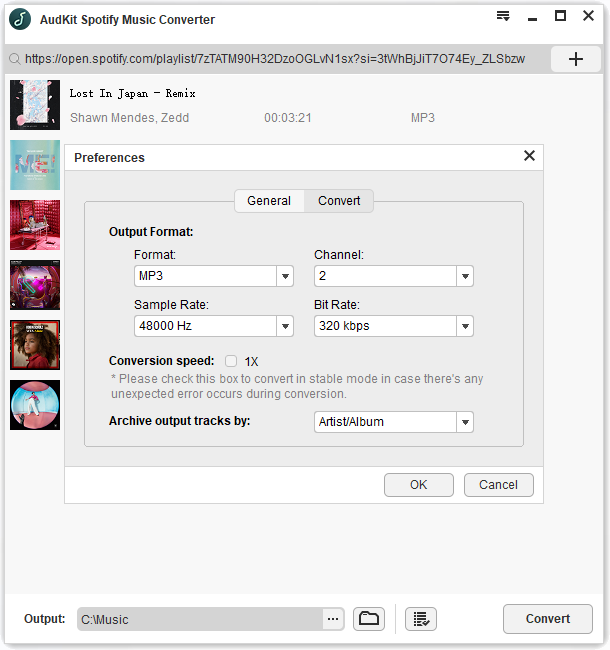 Now the next step is to enter the settings tab by clicking on the "Parameters" button. After that, you have to change the format of the imported songs. You can search for your desired songs from the list of options.
Step 3 Begin converting the music from Spotify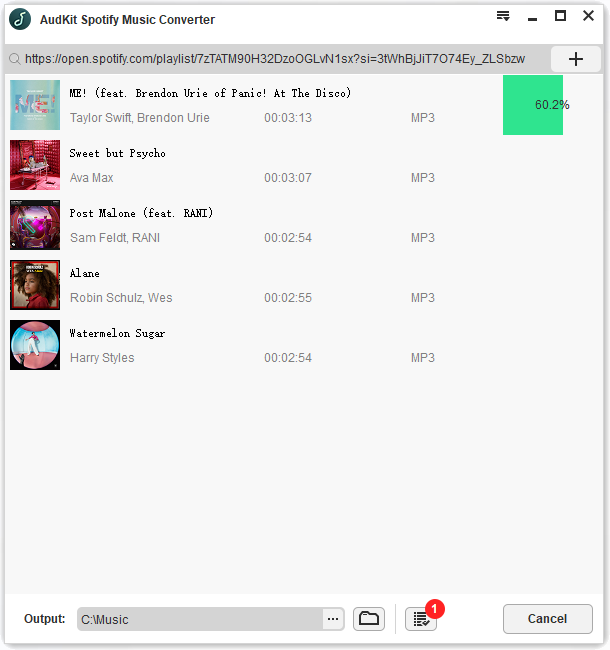 After completing the first and the second step, you need to simply click on the "Convert" button, and it will start converting the songs. Once it is converted, it will be stored in your local storage, which you can listen to without any hassle.
---
Part 3. Solve the No Sound Issue: Common Methods
Method 1: Update the Spotify App
Now one thing you can do is trying to update the app. Sometimes an existing version of an app can have some issues, which can be fixed with a software update. It can fix the faulty part of the program.
Method 2: Check Volume
Sometimes some of the basic human error can cause the system to not work. So if you don't have the volume high up, you won't be able to listen to the song. So you should always check for the volume.
Method 3: Unmuting Spotify
Another basic human error can be is not to unmute the app. Sometimes you mute the app and forget to unmute the app. You should check that as well.
Method 4: Trying Another Song
Now sometimes, there can be an issue with a certain song that can make you feel like that your app is not working, so in that case, you should try another song and see if that fixes the problem.
Method 5: Re-login The Spotify App
Another you can do is just simply try logging out and then again logging in to the app. In some cases, such simple steps can also solve the problem.
---
Conclusion
Now that you are end of the article, you will be able to solve the issue of no sound from the Spotify app. You can easily solve the problem by following all the given steps, and one might work for you. We also discussed a universal solution that can most definitely solve your issue. AudKit Spotify Music Converter is an amazing app that you can use on both Windows and Mac to download Spotify songs.
---