Spotify not only offers quality content but is quite cost-effective as well. Spotify Premium got you lots of goodies at hand. However, you may wish to share the cake with your friend or sibling but find that the family plan is pretty large. The best way to pay less is to opt for the Spotify Premium Duo.
It is a fun way to share music with someone who's got the same interests and music taste as you. What happens with this option is that the two of you will be on the same subscription plan but with separate Spotify Premium accounts. So as long as you share a residence, why not join the bandwagon and enjoy!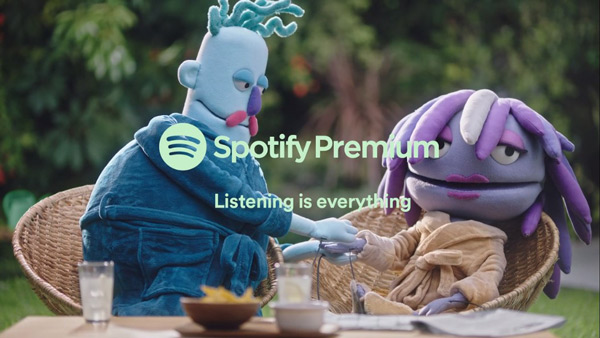 ---
Part 1. Spotify Premium Duo Plan: Overview
Before we go onto how to use the Duo plan, why not learn more about it and the Spotify Premium Duo price?
What Is Spotify Duo Plan?
Launched in July 2020, the Spotify Duo plan is a subscription that is accessible by two people as long as they share the same address. What happens is that each person has their own Spotify account and you can listen to different playlists. More so, the two of you don't share any login details but only share the plan. This also lets your monthly cost lower than if you had two different Premium accounts.
How Much Is Spotify Premium Duo?
You need to part with $12.99 a month for a Spotify Duo subscription. This is quite economical when you compare it to a single plan that goes for $9.99. Saving $7 per month is worth the choice other than purchasing two $9.99 separate accounts for the two of you.
How to Invite Someone to Spotify Duo Plan?
You have to be the plan manager for you to invite someone to Spotify Duo. You need to set the account address and then add the other member. How does Spotify Duo work and invite someone? Check out the steps.
Step 1. First, visit the "spotify.com/duo/" site.
Step 2. Click on the "Get Started" button.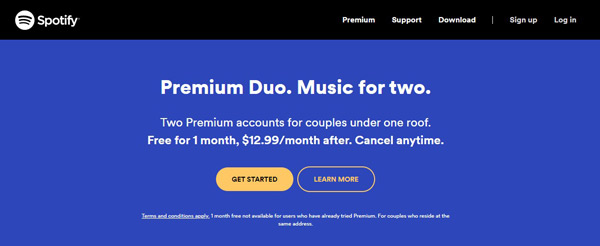 Step 3. Key in your details then, double-check them and hit on the "Buy Now" button.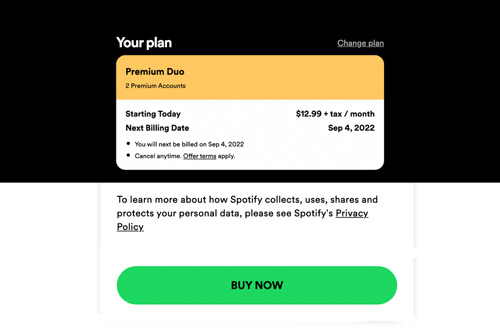 Step 4. Next, visit the Spotify Duo invite page then click "Invite Someone" to send the link to the other member via email or WhatsApp.
Step 5. Finally, the member will get an email or a WhatsApp message. Tap the link and select "Accept Invite".
Step 6. Log into your own Spotify account and enter and confirm the same address. You will then successfully join Spotify Duo.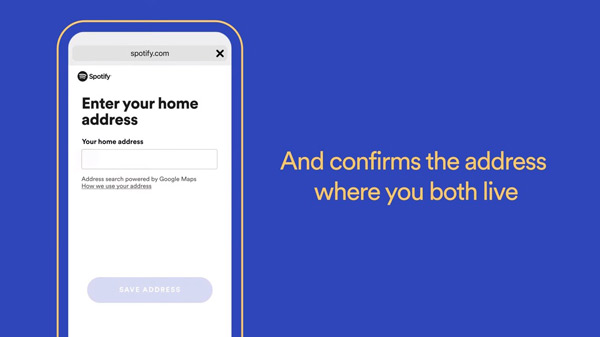 ---
Part 2. Spotify Premium Duo vs Individual vs Family Plan
Here's a comparison table for you to know what're the differences between Spotify plans.
Premium Duo
Individual Plan
Family Plan
Cost
$12.99/month
$9.99/month
$14.99/month
Members coverage
Two users living together
One user
Covers up to 6 family members
Magnitude
Duo gives each person their own separate Premium account
You have it all to yourself
It works for family members
Features
Ad-free Spotify music;
Offline Listening;
Spotify Duo Mix
Ad-free Spotify music;
Offline listening
Ad-free Spotify music;
Offline Listening;
A separate app for kids;
Block explicit content
---
Part 3. How to Download Spotify Offline Without Spotify Duo
Other than Spotify Duo, if you're not going to subscribe to any plan on Spotify, you can also enjoy Spotify offline with the right tool! AudKit SpotiLab Music Converter is the software that serves your purpose. It can convert and download your songs, playlists, albums, etc. for offline listening on any device.
You can batch import several songs of up to 100 from your Spotify account in a single click. The AudKit works efficiently at a speed of 5X rate, managing to convert a 5-min song in just 1 minute. Whether you want to convert Spotify to FLAC, WAV, AAC, M4B, or any other, this tool works out for you. Likewise, AudKit Spotify Music Converter keeps the original quality and all raw metadata of Spotify music, insomuch that you can organize music files easily and enjoy Spotify playing on all devices and players without loss.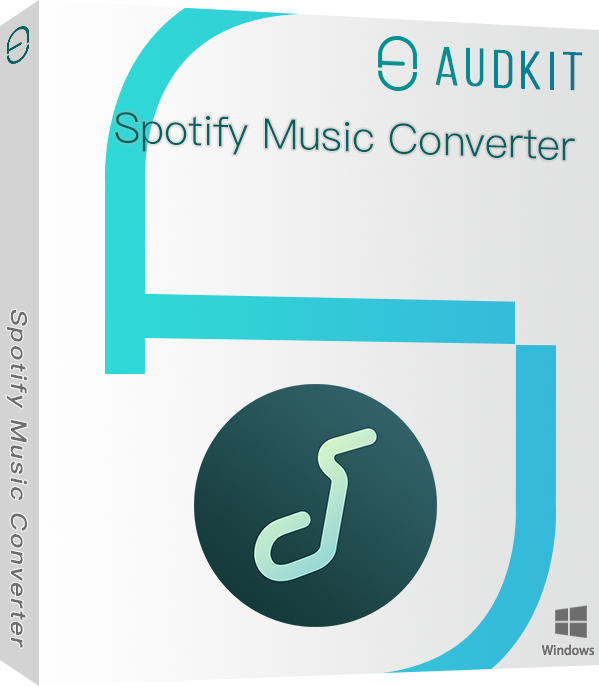 It supports offline playback of converted Spotify music free
Manage a conversion speed of up to X5 rate
Enjoy Spotify tracks with all ID3 tags and 100% audio quality
Download Spotify to common output formats like FLAC, MP3, etc.
Let's see how the AudKit Spotify Music Converter work on downloading music without the Spotify Duo subscription.
Step 1 Set up AudKit Spotify Music Converter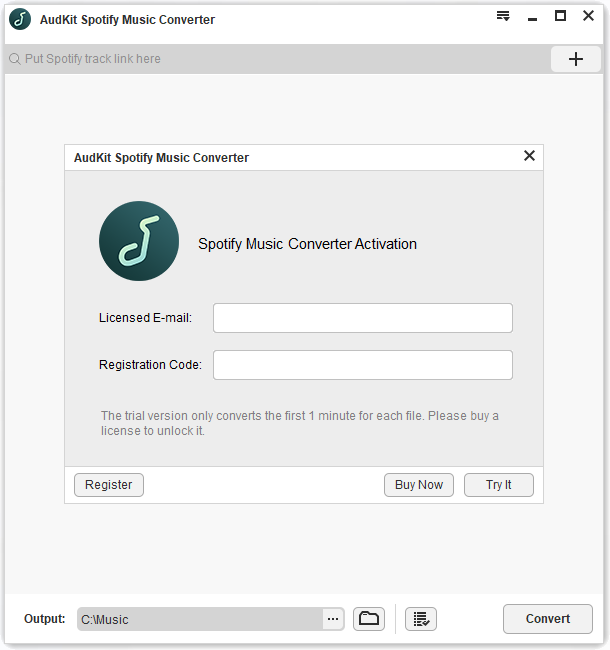 Visit the official site of AudKit SpotiLab Music Converter and click on the "Download" tab to install the app. Then launch it on your device and proceed to register it as well. To do this, click the "Register" tab from the menu. Next, copy and paste your license email and registration code into the available bars.
Step 2 Load songs from Spotify to AudKit software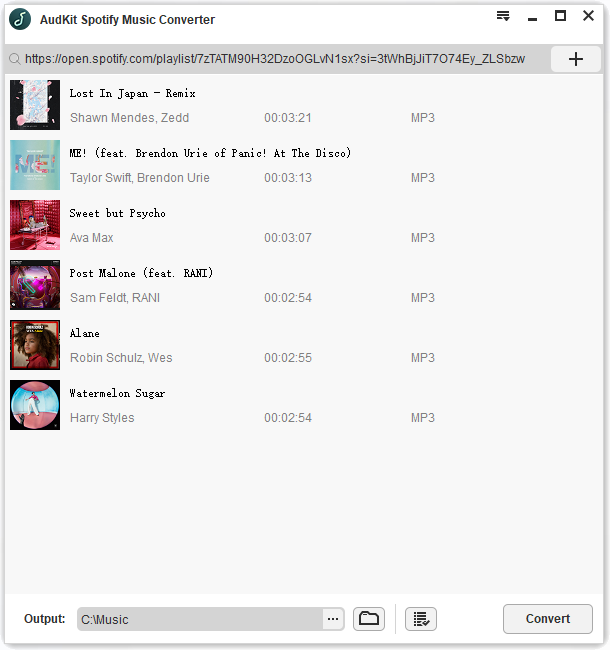 Next, browse and select the Spotify playlist that you wish to convert. Right-click on the picked playlist and choose the "Share" > "Copy link to playlist" option. Paste the link into the AudKit's interface search box and hit the "+" tab to import the playlist. Likewise, you can directly drag and drop the songs or playlists from Spotify to the AudKit converter.
Step 3 Customize Spotify music preferences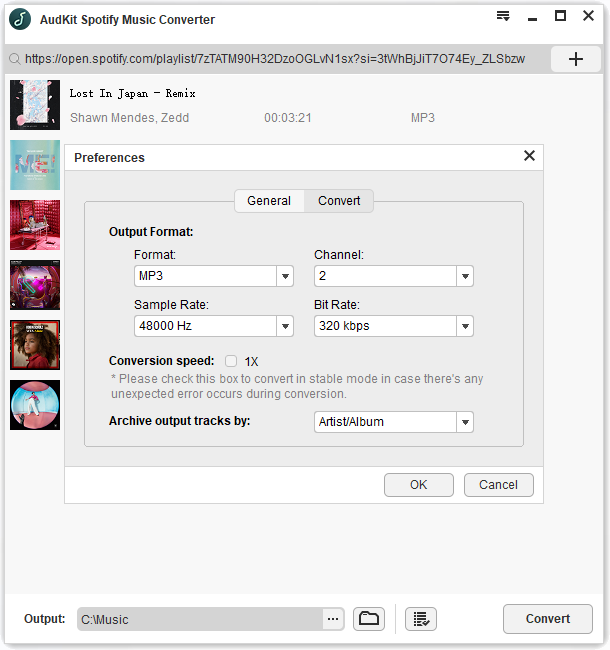 Go to the taskbar and click on the "Menu" icon and select the "Preferences" tab. Next, choose the "Convert" option and continue to reset the output parameters for Spotify. It is viable to change the audio format and edit sample rate, bit rate, channels, etc.
Step 4 Download Spotify with Premium Duo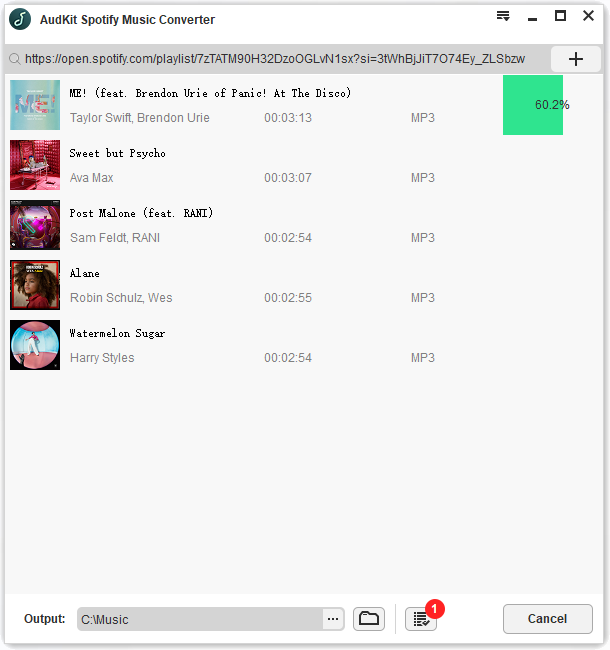 Finally, tap on the "Convert" button to convert your Spotify playlist to the set output format with the customized settings. Then locate them in the local folder once the process is complete. You are free to transfer your songs from Spotify to any device for offline listening without a Spotify Premium Duo.
---
Part 4. FAQs about Spotify Premium Duo
Many questions, such as "does Spotify Premium Duo come with Hulu", keep cropping in and many more. Here are the short answers to such.
Q1. How to Remove Someone from Spotify Duo?
Step 1. First, go to your Spotify Account page and log in.
Step 2. Select the "Premium Duo" option in the available menu.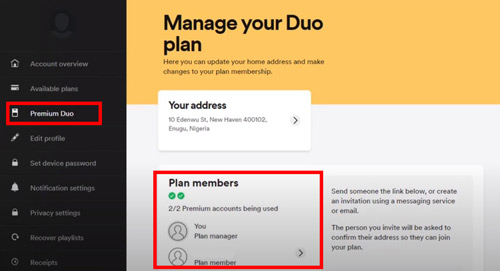 Step 3. Go under "People on this plan"/"Plan members", click the user, and select the "Remove" option.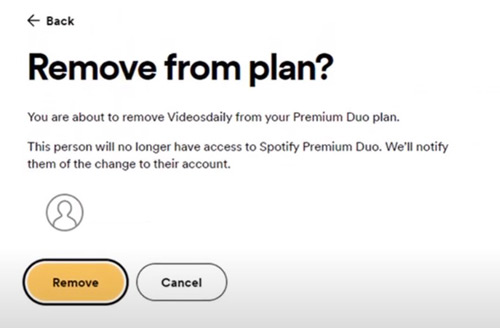 Q2. How to Cancel Premium Duo on Spotify?
If you'd like to unsubscribe to the Duo plan, the steps are the same as canceling Spotify Premium.
Step 1. Log into your Spotify account.
Step 2. Under your plan, click on the "Change Plan" option.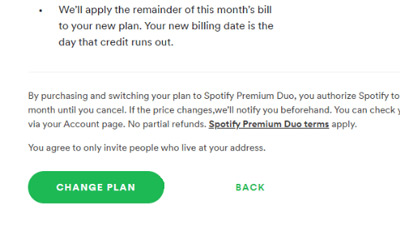 Step 3. Then tap the "Cancel Premium" button and then click on the "Yes, cancel" option to cancel it.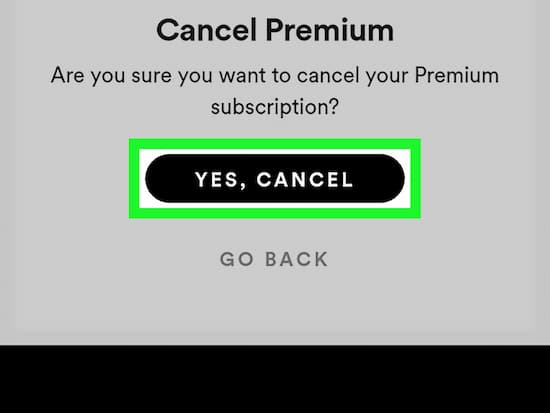 Q3. How to Switch Spotify Premium Individual to Duo Plan?
Follow the steps on how to upgrade Spotify to Duo plans.
Step 1. Log into your Spotify account on the account page.
Step 2. Go to the "Your Plan" section.
Step 3. Then hit on the "Change Plan" option and find the Duo plan and tap "Select" to complete the process.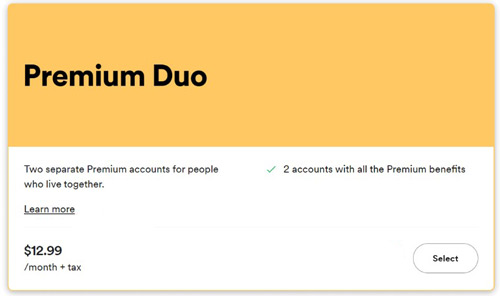 Note: Spotify members can only change their plans once a year.
Q4. Does Spotify Premium Duo Come With Hulu?
Premium Duo Spotify does not come with Hulu. However, Spotify Student Discount comes with Hulu and SHOWTIME.
Q5. How Does Spotify Verify Address for Duo Subscriptions?
Verifying the address can be done by the "Plan Manager". They can check and change the address on their Duo page. And another member needs to reconfirm it.
---
Part 5. Conclusion
Spotify Premium Duo is a great plan if you wish to save some bucks and at the same time enjoy your plan with another mate. Setting up the Spotify Duo plan is easy and you only need a few clicks. More so, you can enjoy Spotify offline without the Premium Duo, thanks to the AudKit SpotiLab Music Converter. It will preserve all the metadata information, thereby giving you 100% lossless quality music.
---