Spotify and Pandora, we have seen a vast transformation in the music industry. The music industry has made critical changes in streaming audios and podcasts. Spotify and Pandora are leading to streaming platforms. This streaming facility has made it easier for the songs to be played anywhere and at any time. Music lovers can play their favorite songs whenever they want. It has become a top-notch for music discovery.
Spotify is a pretty to use application. It gives you access and to millions of songs from artists from all over the world. It was launched in 2008 and now it has millions of daily active users. With time it has become the most popular music service provider.
Pandora has been there for a long time and made name for itself by copying the style of radio. It was launched in 2002 and was a music Genome project. It served music recommendation and music streaming.
Which one is better, you want to know? We will help you out about knowing the pros and cons of Spotify vs Pandora. We will here compare everything you need to know about Spotify Premium vs Pandora Premium.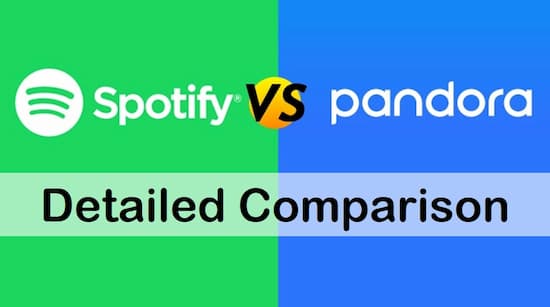 ---
1. Spotify vs Pandora: Key Features Overview
Spotify
Pandora
Free plan
Online mode only;
Shuffle-only mode;
Advertisement supported
Online mode only;
Limited to radio functionality;
Advertisement supported
Monthly charge
Spotify premium $9.99
Pandora premium $9.99 Pandora plus $4.99
Family plan
$14.99 for 6 members
$14.99 for 6 members
Students plan
$4.99 for a month
$4.99 for a month
Free trial
30 days
60 days
Music library
50 million-plus licensed tracks
40 million-plus licensed tracks
Sound quality
192 kbps in Ogg for free, 320 kbps in Ogg for premium
64 kbps for free users and 192 kbps for pandora premium and users
Offline listening
Yes, available for paid users
Yes, available for paid users
Device supported
Android and iOS devices
Android and iOS devices (not available for free users)
---
2. Spotify vs Pandora: Music Library
When we are looking for music then we check for the size of the music catalog which both the services provided. Spotify has over 50 million songs, while Pandora has over 40 million songs. Spotify adds up to 20,000 songs daily in its library while pandora has millions of songs curated and auto-generates radio stations that offer theme variation;
Spotify builds in a personalized library for the user to discover new songs every week. Pandora is for radio, and Spotify is for playlists.
When we compare them to the music library then Spotify wins the race. Pandora comes with a smaller music library. Spotify is more preferred and is way better when it comes to music libraries. Users prefer using and investing their money on Spotify than on Pandora for a better music list.
---
3. Spotify vs Pandora: Sound Quality
Spotify runs its music at 160 kbps on the system, whereas on premium allows you to go up to 320 kbps. People using android and ios have the lowest at 24kbps and the highest goes up to 230 kbps. Free users can get up to 160 kbps and 320 kbps are available only for the paid ones.
When we talk about Pandora we come to know that it has the lowest audio quality available among all the streaming music providers. It has 192 kbps as the highest audio quality available for premium users.
With this we come across that Spotify's audio quality is better than Pandora. Pandora vs Spotify sound quality Pandora at its extreme provides the best they have while Spotify has a way better sound quality not only for its paid users but also for its non paid ones.
---
4. Spotify vs Pandora: Pricing and Plans
Price plays an important role when attracting an audience. Spotify is an ad-supported, free plan giving you a feature to shuffle and play songs. It is a good option for the user who wants to play songs for free. It gives 6 skips in an hour. To get a clear vision on which one is better we need to understand Spotify free vs Pandora free and Spotify premium vs Pandora premium plan.
Starting with Spotify free users can access unlimited music but with a limitation to music quality and ads. Spotify even provides a free trial plan for three months. But it's not completely free for the trial also we have to pay $0.99 for a three months free trial. Spotify premium has a different set of deals for every user. It has a Spotify premium which is for$4.99 per month available for everyone. It has a student plan for $4.99 per month whereas a family plan for $14.99 (6 members) per month. It gives access to unlimited music and allows you to download music for offline mode.
Note: If you don't have a subscription for Spotify premium but still you can download music for offline music with Spotify free only then you can simply take help from Audkit Spotify Music Downloader, this will help you with Spotify free plan with downloads to music for offline mode also.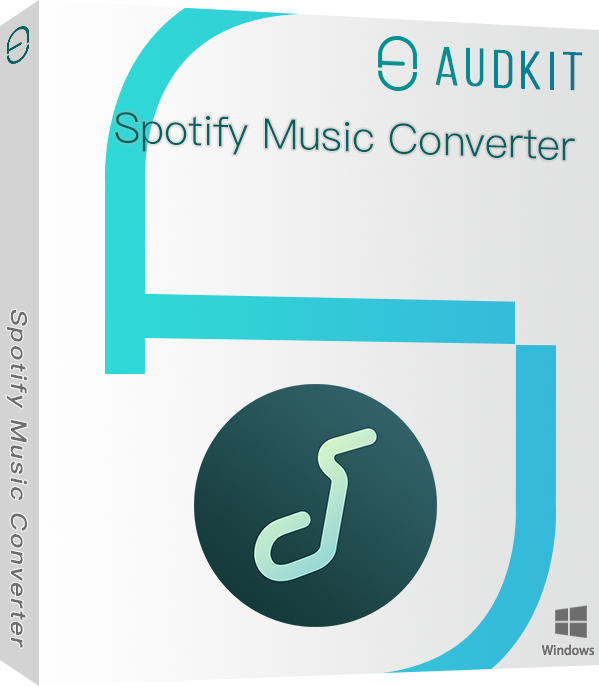 Download Spotify music for offline listening with Spotify Free
Remove ads from the original Spotify tracks
Convert Spotify tracks to MP3, AAC, WAV, FLAC etc.
Maintain lossless sound quality and ID3 tags
Pandora also gives us free access to streaming music but with annoying ads. However, the Pandora free plan is somewhere stuck up to only radio, and streaming of music is very low quality. Pandora free plan is accessible for people using mobile phones only it is not available for the people using a desktop. Users cannot download Pandora's app for free on the desktop; however, they can access it through the web.
Pandora has two paid plans for users. One is a premium plan and the other is a plus. Pandora premium plan is available at the cost of $10 for a month. It gives us access to on-demand music streaming and adds free radio streaming. Pandora Plus is a good option for those who have taste in radio only as it gives access to ad-free radio stations but doesn't allow for on-demand streaming music. It costs $5 per month.
Pandora has a special offer for US military personnel. The company offers them a special discount. There is no such discount from Spotify.
---
5. Spotify vs Pandora: Music Discovery
Pandora is a place where music discoveries take place. Pandora in its Music Genome Project gives analysis to more than 400 different parameters. The music genome creates radio stations and according to users' tastes provides the playlist.
Spotify too has the same function as Pandora does. Spotify creates radio stations for every artist, playlist, and song. Playlists radio thus creates new songs and even do not allow customization through likes or dislikes, but this thus means that users can save them to the Spotify library.
When compared Spotify radio vs Pandora wins this race. Thus, Spotify radio has similar features: Pandora stations, Pandora stations are more diverse and useful.
---
6. Spotify vs Pandora: Versatility
Spotify has some great features that attract a lot of users. It has a dark-themed interface that can be easily navigated. They are classified into tabs to help users easily browse through the catalog, access personalized playlists, check on trending music, and access to radio.
Spotify allows sharing music with friends, family, and everybody easily with just a click away. It gives you the facility of easily having a look at the lyrics on the screen only when the music is being played. It gives easy notification about users' favorite artists or a new album that is launched. With the desktop application, Spotify allows you to have a look at what song users' friend is playing.
Pandora's interface gives good competition to Spotify's interface. Pandora's interface is also equally impressive and gives easy navigation. Many features are common in both Spotify and Pandora. Alphabetical and date wise sorting of radio can easily be done. Users can easily play, search, and share music with their friends. Sharing songs on social media is not as easy as it is on Spotify.
Spotify is more versatile than Pandora. Easy to share and use features attracts the user. Versatility plays an important role in the selection of both at some places we find that Pandora lags behind Spotify.
---
Conclusion
With almost the same feature and smooth versatility, it's very difficult to choose any one among Spotify and Pandora. Spotify has been leading the music industry for almost a decade. If you want to go for free-ad services then both are up to the mark, though users get more of the facility from Spotify.
Pandora lags behind Spotify when it comes to the music library, availability, quality of its streaming but if you don't want to pay a lot, then you can go for pandora plus. Pandora plus vs Spotify can easily be related. Pandora plus costs only $5 per month with ad-free music.
---