With best-in-class features and intuitive user experience, paired with a selection of 70 million tracks and 2.2 million podcasts, Spotify is one of the most popular music streaming platforms. You can stream your favorite music on your PC from the desktop and web player.
Apart from being the go-to music streaming platform for 356 million users, the argument of Spotify web player vs desktop has loomed on the internet for some time.
While both offer high-quality performance, a closer look reveals a big difference. Listening to music from a web player means you do not have to download the app. Log in to your account to access your favorite and saved music, podcasts, and playlist from anywhere. On the other hand, the desktop app requires you to download the songs or listen directly on your laptop.
Well, if you are wondering which one is better to listen to Spotify tracks, here we will give an overview of some items. It will help you decide which is the much better option between the two.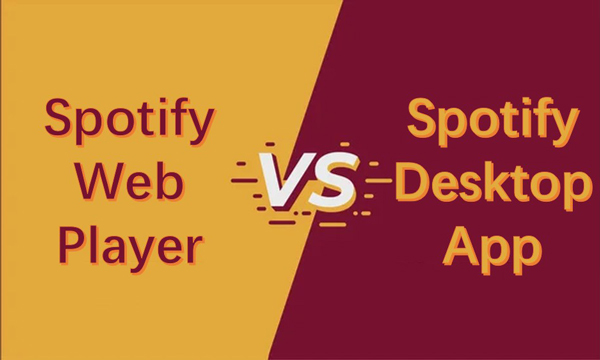 ---
Part 1. Spotify Web Player vs Desktop Sound Quality
Sound quality is of utmost importance when you listen to music tracks. Now, comparing the Spotify web player vs desktop sound quality, you must know that the web player offers a lower bit rate than the desktop app.
The free Spotify web player account users can experience only 128 kbps, while the paid users get up to 256 kbps bitrate.
On the other hand, free account users on the Spotify desktop app can stream music at 160 kbps. In comparison, the premium users get incredibly high sound quality at 320 kbps bitrate.
With the above, the desktop app offers a better sound quality than the web player. Therefore, if you want better sound quality, we recommend that you listen to music on the Spotify desktop web player.
---
Part 2. Spotify Desktop vs Web Player: Portability
Nothing helps lift the mood than listening to your favorite music. It enables you to relax and distracts you for a few minutes when you need it to be. Speaking of Spotify web vs desktop portability, then the web player is a better contender.
With the Spotify web player, you can access your Spotify account from anywhere and on any device and listen to your favorite music. You don't need to download and install the Spotify app. So, it is pretty convenient to play Spotify on the web player.
On the other hand, the desktop app version allows you to play the music tracks on your computer/laptop only, which is inconvenient in terms of portability. Therefore, the Spotify web player is more portable than the desktop app.
---
Part 3. Spotify Web Player vs Desktop: Offline Listening
When it comes to offline listening between Spotify web player vs desktop, the desktop app is convenient. Streaming music through the Spotify web player desktop requires an internet connection to play the music. There is no feature to download the songs. It isn't enjoyable if the data connection or internet is slow or not present.
On the other hand, the desktop app version allows you to listen to music offline. It enables you to download the songs, save them, and enjoy them when you are offline. However, you must be a premium user to download the music for offline listening.
---
Part 4. Spotify Web Player vs Desktop App: Space Occupation
The storage space between the Spotify desktop vs web player is highly comparable. Adding Spotify desktop application on your computer/laptop occupies the storage space, and at times there are log files that affect the performance of your computer.
On the other hand, the web player does not take up space as you can stream music directly from it. The Spotify web player is a better option when you do not have enough storage space on your computer. You can even bookmark the Spotify web player for easy access.
---
Part 5. Spotify Desktop App vs Web Player: Lyrics
Earlier, the users had no idea how to get lyrics on Spotify. But now you can, as Spotify supports lyrics launched across 26 markets in June 2020. Lyrics are supported on both Spotify web player and desktop app. However, lyrics may not be available on all songs.
To start using lyrics on the Spotify web player desktop, play the song and then click on the microphone icon in the lower-right corner. You get a full-screen mode with lyrics appearing along the artist's artwork.
However, for users out of the 26 markets, you need to download and install a third-party app to run with Spotify to get the lyrics.
So, it is a tie for Spotify web desktop regarding lyrics.
---
Part 6. Comparison Table
| | | |
| --- | --- | --- |
| | Spotify Web Player | Spotify Desktop |
| Sound Quality | 128 kbps and 256 kbps | 160 kbps and 320 kbps |
| Portability | Portable | Less Portable |
| Offline Listening | No | Yes |
| Space Occupation | Not Required | Required |
| Lyrics | No | No |
With the above comparison between Spotify web player vs desktop, we can recommend Spotify web player as a better option. It is portable and does not take up storage space. You do not have to carry your computer/PC everywhere you go to listen to your favorite music on Spotify.
However, the Spotify desktop app is better for offline listening and has better sound quality.
---
Part 7. How to Download Spotify Music without Premium
If you are not a premium user of Spotify, listening to music offline is impossible. But there is a way to beat that with the AudKit SpotiLab Music Converter. With the Spotify music converter, you can download over 80 million songs, albums, playlists, podcasts, radio, and audiobooks from Spotify.
Moreover, the converter adds up to 100 songs at once to its smart Spotify downloader. Apart from letting you have any Spotify song ready for offline listening, the app converts Spotify music to MP3 and downloads Spotify songs to various audio formats.
What's more, the converter has high-end innovative decoding and technical capabilities, allowing it to work at a high speed of 5X or even faster on Windows computers. It also has built-in advanced converter technology that keeps 100% lossless audio quality. With AudKit SpotiLab Music Converter, you are able to enjoy Spotify music without ads. The ID3 tags and information of Spotify songs are maintained in the output files.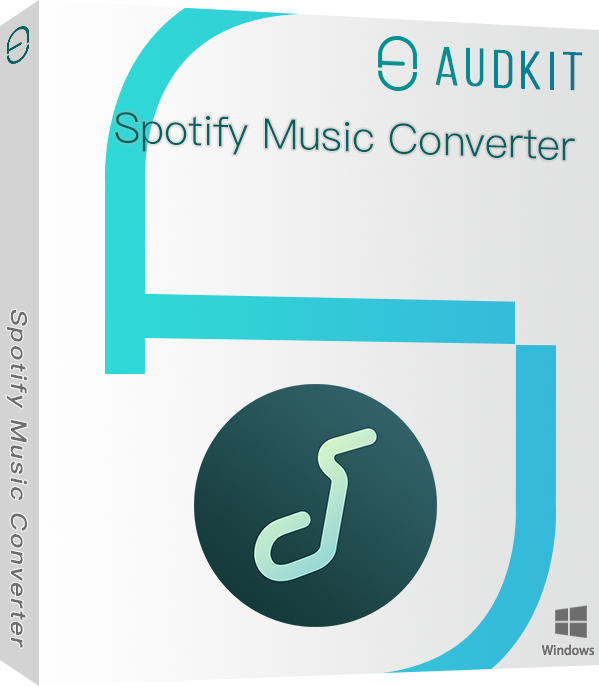 Main Features of AudKit Spotify Music Converter
Conversion and downloads are fast and with lossless quality
Removes protected encryption from Spotify songs
Supports several output formats to play tracks on all devices
How to Use AudKit to Download Spotify Songs in MP3 for Offline Listening without Premium
Step 1 Add songs from Spotify to AudKit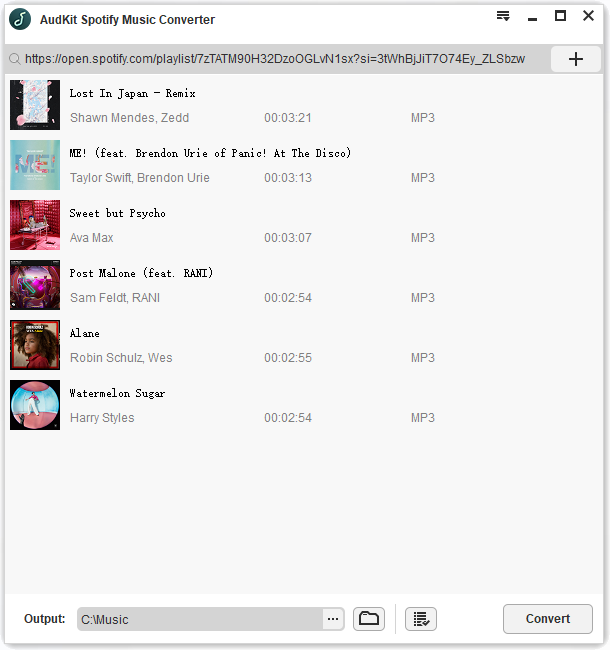 Download, install, and open AudKit Spotify Music Converter on your computer. Select the songs from the Spotify app. Right-click on it, click on Share and Copy Song Link. Then paste the link into the search box on the AudKit interface. Finally, press the + button to import songs. Alternatively, drag and drop the songs to AudKit.
Step 2 Customize Spotify output parameters on desktop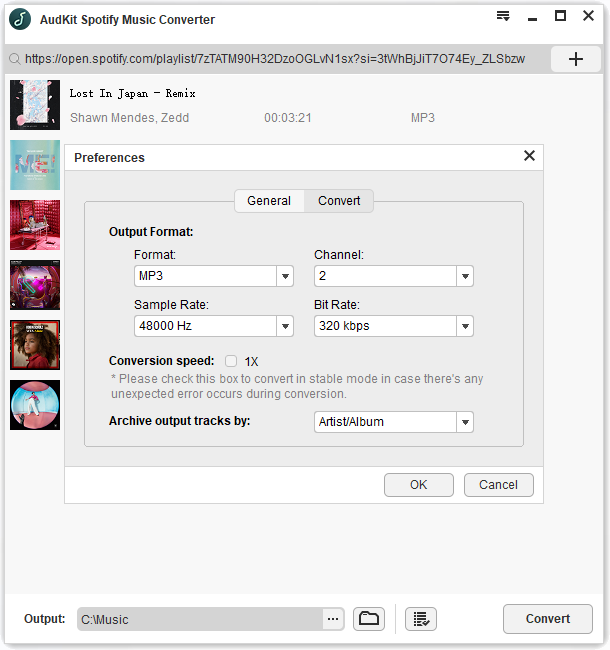 Go to Menu and hit the Preferences option to open the settings window. Select the Convert option and reset the output format of Spotify to MP3, FLAC, WAV, and other formats. Also, customize the audio parameters like channel, sample rate, bit rate, and the way to archive output tracks.
Step 3 Download and convert Spotify to MP3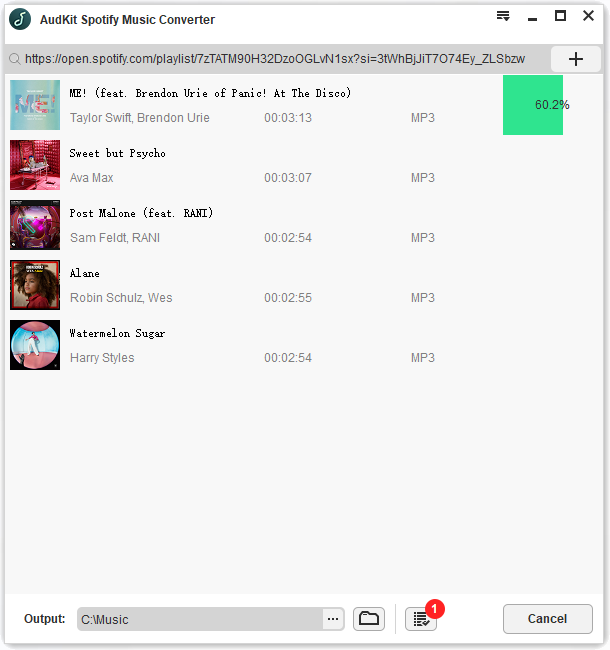 At the bottom-right corner, click on the Convert button. The program begins the conversion as per the parameters set. After the conversion process is complete, all downloaded Spotify songs are saved as MP3 files in your computer's local folder. Access the folder to play Spotify tracks on any device anywhere, anytime.
---
Part 8. Conclusion
The distinction between the Spotify web player desktop version is that the Spotify web player gives you quick access to Spotify tracks without installing the app. However, the sound quality is lower than the desktop app, and you cannot listen to music in offline mode. Well, AudKit SpotiLab Music Converter resolves that issue. It lets you easily download and convert your favorite Spotify tracks for offline playing without premium. You can also listen to Spotify without the annoying ads.
---