Do you want to listen to the Audible book you like while driving? Here's the app, Waze can help you enjoy audiobooks or podcasts from Audible with ease. By connecting Audible and Waze, you can play the Audible book in good quality.
Lucky for you, the steps for connecting Waze and Audible are not troublesome. This process is even more straightforward if you are a member of Audible to make you stream your favorite content from the Audible app in the car. In this article, there is information on the integration of Waze and Audible. And we will tell you how to get an Audible Waze connection for listening without effort.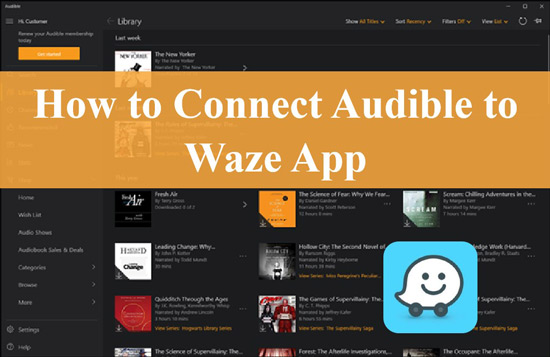 ---
Part 1. Know More about Waze Audible Integration
Waze is a satellite navigation application, to help with navigation directions while driving. While Audible is a platform that offers a wide variety of audio content. Waze Audible integration is the best if you want audiobooks during road trips. When you connect Audible with Waze, you can listen to audiobooks and directions for your way in just one place.
You should ensure that your apps and devices are in the latest version to get a 100% successful connection.
---
Part 2. How to Listen to Audible through Waze on iPhone/Android
To give you a comprehensive guide, we have compiled a guide for you to use Audible through Waze step by step.
How to Link Audible and Waze
There are simple ways by which you can link Audible and Waze on your mobile devices. Check out the following to enable Waze on the Audible app.
Step 1. Open the Audible app and log into your account on your iPhone or Android device.
Step 2. Then hit the Profile icon and select the Settings icon.
Step 3. Scroll down and find App Settings.
Step 4. Find and click Connect to Apps to enable Waze.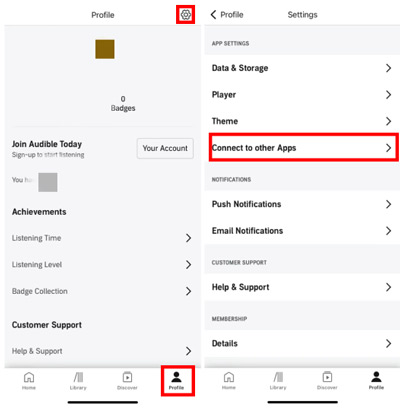 Another way to use Audible with Waze is by enabling Audible on the Waze application. Here are a few steps which you need to follow.
Step 1. Launch your Waze app on your mobile device.
Step 2. Head to Settings and select Audio Player.
Step 3. You need to list Audible as your connected application in Your Apps. If not, find Audible and click to install it.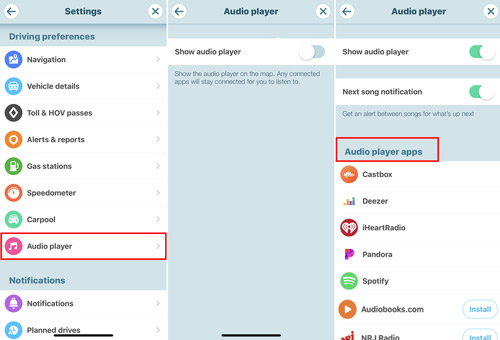 How to Play Audible Books on Waze
After getting the Audible and Waze linking, Audible members can easily enjoy the Audibel title on Waze using their devices.
Here are simple steps for you to play books from Audible on Android and iOS devices.
Step 1. Tap to open the Waze app on your device.
Step 2. Hit on the pink Music icon which is visible in the top right corner of your screen.
Step 3. From the showing list, you need to choose Audible as your audio player.
Step 4. After Waze is connected to Audible, you can tap on Show List, which will show you the 8 most recent audiobooks on iOS devices and 8 downloaded audiobooks on Android devices; if you want to listen to other content, click Open Audible. Then, you can choose one to enjoy.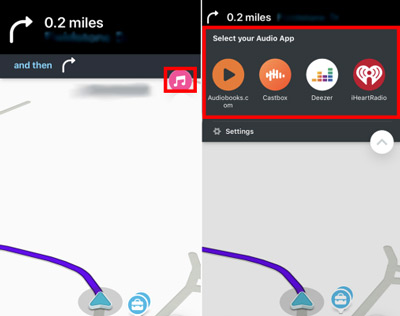 ---
Extra Tips: How to Play Audible in Car Without the Network
Streaming Audible on Waze brings users convenience, but what if you still want to listen to audiobooks on the Waze app without a subscription or just want to play Audible on your car stereo? Therefore, we now have a method for you to enjoy Audible without any limits – converting Audible audiobooks into local files.
To do this, AudKit Audible AAX Converter is the best tool you can rely on. It can easily download your favourite audiobooks from Audible offline with an excellent speed that is up to 100X. It will finish the conversion just in a short period. With the help of the AudKit software, you can convert Audible files in any format like MP3, AAC, M4A or M4B.
The AudKit tool will keep the audio quality and metadata of your Audible books as much as possible. If you have unique needs, you are provided the right to adjust the sample rate and bit rate, and edit the titles, covers, author, etc. Within several steps, your Audible content can be played in the car or on any device you prefer.
The Audible AAX Converter's key features are its excellent lossless sound quality. It can easily download your audio files at a reasonable speed. It provides the split feature which helps the users. You can easily convert the file in any format. These key features make the Audible AAX Converter the best converter for users.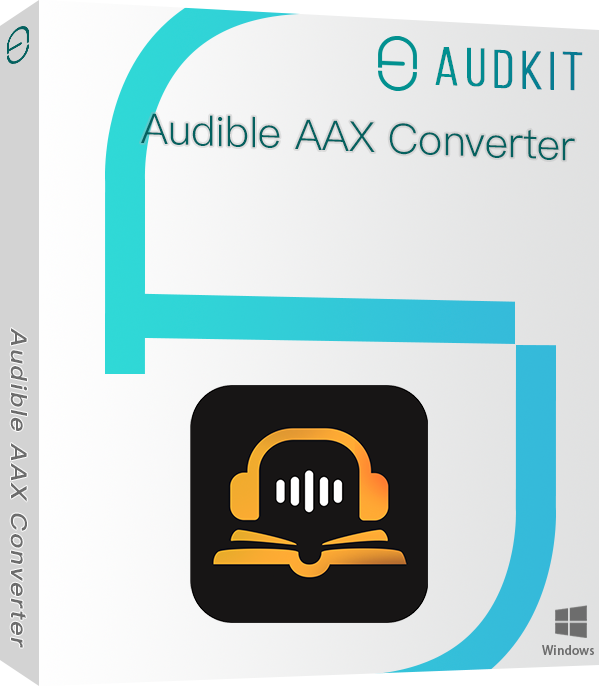 Key Features of AudKit Audible Converter
Download Audible files at a reasonable speed with quality saved
Support multiple audio files for Audible, such as AAC, MP3, WAV, etc.
Listen to Audible audiobooks offline in your car easily
Enable users to edit Audible books' info and split audiobooks
Here is the tutorial on how to download Audible books using AudKit Audible AAX Converter.
Step 1 Import Audible titles to AudKit converter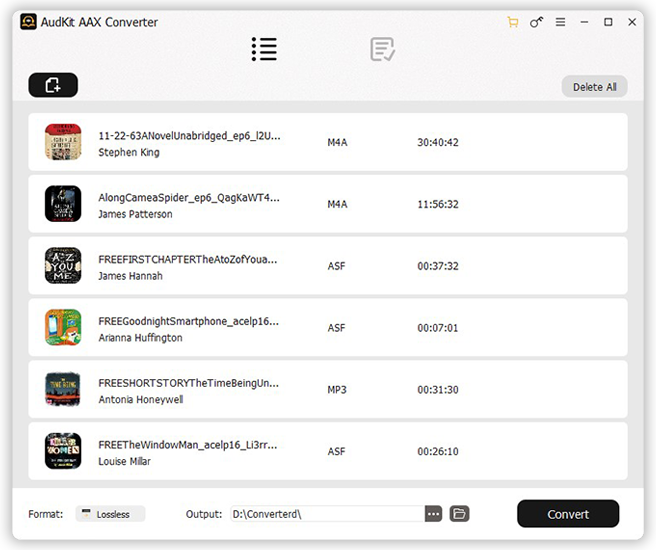 Download and set up the AudKit Audible AAX Converter on your own computer. Then, click to open the AudKit converter. You will see an "Add" icon at the top left, click on it and you can select your Audible audiobooks. After choosing the audiobooks, click the Open option to upload them to the converter.
Step 2 Alter the output format for Audible files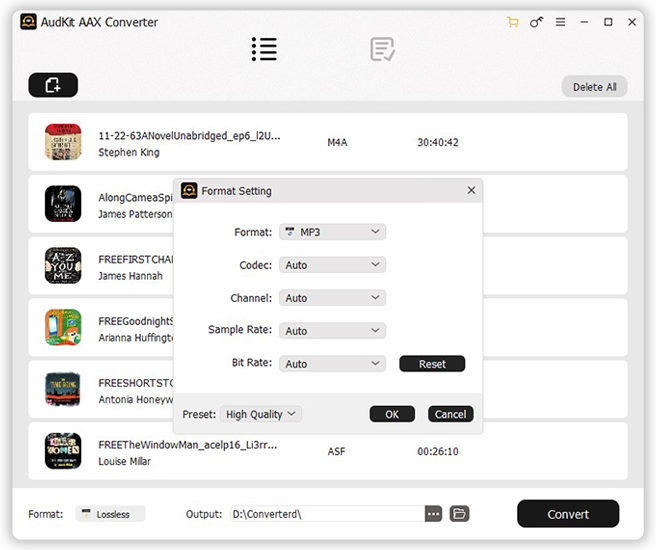 You will see the word "Format" at the bottom. Tap the option next to it and you can then choose to convert Audible AAX to M4A, MP3, AAC or even Lossless, etc. Expect for Lossless, you can adjust other parameters like codec, channel, bit rate and more if you pick other audio formats. When all is done, tap "OK".
Step 3 Edit other features for Audible books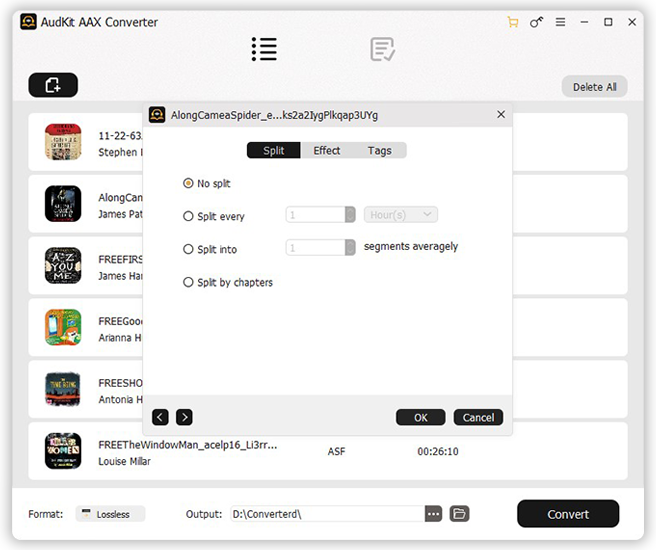 If you want to edit other info about the Audible books, tap the "Edit" icon next to the audiobook you've loaded. In the pop-up, you can split the Audible books, modify the audio effect, and edit the tags of the book from Audible.
Step 4 Convert Audible books offline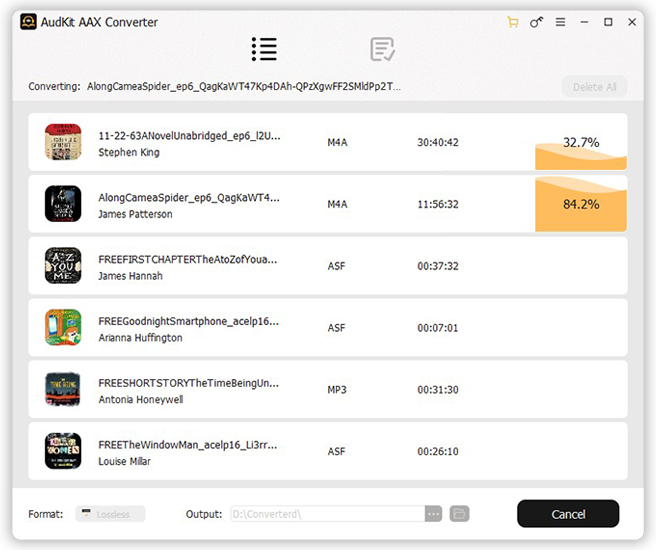 Hit the "Convert" button to start the audiobook conversion. It will complete the downloading process in a short time. You can find your downloaded Audible files on your computer. After that, you are able to move Audible books to USB and enjoy the audiobook files in your car.
---
In Conclusion
Audible and Waze integration are the best options for people who want to listen to audiobooks in cars. By using the Waze application, users will be able to get directions for their journey while streaming the Audible books. If you're not using the Waze app or want to play Audible in car without interruption, AudKit Audible AAX Converter can help you convert and save audiobooks from Audible offline. Why not give it a try?
---