You all might love to listen to books rather than reading them, so with Audible on Sonos, you will be able to get this dream come true. Now you might be wondering how it is possible? Well, Audible is a service that includes thousands or maybe even millions of audiobooks in their library.
Whereas Sonos is a manufacturer of audio devices, and they are manufacturing different audio devices keeping a single concept in mind, and that would be power up the whole house. So, they have manufactured speakers that are installed everywhere in the house, and those speakers can be operated using multiple devices.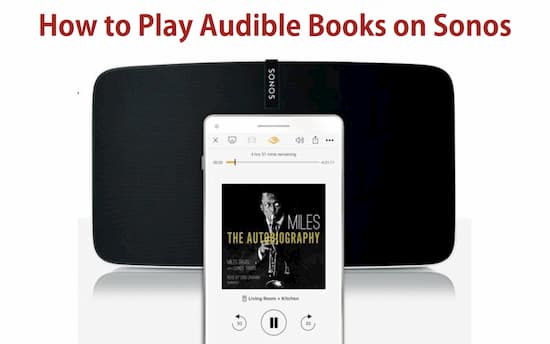 ---
Part 1. How to Play Audible on Sonos via Audible App/Sonos App
These speakers are not just known for their audio quality, but they are also known for their amazing multiple features as well which includes playing Audible on Sonos. Now when you have the complete concept about Sonos and Audible, then moving forward comes is that How to play Audile on Sonos using Audible or Sonos app? Well, this part is really easy, as you do not need to do much. Simply go through the following steps and you are good to go with Audible on Sonos iPhone.
First of all, you must understand that Sonos speakers are Wi-Fi enabled ones, and it does not matter where you are inside the house, you can operate them using a laptop or Smartphone as well.
Even you can also use the application of Audible for Sonos using your smartphone.
How to Listen to Audible on Sonos using the Audible App/Sonos App
Now coming to the part where you can use Audible on Sonos, and for that
Step 1. you need to make sure that all of your Sonos devices or just the one that you wants to use is turned on and powered up.
Step 2. Now when you are listening to your Audible on Sonos speakers then you also need to make sure that you have a Wi-Fi connection well to connect your smartphone to those speakers.
Step 3. Next, simply open up the Audible app on your iPhone, and start playing any audiobook that you like.
Step 4. Once the audiobook has been started then a pop-up will appear on your screen to offer you to connect to any nearby device.
Step 5. After that, you need to scan for all the nearby devices that could be connected to your iPhone, and from there simply select Sonos Speakers.
Step 6. Right after that another window open for approval of Sonos device to have access to different things on your smartphone.
Step 7. Once you have tapped over the "Agree" button then you are good to go, and you can now sit in your chair and listen to your audiobook with a cup of coffee.
---
Part 2. Import and Play Audible on Sonos via AudKit Audible Converter
If you want to get those Audible audiobooks in your phone memory or laptop then its simple solution is AudKit Audible AAX Converter. AudKit is an audiobook converter that allows you to convert Audible AA/AAX to MP3, AAC, M4A, and different audio file formats. In the end, the converted Audible books are available to save inside the hard disk memory.
The best thing about AudKit is that it helps you divide each audiobook into different segments according to the chapters, which is an amazing feature of this smart tool. Besides, If you want Audible on Sonos without any interruption then AudKit is simply the best solution to get it done. This is a smart converter that lets you keep the high sound quality from original Audible books and lets you enjoy the same experience offline.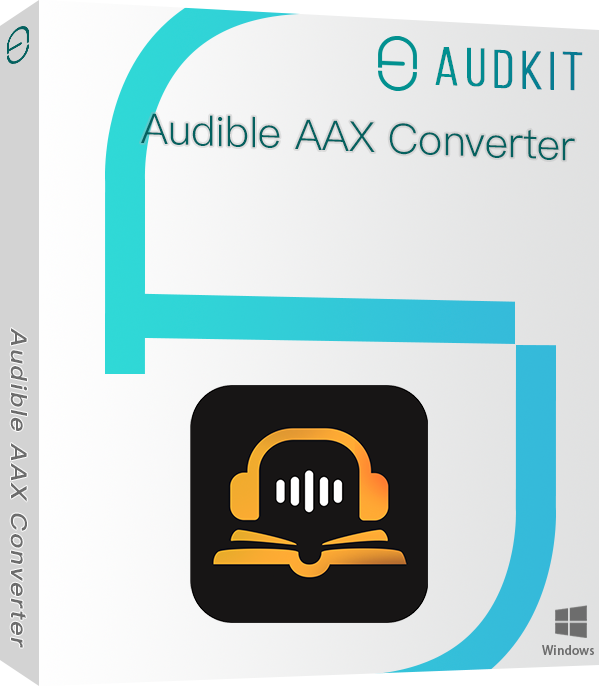 Maintain 100% original quality and chapters from Audible titles
Download Audible books at 100X ultra-fast speed
Convert Audible AA/AAX formats to fit unique needs
Edit ID3 tags such as the title, album, artists, etc.
So, first of all, you need to install the AudKit free or paid version (according to your choice) on your laptop. Next, download all those Audible files that you want on the local computer. Once you have gone through download and installation, let's check the steps below to convert Audible books by AudKit.
Step 1 Add Audible books to AudKit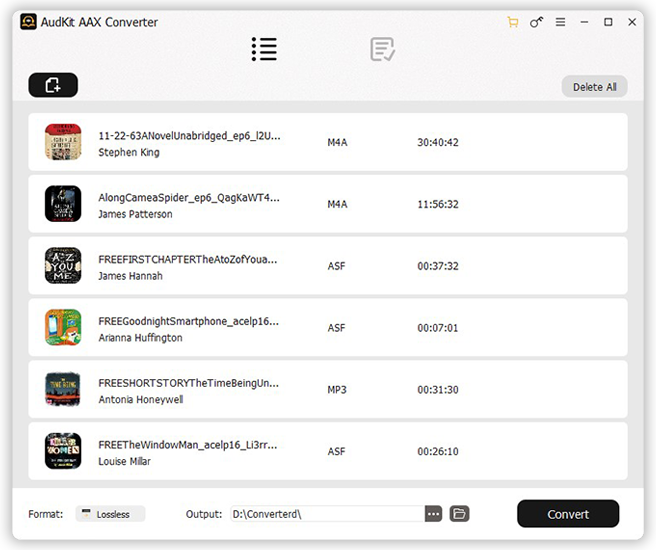 For this purpose, you will see a button for 'Add Files'. Click it and a new window will open from where you need to locate and select Audible books.
Step 2 Modify output details of Audible books for Sonos speaker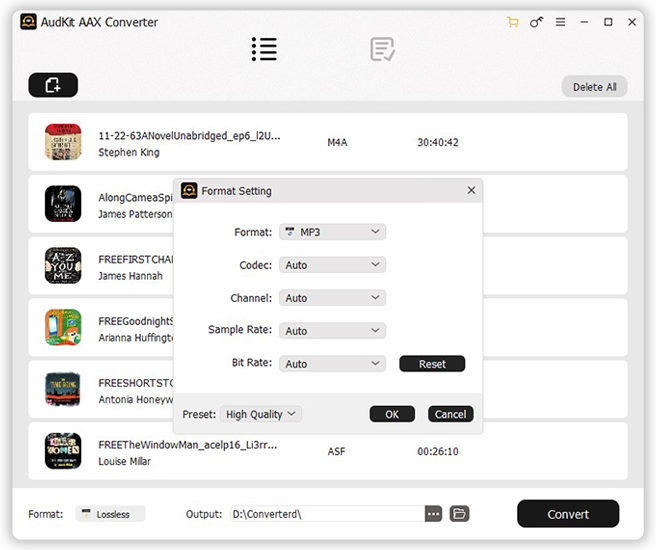 After selection, simply click over the 'lossless' button to change and confirm the format for your Audible files. There are few other details for resetting if you are not a professional.
Step 3 Start conversion for Sonos speaker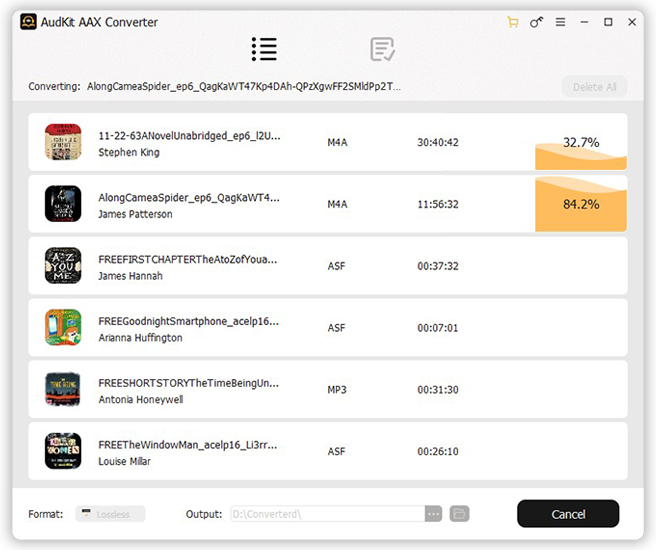 Hit over the 'Convert' button. This process will take just a few more seconds to complete due to the ultra-fast conversion speed of AudKit. Once the conversion is complete, you can locate those converted files on the local device.
Step 4 Play local Audible books on Sonos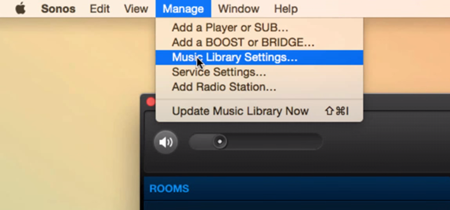 Open the Sonos desktop app. Open the 'Manage' menu to select the 'Music Library Settings' tab. To upload the local Audible files, tap on the '+' icon on a Mac or 'Add' on a PC. Once imported, you can start to enjoy Audible on Sonos speaker without limits.
---
Part 3. How to Play Audible on Sonos using AUX Cable
Now when the file is downloaded then simply play those files over Sonos. The next method to play Audible on Sonos is by using an AUX cable. This is one of the easiest and simplest methods because with this method you need not make any arrangements.
Simply attach the AUX cable from your Smartphone to the Sonos speakers, and after that open the Audible app, or simply play any audiobook that is available in your Phone storage, and start to enjoy this amazing experience.
---
Conclusion
In the end, it does not matter which method you use to play Audible on Sonos, the only thing that matter is that if you learn something from those books, and find out if listening to those audiobooks is the best way to go through an entire book.
---