Running is more than just exercise for most people. It is just a way to have peace from their busy lives. Moreover, if you are getting training for a marathon, then you all know that all those hours spent listening to your favorite audiobooks are the best. Listening to motivational and inspirational stories can push you to set a new personal record.
Audiobooks offer an opportunity to keep up with your reading list while you are running. As it is difficult to spend more time exercising, listening to audiobooks is a great opportunity to get knowledge and exercise at the same time. Here are the top 20 best audiobooks for running that will be the ultimate choices for your next session.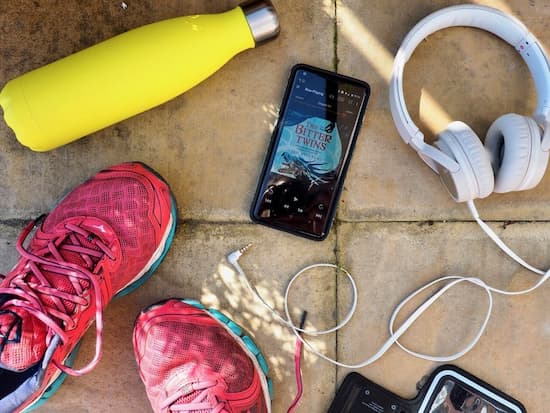 ---
Part 1. Top 20 Best Audiobooks of All Time
These are the top 20 picks of the best audiobooks for running a marathon.
1) Born To Run
Born To Run is full of incredible characters, cutting-edge science, amazing athletic achievements, and full of inspiration for real runners. This audiobook is an epic adventure.
2) Shoe Dog
It is about the world's most iconic and profitable brand story shared by Nike Founder and CEO Phil Knight.
3) What I Talk about When I Talk about Running
A memoir in which Murakami covered her four months of preparation for the 2005 New York City Marathon.
4) Finding Ultra
Finding Ultra is all about Rich Roll's most awe-inspiring midlife physical transformations ever. He jumped into a new way of eating and prioritized daily training and plant nutrition.
5) Running With the Mind of Meditation
It explains the lessons for training the body and mind.
6) Can't Nothing Bring Me Down
This is a memoir of the world-record-holding runner, Ida Keeling.
7) Run The World
Run The World is the story of Becky Wade about 3500 miles journey through running cultures around the globe.
8) Running with the Kenyans
It is a marvelous journey of Adharanand Finn's elite training that will inspire you.
9) Unbroken
A true story of athlete Lou Zamparini from which the runners will look at each obstacle in a new light.
10) Once a Runner
This audiobook will push you to work and embrace the discomfort of training.
11) Wild: From Lost to Found on the Pacific Crest Trail
If you are listening to this audiobook about hiking miles with one shoe, then it's hard to stop yourself from running.
12) Marathon Man
Marathon Man is a must-read that explains the journey of Bill Rodgers in his life and running.
13) Running on Empty
A glimpse of an ultimate endurance athlete, Marshall Ulrich, who runs across America.
14) 26.2 Miles to Happiness
This audiobook will keep you hyped for your race day.
15) The Champions Mind
Listening to The Champions Mind while running will allow you to test things out immediately.
16) Peak Performance
It contains inspiring stories from top performers.
17) Chi Marathon
Chi Marathon teaches you how to run faster.
18) Ultramarathon Man
It is a documentary that explains Dean Karnaze's incredible story about step-by-step across the country.
19) 26 Marathons
It gives you practical advice about running routines and dietary habits.
20) The Incomplete Book of Running
The Incomplete Book of Running is a complete guide for amateur runners that makes the idea of running entertaining and accessible.
So, listening to these audiobooks will make you much more motivated about running.
---
Tips: How to Listen to Audiobooks for Running on Any Player
If you want to listen to the best audiobooks for running, then AudKit Audible Converter would help you convert Audible AA/AAX to MP3, AAC, WAV, FLAC, M4A, or M4B. It converts an audiobook at 100X conversion speed while maintaining its audio quality and ID3 tags. AudKit converter also allows its users to customize the output audio parameters and get the exact results. Here are the 4 main features of the AudKit Audible converter.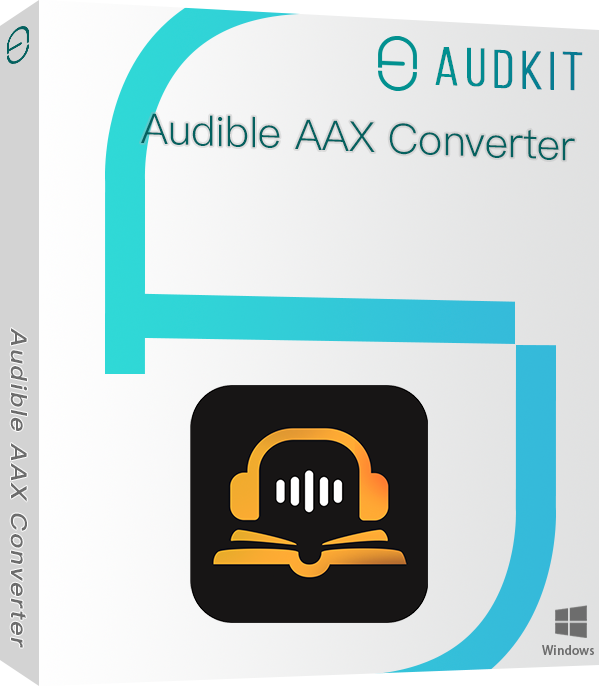 Convert Audible audiobooks to multiple output formats
An incredible 100X high-speed conversion
Customize output parameters and ID3 tags
Make Audible audiobooks compatible with all devices
Here is a complete user guide on how to use AudKit Audible Converter to download the best audiobooks about running.
Step 1 Add the Audible files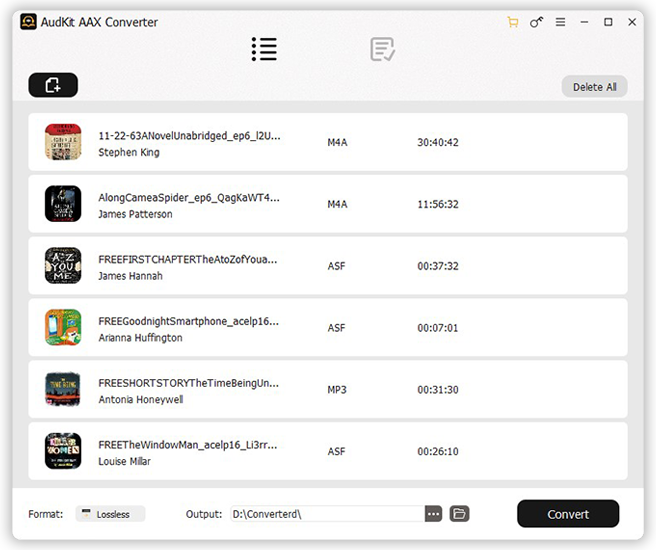 Now add the files to the converter, choose the 'Add Files' button, batch select the desired audiobooks, and click the 'Open' icon to load. You can also drag and drop the files from your computer to the converter window.
Step 2 Edit the Audible audiobooks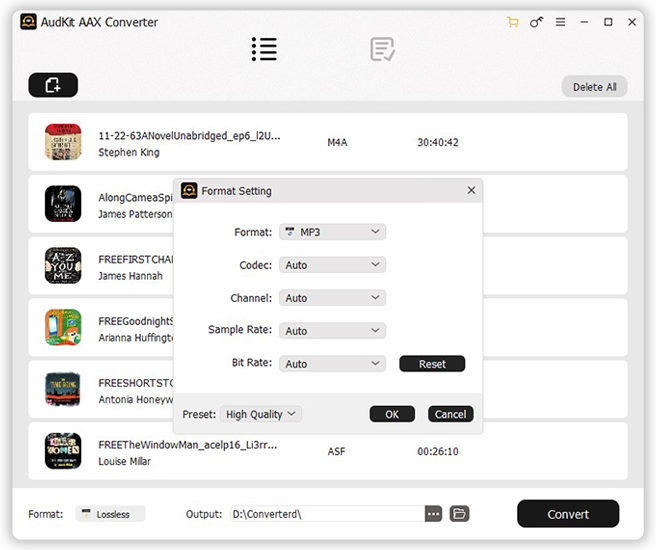 Choose the output format from MP3, AAC, FLAC, WAV, M4A, or M4B options, available in the 'Format' tab. You can customize the bit rate, sample rate, channel, or codec of the audiobook.
Step 3 Start conversion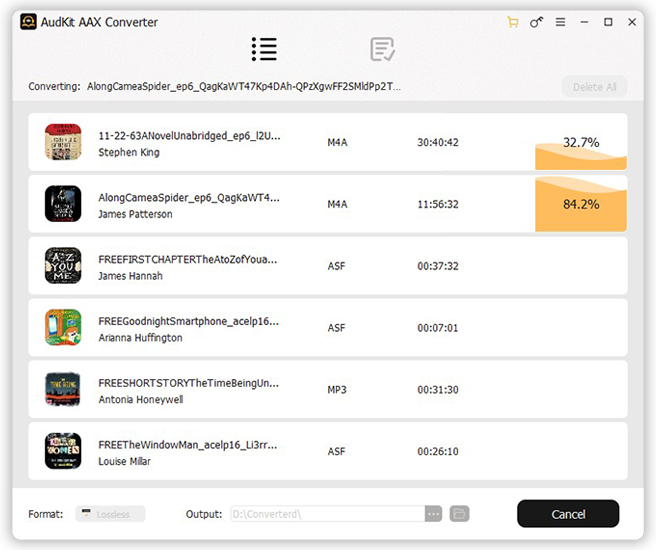 You can change the destination folder for storing plain audio files. Tap to the menu bar, and go to the 'Preferences' > 'Change' option to change the output pitch. Now simply click the 'Convert' button to convert and download the audiobooks in local files.
---
Conclusion
We have listed the best audiobooks to listen to while working out that will make your running more entertaining and motivated. You can play and listen to them on any player with AudKit Audible Converter. It losslessly converts the audiobook into a local file and maintains the tags for the best results. Listen and share with your family and friends so that everyone can enjoy their run.
---