Without a doubt, Audiobooks are handy. You can listen to news, music, and other information in various settings, anywhere, and at any time. Audible, Amazon's audiobook application, has grown in popularity in response to rising demand. It is one of the most established and largest audiobook suppliers. If you're a fan of audiobooks, it isn't easy to pass up Audible, a platform with over 200,000 titles. With Audible, you can easily stream the audiobooks you want.
However, since nothing is perfect, some Audible users report that the app has no sound while playing on their smartphones. If you're also facing such an issue, you must wonder why Audible is not playing sound, but don't worry. In this article, you'll discover the finest ways to fix the Audible not playing sound issue, along with the reasons causing this problem. Let's get started!
---
Part 1. Why Is the Sound Not Working on Audible
When all you want to do is listen to books, having the Audible app malfunction such that it doesn't play sound ruins the experience. Yet, Audible is one of the top streaming platforms that can provide superb results. However, if this produces a sound issue, there must be a technical defect or another cause. A few of the common reasons behind the Audible app not playing sound issue are:
The absence of the musical content may be due to a problem with the downloading process or to the content of lower quality.
The Audible issue may be a corrupted installation or a bad internet connection.
The issue can also be with the device, and to fix this problem, you will need to switch the device.
Other reasons why Audible won't play sound include sudden pauses, skipping in the audio, and background sounds.
---
Part 2. How to Fix Audible Not Playing Sound – Common Methods
Now that you know why you're getting the Audible book not playing sound issue, you must wish to fix it. You can fix this problem by using the methods discussed below.
Method 1. Check Your Device's Volume
Before making any conclusions about the technological side of things, it is best to verify the default setting, which is the volume on your device. Check that the device has full volume and no other problems. For instance, if the volume on your Android phone is set to zero, you should increase it and see whether you can listen to Audible audiobooks after doing so.
Method 2. Force Stop
You may attempt to start the Audible app again after giving it time to rest if the problem persists after you force-stop it. The strategy could be extremely helpful, particularly when your Audible app freezes unexpectedly. You can force stop your Audible app on your Android phone by following the steps:
Step 1: Go to Settings, and tap on Apps.
Step 2: You will see all the apps on your phone. Look for Audible and select it.
Step 3: Now, in the app's info, navigate to Storage and tap it. After that, tap Force Stop to disable the app.
Step 4: Open the Audible app to check if it's playing sound or not.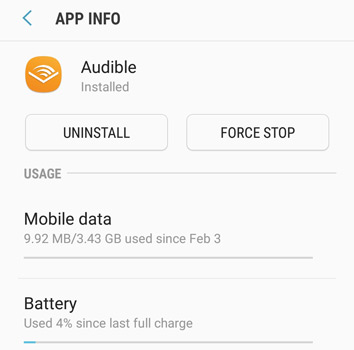 Method 3. Delete and Download the Audiobook Again
When you cannot play Audible books but all other Audible aspects are working properly, you might try deleting the audiobooks. The downloading of audiobooks may sometimes be partial or damaged. So you may re-download it. Because you previously paid for the book, removing it will not result in the loss of your book.
To delete and download the audiobook again to solve the Audible not playing sound Android issue, follow these steps:
Step 1: Open Audible and go to the Library.
Step 2: Tap the three dots of the audiobook you wish to delete, and select Remove from this device to delete the audiobook.
Step 3: Now, tap three dots again, and this time tap Download to re-download the audiobook. After that, play it to verify if the issue is solved.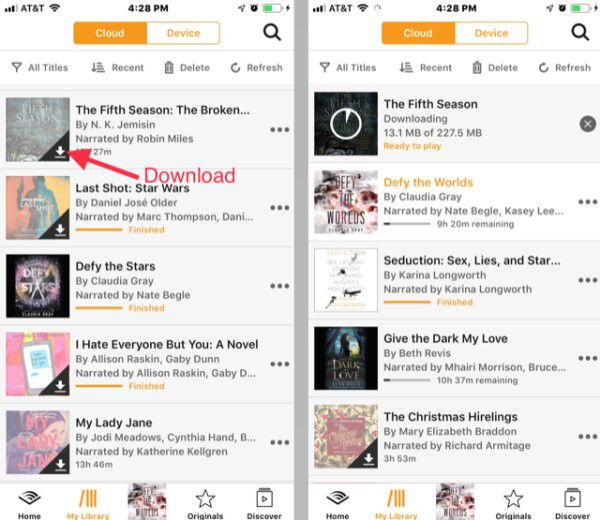 Method 4. Delete and Reinstall the App
Try deleting the Audible app and then reinstalling it if the problem still can't be fixed after attempting the above solutions. To understand how to delete and reinstall the Audible app, here're the steps you should stick to properly.
Step 1: Go to the home screen and navigate the Audible app.
Step 2: Hold the Audible app icon and tap on Uninstall when the menu appears.
Step 3: Go to Play Store and search for Audible. Find the app, and tap on Install to re-download it.
Method 5. Use Another Device
If your Audible sound not working issue is still not solved, there might be a few issues with the device, including faults with the system. You can try playing Audible audiobooks on a different device to see if that works. Simply get a device compatible with Audible and use it to listen to the books you purchased via Audible on that device.
---
Part 3. How to Solve Audible Not Playing Sound – Ultimate Solution
Do you still have the Audible not making sound issue? It must be frustrating but don't worry; you'll get the ultimate solution in this section. To get rid of this problem, you require a professional Audible converter to download the audiobooks. In this case, the AudKit Audible AAX Converter is your best bet.
AudKit Audible AAX Converter, which focuses on audiobooks bought from Audible.com, might benefit audiobook enthusiasts interested in discovering spoken audio entertainment. This excellent AudKit Audible AAX converter allows you to convert Audible AA/AAX to MP3, AAC, M4A, FLAC, and other formats. Furthermore, it can keep lossless ID3 tags and adapt ID3 tags to satisfy specific demands.
Aside from converting Audible to a broad range of plain audio formats, this best Audible to MP3 converter provides lossless quality when the audiobook listening experience is considered. It has an extremely quick conversion speed for downloading and converting Audible books up to 100X thanks to amazing decryption technology.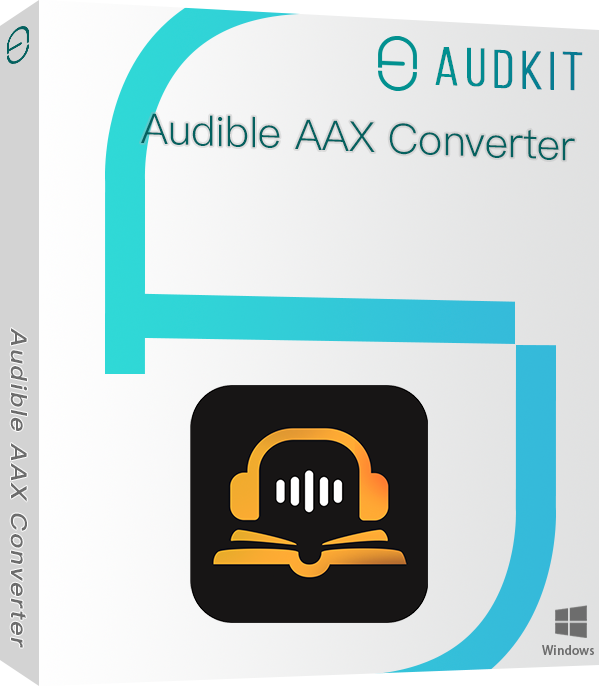 Key Features of AudKit Audible AAX Converter
Allow you to divide Audible audiobooks into chapters or hours
Provide audio formats customization like MP3, FLAC, WAV
Preview converted Audible books using the built-in audiobook player
Download Audible books locally at up to 100X speed
Let's see how to solve the Audible not playing sound issue using AudKit Audible AAX Converter. Please download, install and launch AudKit Audible AAX Converter on your PC.
Step 1 Upload Audible books to AudKit AAX Converter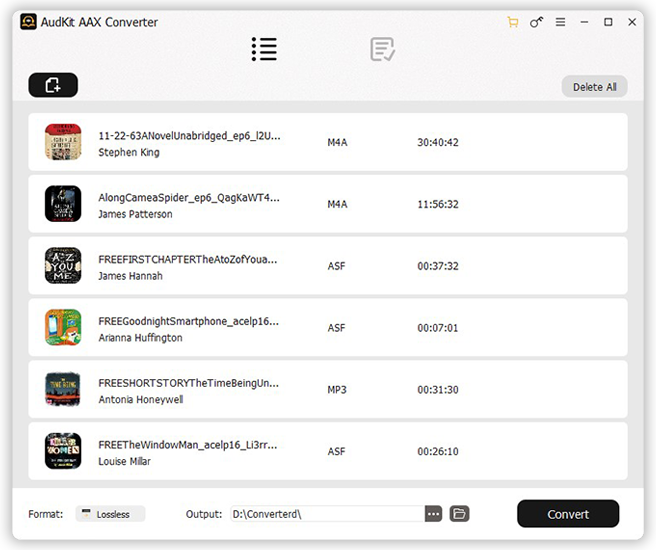 Now, add Audible books by clicking on the Add Files option from the top left. You can also batch select the audiobooks from Audible and click on Open to upload them to the AudKit Audible AAX Converter. You can also upload Audible audiobooks by dragging and dropping.
Step 2 Alter Audible format settings and edit info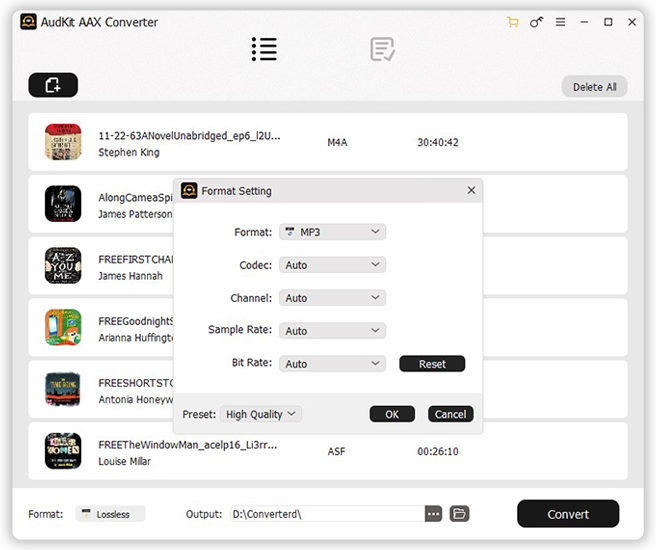 In the next step, click on Format located at the bottom left to customize the format settings like formats, codec, and sample rate for Audible. Moreover, you can also click on Edit to edit the ID3 tags, split the audiobooks, change effects, etc. Once you're done, click on OK.
Step 3 Download audiobooks and fix Audible not playing sound issue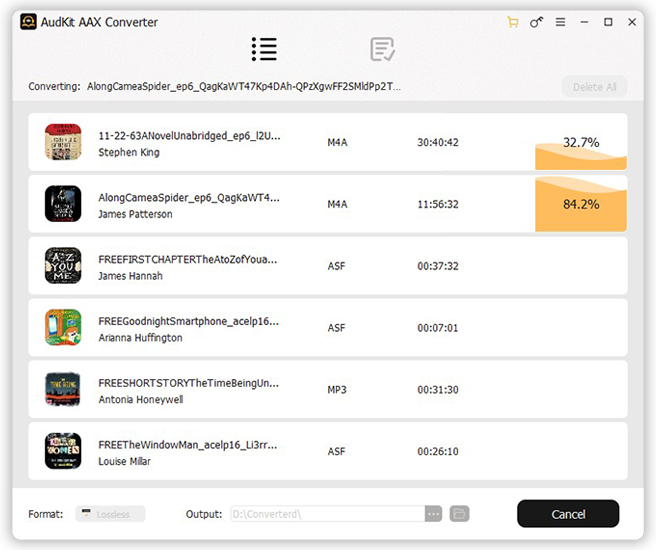 After that, click on Convert to convert the Audible audiobooks via AudKit Audible AAX Converter. The converter will download Audible books to Mac/Windows computers. All the download Audible books can be found through the folder icon at the base of AudKit Audible AAX Converter.
The Audible not playing sound issue now has been handled successfully. Try to play and enjoy them on other devices with the sound turned on.
---
Part 4. Conclusion
Audible has gained a tremendous amount of users in recent years. Although it is a convenient app, people have reported that it stops playing sound sometimes. However, we hope that you can fix the Audible not playing sound issue with this article. Apart from this, we recommend using the AudKit Audible AAX Converter if the issue still exists after trying all 5 methods. The AudKit AAX Converter allows you to download audiobooks from Audible to your PC, which can tackle the Audible sound not working problem ultimately.
---