Have you ever been in the middle of a great audiobook and had it suddenly stop downloading? Audible books are a great way to enjoy your favorite books while on the go. If you're an avid fan of audiobooks, then you know the frustration of trying to download an Audible book only to find that it's not working. Fortunately, there are quite a few fixes if your Audible book not downloading.
So you also have a question about why is my Audible book not downloading. Here are seven potential solutions that might help get your audiobook back on track. Each one is easy enough for anyone to do and could help you get your books downloaded in no time. Get into the guide and give all the methods a try.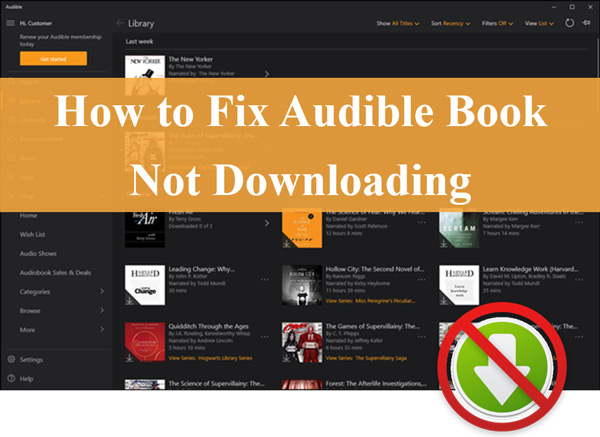 ---
Solution 1. Restart Audible and Your Device
If you're having trouble downloading an Audible book, the first thing to try is restarting the Audible app and your device. This can sometimes clear up any technical issues that may be causing the Audible not downloading problem.
Step 1. First, close the Audible app by double-clicking the home button and swiping up on the app's preview.
Step 2. Then, restart your device by holding the power button and selecting "Restart".
Step 3. Once your device has restarted, open the Audible app and try downloading your book again.
---
Solution 2. Change Audible Download Settings
If restarting doesn't work, then the next thing is changing your Audible download settings. You may set the option of WiFi Only on, which may cause Audible to stop the downloading process if you're not on WiFi. You can change the options to solve the Audible app not downloading issue.
Step 1. Open the Audible app, go to Settings, and tap on the 'Data & Storage' section.
Step 2. From there, turn off the "Audio data only on WiFi" option.
Step 3. Select the Audible book you're having trouble downloading, press the title and try downloading your book again.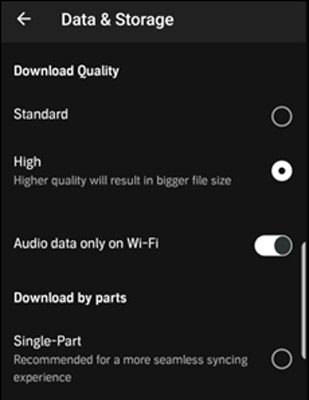 ---
Solution 3. Change the Download Quality
Another reason why the Audible app not downloading books can be the unstable connection. The network is too slow to download the large Audible book. You may need to change the download quality to reduce the size.
Step 1. Open the Audible app, and click on Settings.
Step 2. Choose Data & Storage and you will see the Download Quality subtitle.
Step 3. Select a lower quality and back to the Audible audiobooks you want to download and see whether the Audible not downloading is fixed.
This method can help if you're having trouble with a slow or unreliable internet connection. By default, the Audible app downloads books in Standard quality, which is fine for most people. However, if you're having trouble downloading an Audible book with standard quality, you can try changing the quality to High following the above-mentioned steps.
---
Solution 4. Reinstall Audible
If the solutions still do not work for you, it can be due to the glitches of the Audible app. You should then try to reinstall the Audible app. This can be done by going into your device's Settings section and tapping on the 'Apps' option. You can find the Audible app and tap on the 'Uninstall' button. Once the Audible app is uninstalled, you can then install it again from the Google Play Store or the App Store.
---
Solution 5. Update Audible
An older version of the Audible app may make you unable to download and play Audible on Android or iPhone devices. Check if your Audible app is the latest one. If not, try updating to the latest version and see if that solves the problem. You can follow the steps to keep Audible up to date.
Step 1. Open the App Store or Play Store on your iPhone or Android device.
Step 2. Click the Updates button to find the Audible app.
Step 3. If there's an update available for Audible, tap Update.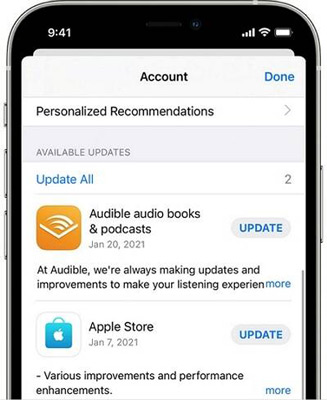 ---
Solution 6. Update Your Operating System
If you're using an older operating system, it might not be compatible with the Audible app so it causes the Audible book not fully downloaded. Make sure you're running the latest OS version and try downloading the book again. Learn how to update your system on different devices.
On a Windows PC, go to Start > Settings > Update & Security > Check for updates.
On a Mac, click the Apple menu, and choose System Preferences > Software Update > Update Now.
On an iPhone or iPad, open the Settings app and tap General > Software Update.
On an Android phone or tablet, open the Settings app and tap About Phone or About Tablet > System Updates.
---
Solution 7. Reset Audible
Your last resort is to reset Audible if you've tried all of the solutions above and you're still having trouble with Audible book queued not downloading. This will delete all your audiobooks and settings from Audible, so it's a good idea to back up Audible books first to reset Audible.
Step 1. Launch the Audible app and go to Settings under your profile.
Step 2. Press the "Help & Support" option and click on the three dots.
Step 3. Choose "Reset Application" and tap "OK" to confirm you want to reset the app.
If all these solutions are ineffective to resolve the Audible downloading problem, then you should contact Audible customer support for help.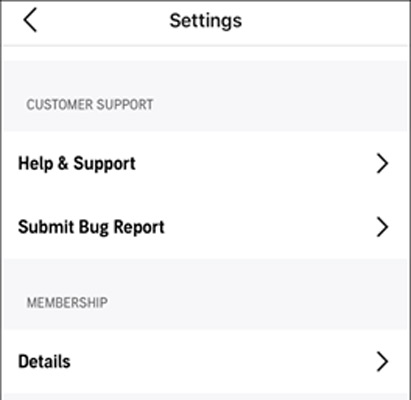 ---
Extra Tips: Play Audible without Audible Not Downloading Issue
If you're looking for a way to play Audible books without worrying about getting Audible books not fully downloaded, then you should try using an Audible converter. This converter will allow you to convert your Audible books into MP3 files, which can be played on any device. You can find a lot of different Audible converters online, but we recommend using one that is AudKit Audible AAX Converter.
AudKit Audible AAX Converter is a professional tool that can help you convert Audible books to MP3, M4A, and other audio formats. This converter is also available for both Windows and Mac so that you can use it on most computers. This offers super fast conversion speed to help you download and save audiobooks from Audible offline. It keeps your original sound quality and ID3 tags and chapter information. Most importantly, you can listen to Audible without meeting the Audible app not downloading.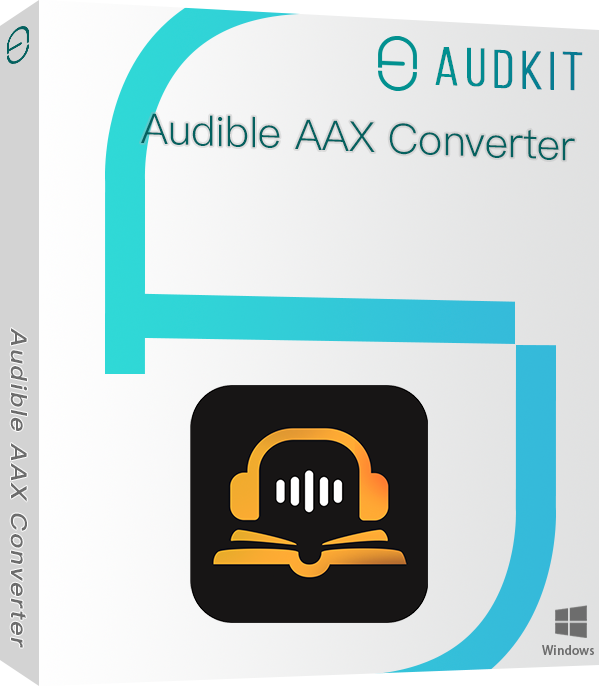 Key Features of AudKit Audible AAX Converter
Convert Audible AA/AAX to MP3, AAC, M4A, etc.
Won't encounter Audible app not downloading books issue
Remove protection from Audible books with speed up to 100X
Play Audible audiobooks anywhere without a premium
To completely resolve the issue that my Audible book is not downloading, here're the steps you can follow to learn how to use AudKit Audible AAX Converter to download Audible for playing.
Step 1 Add Audible books to AudKit Audible AAX Converter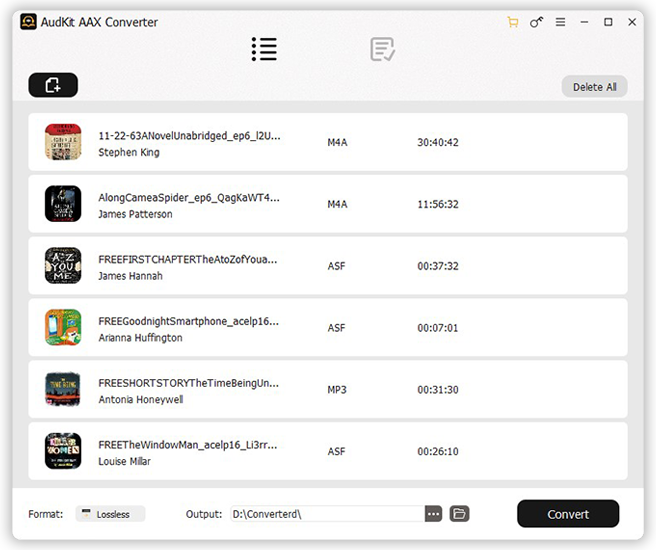 First, please install and launch AudKit AAX Converter on your computer. Drag and drop the downloaded Audible books from your folder to the converter's primary interface for adding. Alternatively, tap the "Add Files" icon on the left top to import the audiobooks to convert.
Step 2 Set Audible output format as MP3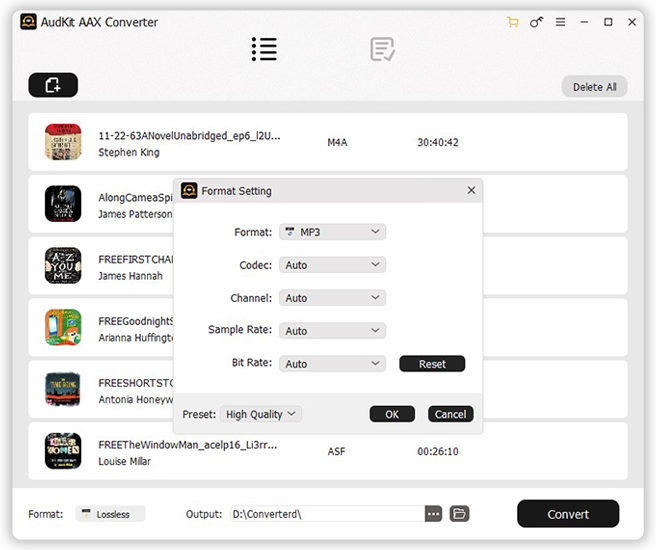 From the "Format" option at the bottom, you can set MP3 as the output format for Audible from the drop-down list. You can adjust the following attributes like audio channel, sample rate, bit rate, and codec according to your own needs. Save by clicking OK, otherwise, cancel it.
Step 3 Start Audible book conversion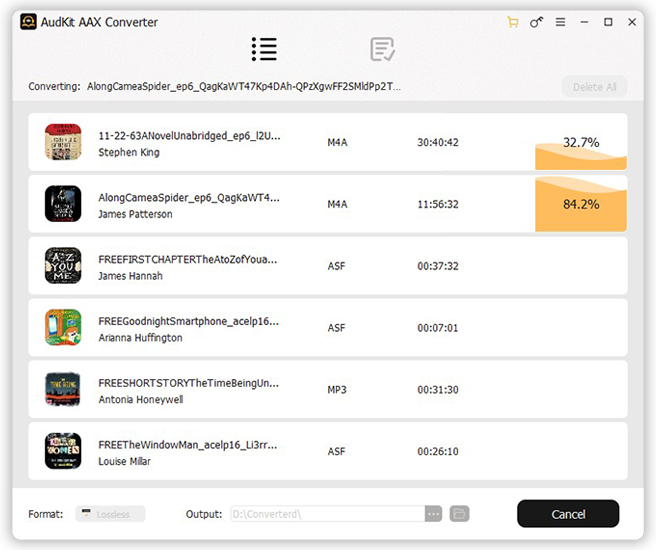 After confirming all the settings, please click the "Convert" button to start conversion. After completing the Audible downloading conversion, you can get the converted Audible files from the "Converted" folder. And then, you can play the Audible books on any device without worrying about the Audible book not downloading.
---
Conclusion
Audible book not downloading can be a frustrating experience. We have mentioned seven fixes that should download your Audible books again in no time. You can also check out the tip to use AudKit Audible AAX Converter to convert Audible books to the audio formats you want, which won't have Audible not downloading issues and other Audible problems anymore.
Audible is an excellent resource for book lovers, but getting the reading you want can be challenging when your audible books don't download. That's why we put together this list of seven solutions that will hopefully help you fix the issue and get back to listening!
---