Audible books make great gifts. Special occasion or not, your friends will most certainly love it!! Know of some books that they are waiting for so long? Why not give Audible book as gifts? It may just make their day!
You may have gifted an audiobook to yourself, but are confused about how to gift one to your friends? Before you search the internet for the "how to gift an Audible book", we've done all the hard work for you.
Gift them, share with them, email them, you can do all that and so much more. Just read this article, follow the rules, and you just might bless us with your best wishes. Here are 3 of the best ways how to gift a book on Audible for you. Just go to gift an Audible book to your friends.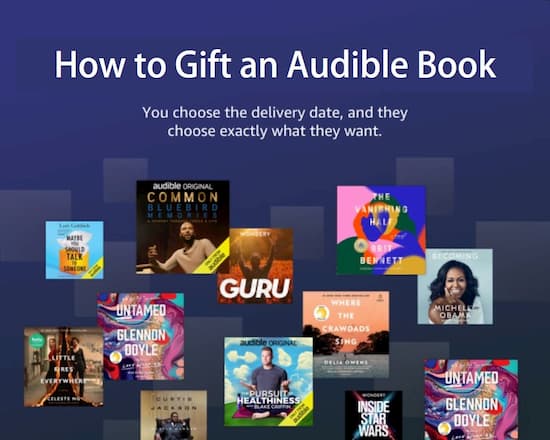 ---
Part 1. How to Gift an Audible Book via AudKit
You can't listen to an audiobook from Audible without having a membership plan. So what's the next best thing to do? Convert the Audible audiobook itself! And how will you convert it? With AudKit Audible Converter!
It's pretty amazing, what this software does to the Audible audiobook. It customizes the audiobook in a way that allows you complete control over its content. It converts AAX Audible format into the most popular audio formats that are known to you i.e. MP3, WAV, WMA, AAC, etc. Play the converted audio in any media player, and you will not require downloading iTunes either.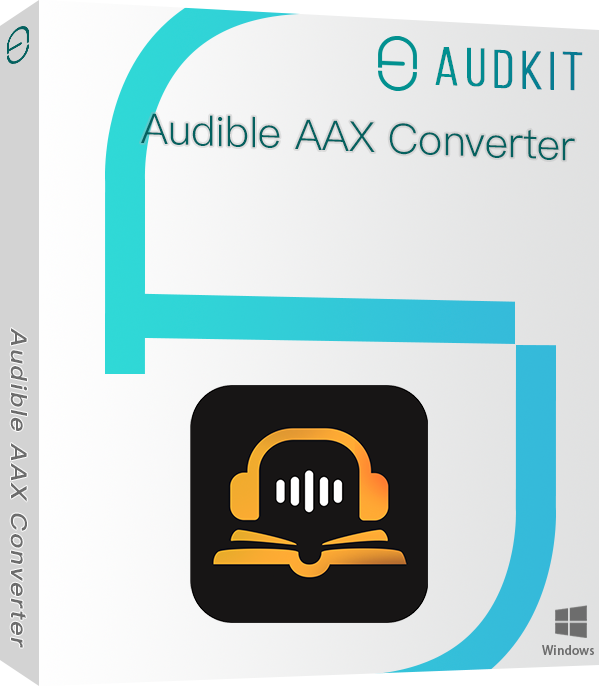 Eliminate AAX / AA protection from Audible audiobooks
Download Audible books for playback without limits
Convert Audible books to MP3 or other common formats
Auto-cut Audible books depending on original chapters
It's super quick too and keeps the quality of the audiobook intact so that the audio sounds just as you would listen in the original Audible format. You can make the audiobook search-friendly, so that media players know it by its author, title, and other tags. Split its chapters, preview it before playing it, or download it once and for all, so that it is always available when you need it offline.
Quick Guide: Convert Audible Audiobooks in AudKit
Step 1. Open AudKit and add Audible audiobooks
After you've installed AudKit AAX Converter you are free to add all Audible audiobooks. Click on the Add Files icon on the main interface of AudKit and go to the location where you have saved all Audible audiobooks. You can also drag and drop Audible audiobooks into AudKit AAX Converter.
Step 2. Choose the audio format in AudKit
After you've added all your Audible audiobooks you can decide which format to convert them to. Click on the Format button at the bottom of the AudKit AAX Converter. You can see all popular formats into which you can convert AAX Audible files. You can also select other parameters like Audio Channels, Bitrate, etc. in this step.
Step 3. Split audiobooks in AudKit
You can now edit the audiobooks further by splitting them into chapters or segments of different intervals and adding tags to make media players display them properly. Click on the Split button next to an audiobook and you will be able to split it into segments. Click on Tags and you can customize ID3 tags like Title, Author, Album, etc.
Step 4. Convert Audible AAX into audio files
Now your Audible audiobook is ready to be converted into common audio formats. You can change the destination folder and click on the Convert button to start the conversion process.
After your audiobook gets displayed in the folder of your choice, you can send this Audible book as a gift to your friend.
---
Part 2. How to Gift a Book on Audible via CD
You want to gift an audiobook on Audible to your friend, but do not know if he or she uses Audible! Worry not, for you can always gift a CD that contains the audiobook. It takes away any need to have an Audible account or subscription. And what's more, your friends can play it anywhere and wherever they like.
The steps given below should work fine if you do not know how to send an Audible book as a gift via a physical CD.
Step 1. Locate your audiobook on Amazon
On the Amazon store, search for the audiobook through title or author. From the search results, locate the audiobook.
Step 2. Select Audio CD
Just below the title of the audiobook, you will be able to see the different formats available to gift the audiobook. Select Audio CD.
Step 3. Checkout from Amazon
You can select the delivery address of your friend, or send the audiobook to yourself. You can checkout from Amazon after you've made your purchase. Once you have the audio CD, you can then deliver it personally to your friend.
---
Part 3. How to Gift Audible Books via Prepaid Audible Membership
There is an even better answer to your query on "how to gift a book on Audible". Simply gift a Prepaid Audible membership to your friends! It allows them to select any audiobooks they like. They earn credits on the membership and can redeem them to buy an audiobook themselves without paying anything.
The steps given below should allow you to comfortably gift an Audible membership plan to your friends, instead of giving single audiobooks on Audible.
Step 1. Select a membership plan on Audible
There are four membership plans you can gift on Audible – 1, 3, 6, and 12-month plans. Each prepaid plan entitles the receiver of the gift to a certain amount of credit, which can be redeemed to buy audiobooks for free. Each credit gives one audiobook plus you get a free subscription to Audible Plus Catalog.
Step 2. Customize the Audible gift membership plan
You can customize the Audible membership that you want to gift to your friend. Clicking on the Email button will allow you to enter the recipient's name, email address, and delivery date. They will receive an email informing them about their Audible membership and how to use it. Clicking on Print will allow you to print the membership using customized designs.
Step 3. Checkout from Audible
Once you've made the payment on Audible, you can checkout from Audible.
---
Conclusion
So now there's a birthday or wedding anniversary around the corner, or a festive occasion, you know how to send an Audible book as a gift. Even if you just feel like it, you can send a book on Audible to your friend at any time of the year. No going to a bookstore or browsing in the library, you just send an audiobook from the comfort of your home. And your friends too enjoy listening to their favorite author without paying a single rupee themselves. Audible audiobooks are the next best thing to reading a physical book, and gifting it remotely is the next best thing to giving it personally.
---