Garmin is a global innovation company that specializes in making GPS technology devices for airlines, cars, marine vessels, fitness devices, mobile apps, tracking devices, and outdoor recreation. Yes, everybody needs to have GPS navigation to find their way, especially when you find yourself in an unfamiliar place. Besides navigation to find your directions, Garmin has also incorporated a feature that you can play the audible audiobook on Garmin GPS.
To make your drives or traveling fun, some Garmin equipment has a built-in entertainment system. The system allows you to play your music or go ahead to stream music online. You can play your music in MP2 formats, audiobook player, and many other options for your music. If you are wondering whether Garmin plays audible audiobook on GPS? Yes, it does. Read on to find out how to play Audible Audiobook on Garmin GPS.

---
Part 1. Best Way to Listen to Audible Audiobook on Garmin GPS without Limits
The Garmin GPS supports MP3 formats for most audio files. Furthermore, Audible audiobooks have many other formats like, AAX, AA, or AAXC, which are pretty much encrypted and you cannot play them on your Garmin GPS device. You cannot transfer the files to another non-audible device.
For a free to download the app and convert your Audible audiobooks, download a third-party application known as AudKit Audible AAX Converter. This is a tool that will come in handy for your when you want to convert Audible audiobooks to MP3, AAC, M4A, FLAC, and many more audio formats.
AudKit Audible to MP3 Converter has the latest features for converting your audio without compromising on quality. AudKit, after conversion, will save all the details on the audio converted such as the artist's name, track number, titles, etc. With more speed of up to 100X to convert your files, means it will take the shorted time possible to convert your Audible audiobooks.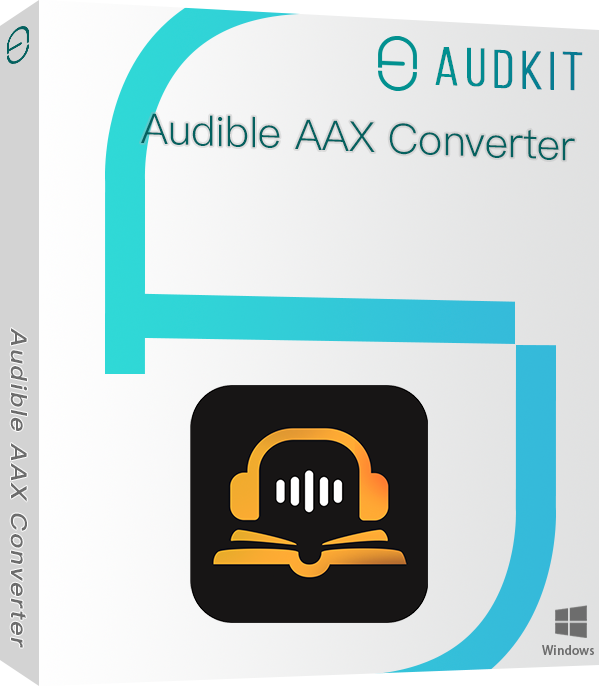 Convert Audible audiobooks into many common formats
Remove encryption from Audible audiobook files
Download Audible books for offline playing
Split audiobooks into small segments by chapters, hours, etc.
Here is a step by step guide to downloading your audiobook files to GPS for listening.
Step 1 Download and install AudiKit converter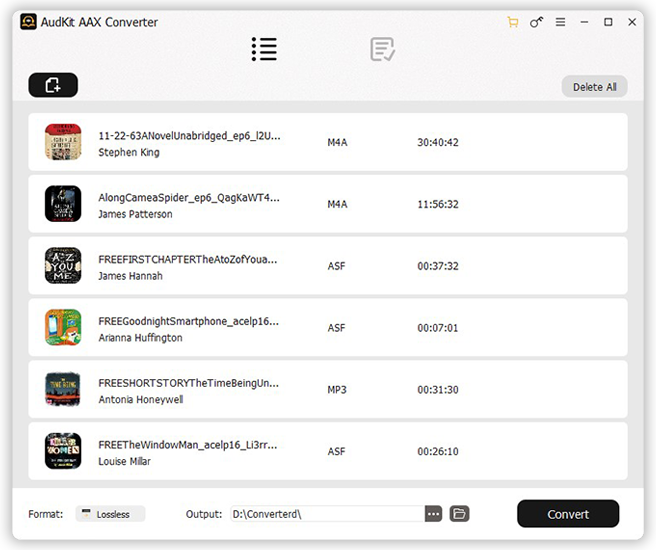 After the download launch the app, and it will open the Audible books simultaneously. On your audiobooks files, drag and drop the music files on the AudKit app.
Step 2 Customize the output settings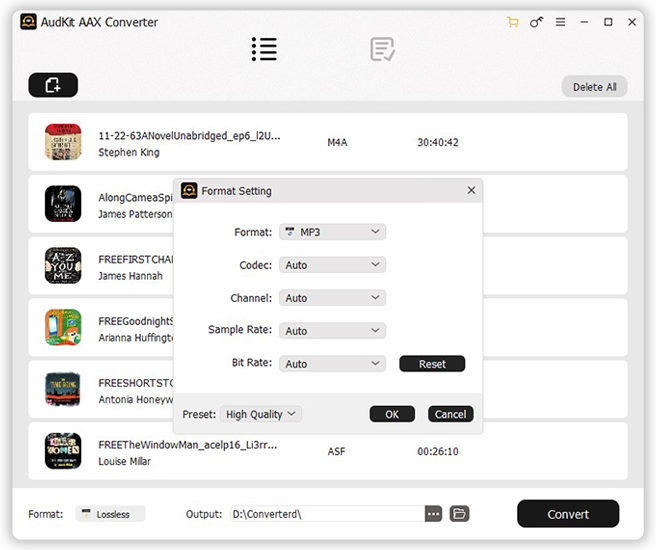 Before you start the conversion process, you will need to customize your output settings to either MP3 or any format that you want. At the bottom of the AudKit app, click on the 'Lossless' tab, then open the settings window. Choose the output to the MP3 format. There are other more features that you can alter to fine-tune your audio according to your players such as the codec, sample rate, bitrate, and channel. If you are not sure of what you want, click on the 'High Quality' preset and have the best sound quality.
Step 3 Convert Audible files for Garmin GPS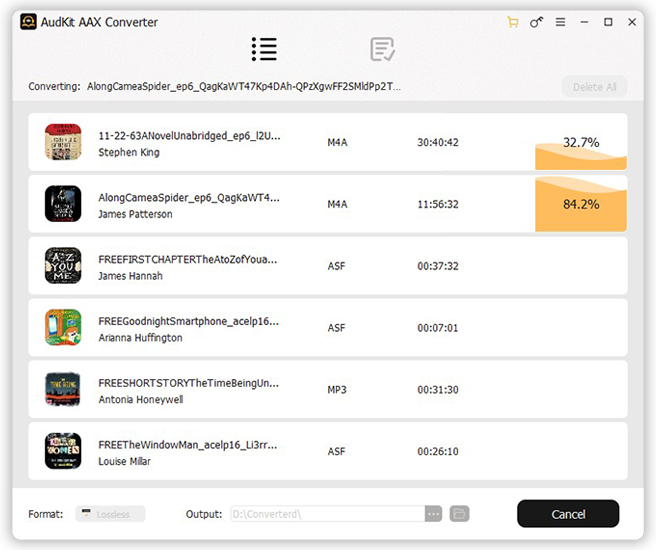 Go ahead and click on the 'Convert' tab and your audiobook AA/AAX formats will be converted to MP3.
Step 4 Transfer the converted files to Garmin GPS
When the conversion process is complete, the number of files you have converted will appear on the 'History' icon. Hit the button to open and locate your converted files. When you have your Garmin GPS device with you, you can transfer the files using a flash drive or using a USB cable. In conclusion, you will have your music with you when navigating and maintain the fun while journeying.
---
Part 2. How to Play Audible Audiobooks on Garmin GPS via the Audible Manager
Concurrently, you can listen to an audiobook on Garmin GPS devices like Garmin Drive or Garmin via Audible manager directly. If you may have been trying to copy your audiobooks to Garmin GPS by using a flash drive or SD card; but because of the protection on the audiobook files, you are finding it not possible. For this reason, you can use Audible Manager to transfer audiobooks to Garmin GPS devices that do not have an audiobook player. Here is how you can do it.
Step 1: Make your purchase of the audiobooks from audible and download the audible audiobooks application to your PC.
Step 2: On your favorite browser, download and install Audible Manager on your computer.
Step 3: Take your Garmin GPS device and connect it to your PC using a USB cable.
Step 4: On Audible Manager, click 'Device' then 'Add New Device' to add your Garmin GPS device. A pop-up window will appear, and you will see your Garmin GPS device. Click on your device and choose 'OK'.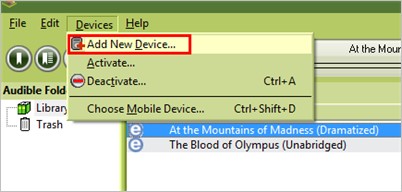 Step 5: After adding your device, proceed to activate it by right-clicking on it and then choose 'Activate' and a window will pop prompting you to log in to your Audible account.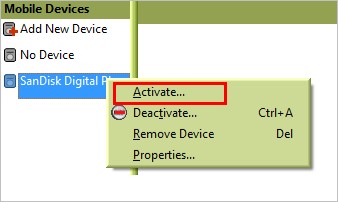 Step 6: Now, you can start moving your music files to your Garmin GPS device. Select the Audible audiobooks that you want to transfer and click on 'Add to Device'. You will have a bar indicating the transfer status. Once done, here you go! Your audiobooks files will be available in your Garmin GPS device.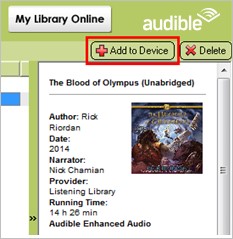 ---
Part 3. How to Transfer Audible Books to Garmin GPS via Garmin Express
This is the third option that you can use to listen to your audiobooks while journeying. At the same time, some sites are offering audiobooks with no copyrights. If you have access to audiobooks with no copyrights, then you can use the Garmin Express tool to move your preferred audiobooks to your Garmin devices. You can add your files to the majority of the Garmin GPS devices. Here is how to go about it:
Step 1: on your browser search for Gramin Express. After you have found it, download and install the application.
Step 2: Connect your Garmin GPS device to your PC using a USB cable.
Step 3: After the connection, find your Garmin device.
Step 4: If you are using a windows pc, then select 'Music' and for Mac, click on 'iTunes' and then search and choose your audiobook files.
Step 5: After selecting the files, click on the checked boxes and click 'Send to Device' to add your audiobooks to your Garmin GPS device.
---
Conclusion
If you were afraid of carrying your audio files with you, now you have the options to use and play the audible audiobook on Garmin GPS. You will no longer get bored while traveling or when you want to carry your audiobooks with you. Now you can mount the GPS and proceed with your navigations.
---