Technology has brought a wide dimension all around our daily lives, especially if used positively. Think of the treasures hidden in those large volumes of books. Well, you can get apps to collect it and put it on a silver platter for you, such as Audible and Storytel, two well-known audiobook services.
Storytel is similar to Audible in that both cover a large collection of audiobooks in a variety of genres, but they differ slightly in some respects. Therefore, this article compares Audible vs Storytel and discusses the significant differences between them. This way, you can choose either one to listen to your favorite audiobooks.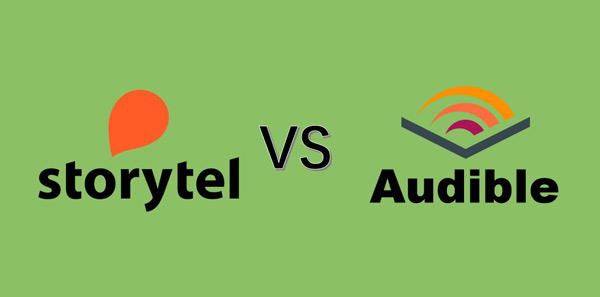 ---
Part 1. What Is Audible and Storytel
It is better to know the difference between Audible and Storytel before we indulge in the pros and cons.
What Is Audible
Audible is an audiobook service from Amazon harboring audio recordings of books, podcasts, and other content. To use it, you first need to sign up for Audible and choose from the membership plan you wish to use. You can then listen to your audiobooks on your computer, home speaker, smartphone or CarPlay system.
What Is Storytel
Storytel, on the other hand, can be used to access thousands of eBooks, podcasts, audiobooks and other content. You can choose to listen to audiobooks in English, Russian or other languages. Likewise, you can create personal notes as you work, as well as change the listening speed. Although it requires a monthly subscription, you can organize yourself as much as you like.
---
Part 2. Storytel vs Audible: Plans & Prices
Audible vs Storytel pricing plan has a huge gap. Audible has two main plans. Audible Plus is $7.95 per month and you can listen to any book in the library (but you can't keep them). Audible Premium Plus is $14.95 per month and you can enjoy Audible Plus all services, plus the option to keep any audiobooks in the library each month.
| | | |
| --- | --- | --- |
| | Audible Plus | Audible Premium Plus |
| Plan & Prices | $7.95/month | $14.95/month |
Storytel has 3 main subscription plans. Storytel Unlimited is $12.98/month. Storytel Family is $14.90/month and includes 2 Storytel accounts. Storytel Family Plus is $19.90/month and includes 3 Storytel accounts. They all allow you instant and unlimited access to Storytel collections such as audiobooks and eBooks.
| | | | |
| --- | --- | --- | --- |
| | Storytel Unlimited | Storytel Family | Storytel Family Plus |
| Plan & Prices | $12.98/month | $14.90/month | $19.90/month |
---
Part 3. Audible vs Storytel: Ebooks and Audiobooks Library
The Audible Audiobook Library contains over 470,000 books for purchase and download, and almost anything you can find on Amazon in eBook or hardback format can be found on the Audible platform. It is the world's largest library of audiobooks. If you subscribe to Audible, it will give you a free audiobook every month.
Storytel is an audiobook app available on Android and iOS devices, offering over 350,000 titles accessible anywhere, anytime. Although Storytel's collection is still smaller than Audible's library, it has excellent multilingual support covering over 150 languages including English, Hindi, German, Korean and more.
---
Part 4. Storytel vs Audible: Category
Audible is purely an audiobook service, and if you are interested in audiobooks, Audible is the better choice. Storytel, on the other hand, has a much broader focus with many genres to choose from such as original series, eBooks, fiction, poetry, drama and more. What's more, there are many original stories exclusive to Storytel. If you also enjoy eBooks, poetry, short stories and other serialized content, you may prefer Storytel.
---
Part 5. Audible vs Storytel: Availability & Devices Limitations
Checking which is better Audible or Storytel in terms of availability, Audible carries the day as it is available on Windows, Mac, Android, and iOS devices. However, the Storytel app is limited to use on mobile devices only.
Although Audible audiobooks can be played on many devices, there are still a large number of devices that are not compatible with Audible, such as MP3 players. It is best to convert Audible audiobooks to a common format in order to access them comfortably on most devices. AudKit Audible AAX Converter is just the tool to help you convert Audible AA/AAX files to MP3, FLAC, AAC, etc.
It maintains the 100% lossless audio quality of Audible audiobooks and preserves ID3 tags and other metadata information. It's also easy to handle your bulky audiobooks by splitting them into segments by time frame or chapters. What's more, you can customize Audible audiobooks by adjusting the bit rate and channels. After that, you can play Audible audiobooks offline at all times and places.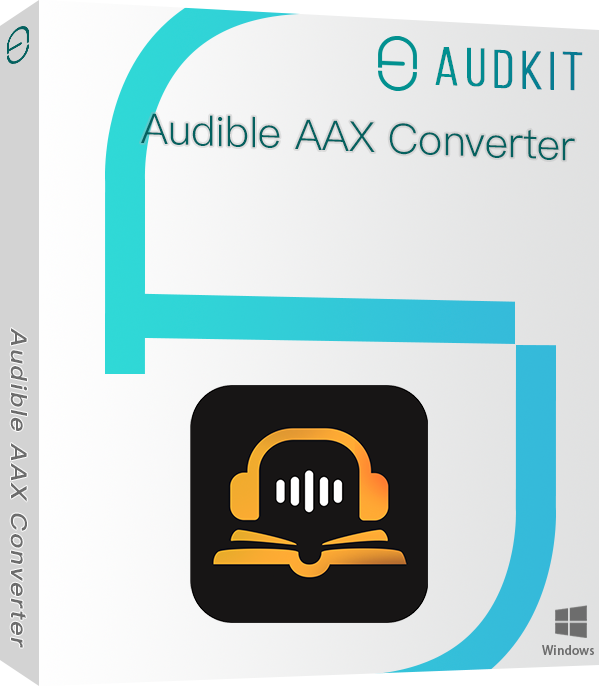 Convert Audible audiobooks at a 100X faster speed
Supports conversion of Audible books to common formats such as FLAC and MP3
Maintain 100% lossless audio quality during the conversion process
Listen to Audible books offline on any device and player
How to Play Audible Books Offline on Any Device
Step 1 Add Audiobooks to AudKit Audible AAX Converter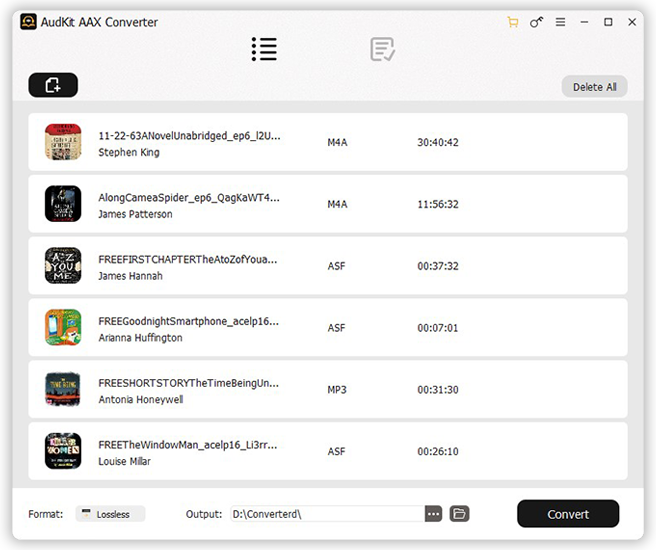 Choose the Audible audiobooks you wish to convert, then click on the "Add Files" button. The Audible files will all show up. Next, select them and click on the "Open" icon to load your selection. You can alternatively choose to drag and drop the audiobooks from your computer right into the conversion window directly.
Step 2 Customize Audible Output Format and Parameters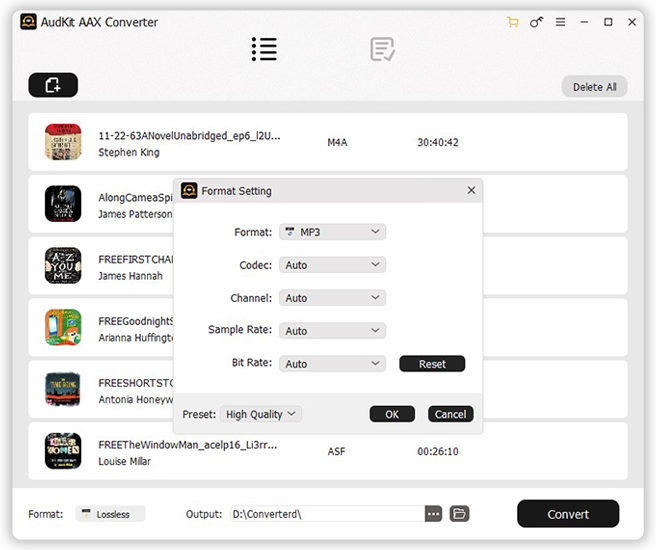 Once you have uploaded the Audible books into the converter, hit on the "Format" tab to launch the settings window. Here, choose the output format you want to use. You can set Audible AAX to MP3, WAV, AIFF and more. Next, customize the parameters such as audio channel, sample rate, and bit rate.
Step 3 Split Audiobooks and Edit ID3 Tags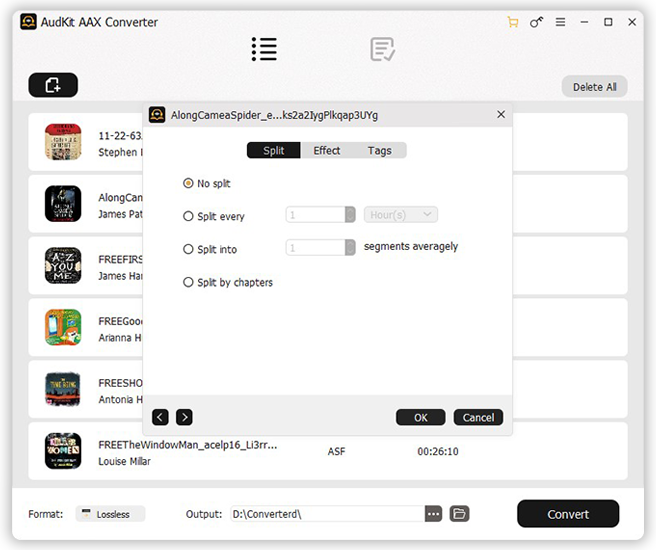 To edit your Audible, click on the "Edit" button and customize the ID3 tags like album, title, and year in the "Tags" section. Likewise, easily split your audiobook into manageable sections by clicking the "Split" section as well as going to the "Effect" section to adjust the pitch, speed, and volume as desired.
Step 4 Play Audible Books Offline on Any Device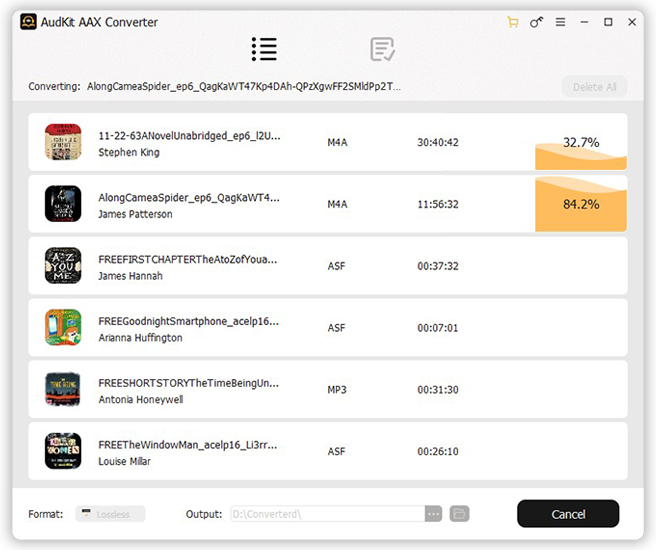 Now, click on the "Convert" tab to enable the conversion process. Then, you can access the downloaded Audible audiobooks in your computer's local folder. After that, it's convenient to play Audible books on any device with no restrictions.
---
Part 6. Storytel vs Audible: Which Is Better
Depending on the above, Storytel will give you unlimited access to audiobooks and eBooks every month with any subscription plan. You can also automatically synchronize the progress of your eBooks and audiobooks, making it easy to switch between them. Other issues, such as setting a sleep timer and adjusting the speed, are available with Storytel. But Storytel requires you to have an active subscription package to keep your audiobooks accessible.
When it comes to Audible, you'll be happy to have the audiobooks forever, even if you end your subscription. You can also exchange your audiobooks for free, as well as get high-quality audio every time you connect your headphones or earphones. What's more, you can play your Audible on a wider range of devices and players compared to Storytel.
As to which is the better Audible or Storytel, Audible is a better choice, especially in terms of audiobook library and available settings.
---
Conclusion
Is Storytel better than Audible? In fact, Audible tells it all. You should now know the difference between Audible and Storytel and have a choice in mind. By the way, if you want to play Audible offline on any device, AudKit Audible AAX Converter will be your best assistant.
---