Reading is part and parcel of our daily lives. Digital libraries have made it easy for readers to access audiobooks, podcasts, and other audio right from their devices. Several digital libraries are at your disposal. Take a look at Audible vs Hoopla; even though you can access any content from these apps, they are different in various aspects. This article dives into their similarities and differences as well as how to get your audiobooks from Audible in common formats to improve device compatibility.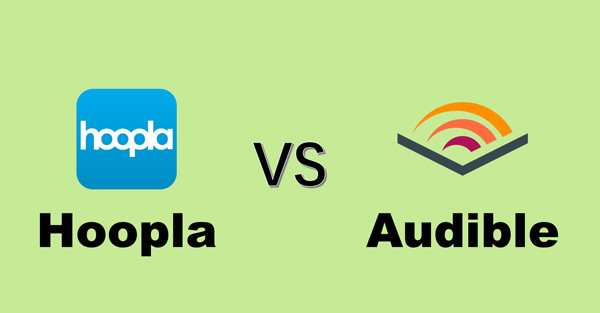 ---
Part 1. What Are Audible and Hoopla?
An in-depth look at Hoopla's audible books will unravel how they are similar yet so apart in specific aspects.
Audible is a digital library where you can store your audiobooks, podcasts, and other spoken word content. Each content you buy is saved to your account or the app. You can then retrieve them by downloading them onto your tablet, laptop, phone, or Kindle, among other devices.
Hoopla, on the other hand, is a cloud-based lending and streaming app used for public libraries. It has various kinds of content including magazines, music, movies, and TV shows. Hoopla can be accessed through a streaming platform or mobile app by borrowing specific content you like.
---
Part 2. Hoopla vs Audible: Pricing
Is Audible better than Hoopla when it comes to pricing? The Audible app is free for single use and is linked to your Amazon account. However, you will pay for single audiobooks separately but it also offers subscriptions to let you get Audible credits to buy and download Audible audiobooks for free. Each audiobook from Audible has different prices, but you can know the cost of its membership plan per month.
Audible Plus: $7.95/month
Audible Premium Plus: 14.95/month
For Hoopla, you don't need to spend a dime as it's both ad-free and private. Simply sign up for a free Hoopla account then link your library card using your card number and Personal Identification Number, and you're good to go.
---
Part 3. Audible vs Hoopla: Audiobooks Library
Audible Audiobooks library has great offers, with Audible containing over 50,000 audiobooks. These are divided into categories like health, comedy, fiction, and politics, among others.
And for Hoopla which contains various content like albums, movies, etc, you can find out more than 1,000,000 titles in all cataloges. How many audiobooks you can discover in it? As you can borrow audiobooks virtually from the public library, it has about 500,000 items for audiobooks that you can get in limited days.
---
Part 4. Hoopla vs Audible: Streaming Quality
Audible lets you stream or download audiobooks to your device in high quality. It uses two formats: Enhanced and Format 4. Format 4 is at 32 kbps, while the Enhanced Format is 64 kbps. You can access your files offline by downloading them at the quality that you need. And Audible recently has Dolby Atmos for users' needs.
With Hoopla, the audio quality of audiobooks is pretty good, but the sound sometimes will be some problems while listening to the audiobook.
---
Part 5. Audible vs Hoopla: Supported Devices
The services Hoopla or Audible have myriad devices they can play on.
Hoopla channel is available on your phone like iPhone running iOS 9 or above, and Kindle Fire tablet, Apple TV, Android TV, Chromecast, Roku, and Fire TV are also supported.
Audible is playable on devices like tablets, computers, phones, and Smart TVs, among other devices. More than these, you can also get Audible on players like SanDisk and other readers like Bones Milestone.
---
Part 6. How to Improve Audible's Device Compatibility
Audible has its own supported devices that you can play on, but what if your device is not on the included list? Well, AudKit Audible AAX Converter will losslessly convert Audible AAX to common output formats like FLAC, M4B, AAC, and MP3, among others. It works at 100X faster speed for audiobook playback.
The app will preserve the original parameters automatically, which include albums, composers, covers, genres, and artists. You can also edit your files by trimming, splitting chapters, and much more.
Likewise, you can customize the output parameters like bit rate, sample rate, channel, and much more. The effect feature allows you to choose a suitable playback like speed, volume, and pitch. Once all is done, you can preview the converted Audible audiobooks and then transfer them to your audiobook player or portable device.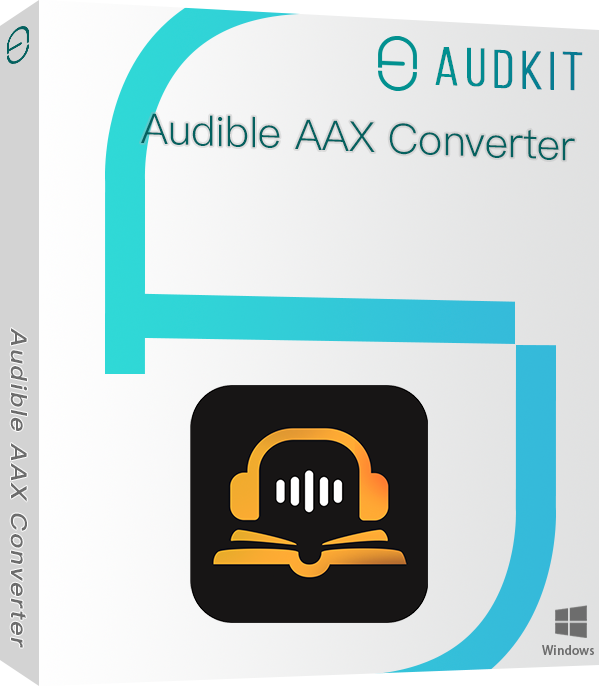 Convert and play Audible books on all devices offline
Customize output Audible book settings to your preferences
Support changing Audible audiobooks into MP3, WAV, AAC, etc.
Save the audio quality and ID3 tags of all your Audible titles
Here are the steps to download your audiobooks from Audible using AudKit Audible AAX Converter.
Step 1 Download and register AudKit Audible AAX Converter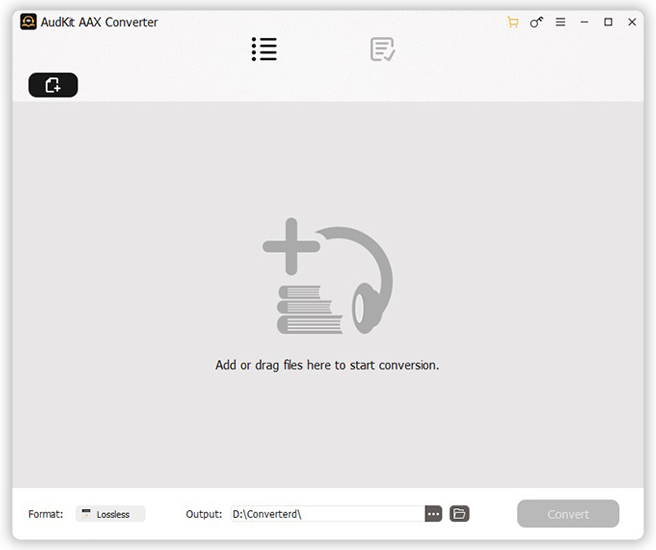 First, download AudKit Audible AAX Converter then install it on your computer. The free version lets you convert the first 1/3 content for each audiobook. You, therefore, need to register the app by going to the "Register" option to open the window. Next, fill in the licensed information you received to activate the app.
Step 2 Add Audible AAX audio files for download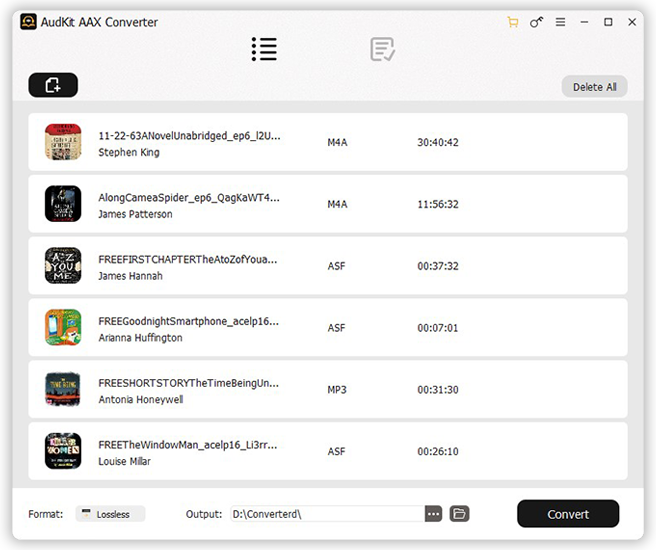 To add the audiobooks, click on the "Add files" button and the Audible files will show up in a new window. Then, select the Audible books you want to convert and click on the "Open" option to load the files automatically.
Step 3 Change Audible formats to a wide-supported one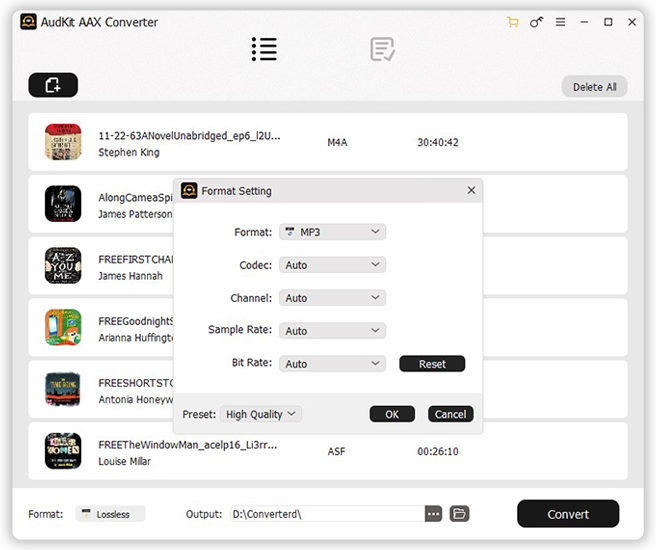 To customize your Audible books, press the "Format" tab to choose an output format. You can convert Audible to MP3, FLAC, Lossless, and other audio files. Likewise, you can edit other parameters like bit rate, channel, bit rate, and speed.
Step 4 Customize other values of Audible books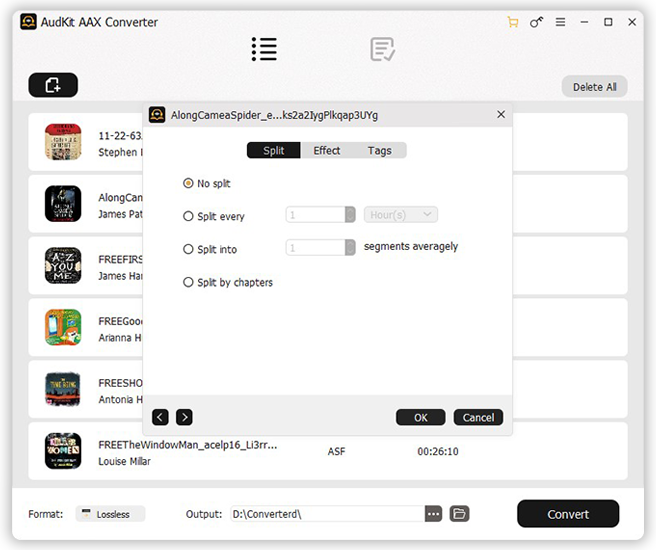 AudKit Audible AAX Converter lets you edit your files by customizing the ID3 tags like title, year, and album. You can also split larger audiobooks into smaller sections and adjust the speed and volume, among other sections. To do it, click on the "Edit" icon next to each title to open the editing window.
Step 5 Convert Audible books as local files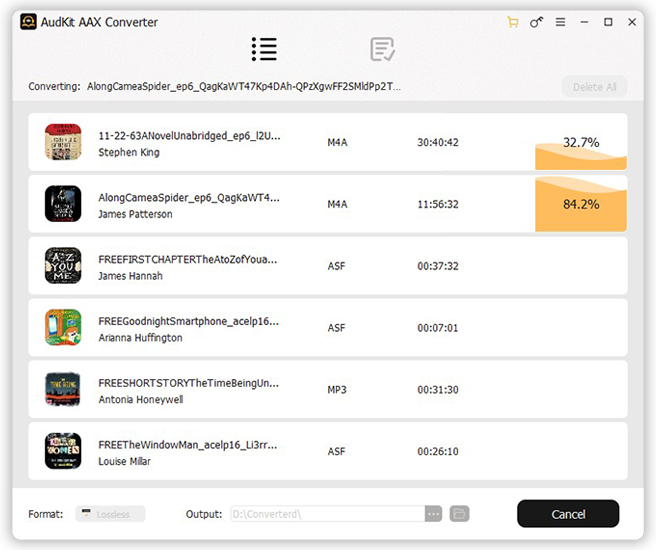 Finally, tap on the "Convert" button to start the conversion. The AudKit Audible AAX Converter app will convert and download the Audiobooks to common audio files. You will then find the Audible files and play the Audible books at where you want.
---
Part 7. Hoopla vs Audible: Which Is Better?
Is Audible better than Hoopla? While Audible provides premium audiobooks, podcasts, and other spoken content, Hoopla streams audiobooks, music, movies, and e-books. If you love audiobooks more, it is recommended to use Audible. Audible focuses on audiobooks and has many benefits, giving it an upper hand over Hoopla.
If not, you can consider more aspects. Hoopla is free while Audible offers different rates for monthly or annual costing. Likewise, Audible gives you the advantage of a 30-day free trial to ascertain your performance. You can try it in the free trial to choose which one is the better one for you.
---
Conclusion
Audible vs Hoopla has a lot of comparisons. While Audible lets you stream directly from the app or download files to your device, Hoopla lets you borrow audiobooks for use. More so, you can improve Audible's device compatibility with AudKit Audible AAX Converter if you've purchased titles from Audible. it will losslessly convert and download Audible files into common output formats that are playable on any device of choice.
---