Audible is getting common these days. People are getting busy and prefer to read their favourite books in audio form. Users can choose from tens of thousands of audiobooks and podcasts from Audible. If you want to listen to audiobooks offline, you need an Audible subscription to download the audiobook of your choice. Then, some readers will ask, can I save the downloaded Audible audiobooks to Google Drive?
I can understand why users want to save Audible offline to other places, which may be due to the shortage of device memory, compatibility with other devices, etc. And the option to upload Audible audiobooks to Google Drive can mostly solve these issues. So when it comes to the question about Google Drive Audible, the answer is actually yes. However, you need to use some software to make it a reality because of digital protection. In this article, we will discuss how can you download Audible books and save them to Google Drive with comprehensive steps.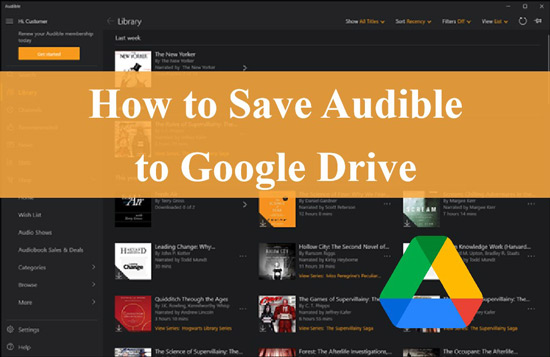 ---
Part 1. How to Download Audible Audiobooks for Google Drive
To store your audiobooks from Audible, the first step to do is to remove Audible DRM. You need to convert your audiobooks to unprotected audio formats supported by Google Drive, such as MP3, WAV, etc. There are all kinds of tools on the Internet, maybe you don't know how to choose a suitable one, don't worry, among these tools, AudKit Audible AAX Converter is one of the most effective ones.
By using AudKit Audible AAX Converter, you can easily download audiobooks from Audible into multiple audio files so that you can easily listen to audiobooks on any device or upload them to Google Drive with no limit. With the AudKit software, converting Audible files is speedy, which can be up to 100X. You will get the preservation of the sound quality and ID3 tags for Audible books.
Besides being a converter, it can also edit titles, albums and years, etc. for all your Audible audiobooks. You are able to split the audiobook by the time frame or by chapters and customize your output settings like volume with flexibility. These features make AudKit Audible AAX Converter an outstanding one.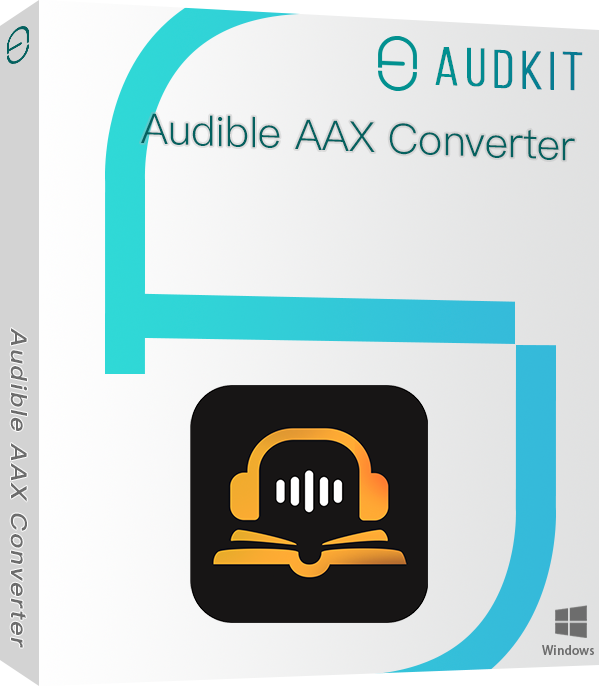 Save Audible books to Google Drive for backup
Convert Audible AA/AAX to MP3, WAV, and more
Run the Audile conversion at 100X speed with the quality intact
Offer users functions to split Audible files and edit info
Steps to Download Audiobooks from Audible
You can easily download the audiobooks by using AudiKit Audible AAX Converter. Here are simple steps to help you through the conversion process to convert Audible books into Google Drive-supported audio formats.
Step 1 Open and load Audible books into AudKit tool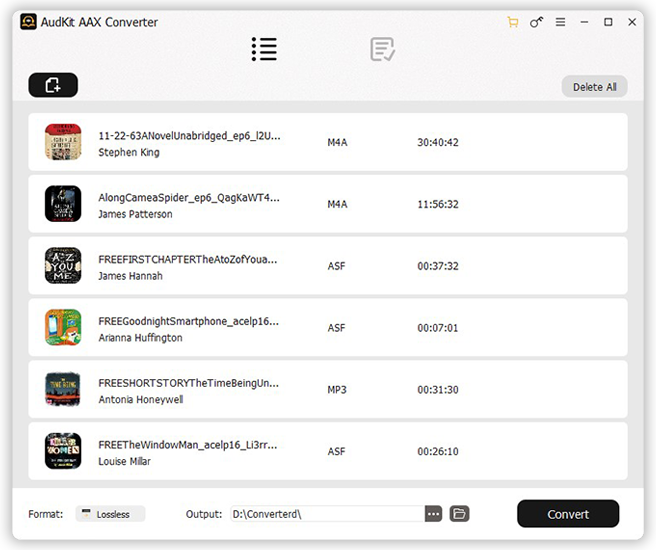 You have two ways to import your audiobooks from Audible. One way is a drag-and-drop action. Another way is to click the "Add" button from the left, then select your preferred audiobooks and add them to AudKit Audible AAX Converter.
Step 2 Change format settings for Audible files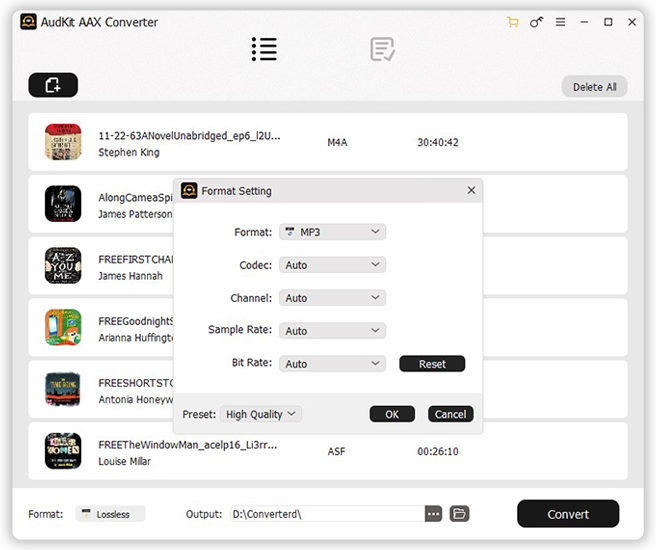 Tap the "Format" option from the bottom left. Here you can adjust the Audible format to MP3 which is compatible with Google Drive. Other attributes like codec, sample rate, bit rate, and more can be modified according to your needs. Meanwhile, you can click the Edit button next to each Audible book to select the options for Tags, Effect, and Split.
Step 3 Convert Audible audiobooks for Google Drive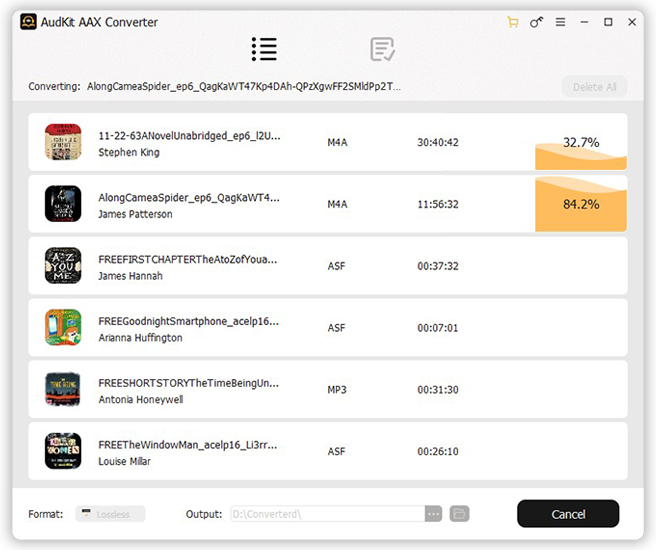 When you're finished with all of these, click the "Convert" button to launch the downloading. The AudKit Audible AAX Converter will quickly convert Audible files offline. They will be stored in the folder that you've set in the output path. Locate the folder and you can now use the downloaded audiobooks as you want.
---
Part 2. How to Upload Audible to Google Drive
After having all your Audible books on your computer, you can now make the Audible books upload to Google Drive. To add those audiobooks, we make a guide for you, They are easy to follow.
Step 1. In the first step, you must open and launch the Google Drive desktop app or its website.
Step 2. Log into your Google account. Next, click on the Add New button to select the option to upload.
Step 3. Choose the Audible books you need to upload and then browse and find whether they are successfully uploaded.
There is one more option to store the books from Audible in Google Drive, which is by dropping the Audible files directly into your Google Drive from your computer. It is fast to finish the process once you pinpoint the folder with audiobooks offline.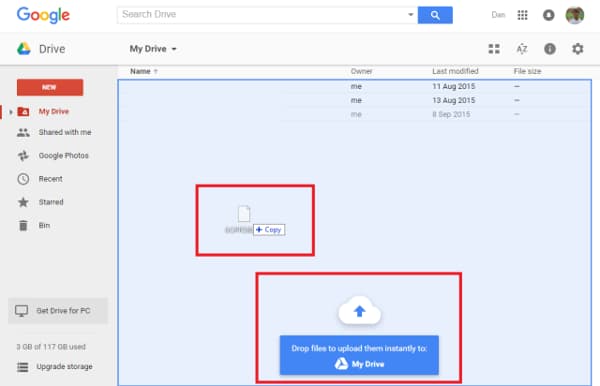 ---
Part 3. To Sum up
The Audible is a part of life for many people. People mostly enjoy audiobooks because they can play their favourite books while driving or doing other essential tasks. You can easily download the Audible and upload it on Google Drive. This way, you can download the Audible files and listen to them whenever, wherever you want.
How to save Audible files to Google Drive? To make Google Drive Audible successfully work, you can download or save Audible audiobooks using AudiKit Audible AAX Converter. There are multiple features of it that you can take advantage of. Not to mention that it converts Audible to unlimited audio formats and helps you upload files to Google Drive for future use. You can listen to audiobooks even after years; it will refresh all your memories. It is the best choice for book lovers.
---