Christmas is the most awaited festival of the year. Nearly 2 billion people in the world celebrate it, which includes older, younger, and elder ones. If you have kids in your home, then you are going to have a great holiday. From wrapping the gifts to baking the cookies, your kids are with you. In order to choose the Christmas songs, you have to keep your kids' choice in the first place. To save your time, we have compiled the best and top Christmas songs for kids to make your kids feel magical. So, curate your playlist for the kids.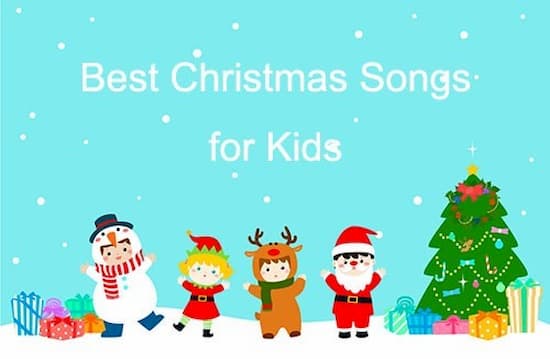 ---
Part 1. Top 56 Best Christmas Songs for Kids
Christmas is the festival for all Christians of any age. In case you have kids, then you need to play the songs according to them. You have songs while decorating, cooking, or traveling. So, lighten up your kids' festival by playing the best songs for them.
Turn on the Christmas songs for kids list and get into the spirit of the season. Check out our list of Top 56 Christian Christmas songs for kids.
1.Jingle Bells
Christmas is dull without Jingle Bells. It is a super simple song that gives a great vision to kids and leaves space to learn.
2.Frosty The Snowman
This is the best Christmas song for the preschoolers, which excites them when a discarded magic hat brings life to the Snowman.
3.Rudolph the Red-Nosed Reindeer
It is a bit of an emotional song when Rudolph cries. Well, it has sweet animations.
4.Away in a Manger
This song is perfect for faith0based settings and schools.
5.You're a Mean One, Mr. Grinch
It's not easy to forget Mr.Grinch, so once again, enjoy his creative lyrics in this version.
6.We Wish You a Merry Christmas
One of the best Christmas video songs for kids, which will encourage the kids to move without getting wild.
7. 10 Little Elves
You can improve the imagination and critical thinking of your kids with this song. Mainly it is for preschoolers and toddlers.
8.Reindeer Hokey Pokey
It has great music and will groove you throughout the song.
9.If You're a Kid [Christmas Remix]
This song is in a Halloween version for kids.
10.The Dancing Christmas Tree Song
Another Christmas song for preschoolers, which is just sweet and simple.
11.12 Days of Christmas
It is a traditional song and will blast your kids with the dance moves and makes them energetic to enjoy this festival.
12.Santa Shark
Santa is well-known for distributing the gifts so, this is a cute animated song in which elf sharks will help the Santa shark to deliver the gifts at Christmas.
13. I'm a Little Snowman
A sweet little rhyming song has the same words repeated with melody, which is beneficial for kids to learn.
14. Rudolph's Nose
You can practice the color recognition of your kids with this song. It is a great song for toddlers.
15.The Santa Counting Song
The best way to teach your children is to make attractive animations, so this Christmas song for kids helps in building the learning sense.
16.S-A-N-T-A
A letter recognition song for kids based on the Christmas theme.
17.Here Comes Santa Claus
This is a perfect song to listen to while sharing the gifts with kids, which reminds the arrival of Santa.
18.Deck The Halls
If your kids are helping you, then make this moment more special by adding a song for them. You can play this song on repeat while decorating the home with your kids.
19.Let It Snow
Kids love the winters and Christmas, so this song makes them feel special while playing with snow.
20.Silent Night
This song is about the true spirits of Christmas and is perfect for teaching your kids about Christmas.
21.Christmas Cooking Song
Every kid's favorite part is to make desserts and cookies with their mother. So, bust out a song while your kids are in the kitchen with you.
22.O Christmas Tree
It is a song to play in the background while decorating the Christmas tree.
23.Jingle Bell Rock
You can play this song while your kids are wrapping gifts with you.
24.Christmas Don't Be Late
This is a song from the 1950s which is lively and easy to follow for the kids on Christmas.
25.All I Want for Christmas is My Two Front Teeth
Those kids who have lost their two front teeth and having trouble in wishing everyone can relate to this song.
26.Mary's Boy Child
It has spiritual and choral music, often performed as a carol.
27.Ding Dong! Merrily on High
With the celebratory and cheery chorus, this makes your kids have a dance together.
28.Little Snowflake
It is a kind of repetitive song that explores the different parts of the body.
29.Santa's Stuck Up in the Chimney
One of the funny Christmas songs for kids in which the poor Santa is on a diet but stuck in the chimney when baking starts.
30.I Want a Hippopotamus for Christmas
A classical song about giving the little girl a hippopotamus.
31.Zat You, Santa Claus?
This song makes a Santa favorite for kids.
32.I Wish It Could Be Christmas Everyday
This song reminds the childhood memories about Christmas and makes it enjoyable for kids.
33.Wonderful Christmas Time
It is all about Christmas celebrations and makes your kids enjoy.
34.Rocking Around the Christmas Tree
A great kid's song about a Christmas tree.
35. I'm a Little Christmas Tree
This is a song for toddlers to help you in decorating a Christmas tree.
36.My Candy Cane
As Christmas is all about Candy Cane, so play this song for your kids.
37.Christmas Secrets
You can whisper this song's lyrics in your kid's ear.
38.Five Little Christmas Trees
A Christmas song to teach your kids how to count.
39.Merry Christmas Elf
If your kid can recognize an elf, then this song is best to play.
40.Five Little Reindeer
This song is about to learn counting and characters related to Christmas.
41.Toys On The Christmas Tree
A perfect song to play while your kid is helping you in decorating the Christmas tree.
42.Christmas Bell
You can hang a bell with this song in the back.
43.It's Advent Time
It is a song about preparing for Christmas celebrations with kids.
44.The Christmas Robot
A song about a little robot who comes on Christmas eve for dinner.
45.Gingerbread House
A short kid's song for building a gingerbread house.
46.In the Bleak Midwinter
This kid's song is to enjoy its soothing tune in winters.
47.Walking in the Air
It's a classic song with everyone's favorite childhood memories.
48.Christmas Alphabet
This song gives fun to kids while learning the alphabet.
49.Little Saint Nick
Your kids will enjoy this song, which is about a famous cat dressed in red.
50.Reindeer Poop
It's a bathroom humor related song for kids.
51.Grandma Got Run Over by a Reindeer
This animated song has a special happy ending that kids will enjoy.
52.Santa Claus Is Coming to Town
If your kids are worrying you, then this song would be best to be played on Christmas eve.
53.O Come, O Come, Emmanuel
Its other kids teaching song that has a great rhyme.
54.Little Drummer Boy
This song holds a special connection for kids from orphanages.
55.I Saw Three Ships
It has repetitive wording that is easy to learn for kids.
56.Do They Know It's Christmas
The best party song for kids to dance and enjoy.
---
Tips: Christmas Songs for Kids MP3 Download Free
Get your free Christmas songs for kids by converting and downloading using Audkit Spotify Music Downloader.
This app helps users to convert Spotify songs to MP3, FLAC, WAV, M4A, or M4B in lossless quality. You can edit the ID3 tags like title, album, artist, or genre. This converter is easy to use and compatible with all the versions of Spotify. Download your favorite kids' Christmas songs and play them anywhere. Follow these steps to know how to convert Christmas songs for kids to sing.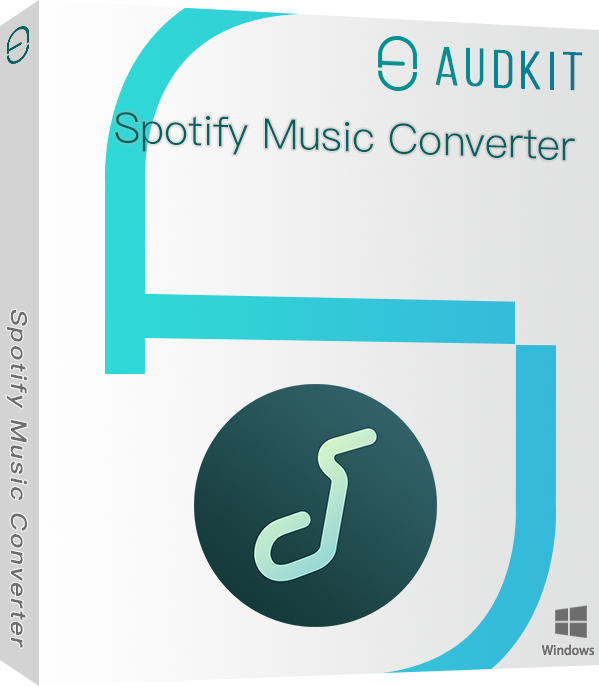 Download Spotify songs for offline playback
Unfreeze limits of Spotify music by format conversion
Stay original quality and ID3 tags from Spotify songs
Edit and transfer Spotify songs to other apps and players
Download and install the converter on your Windows or Mac device. From the menu, go to 'Register' and enter your licensed information to get the full version of AudKit.
Step 1 Add the Christmas songs for kids to AudKit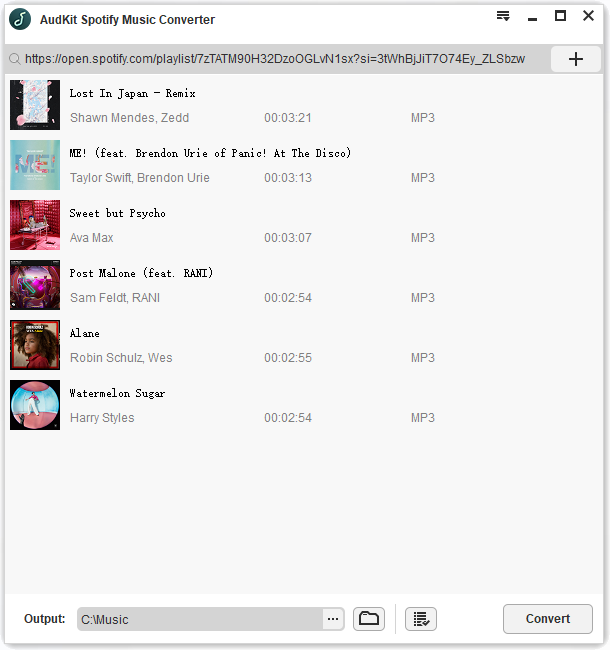 Right-click on the song and then 'Share' > 'Copy Song Link'. Paste the link on the converter's main window. You can also drag and drop the song to the converter's main window.
Step 2 Edit the format of Christmas songs for kids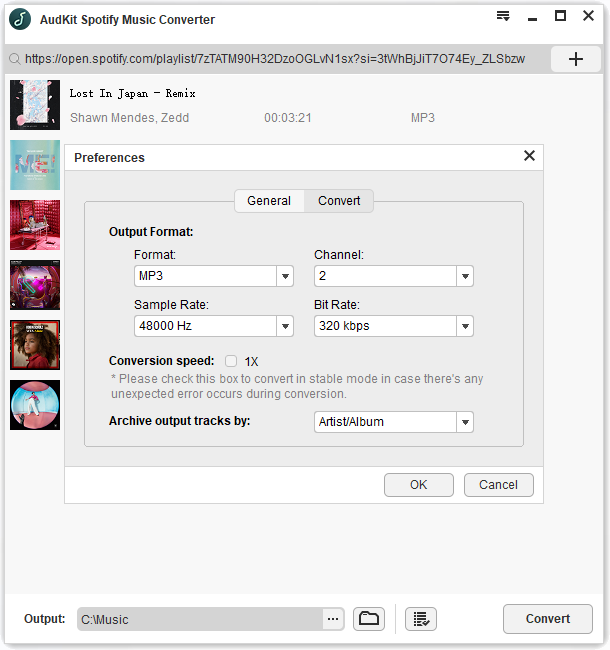 The next step is to simply change the format to your desired format. Open the settings tab by clicking on the "Preference" icon and then go to the "Format" section to change the format to MP3 or any other desired format. You can also change other parameters as well.
Step 3 Download Christmas songs for kids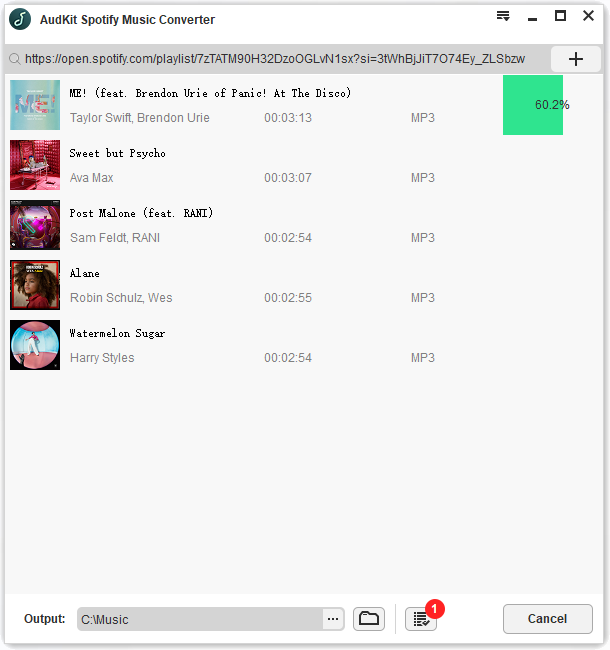 Now the last step is to download and listen to these Christmas songs. Just simply click on the "OK" icon on the bottom of the preference tab to close the settings and then click on the "Convert" button to start the downloading cycle. Once they are downloaded, you can access these songs from the destination folder.
---
Conclusion
We have concluded the list of easy Christmas songs for kids, which they can understand and learn easily. You can convert and transfer the Christmas songs for children by using AudKit Spotify Music Converter on any device with lossless quality. Play them while driving or traveling with kids to refresh their moods.
---