Christmas is that time of the year everyone is so excited to get back with their families and have a very peaceful holiday. Christmas mostly consists of Christmas parties and Christmas Shopping. People buy gifts for their loved ones. Now Christmas Country songs are huge of Christmas, and these songs bring up the Christmas spirit. Now when it comes to listening to Country Christmas songs, you want to go for the songs that are already proven after being tried-and-tested.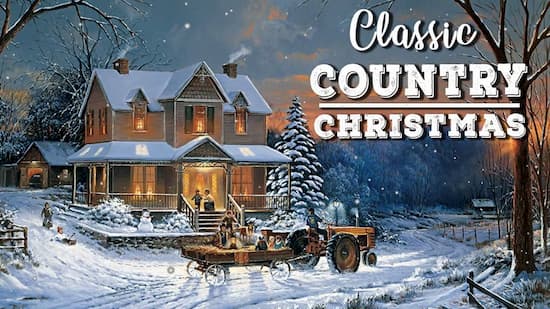 ---
Part 1. Top 52 Country Christmas Songs
1. "I Heard the Bells on Christmas Day"
This old Country Christmas song is inspired by Henry Wadsworth Longfellow's poem named "Christmas Bells" and was first released in 1963.
2. "Pretty Paper"
This song was written by Willie Nelson in 1963 and was released on Christmas 1979.
3. "Christmas Isn't Christmas Time"
This song was penned by Chely Wright in the 2018 holiday special episode named "Santa Will Find You.
4. "Joy to the World"
There are thousands of covers of this funny country christmas songs, but Faith Hill's version is the best.
5. "Last Christmas"
This song is one of three songs released by Wham! on Last Christmas EP.
6. "Country Christmas"
This is the perfect song for a Holiday celebration in the south
7. "Baby It's Cold Outside"
This rendition of this song was performed by the cutest couple, Garth Brooks and Trisha Yearwood.
8. "Santa, I'm Right Here"
This tune by legendry Toby Keith's 1995 Christmas album is worth listening to.
9. "A Christmas Letter"
Keith Whitely sang this song just a few years before he passed away.
10. "Put a Little Holiday in Your Heart"
This might sound like a song, but it gets better. LeAnn Rimes sang this song.
11. "Dear Santa"
This legendry Country song is a holiday song as well as a love song.
12. "Grown-Up Christmas List"
Pentatonix and Kelly Clarkson came together in 2018 to perform this holiday tune.
13. "The Christmas Guest"
This beautiful song by Johnny Cash has a message that everyone needs to listen to on Christmas.
14. "Santa Baby"
Kellie Pickler performed this song on her appearance on Christmas in Graceland.
15. "Jingle Bell Rock"
This rendition of this song gives it a modern touch.
16. "Christmas Shoes"
This song is a tale of a little boy trying to buy a pair of shoes for his ill mother.
17. "Christmas Comin' Round Again"
This holiday jam by Scotty McCreery reminds you of what is important.
18. "Feliz Navidad"
This a fresh adaptation by Clay Walker of this old favorite.
19. "I Want a Hippopotamus for Christmas"
This addicting Christmas song was sung by Kacey.
20. "When You Believe"
This new Country Christmas song is another classic by Maren Morris and Pentatonix.
21. "Upon the Housetop"
Almost everyone has at least heard this beautiful song once in their life.
22. "Run Run Rudolph"
This is the latest spin to this classic song by Luke Bryan.
23. "Blue Christmas"
This song by the legendry Elvis may not be as jolly as other holiday songs, but it is a classic.
24. "Santa Looked a Lot Like Daddy"
This song was written from the point of view of a kid, and it's a perfect light song for Christmas.
25. "Hard Candy Christmas"
Feeling tired by the duties? Hit this pleasant song to lighten up the mood.
26. "Candy Cane Christmas"
This song by Darius Rucker is a jazzy turn on basic Christmas songs.
27. "Little Drummer Boy"
This song was recreated by the Frozen star Idina Menzel and Sugarland singer.
28. "All I Want for Christmas Is a Real Good Tan"
You'll love this song if you are a supporter of the "No Shoes, No Shirts, No Problems" lifestyle.
29. "Have Yourself a Merry Little Christmas"
This is a pleasant song that you would love listening to while doing chores.
30. "Winter Wonderland"
This is a very fun rendition of the classic song "Winter Wonderland" and will make you enjoy your holidays.
31. "Let It Be Christmas"
This song is filled with messages of happiness, joy, and hope to lift your Christmas spirits.
32. "Let It, Snow, Let It, Snow, Let It Snow"
Even though the people living in deserts won't be able to experience a white Christmas but they can still it by tuning into this song.
33. "Winter Wonderland / Sleigh Ride"
This combo of two notable occasion hits nearly matches Dolly's bluegrass collections.
34. "Rockin' Around the Christmas Tree"
It's outlandish not to dance along to Brenda Lee's infectious jingle, first delivered in 1958
35. "Carol of the Bells"
This song by LeAnn is a magical song that is a must-have in your holiday playlist.
36. "Christmas Makes Me Cry"
This track was made by Kacey for the Christmas album. It has more of a serious tone, but it is no doubt a holiday song.
37. "White Christmas"
This song from Rascal Flatts takes you on a magical tour when you play it.
38. "I'll Be Home for Christmas"
Putting this pleasant song on makes you want to be with your friends and family.
39. "All I Want For Christmas Dear Is You"
Travis Tritt's take on this classic is an addictive holiday song.
40. "Old Time Christmas"
This song is perfect to put on at the end of the day.
41. "Where Are You Christmas"
Even if you are not a fan of the "Grinch," you would still enjoy this classic holiday song.
42. "The Christmas Song"
This carol by Yuletide has all of your favorite dry fruits and is perfect for Christmas.
43. "If We Make It Through December"
Even though this is not a traditional song, but it's perfect for the occasion.
44. "Mary Did You Know"
This song is the latest rendition of an old classic. This song is sung and made special by the enchanting musical icons.
45. "Have Yourself a Merry Little Christmas"
If you are looking for something to bring you into the Christmas vibe, this song is the best choice.
46. "Hangin' Round the Mistletoe"
If you are not thinking of hanging mistletoe this year, maybe playing this beautiful song would be a good option.
47. "Oh Come, Oh Come Emmanuel"
This classic carol by Sugarland is simple at its core and perfect.
48. "What Are You Doing New Year's Eve"
In this classic, Lee Ann asks an eternal question about the upcoming year.
49. "Silent Night"
This song by Kelly Clarkson stuns with his melodious vocals.
50. "Tender Tennessee Christmas"
This song is perfect for playing in the background while you are prepping for the family in the kitchen.
51. "Do You Hear What I Hear"
This being an iconic song, it's a must-have on your Christmas playlist.
52. "I'll Be Home For Christmas"
The last song on our list is the perfect song to listen to while you are traveling towards your family.
---
Part 2. Free Download Country Christmas Songs to MP3
Now in this part, we will be introducing an app that allows you to download these songs locally on your computer.
Audkit Spotify Playlist Downloader. is an app that allows you to download your favorite Christmas songs from Spotify and store them locally on your computer. AudKit allows you to download and convert Spotify songs to MP3, FLAC, WAV, M4A, etc. It also allows you to change other parameters to provide you with the best sound quality possible.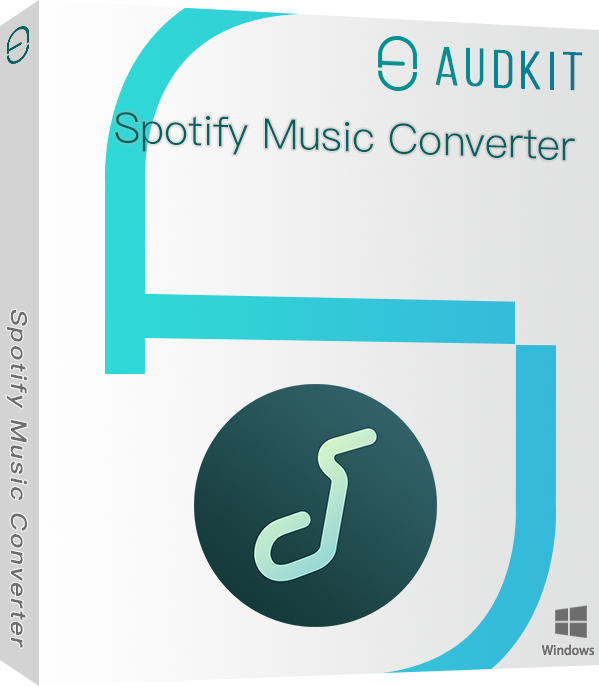 Download Spotify songs and playlists without Premium
Convert Spotify music to many common formats
Keep audio quality and ID3 tags from original songs
Allow Spotify music to play on other players and devices
Now we are going to guide you on how to download Spotify songs on your computer using AudKit Spotify Playlist Downloader.
Step 1 Launch AudKit and import Country Christmas songs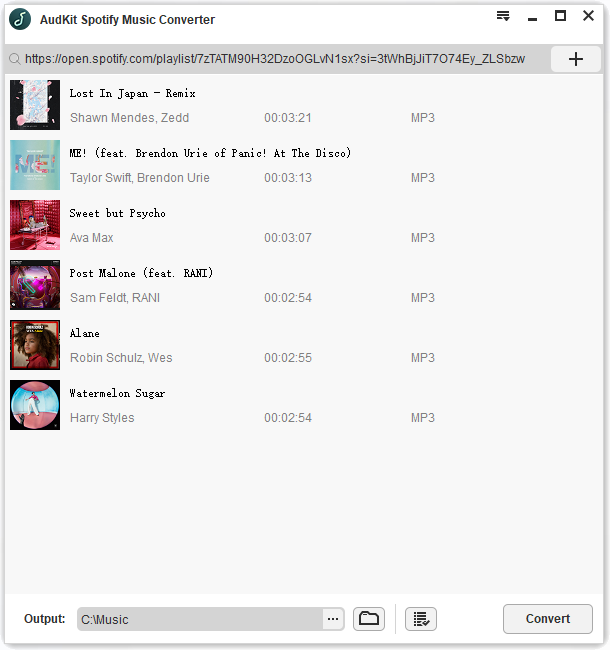 Launch the AudKit Spotify Playlists Downloader and then open Spotify on any of your desired web browsers. Now, look up for your desired Country Christmas songs; after finding your desired song, copy its URL link and paste it into the main interface of the AudKit tool.
Step 2 Alter the format of Country Christmas songs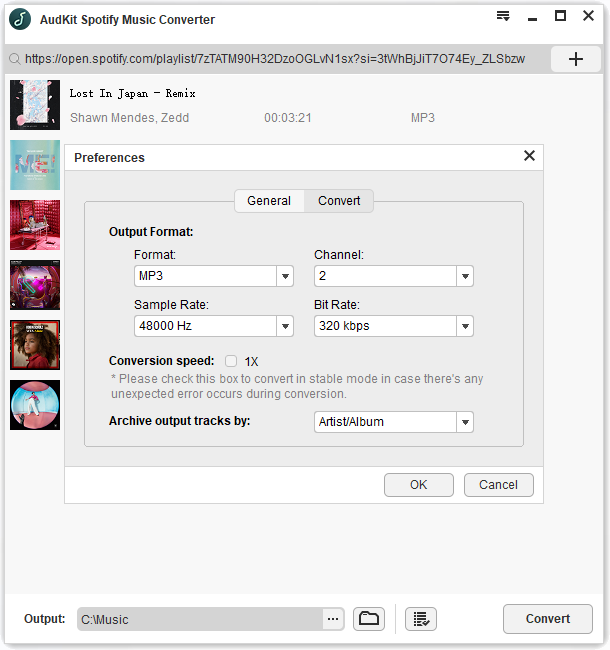 The next step is to simply change the format to your desired format. Open the settings tab by clicking on the "Preference" icon and then go to the "Format" section to change the format to MP3 or any other desired format. You can also change other parameters as well.
Step 3 Start downloading Country Christmas songs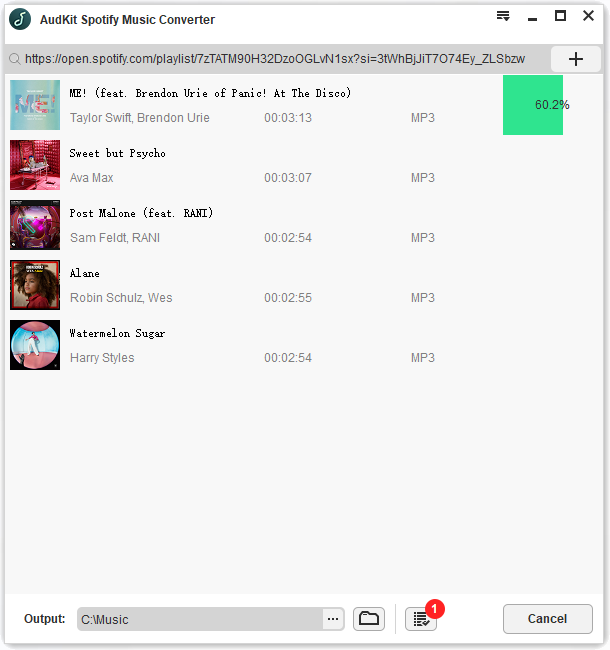 Now the last step is to download and listen to these Christmas songs. Just simply click on the "OK" icon on the bottom of the preference tab to close the settings and then click on the "Convert" button to start the downloading cycle. Once they are downloaded, you can access these songs from the destination folder.
---
Tips: Get 52 Best Country Christmas Songs Link
In this article, we compiled a list of 52 top Country Christmas songs for you. We also discussed how to download Country music Christmas songs from Spotify using AudKit Spotify Music Converter. Now, let's open Spotify and start to download the top 52 Country Christmas songs easily.
---
Video Demo
---