Over the 2 billion people in the world celebrates the Christmas holidays. Many traditions are observed at this festival. Everyone is busy buying gifts to exchange them at the gatherings. The roads and houses are covered with red and green decorations. Besides all this, Christmas songs have an essential part in the celebrations. Listening to your favorite Christmas songs will definitely refresh your mood. So are you in search of new and best songs that will make up your Christmas day? We have compiled the top favorite and best Christmas songs that you can listen to them at any moment of the festival.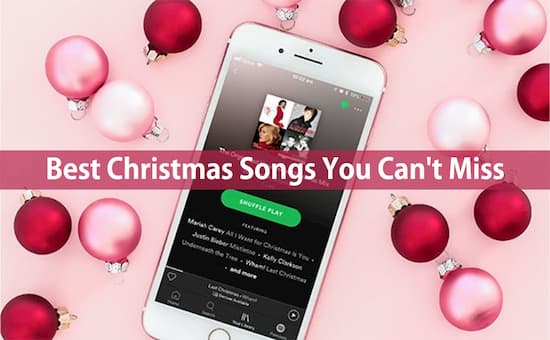 ---
Part 1. Top 58 Best Christmas Songs
Check out our Top 58 Christmas songs list that will help you out. In this list, you will find some funny Christmas songs, but all are worth listening to.
1. All I Want for Christmas Is You
It is a 25 years old song and still the go-tune to get any party began. 'All I Want For Christmas Is You' is still in the Billboard's Holiday songs list.
2. Like It's Christmas
Enjoy your holiday with your loved one and tell that every day spends with them feels like every day is Christmas.
3. Santa Tell Me
This is a bit fed up the song with Santa because he doesn't certainly pull through all the time. So if you have a little off mood, then listen to Santa Tell Me.
4. Mistletoe
Play this song at a Christmas party and dance freely. Mistletoe is a party song that is going to be played on Christmas everywhere.
5. 8 days of Christmas
It is an old Christmas song, but it feels like a new rhythm. Add this song to your playlist and feel a modern wave in you.
6. My Gift Is You
This song is about choosing love over presents at Christmas. Well, a song has a sweet message to hear.
7. Snow in California
Christmas comes in snowfall season, and nothing is more enjoyable than white streets and lights on Christmas day. In this song, the singer asks Santa for snow in California.
8. Where Are You Christmas
A classic hit by Dr.Seuss' How The Grinch Stole Christmas to be played at Christmas party.
9. Auld Lang Syne
This stunning song will refresh your good times of past and present on Christmas and New Year.
10. Baby It's Cold Outside
You can dance to this longtime classic song with your boyfriend or soulmate.
11. The Christmas Song
Bring some R&B vibes on your Christmas holiday with this song. Also, it has five original holiday tracks to cheer you up.
12. I Am the Grinch
From the perspective of everyone's villain, this Christmas song has a funky rap to boom the party.
13. Carol of The Bells
The song is from the Violinist star, Lindsey Starling. The track is as fantastic as her music videos.
14. Candy Cane Lane
It is an upbeat jingle by Sia. It has sweet bells that make you happy while decorating the house on a Christmas holiday.
15. Make It to Christmas
You miss your loved ones at the magical time of Christmas. This song will make you hope for the longtime romance make it through the holidays.
16. What Christmas Means to Me
This cover is great for the Christmas holidays. If you are a lover of harmonica, then the song will make your mood absolutely awesome.
17. Hey Sis, It's Christmas
It is useless to start your party without adding RuPaul's songs to your playlist. 'Hey Sis, It's Christmas' is a whole party song and call Santa.
18. Believe
The 'Believe' is a stunning ballad to believe in yourself.
19. All I Want (For Christmas)
It is a tear-jerking tale about relationships, which will be perfect for the Christmas holidays.
20. Winter Things
This song will insist you go out and enjoy the winter things, no matter where you are.
21. Oh Come All Ye Faithful
If you are a couple, then this should be your stream with hot cocoa by the fire on a Christmas holiday.
22. It's the Most Wonderful Time of The Year
We all love to have gatherings on Christmas, so this song focuses on get-togethers and parties.
23. Unwrap You at Christmas
It should be a must-like Christmas song to grace the beautiful festival and its gatherings.
24. The First Noel
Start your Christmas day with this track, which will be loved by both young and old ones.
25. Driving Home for Christmas
The song has a classic festive story more than a song. You can play this song while driving home to celebrate Christmas.
26. One More Sleep
The song is all about counting the days until you see your partner.
27. Santa Claus Is Comin' to Town
You will hear this old song every December as it is a perfect party anthem for any festive get-together, especially for Christmas occasions.
28. Last Christmas
If you have a bad case on holiday, then this song is here to soothe you and bring some chill '80s vibes.
29. Christmas In Harlem
It is a great Christmas Rock & Roll song which is also included in the holiday rap list.
30. Looks Like A Cold, Cold Winter
Ingrid Michaelson's Holiday album is the best thing to listen in Christmas.
31. We Three Gentlemen (Medley)
As the name suggests that it is a medley of "We Three Kings," "God Rest Ye Merry Gentlemen," and "Carol of the Bells."
32. Christmases When You Were Mine
It is a 2007 holiday tale and feels like to experience your first holiday at Christmas without someone you love.
33. Have Yourself A Merry Little Christmas
This angelic cover is sure to get you on board.
34. Silent Night
The best holiday gift by Destiny's Child is a blasting ballad that will get every member of the party to sing alone or in the group.
35. My Only Wish (This Year)
This song captures the wish to find love during the holiday season.
36. Jingle Bells
One of the best classic Christmas songs that will get you on your feet and dance.
37. Christmas Lights
It is a love melancholy song about a breakup during the holiday season.
38. Merry Christmas, Happy Holidays
This is one of the old Christmas songs that will make all 90s kids get up and sing.
39. Holly Jolly Christmas
The song will make you feel like you are at the mall the week before festive preparations start.
40. Underneath the Tree
It is an iconic original Christmas song with swelling instruments and a message.
41. Feliz Navidad
This song is guaranteed to get the party started.
42. I Wish It Could Be Christmas Everyday
If you are a young one and start to sing on Christmas, then try out this song.
43.I Believe in Father Christmas
It is the one in our Christmas songs list, which is full of fairy stories.
44.Unwrap You At Christmas
Another Christmas song that will grace your festival events and will make your perfect holiday playlist.
45. I'll Be Home for Christmas
This song is originally written for soldiers during World War 2 and became an anthem for all lonely hearts.
46. River
For any of you who is suffering from acute ache, then this song is for you.
47. Santa Stole My Lady
As the name suggests, we have this song for all broken-hearted.
48. My Favorite Things
This song has many covers until now and has become a Christmas song.
49. Santa's Beard
It is a darkly funny tale of Mike Love to meet Santa.
50. Winter Wonderland
When you are all set for Christmas dinner, then this song is a necessary addition in the background.
51. Jingle Bell Rock
This version by Hall and Oates is a cut above its peers.
52. I Saw Mommy Kissing Santa Claus
This song has the most joyous performance that you will definitely enjoy.
53. Christmas Is Coming
You can welcome the festive season with this delightful song.
54. Keep Christmas With You All Through the Year
This song is for those who love the Christmas spirits for the whole year.
55. Merry Christmas Baby
The song is a blazing version of Otie's, which is a classic Christmas song.
56. Step into Christmas
Get ready yourselves with this holiday track.
57. The Twelve Pains of Christmas
The song has a perky rundown of the holiday's relatable moments.
58. Christmas Time Is Here
It is one of the animated Christmas songs for kids and adults for the spirit of the season.
From the above list, you will have a wide collection of Pentatonix Christmas songs and trans-Siberian orchestra Christmas attic songs to cheer your mood and enjoy the festive season.
---
Part 2. Free Download Country Christmas Songs to MP3
You can download the top favorite Christian Christmas songs from Audkit Spotify Music Downloader. , which allows you to convert music from Spotify to MP3, FLAC, AAC, M4A, or M4B with lossless quality. It permits you to edit the ID3 tags such as title, album, codec, bit rate, sample rate, etc. You can listen to favorite Christmas songs on any device without ads in offline mode.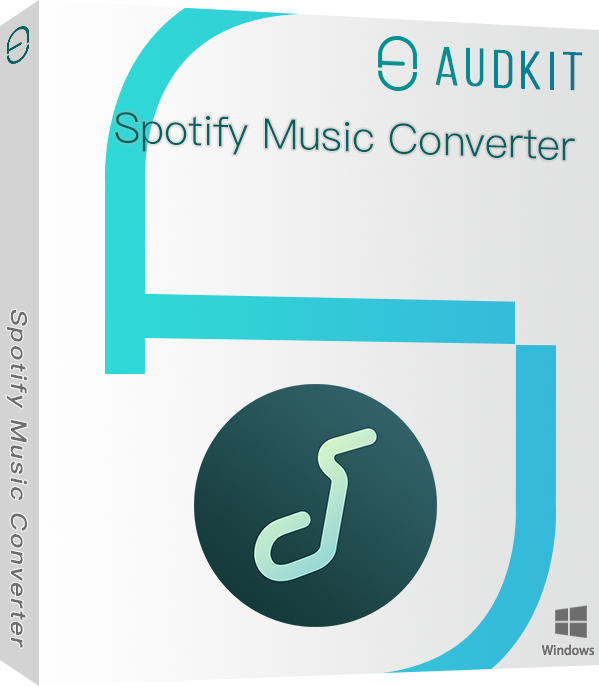 Download Spotify songs and playlists for offline listening
Remove ads from Spotify music without Premium
Maintain sound quality from original Spotify songs
Allow transferring Spotify music to other players and devices
Please download the converter for Windows and Mac. Then register for it by giving all your licensed information.
Step 1 Add Christmas songs from the Spotify app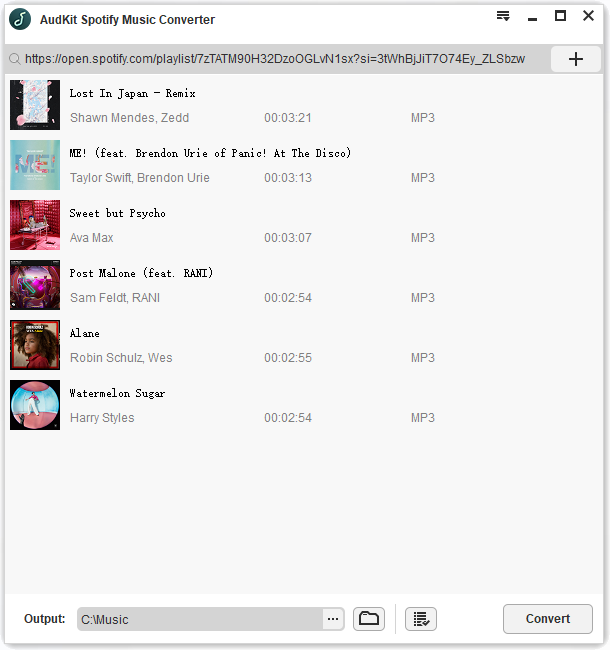 Just right click on the song or playlist. Then 'Share'>'Copy Song Link' or 'Copy Playlist Link'. You can also drag and drop the songs to the converter's window.
Step 2 Edit the output parameters of Christmas songs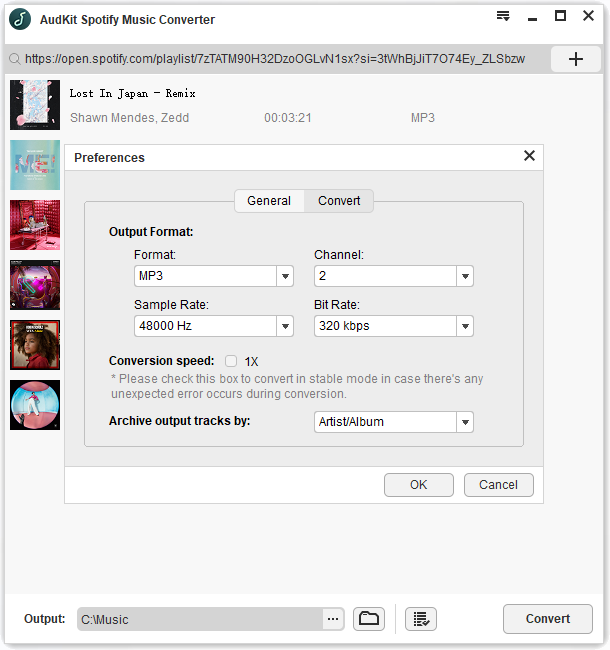 Now change the output parameters and choose the format such as MP3, AAC, or FLAC.
Step 3 Start the conversion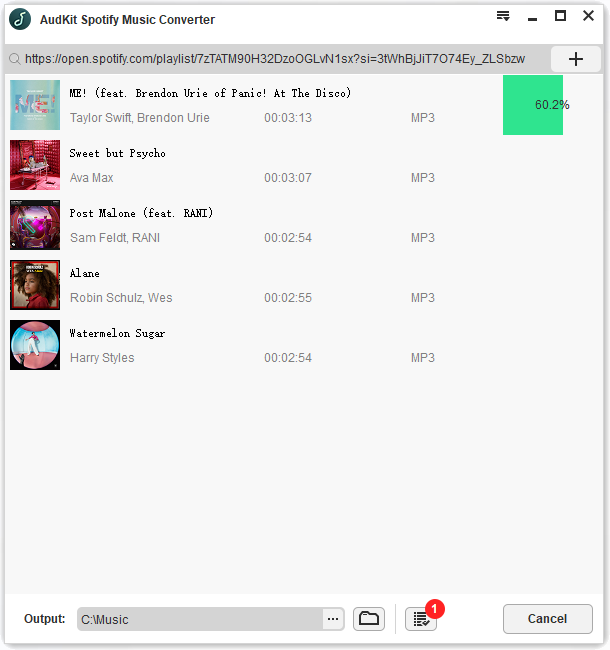 Tap the 'Convert' button and begin the conversion. After the process, you can save in your local folder and transfer the top Christmas songs on any device and enjoy them.
---
Conclusion
In this article, we have compiled the Christmas songs list with popular Christmas songs, so enjoy your holidays by making a playlist and listen to them anywhere. You can also download them through AudKit Spotify Music Converter to transfer to any device in lossless quality.
---