A common complaint among Spotify users is that the shuffle feature doesn't seem to work properly. Songs from the same artist or album tend to play back-to-back, and it doesn't feel truly random. If you're one of the many people who think Spotify shuffle sucks and want to make it better, then this article is for you.
There are a few things you can do to improve your experience. In this article, we will answer your question on why Spotify shuffle sucks objectively, and then show you how to fix Spotify shuffle with some helpful methods, so it feels more random and less repetitive. Read carefully!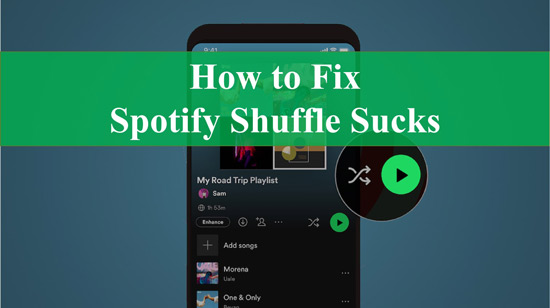 ---
Part 1. How Spotify Shuffle Sucks
Spotify shuffle is a feature that allows you to play your music in random order. This can be helpful if you want to mix up your music listening or if you want to avoid hearing the same songs over and over again.
Spotify's shuffle feature is a great way to discover new music and mix up your listening experience. But for many users, it feels more like a broken feature than a helpful one recently. The main complaint is that songs from the same artist or album tend to play back again and again, which ruins the shuffle experience on Spotify and makes you want to turn off shuffle play on Spotify.
How Does Spotify Shuffle Work?
Spotify shuffle works by shuffling the order of songs in your Spotify playlists. However, it does not shuffle all of the songs in your library, nor does it shuffle songs across different playlists.
To use Spotify shuffle, go to a playlist or artist page and click the "shuffle play" button. This will shuffle the order of the songs in that playlist or artist.
Why Does Spotify Shuffle Suck?
There are a few reasons why Spotify shuffle sucks and don't work as you want it to.
1. It can be because Spotify uses an algorithm to shuffle songs, and this algorithm may not be random enough for your taste.
2. Spotify only shuffles the songs in your playlists, so you may hear the same songs repeatedly if you have multiple playlists with similar artists or genres.
3. Spotify doesn't shuffle songs across different devices. So, if you have Spotify installed on your phone and your computer, the shuffle feature will differ on each device.
---
Part 2. How to Fix Spotify Shuffle Sucks
For the bad Spotify shuffling or even the Spotify not shuffling issues, what you can do to enhance it? Here're the fixes that you can try to solve the issue and improve your Spotify shuffle experience.
1. Log Out and Log in Again
If you're not happy with how Spotify shuffle is working, one of the first things you can try is logging out of your Spotify account and then logging in. This will reset the shuffle algorithm on Spotify and may give you a better experience. Go to Settings on the Spotify app and scroll down to click on the Log Out option.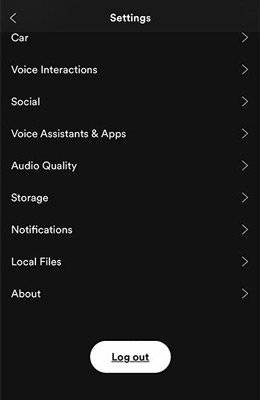 2. Update Spotify
If you're using an outdated version of Spotify, it's possible that the Spotify shuffle feature is not working properly. To fix this, update Spotify to the latest version. You should first check whether there is an update available. Click on your Spotify profile on the PC and if you see the "Update available. Restart now.", tap on it. And for mobile devices, find Spotify updates on app stores.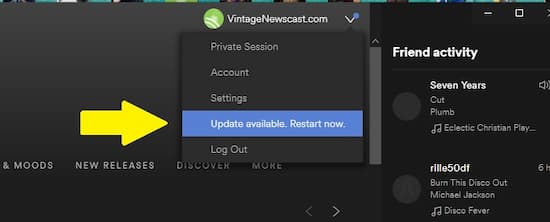 3. Reinstall Spotify
If updating Spotify doesn't help, you can try uninstalling and then reinstalling the Spotify app. This will remove any corrupted files that may be causing problems with the shuffle feature.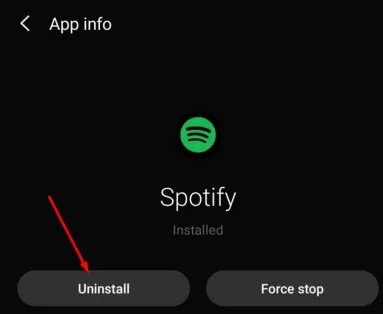 4. Sort Your Songs by Title
One way to improve Spotify shuffle is to sort your songs by title. This will make it less likely that similar songs will be played back constantly. To do this, go to your "Library" page and click on the "Songs" tab. Then, click the "Sort by" drop-down menu and select "Title".
5. Clear Spotify Cache
Spotify stores data in a cache, which can sometimes become corrupt. If you're having trouble with Spotify not shuffling, one thing you can try is clearing the Spotify cache. To clear Spotify cache, launch your Spotify app, go to Spotify Settings and click "Delete Cache" to clear up all the caches.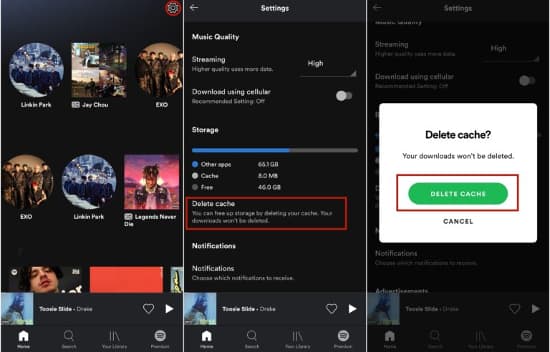 6. Use Third-Party Apps
Due to the Spotify algorithms, it's more possible that Spotify keeps shuffling songs with most same tracks. You can then look for help with third-party apps that can improve your Spotify shuffle experience. The apps will play Spotify playlists in a random way not based on your listening. Or you can simply use the media players that allow you to shuffle all of the songs in your library, not just those in playlists. But before that, downloading Spotify songs to your computer is necessary.
Here you will need a Spotify downloader, and AudKit SpotiLab Music Converter is for your purpose. It is a professional tool designed to download and convert Spotify music. With AudKit SpotiLab Music Converter, you can download Spotify songs, albums, and playlists at 5X faster while keeping the lossless quality. In addition, it can convert Spotify to MP3, FLAC, WAV, and other popular formats, which makes it easier to put Spotify on different media players or apps.
The best part is that AudKit SpotiLab Music Converter can preserve the ID3 tags and metadata of Spotify songs, so you don't have to worry about losing any important information while shuffling Spotify on other apps. You don't have to connect to the network to shuffle music from Spotify because it saves Spotify as local files that enable you to play offline.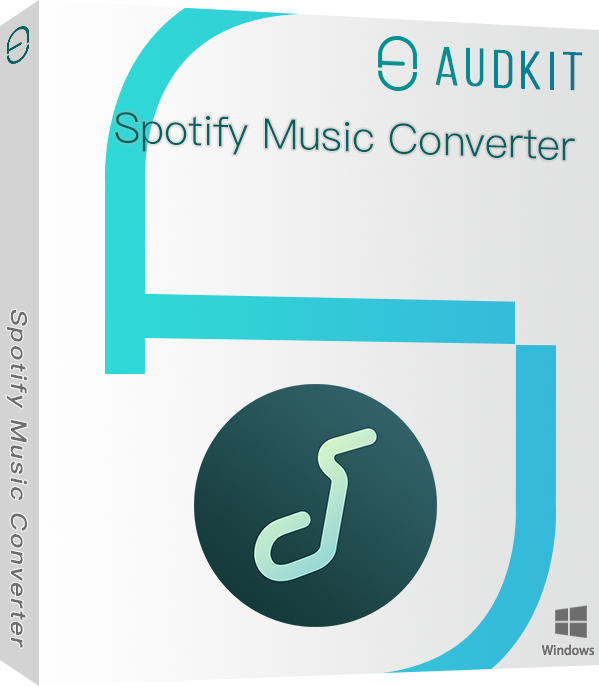 Convert Spotify to plain audio formats, such as WAV, FLAC, MP3
Keep the lossless sound quality of Spotify music tracks
Preserve all ID3 tags and metadata info of Spotify playlists
Support batch conversion of Spotify songs at 5X speed
Wondering how to download and play Spotify on other players without worrying about the Spotify shuffle sucks issue? Follow the 3 simple steps.
In the beginning, you must download and set up AudKit SpotiLab Music Converter on your computer. It can be downloaded on Mac and Windows computers. Launch the AudKit Spotify converter and the Spotify app will be opened automatically. You should log into your Spotify account as well.
Step 1 Choose Spotify playlists and add to AudKit software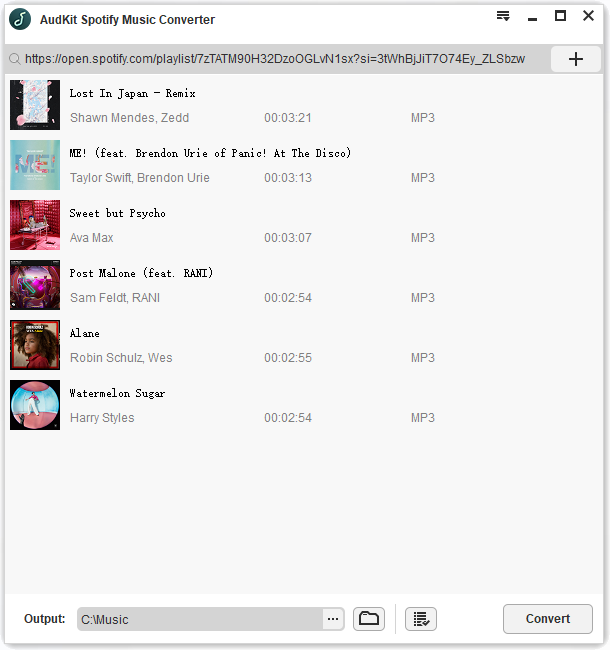 Now you can go to Spotify and find the songs, albums, or playlists you want to download. Then drag and drop the selected Spotify songs to the main interface of AudKit SpotiLab Music Converter. Or you can copy the link of the Spotify song and paste it to AudKit SpotiLab Music Converter. The AudKit software will analyze and load the song automatically by tapping the "+" sign.
Step 2 Set Spotify output format as MP3 files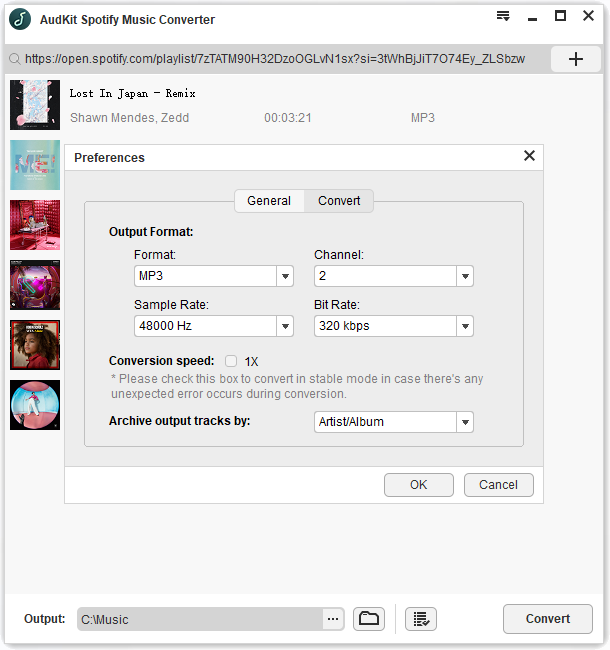 After adding the Spotify songs, you can click the menu and choose Preferences to customize the Spotify output. Tap the "Format" button and select MP3 as the Spotify output format. You can also change the Spotify bitrate, sample rate, channel, etc. Be sure you save all changes by pressing the OK button.
Step 3 Convert Spotify songs to MP3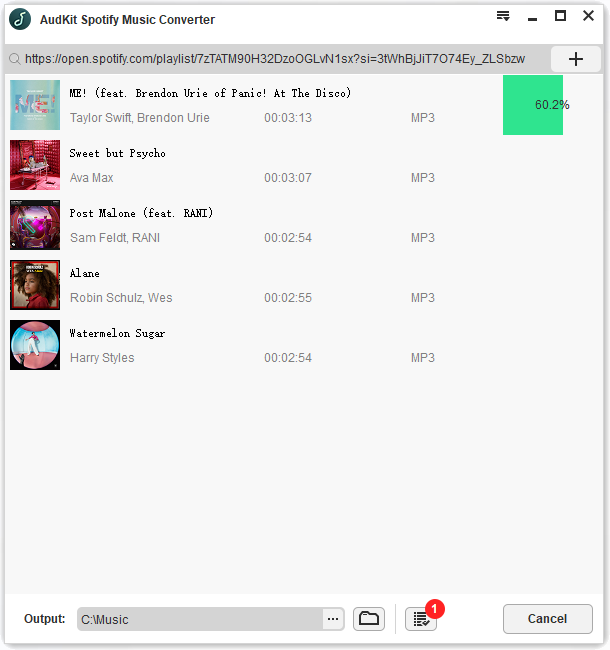 Finally, click the "Convert" button to download Spotify songs to MP3. Once the conversion is finished, you can click the "History" button to find the well-converted Spotify files. Now you can transfer and play the converted Spotify songs on any device or player without worrying about Spotify keeps shuffling songs with the same pieces.
---
Part 3. FAQs about Spotify Shuffle
1. Why Does My Spotify Not Shuffle Properly?
There are a few reasons why your Spotify might not be shuffling properly. One reason could be that you have the "Sort by" option set to something other than "Title". Another reason could be that your Spotify cache is corrupt. You can try clearing the Spotify cache to see if that helps. Finally, you can try using a third-party app to improve your Spotify shuffle experience.
2. Why Does My Spotify Keep Playing the Same Songs on Shuffle?
There are a few possible reasons why this might be happening:
You only shuffle playing a small number of songs: If you're only shuffle playing a small number of songs in the Spotify playlist, it's more likely that you'll hear the same songs repeatedly. You can try adding more songs to your shuffle playlists to fix this.
You have a lot of songs with the same title: If you have a lot of songs with the same title, it's more likely that Spotify will play the same song multiple times. To fix this, you can try renaming the songs with different titles.
You're using a third-party app: If you're using a third-party app to shuffle your Spotify songs, it's possible that the app is not working properly. You can try using a different app or downloading the songs with AudKit SpotiLab Music Converter to fix this.
3. What Is Spotify's Shuffle Algorithm?
Spotify's shuffle algorithm is a proprietary algorithm that determines which songs to play when you shuffle playing on Spotify. Unfortunately, Spotify does not release information about how its algorithm works. However, some users have reverse-engineered the algorithm and have found that it relies heavily on song popularity. This means that if you're shuffling and playing many songs, you're more likely to hear the same popular Spotify songs repeatedly.
4. Can You Make Spotify Shuffle Actually Random?
Yes, there are a few ways you can make Spotify shuffle more random. One way is to use a third-party app rather than Spotify that randomizes the order of your songs. Another way is to download Spotify playlists with AudKit SpotiLab Music Converter and then shuffle them in a media player as you please.
---
Part 4. Conclusion
So there you have it – how to fix Spotify shuffle sucks. A few ways to help Spotify shuffle suck a little less. If you're like me and rely on the randomness of shuffle mode to keep your Spotify music fresh, hopefully, at least one of these tips will make listening a bit more enjoyable. If you're unsatisfied with the first 5 solutions above, give the last fix a chance. The AudKit Spotify Music Converter can download the Spotify playlist offline and let you have a better shuffle with other apps.
---