With over 365 million active users and 70 million recordings to choose from, Spotify is one of the world's most prominent music streaming services. Most Spotify fans are obsessed with its exclusive HD-quality tracks and often want to enjoy their favourite songs repeatedly. This is where the Spotify playlist On Repeat comes in useful.
What is Spotify On Repeat playlist? It is a personalized blend of the 30 most-played songs over the past month. It is updated daily and automatically, so you do not need to create or manage it. You can relax and listen to the music you enjoy the most, while Spotify does its magic. But how do you find it?
This article will demonstrate how to find On Repeat playlist Spotify, regardless of your device or the app on a smartphone, tablet, computer, or smart speaker. We will also provide guidance on maximizing this feature and discovering new music along the way.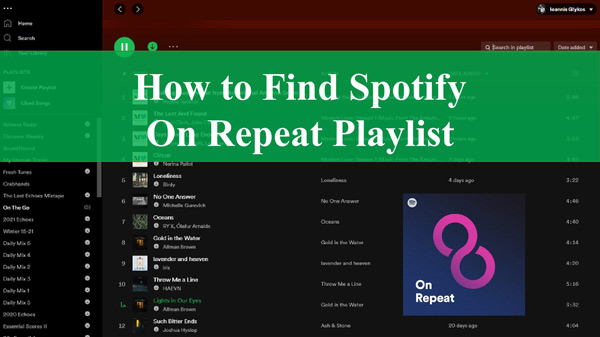 ---
Part 1. How to Find Your 'On Repeat' Playlist on Spotify
On Repeat is a wonderful feature to appreciate the songs you've been listening to the most over the past 30 days. But what if you cannot locate it on your home page or if you wish to access it without scrolling? Luckily, there are quicks methods to locate your On Repeat Spotify playlist.
Here are three alternative approaches to consider:
1.1 From Spotify Home Page
Step 1. To see your Spotify On Repeat playlist, start up the Spotify app and go to the Home page.
Step 2. Scroll down to the bottom and you will see the Unique Yours title shown. Find the On Repeat by shifting left.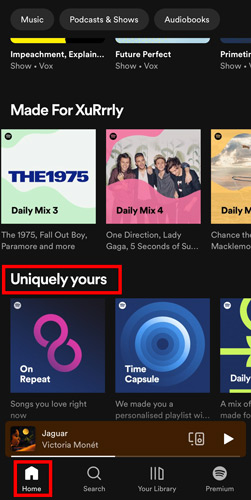 1.2 By Searching
Step 1. Launch the Spotify application and tap the Search bar.
Step 2. In the search box above, enter On Repeat.
Step 3. Select the On Repeat playlist curated by Spotify and mark Made for You from the search results.
Step 4. You can validate that a playlist is yours by checking the "Made for your username" message that appears beneath the playlist.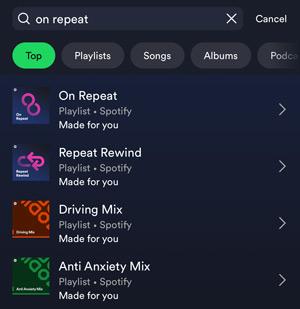 1.3 In the Make for You Section
Step 1. Launch Spotify on your mobile device and navigate to the Search in the app's banner.
Step 2. Find the Made for You section on the new page and tap it.
Step 3. Then scroll down to locate the Uniquely Yours catalog.
Step 4. To view and play your preferred Spotify recordings, click On Repeat.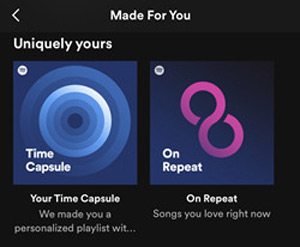 ---
Part 2. FAQs about the Spotify 'On Repeat' Playlist
Q1. How Often Does Spotify 'On Repeat' Update?
The Spotify On Repeat playlist is automatically updated daily based on the 30 songs you've listened to the most in the past month. You don't need to do anything to keep it updated; Spotify will take care of everything automatically.
Q2. Why Is Spotify On Repeat Playlist Not Updating?
There are several possible causes for why your Spotify On Repeat playlist can not be updated. One likelihood is that you have not listened to enough music on Spotify in the past month. The 'On Repeat' playlist is determined by your 30-day listening history, so if you have not listened to some new music recently in frequency, the list will not replace the most repeated songs.
Q3. Does the On Repeat Playlist Rank the Most-Listened Songs in Order?
No, the On Repeat playlist does not arrange the most-played songs by popularity. It merely displays a combination of the 30 songs you've played the most in the past 30 days, regardless of how often or when you played them. Occasionally, the order of the tracks can alter, but this does not reflect their prevalence or frequency. You can randomly shuffle or bypass songs or play them in order.
---
Part 3. Best Way to Keep Spotify on Repeat Playlist Offline
If you love listening to your Spotify On Repeat playlist, you might want to keep it offline for various reasons. Maybe you want to save data usage, avoid ads, or enjoy your music without interruptions. But how can you do that when Spotify only allows you to download songs for offline listening within the app?
The answer is AudKit Spotify Music Converter, a powerful and professional tool that can help you convert and download any Spotify song, playlist, album, podcast, or audiobook to your local device. With AudKit Spotify Playlist Downloader, you can easily keep your Spotify On Repeat playlist offline in any format you want as it supports various output formats like MP3, AAC, WAV, FLAC, M4A, and M4B. You can choose the format that suits your needs and preferences.
The AudKit converter also preserves the lossless sound quality of the original Spotify songs, so you don't have to worry about compromising the audio quality. Moreover, it boasts a 5X conversion speed so that you can convert and download your Spotify On Repeat playlist in minutes. The tool also keeps the original ID3 tags and metadata of the songs, such as title, artist, album, genre, track number, etc. This way, you can easily organize and manage your offline music library.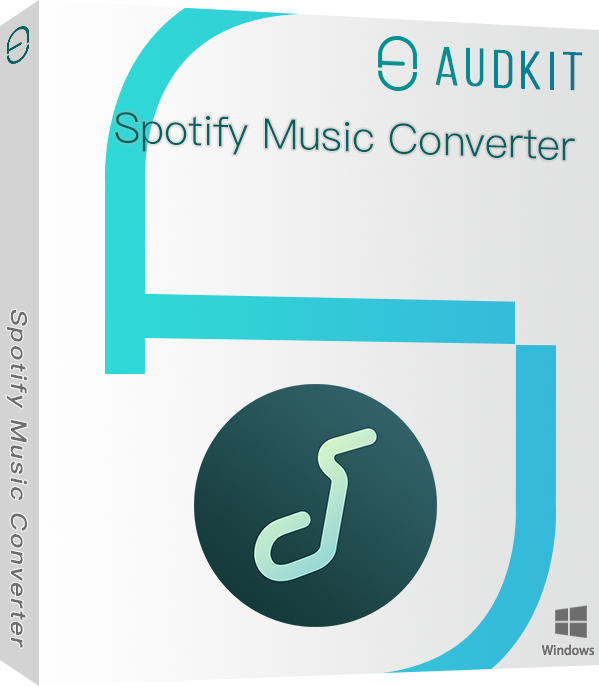 Save Spotify music offline to listen to it on multiple devices
Download Spotify to MP3, FLAC, and other various options
Convert songs from Spotify on the desktop at 5X speed and in batches
Retain original audio quality (up to 320 kbps) and ID3 tags of Spotify
Follow these steps to keep the On Repeat Spotify playlist offline using AudKit Spotify Music Converter.
Step 1: Download and launch AudKit Spotify Music Converter on your PC. It is 100% safe to install it.
Step 2: To import media, head to the Spotify app that opens along with the AudKit app. You can follow the steps in Part 1 to know how to find your On Repeat on Spotify. Locate the playlist, right-click on it, and select the "Share" > "Copy link to playlist" option. Now, go back to AudKit, paste the link in the URL tab, and click on the "+" button.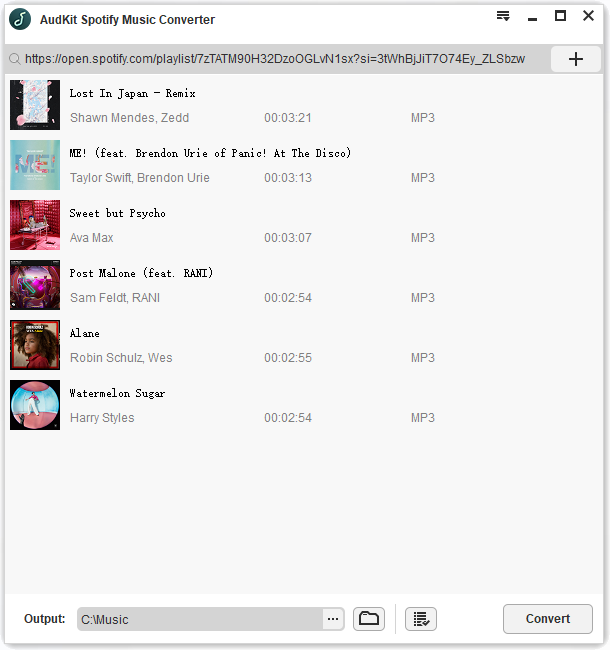 Step 3: Next, select "Preferences" from the top menu bar of the AudKit application. In the "Convert" tab, choose the output format from various options such as MP3, AAC, M4A, M4B, FLAC, or WAV. Also adjust other parameters such as channels, sample rate, bit rate, etc. When all are set perfectly, press "OK" to save them.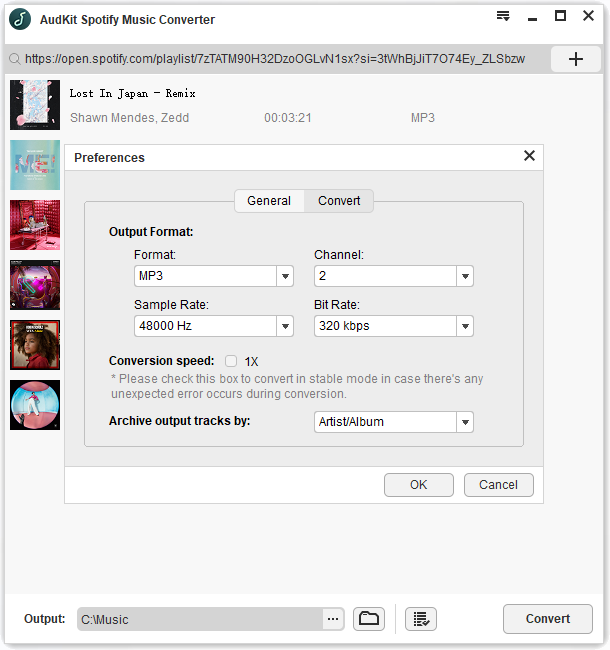 Step 4: In the end, start downloading Spotify playlist by clicking the "Convert" button from AudKit's right corner. They will be automatically saved to the selected folder on your PC.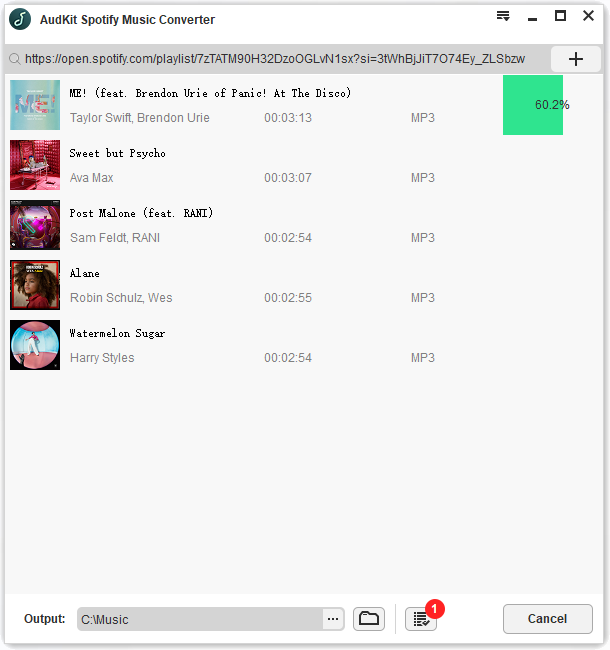 ---
Part 4. Summary
Well, this is how to find On Repeat playlist Spotify on different devices. The On Repeat playlist on Spotify is an excellent feature that allows you to listen to your preferred songs repeatedly. You can access it via your Home page, the Search function, or the Made for You section.
To retain your Spotify On Repeat playlist offline for free, however, you would benefit from a dependable and effective tool such as AudKit Spotify Music Converter. This incredible software allows you to convert and download not only Spotify playlists and songs but, most significantly, podcasts and audiobooks to your local device in the desired format.
You can also enjoy the songs' lossless sound quality, 5X conversion speed, and original ID3 tags. With the Spotify downloader, AudKit, you can have your Spotify On Repeat playlist offline forever with its lossless audio quality. Download it now and give it a shot!
---