How can one download Spotify Podcast to MP3? The music streaming giant is one of the world's most popular. And it is growing bigger than music streaming. Today, Spotify is a unique place to listen and download some of the best podcasts.
But there's a catch: Even if you're a premium subscriber of Spotify, you can't play the Spotify podcasts you download on other media players or devices because of the protection.
And if you're like many other people, you might be wondering about how to download Spotify podcasts to MP3 for playback on any device. One thing is for sure: You'll need to convert the Spotify podcasts to a plain format like MP3 for unlimited playbacks. We'll talk more about how to convert Spotify podcasts to MP3 just in a minute. But first, what's the official way to download podcasts from Spotify?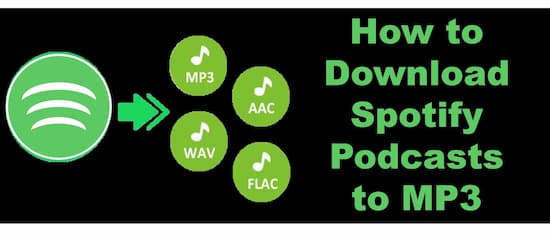 ---
Part 1. How to Download Podcasts from Spotify: Official Way
If you're a subscriber of Spotify premium, you can download podcasts offline for playback of using the Download function. Here's a step-by-step instruction to show you the entire process:
Step 1: Choose a podcast of your preference on Spotify
Head over to the Spotify app on your smartphone and explore the available podcasts. Next, identify the podcast you wish to download and hit the three-dot icon on your right of the episode screen.
Step 2: Initiate Download of the Spotify Podcasts
On hitting the three dots icon, you'll see a Download button. Tap on it to save the podcast to Your Library. The downloading will take some time, depending on the size of the podcast.
Step 3: Activate Offline Mode
Navigate through the Spotify app to find Your Libray. Then, select Settings and find the Playback option. Next, switch on Offline.
And that's it. You can listen to Spotify podcasts even when you aren't on the internet but only within the Spotify app.
But how do you play your favorite podcast offline and off the Spotify app—even with a free plan? It would require you to go a notch higher. You'd need to convert Spotify podcasts to MP3. This begs the question: Which is the best Spotify Podcast converter? Let's find out right now.
---
Part 2. The Best Spotify Podcasts to MP3 Converter
Since 2019, Spotify has been taking action on the increased focus on the podcast industry. After it acquired Parcast, it immediately gained two startups—Gilmet Media and Anchor. Meaning, Spotify subscribers will have access to plenty of exciting podcasts.
What's more interesting is that you have access even to video podcasts.
While the Spotify Premium plan enables podcast download, you might want more control over your downloads. And that's where converting Spotify podcasts to MP3 comes in handy—an action that demands professional tools. And AudKit Spotify Music Converter is such a tool.
Why choose AudKit to convert Spotify podcasts to MP3? Let's check its key features.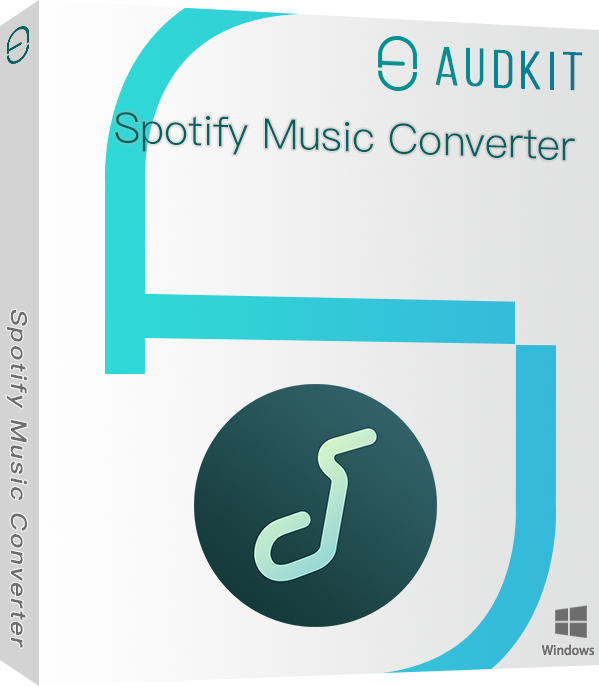 Present multiple audio formats for excellent compatibility with any device
Up to 5X faster conversion speed to download Spotify podcasts
Batch convert and download podcasts from Spotify at once
Retain 100% lossless sound quality and preserve raw metadata
With that, it is time to go to the main thing: How do you use AudKit to download Spotify Podcasts to MP3 and enjoy limitless audio playback? Let's find out right now.
---
Part 3. How to Convert Spotify Podcasts to MP3: Step by Step
To convert Spotify Podcasts to MP3 with AudKit, you'll follow the same process as the Spotify music conversion. Only that this time you'll be dealing with podcasts. Here's an in-depth guide.
Tip: Please head over to AudKit official website, download, and install the program version that's right for your PC. There is Windows and Mac version.
Step 1 Launch Audkit and add Spotify podcasts lists to it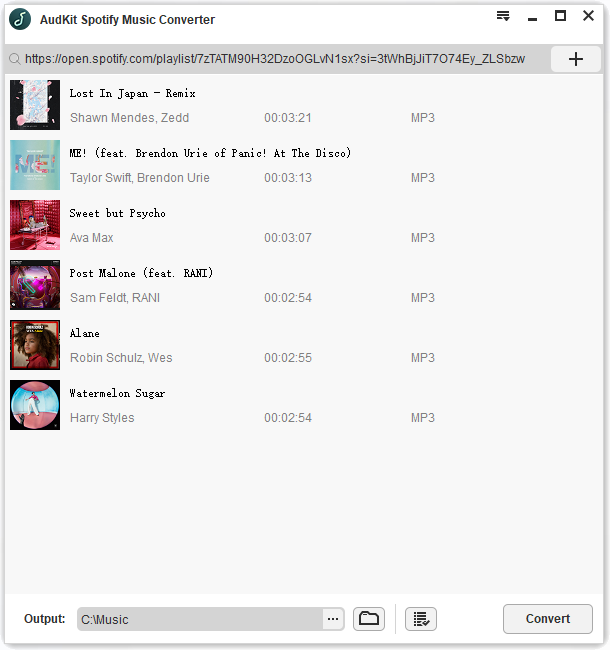 Running AudKit automatically starts your Spotify desktop app. Once Spotify opens, browse through to select the podcasts you intend to download. Once you find them, there are two ways you can employ to import your selection to the AudKit interface: Directly drag and drop your selection. Or copy and paste the URL of the podcast in the search tab of AudKit. Choose one alternative.
Step 2 Select the output format of Spotify podcasts to MP3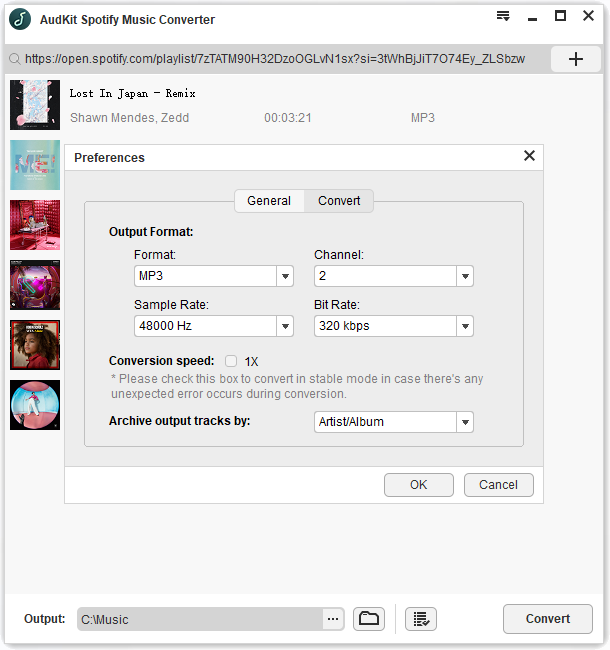 After dragging and dropping the Spotify podcasts of your preference, hit the Menu icon on the top of AudKit's interface and go for the Preference option. A small window will pop up. On the popup window, select the output settings you prefer. Now, hit the OK tab to save the settings.
Step 3 Convert and download Spotify Podcasts to MP3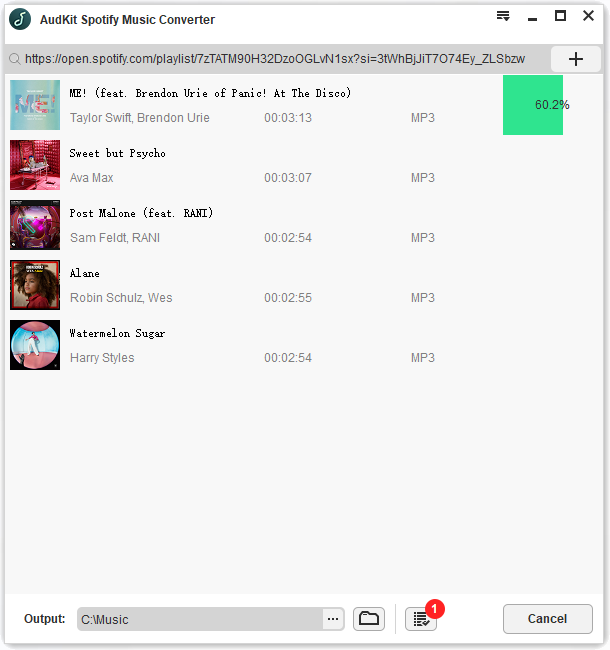 When the small popup window disappears, hit the Convert button at the bottom right of the interface to initiate the conversion. A green bar will appear on your right showing the conversion progress. Conversion might take some minutes, depending on the size and the number of podcasts you're converting. You can refrain from using other programs during the conversion for a more stable process. The converted podcasts will save in your local storage, ready for listening.
And that's it. You finally have your favorite Spotify podcast in MP3 format, and you can play it on any platform of your preference.
Spotify is doing a makeover of its streaming service to bring you plenty of podcasts—regardless of the plan you subscribe to.
But you can't officially download Spotify podcasts with the Free plan—you'll need a Premium Plan. And even with the Premium subscription, your downloads still come with plenty of restrictions. And that's when it might require you to convert Spotify podcasts to MP3 or any other plain format.
Conversion allows you to enjoy your favorite Spotify podcasts on multiple media players like VLC, iTunes, Quicktime Player, or Windows Media Player. And you'd want to give AudKit a shot to get the download and conversion job done.