Spotify is one of the most famous and biggest streaming services listen all over the world. It is only natural to assume that our phone's storage may not be enough to store all our favorite songs. We most probably need to store songs on secondary storage, which is fortunately possible. Spotify allows you to store songs on an SD card, but unfortunately, this feature is only available for premium users. Spotify does not allow the free members to store songs from its library on to an SD card.
So, what happens in the case if we want to move Spotify to an SD card using a free Spotify account, is it possible? The answer is yes; we can. Now the arises that how can we do that; in this article, we are going to discuss how to move Spotify music to an SD card without a Spotify premium account.

---
Part 1. How to Move Spotify to SD Card via AudKit Spotify Converter
It is possible to move Spotify music to an SD card directly, but this feature is only available for the Spotify premium users. The free users can only listen to songs if they have an internet connection, but it comes with many drawbacks that can be a pain in the back. So we are going to use an alternative method to store songs on an SD card without having a premium account.
The app that we are going to use today is called AudKit Spotify Music Converter, known as the best Spotify converter on the planet. This smart tool comes equipped with amazing, intelligent technology that allows it to download and convert the songs from Spotify by breaking the encryption. As we know, Spotify songs come equipped with encryption that stops them from being played on any media player; AudKit easily breaks that encryption and convert Spotify to MP3 and other common formats. In this way, you are able to play Spotify songs on any third-party media player.
In addition, AudKit Spotify Converter allows you to retain 100% sound quality by preserving ID3 tags and metadata. It can easily download up to a hundred songs in one go at 5X faster speeds than any other converter. Once you download Spotify songs, it is yours to keep forever, and you can listen to it whenever without being online. Now we are going to give you a detailed guide on how to use AudKit Spotify Music Converter to download and store songs on an SD card from Spotify.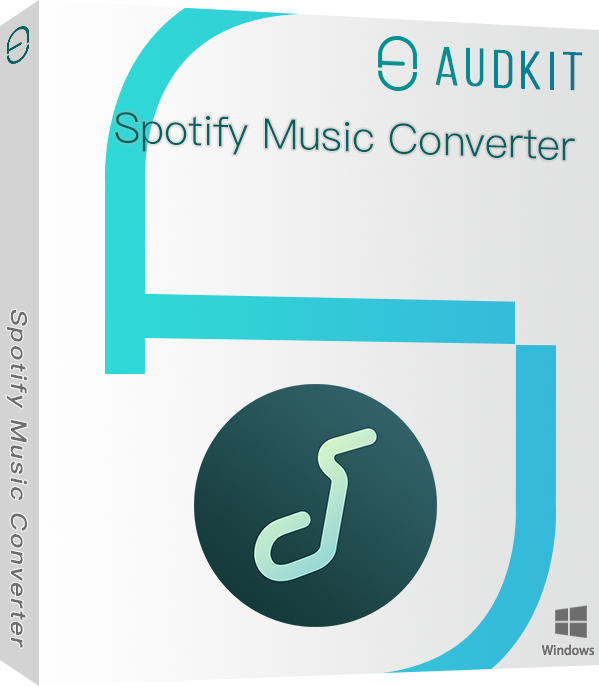 Compatible with Spotify songs, playlists, podcasts, etc.
Customize output audio quality and ID3 tags as you like
Keep 100% lossless sound quality after conversion
Offline play Spotify music without Spotify Premium
Step 1 Open AudKit and import Spotify songs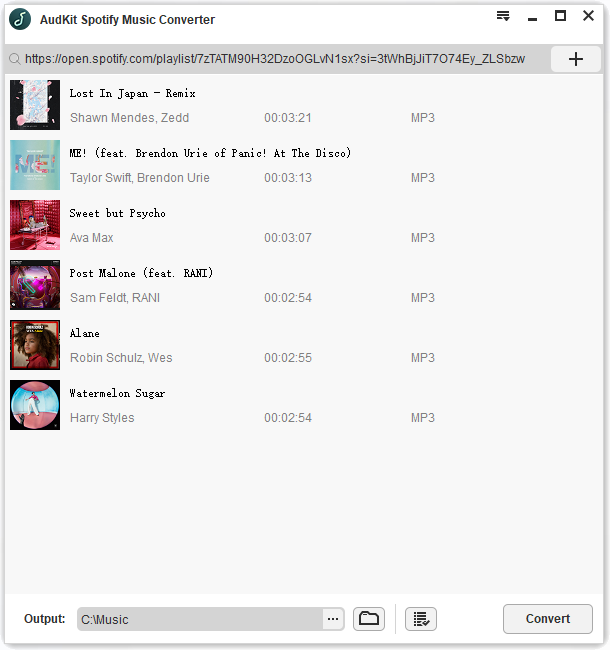 The initial step is to make sure you already have AudKit Spotify Converter installed on your desktop, and if you do, you have to register it. You can perform the above-given task; all you need to do is to go to AudKit's official website, download it and register it by following the given guide. Now we begin the importing process by going to Spotify's website and finding your desired songs. Now that you have found your desired song copy its URL link and paste it in the input field on the main interface of the AudKit. Another way to import songs into AudKit program is to use the drag-and-drop gesture.
Step 2 Adjust the format of the Spotify songs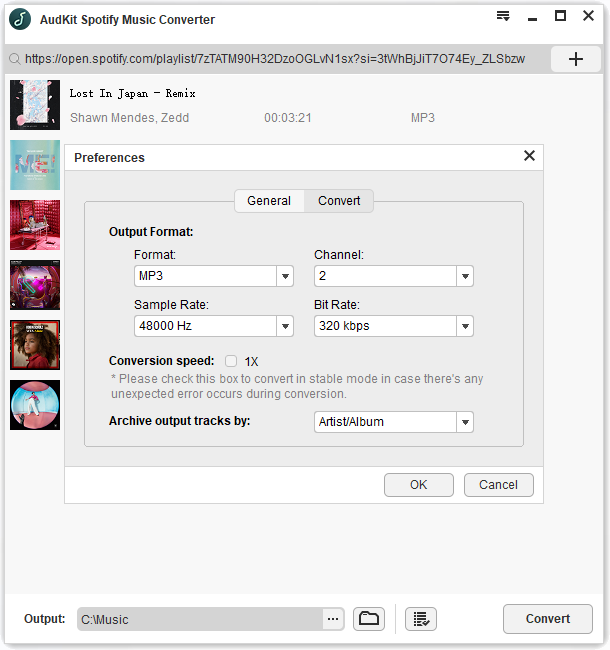 The next step in this guide is to ensure that you have the best settings before you start the downloading process. To do that, open the settings tab by clicking on the "Preference" icon. After that, you can change the format from the "Formats" tab. It supports multiple formats like MP3, M4A, FLAC, etc. To get the best sound quality possible, change the bit rate to 320 Kbps and the refresh rate to 48,000 Hz.
Step 3 Download songs from Spotify to SD cards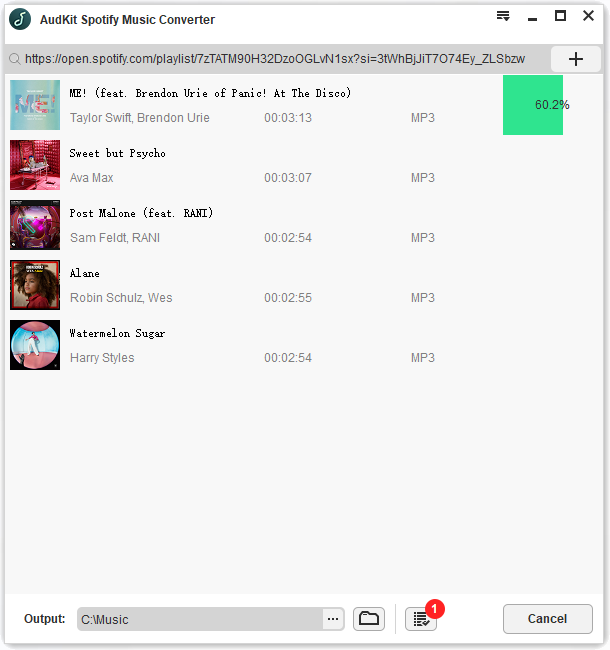 The next step on this list is to begin the downloading cycle. After you are satisfied with your settings, you can confirm the settings by clicking on the "OK" button; it will also close the settings tab. Once you do that, you can start the downloading by tapping on the "Convert" button, and it is as simple as that. After clicking on the download button, it will start downloading, and it will be completed in a matter of seconds. Once it is downloaded, it will be available to use in the destination folder. Now we can move to the final step of this guide.
Step 4 Moving the songs to the SD card
After you are done following the above-given steps, you will be left with Spotify songs that are no longer encrypted, and you can store them wherever you want, which in this case is an SD card. Now, first of all, insert the SD card into the computer through an SD card slot or an SD card reader if you don't have an SD card slot. Now go to the destination folder, copy the desired Spotify songs and paste them into the SD card. Now you can play Spotify songs on any device that supports an SD card without a Spotify premium account.
---
Part 2. How to Move Spotify Music to SD Card: Spotify Premium Only
Spotify is the largest music streaming service, has a library of 20 million songs. You can only access these songs with the help of the internet if you do not have a premium account. However, if you have a premium account, you can easily store them on any device, including an SD card. Now we're going to give you a step-by-step guide on how to move Spotify to an SD card.
Step 1. Launch the Spotify mobile app and go to the "My Library" tab.
Step 2. Now click on the gear icon to open the settings, and after that, click on the "Storage" button to access storage settings.
Step 3. Now the last step is to select the SD card as the primary storage, and you are good to go.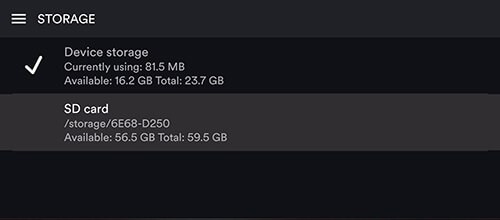 ---
Conclusion
Now that you are at the end of this article means that you have this whole article, and you are now able to store Spotify songs on an SD card both directly and indirectly. We suggest you use the first method because it is a great way to store songs from Spotify on an SD card without needing a premium account.