Spotify gift cards and eGift cards are money-denominated cards with a value or balance (such as $60) that can be redeemed for full-price standalone Premium subscription months. Subscription Cards and eCards have no value or remaining balance and are valued in months of Premium subscription services (for example, six months). Gift cards are neither subscription cards nor electronic cards. Premium Codes and PINs can be valued in either a currency or in service months. If you are wondering how to get and redeem Spotify gift card, read on. This post will cover, you will also know more tips about Spotify gift card redeem.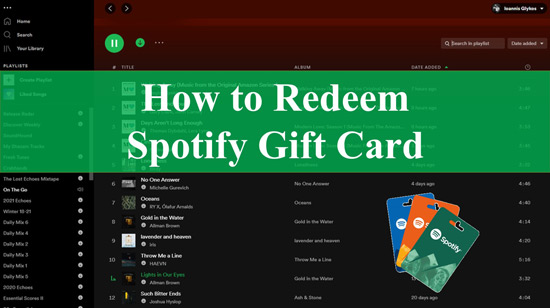 ---
Part 1. How to Get Spotify Gift Card in Four Ways
If you want to buy a Spotify gift card to give to someone. You can follow the ways below to get a Spotify gift card.
Way 1: Spotify Official Website
To redeem the card, please visit www.spotify.com/redeem. You need to have signed up for a Spotify account in order to be qualified to redeem or use the card. You must meet the necessary age requirements (and any other requirements) listed in the Spotify Terms and Conditions of Use in order to use or sign up for a Spotify account. You must also agree to the Spotify Terms and Conditions of Use.
Way 2: Shopping Websites Authorized by Spotify
Amazon, Target, Best Buy, CVS, and PayPal are just a few of the retailers from where you can get Spotify gift cards both online and offline. All of the presents can be redeemed online for the digital version, which only requires the recipient's email address.
Way 3: Free Spotify Gift Cards Website
There are many sites that claim to offer no-fee Spotify cards, including spotifycoupon.blogspot.com, spotifyfreeaccount.com, and onlinespotifycode.com. They're worth a try, but you will need to earn points by participating in games, winning coupons, and completing surveys. By doing these simple things, you can later exchange your points for the gift card of your choice.
Way 4: Offline Approved Stores
You can buy a Spotify card in the United States from places like Walmart, 7-Eleven, and Target. These merchants have the authority to provide Spotify gift cards for sale.
---
Part 2. How to Redeem Spotify Gift Card
When you first receive a Spotify gift card, try not to get too enthusiastic because you have to use the card. It's simple to use a Spotify gift card. You can follow the steps below on how to redeem Spotify gift card on mobile or desktop.
Step 1: Visit Spotify's official website on your Google browser.
Step 2: Sign into your Spotify account. Create one if it's your first time using Spotify.
Step 3: When you finish signing in, click your username in the upper right corner and choose "Account".
Step 4: Scroll down the page and select "Redeem" on the left side.
Step 5: Enter the code on the back of your gift card.
Step 6: Enter your address and zip code, then click the "Continue" button to complete the process.
---
Part 3. How to Enjoy Spotify Premium without Redeeming a Gift Card
If you redeem a Spotify gift card, you can get a Spotify Premium subscription for months. Spotify Premium is designed to give users better service like a download feature, no-ads interrupt, unlimited skips, and so on. In this section, we will provide you with a way to get Spotify Premium without a Spotify gift card. In other words, you can enjoy Spotify Premium's features with a Spotify Free account.
You just need to use a professional tool called AudKit SpotiLab Music Converter. It enables you to download Spotify songs, albums, playlists, and podcasts with a Spotify Free account. After downloading, you can enjoy no-ads Spotify music offline. The downloads are also stored as your own so you can use them as you want.
AudKit Spotify Music Converter's primary advantages include its understanding of the various output formats, lossless sound quality, 5-times faster conversion speed, and original ID3 tags. AudKit Spotify Music Converter is capable of converting to many audio formats including MP3, FLAC, AAC, etc. Up to 100 tracks can be loaded simultaneously with this sophisticated Spotify downloader.
Furthermore, there is no upper limit on conversions for Spotify songs. By mass importing a sizable number of songs from your free or premium account using AudKit Spotify Music Downloader, music from Spotify for Mac and PC may be downloaded with just one click. You can click the Download button below to get this powerful Spotify downloader.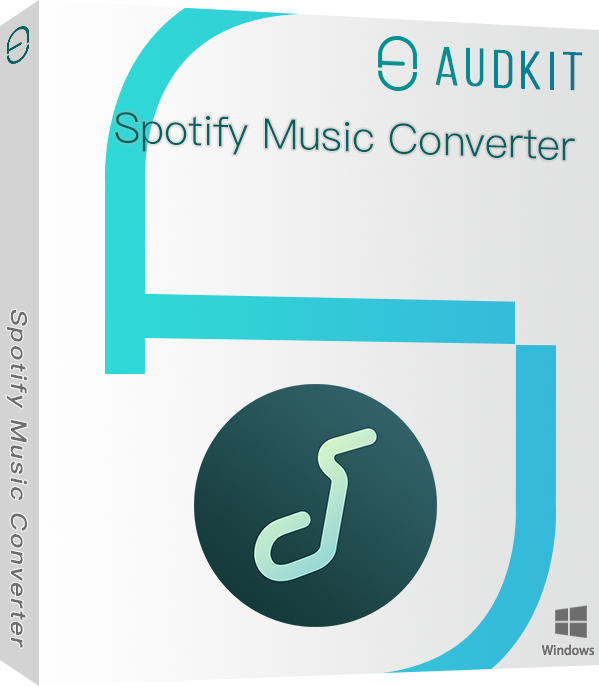 Download Spotify songs at 5X or faster speed
Convert Spotify music to MP3 with lossless quality
Make Spotify tracks playable in any player and device
Enjoy Spotify music without ads interrupt
Step 1 Drop songs from Spotify to the AudKit converter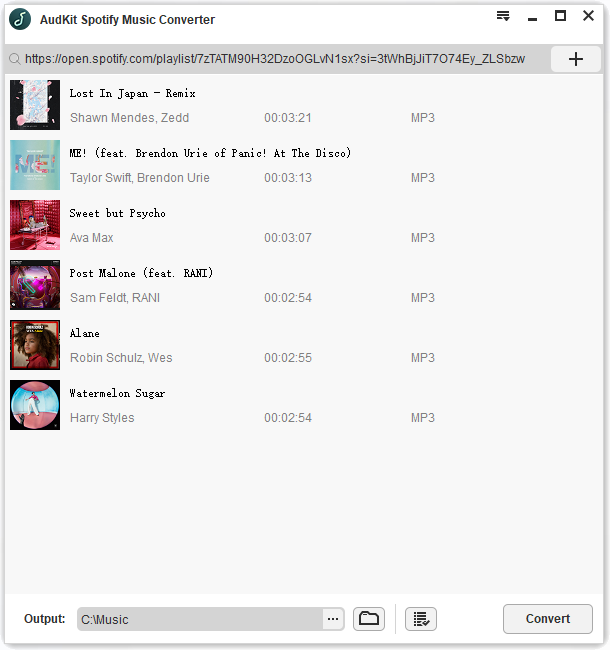 You can use the Spotify app to browse and select music, albums, or playlists whether you are a paid or free user of the service. Copy the song link by right-clicking on the song you wish to share. Paste the link into the search field in the AudKit Spotify Downloader. Simply choose the "+" tab to import it. You could also just drag and drop songs from Spotify into the converter.
Step 2 Adjust the output settings for Spotify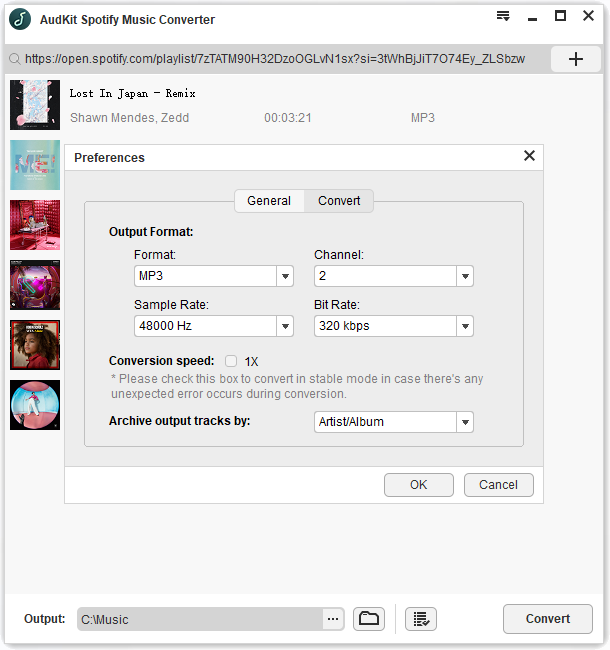 From the menu on the top taskbar, choose Preferences. By choosing the Convert option, you can change the output format to MP3, AAC, M4A, M4B, FLAC, or WAV. Channels, sample rate, bit rate, and the way output tracks are preserved are among the additional audio properties that can be modified. By default, the AudKit Spotify Music Converter for Windows operates at a 5X speed. If you require a more reliable conversion, please reduce the conversion speed to 1X.
Step 3 Convert and download Spotify songs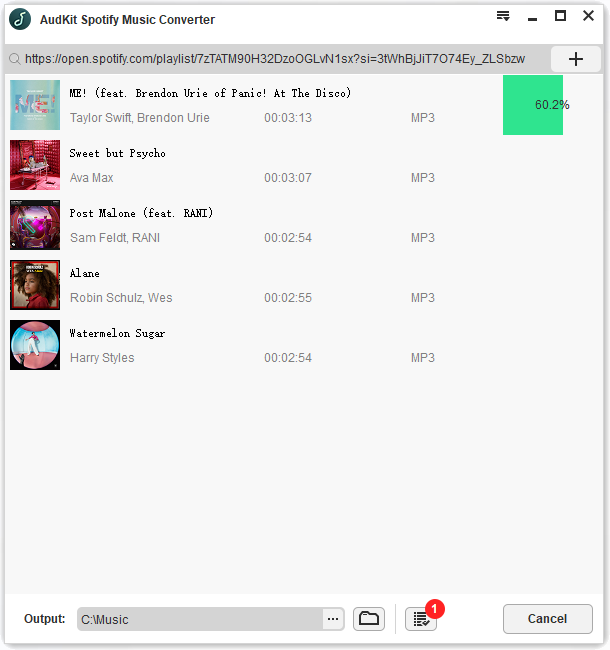 Tap the Convert button in the lower right corner. The application will start the conversion based on your needs. Once the conversion procedure is finished, all songs that have been downloaded from Spotify will be saved in the local folder. You can access the folder by clicking the folder icon near the bottom. You may now listen to Spotify on multiple devices, anytime, and anywhere.
---
Part 4. More Tips about Redeeming Spotify Gift Card
Before redeeming a Spotify gift card from any source, make sure that you have signed in/up to your Spotify account.
If your Spotify gift card is not redeeming, make sure to clear your computer's cache.
You cannot stack two one-year cards on top of each other. You can only redeem a 12-month card if there are 6 months of redeemed cards left on the account.
You can use a Spotify gift card to pay for a Spotify Premium subscription, which allows you to download songs, create playlists, and listen to music ad-free.
Having a look at my codes appears that they are normally 10 characters/digits long.
---
Final Thoughts
A Spotify gift card or eGift card is used for a Spotify Premium subscription, the full value of the card will be used to purchase a number of months of subscription equal to the total value of the card, divided by the per-month subscription fee.
There are many ways to redeem Spotify gift card for Spotify Premium but the best way is to use AudKit Spotify Music Converter. It allows you to enjoy Spotify Premium with a Spotify Free account. You can download more than 82 million Spotify songs, playlists, albums, podcasts, audiobooks, and radio stations. AudKit emphasizes the various output formats, lossless sound quality, 5X conversion speed, original ID3 tags, and many more.