We all love visiting Spotify to enjoy our favorite songs in high-quality sound from all genres and download Spotify music to our computer. Imagine what it would feel like when you know you can get a record of every activity you've done on Spotify in the past few months.
For many people, this may sound unrealistic, but Spotify receipts make it easy. Generating Spotify receipts has become a matter of seconds, and guess what? This article will cover a detailed tutorial to get Spotify receipts.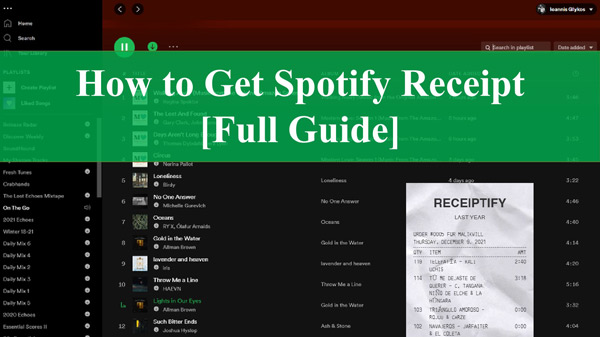 ---
Part 1. Receiptify – Things You Need to Know
What Is Receiptify
Before revealing the proper ways to help you know how to get Spotify receipts, it is necessary to explain what Receiptify Spotify is. Receiptify is nothing but a top-notch track generator. It is qualified to collect all the information about the music you have listened to on Spotify in the last six months.
It scans Spotify's listening history and comes up with Spotify receipts containing the top songs you listen to on Spotify. In short, Receiptify is designed to turn your Spotify listening habits and daily routines into Spotify receipts.
So, all you need to do is connect your Spotify account. And Receiptify will appear with a printable, personalized, downloadable receipt of your listening habits. It helps you see the top 10 songs, the name of the artist, the duration, and the barcode. You can also find the name and data of your receipt.
Main Feature of Receiptify
Integrated with Spotify, Apple, and Last FM
Comes up with the effortless user interface
Collects the data of the most played tracks of the listening history
It helps you see the ten most frequently played music tracks
It is a web-based Spotify receipt app
---
Part 2. How to Get Spotify Receipt with Receiptify
How to Create Spotify Stats Receipt
Getting the Spotify stats receipt via Receiptify is pretty simple. All you need to do is follow the step guide below.
Step 1: First navigate to the Receiptify website on your mobile or web browser.
Step 2: Tap the green button and enter the Spotify account credentials there.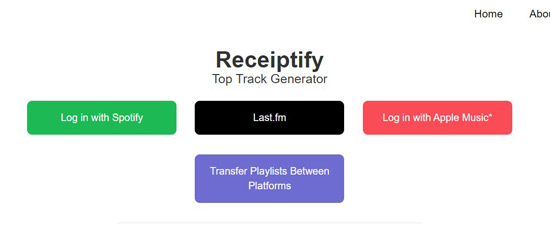 Step 3: After logging in with your Spotify account, you can access the most listened-to songs with receipts in three different categories. These categories are past 6 months, all time, and last month. Select any category from there to see Spotify receipt.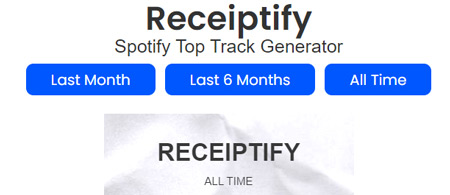 Step 4: To download Spotify receipts, you'll need to click on the "Download Image" icon. It allows you to download the receipt on your mobile device.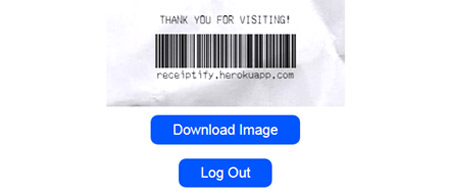 How to Share Spotify Music Receipts with Others
Once the Spotify receipt is generated, you'll get a copy on your mobile device. Now you can judge the longevity of the music you play by seeing how much you spent on a premium package from Spotify. The receipt will also show you the name of the song, the artist, and a description of your song.
You can take a picture of your Spotify Music receipt and save it on your phone. After taking a screenshot of your receipt, you can post it to various social media platforms, including Instagram, Facebook, Twitter, etc.
---
Part 3. How to Download Favorite Songs on Spotify Receipt
After getting your Spotify monthly receipt, you may have learned about your previous habits of listening to Spotify songs. Can you download the songs that appear on your Spotify receipt? Downloading Spotify songs without premium can be a daunting task, but AudKit SpotiLab Music Converter comes to make it easy. This commendable music converter can download Spotify Music to MP3, FLAC, WAV, etc. without premium.
Moreover, it doesn't affect the sound quality of the Spotify songs you tend to download. The proposed 5X conversion speed is also the icing on the cake. If you are a newcomer aiming to download Spotify music in MP3 format for the first time, choosing AudKit SpotiLab Music Converter becomes even more important. It offers an intuitive user interface and a great experience to download favorite music on Spotify receipts to the computer locally.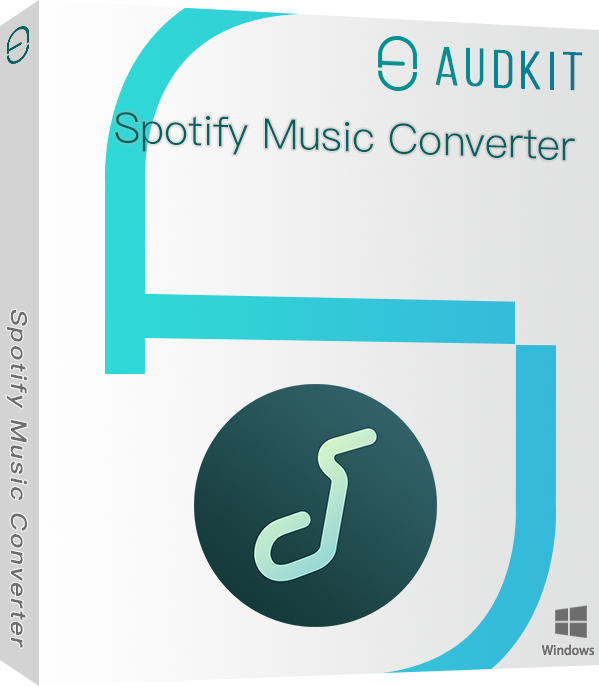 Main Features of AudKit Spotify Music Converter
Download Spotify songs in lossless quality
Convert songs on Spotify receipts to MP3, FLAC, WAV, etc.
Batch conversion at 5X faster speed
Retain the ID3 tags and metadata information
How to Download Spotify Receipts
Step 1: Install AudKit SpotiLab Music Converter on your PC, and launch it afterward. Copy the URL of a Spotify playlist or songs you want to download. Paste the URL of the song into the search bar and click on the "+" icon.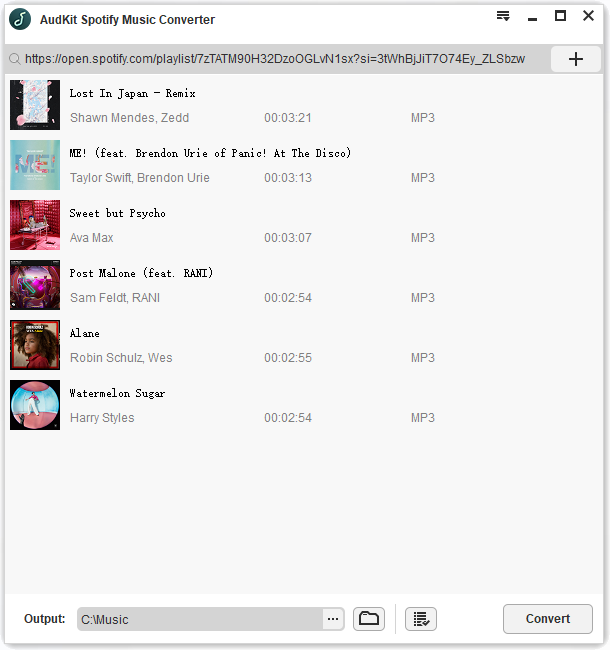 Step 2: Click on the Preferences and then Convert icons. Now you can adjust the output settings, including bitrate, output format, sample rate, and so on. If you want to listen to Spotify offline on numerous devices, choosing MP3 as your target format will be the best. After setting all the parameters, you need to click the "OK" icon to save all the changes you have made.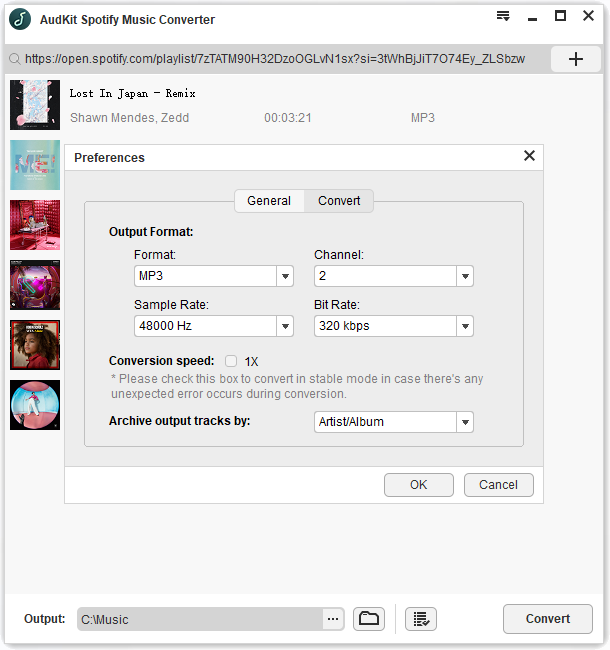 Step 3: Click the "Convert" icon to download Spotify music to the desired audio format. Since AudKit SpotiLab Music Converter comes up with a 5X conversion speed, downloading Spotify songs will be super easy. Once done, you can access these Spotify music downloads from the "Converted" tab.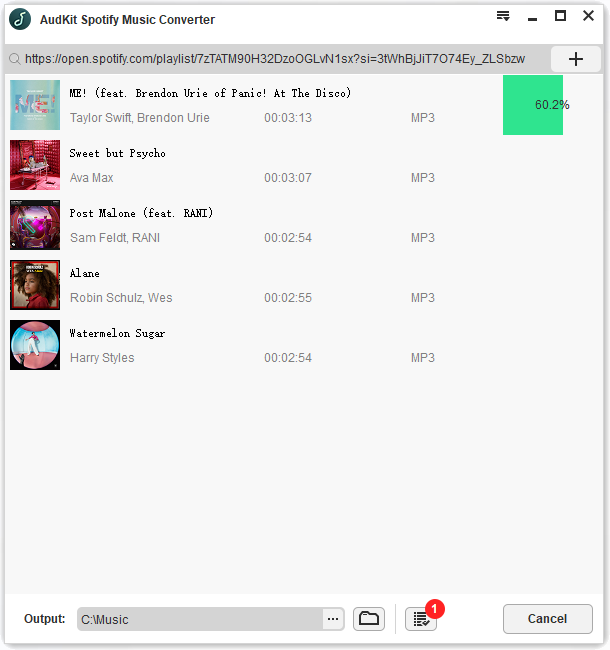 ---
Part 4. Final Thoughts
This guide will help you learn everything you need to know about Spotify receipts. In addition to introducing Receiptify, you will also learn how to see, get, and download Spotify receipts. If you want to download the songs listed there after seeing the Spotify receipt, you can do your job with AudKit SpotiLab Music Converter because it can download Spotify Music without premium locally in lossless quality.
---
---
---