Like most music listeners today, you probably prefer streaming services like Spotify, iTunes Music, or Amazon Music. Spotify, one of the top and finest music streaming services, continues to provide all of the necessary gestures for your music listening journey. Its services and products are easily accessible, reasonably priced, and convenient for all listeners. The ideal method to listen to music, though, is to have access to your local library. Obviously, smartphones feature a lot of free storage space where you may save all of your favorite songs.
However, if you cannot manage your library, you will want an excellent media player to accommodate your collections, and Poweramp is just that tool. If you're unaware of how to use Poweramp Spotify, you're in the right spot. In this article, you'll discover the finest ways to use Spotify Poweramp to listen to Spotify music. Let's get going!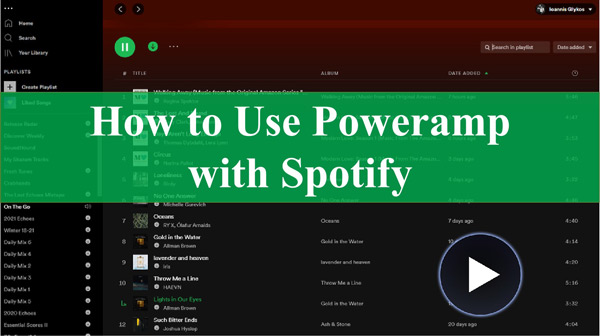 ---
Part 1. Poweramp Music Player: Brief Introduction
Poweramp is one of the most well-known and respected music players. It is one of the greatest music players accessible, with hundreds of features, for anybody serious about offline listening. Poweramp's customization possibilities alone put it miles ahead of the competition. This music player accepts various audio formats, including WMA, FLAC, WAV, M4A, MP4, and MP3. It also has features like a lock screen player, headphones, and even a sleep timer, which are essential for enjoying your beautiful music.
Poweramp was noted for its audio quality, as well as its extensive feature set, back in the day. The tool achieves great sound quality across all devices using its own audio decoders. It may also have a custom music visualizer in the backdrop of the player UI. Poweramp's dedication to excellent audio fidelity, outstanding functionality, and fantastic usability will be just as appealing if you prefer better-quality audio files.
---
Part 2. How to Get Spotify Poweramp to Work
Does Poweramp work with Spotify? You cannot listen to Spotify songs outside the app due to its protection, even with Spotify Premium. So, you require a third-party professional tool to download Spotify songs as common files without losing quality. And we can't think of any tool better than the AudKit SpotiLab Music Converter.
The AudKit SpotiLab Music Converter is an exquisitely designed but simple-to-use Spotify music downloader and converter. It lets you download Spotify songs, albums, playlists, radio, and other content onto your local device. And then it will convert those Spotify files to MP3, WAV, M4A, or other commonly used formats to be compatible with any device like Poweramp.
Two distinct versions of the converter are available: one for Windows and one for Mac. The correct version of the AudKit SpotiLab Music Converter is now available for users to download. Once activated, it allows you to convert and download Spotify music to MP3 at an incredibly high speed and with no compromise in audio quality.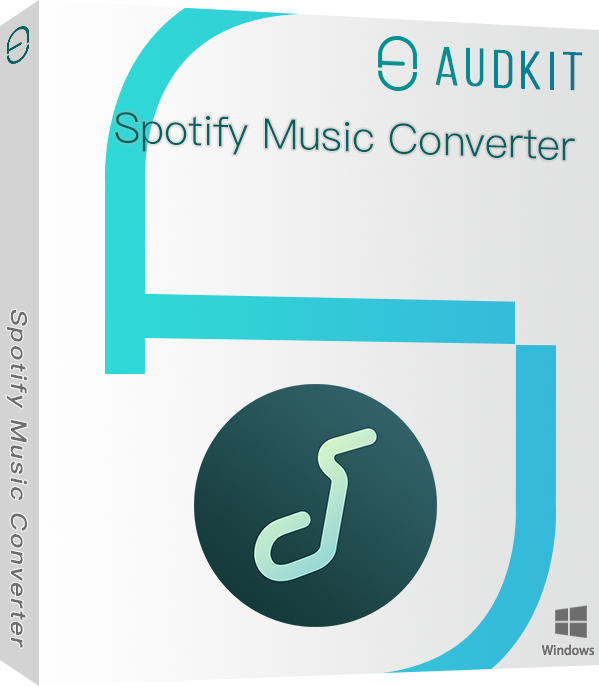 Convert music from Spotify to MP3 and other formats at a five times quicker pace
Download songs from Spotify to listen to on any device without connecting to Spotify
Allow you to keep 100% of the raw metadata and ID3 tags of Spotify songs
Easy to download music from Spotify on the local computer for Poweramp
To use AudKit SpotiLab Music Converter to download Spotify songs for use on Poweramp, follow these steps:
Step 1: Visit the official website of AudKit to download and install AudKit SpotiLab Music Converter on your computer and launch it.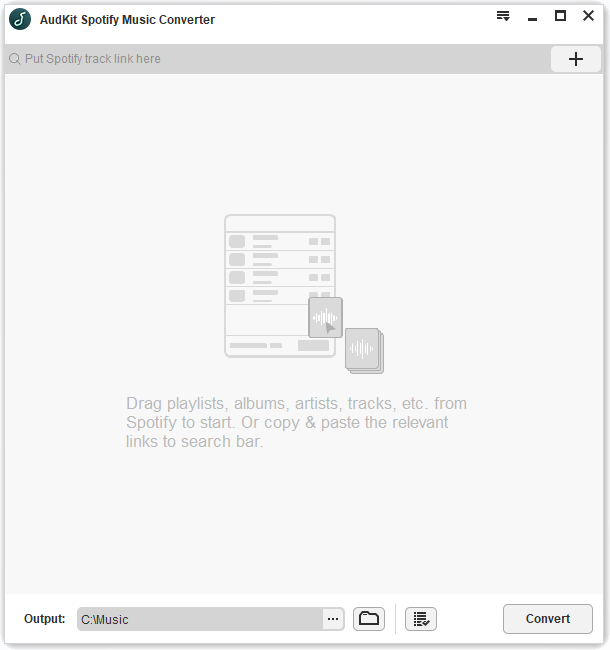 Step 2: Go to Spotify and navigate to the song or playlist you wish to download. After that, right-click on it, click on the Share button and copy the link by clicking on Copy Link. Now, paste the link into AudKit SptiLab Music Converter's URL tab and click on the + icon.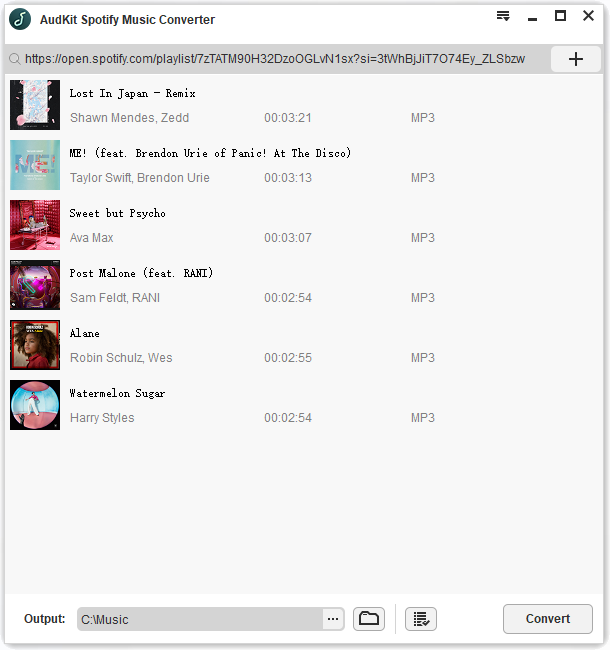 Step 3: Next click the Menu button and choose Preferences to customize the output settings of the Spotify songs. You can convert Spotify music to the right format for use on Poweramp.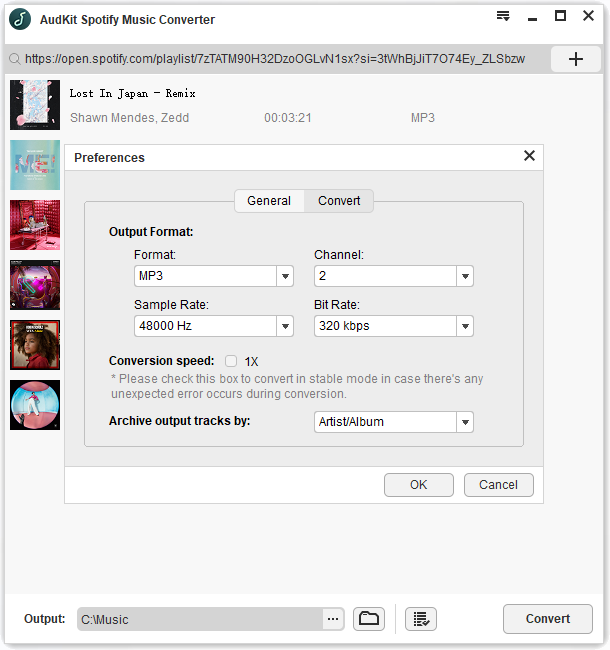 Step 4: Now, click on Convert to download the Spotify songs. Once it is done, you can head to History to check the downloaded Spotify files on your computer.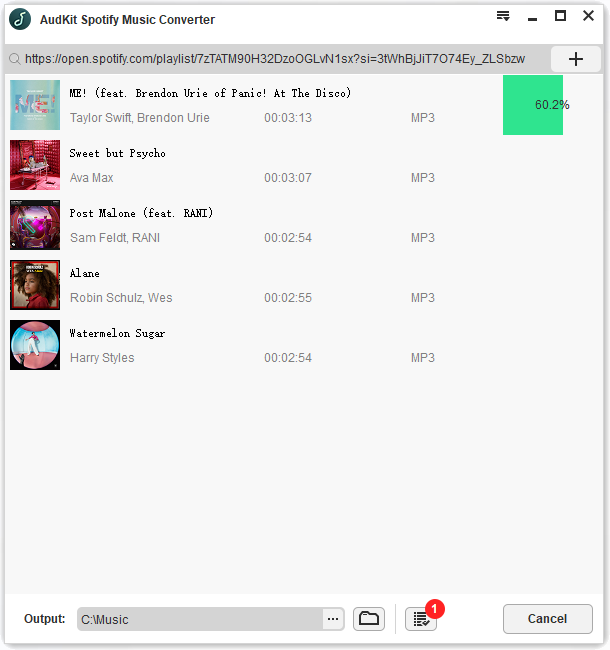 Now that you have converted Spotify music to MP3, it's to start playing Spotify songs through Poweramp, follow these steps:
Step 1: Connect the Android device to your PC via a USB cable. Go to the Spotify songs you just downloaded. And then transfer music from Spotify to Android phone.
Step 2: Launch Poweramp Music Player on your Android device. Go to the Menu and then hit Settings.
Step 3: Now, select Library, Import System Library Playlists, and then import the Spotify songs you just transferred. After that, you're all set to listen to Spotify songs on Poweramp.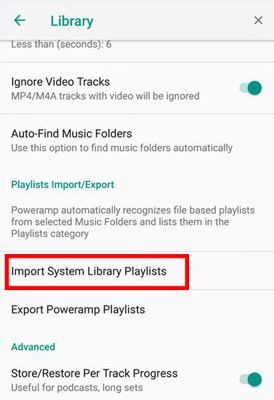 ---
Part 3. How to Use Poweramp Equalizer Spotify
Poweramp Equalizer is built on Poweramp, which is now one of the most widely used music players. Utilizing this application, you can fine-tune the audio output in several ways, including altering the bass and treble levels, selecting from several presets, and turning up the volume.
You can make the audio sound precisely as you want it to by using the Poweramp Equalizer Spotify, which offers a variety of different choices and functions that you can use. You can also change the default settings for the various genres of music on your smartphone and add color and animations to the rhythm of any song you are listening to on your device using this Poweramp Spotify plugin. Moreover, if you are wondering how can I use Poweramp to play Spotify, Poweramp Equalizer is your answer.
To understand how to play Spotify through Poweramp Equalizer Spotify, follow these steps:
Step 1: Launch Poweramp Equalizer on your Android smartphone, then go to the app's main interface.
Step 2: Now, access Settings by tapping the hamburger button at the screen's bottom. Tap the Equalizer icon under Settings, then toggle the Enable Audio Processing switch.
Step 3: After turning the Enable Audio Processing on the switch, choose Known Players and launch Spotify after the player on your device.
Step 4: Connect the Poweramp Equalizer to your Spotify account library, and then utilize your Spotify library in conjunction with Poweramp Equalizer to manage your playing.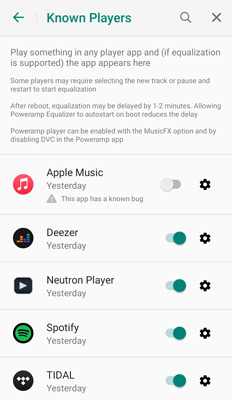 ---
Part 4. FAQs about Spotify Poweramp
Q1. What Files Can Poweramp Play?
Poweramp can support many file formats, such as MP3, MP4, M4A, OGG, FLAC, WAV, APE, WAV, AIFF, DSD, MKA, MPGA, FLV, and other formats.
Q2. Can I Use Poweramp to Play Spotify?
No, you cannot use Poweramp to play Spotify. Spotify comes with encryption, which prevents Poweramp from playing Spotify music. But, with AudKit SpotiLab Music Converter, you can convert the encrypted Spotify music to popular audio formats and enjoy it on Poweramp or any platform.
Q3. Can Poweramp Play Online?
Yes, Poweramp can play online music. In fact, it is amongst the top-rated online music players worldwide.
---
Part 5. Conclusion
Spotify being the top music streaming website, has millions of users. But the only drawback people find annoying is that they can't listen to Spotify music with music players such as Poweramp Music Player. However, after reading this article, we hope you know how to get Spotify Poweramp to work. Moreover, we recommend using AudKit SpotiLab Music Converter to get offline Spotify music.
---