Spotify music in FL Studio? Sounds too good to be true. But, it isn't. Fortunately, now you can route Spotify music to FL Studio without sacrificing fidelity or violating the terms of service.
For those who don't know, FL Studio is a sophisticated digital audio workstation (DAW) that enables music creation, recording, editing, and production in any format. In continuous development for over 25 years, FL Studio has become the "fastest" route from head to speaker for many of the world's leading DJs and music producers.
And not to mention, with over 100 million songs and audio available, Spotify has something for everyone, whether you want to listen to your beloved artists, uncover new genres, or create your own playlists. But how to get Spotify music into FL Studio? This article will explore the best way to do that.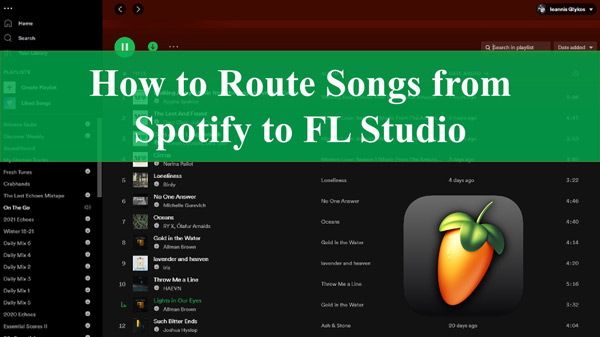 ---
Part 1. How to Get Spotify into FL Studio – AudKit Spotify Music Converter
If you're using FL Studio for music creation, hi-fi audio from Spotify is your ultimate need. Unfortunately though, you cannot directly use exclusive Spotify tracks in a DAW like FL Studio as the file format is not a FL Studio-supported one. As an alternative, a third-party audio converting tool can do the work for you.
Not sure where to find a reliable audio converter? We have you covered, AudKit Spotify Music Converter is your best bet!
Using AudKit Spotify Music Converter, you can easily import Spotify tracks into FL Studio and use them in your music videos. This professional tool converts Spotify music into MP3 format and WAV, M4A, and M4B, all of which are widely used audio formats. With an impressive conversion speed of 5X or even quicker, this efficient Spotify downloader allows you to load up to 100 tracks simultaneously and convert them in no time.
Not just that, The AudKit converter is equipped with cutting-edge converting technology allowing it to maintain 100% lossless audio quality from original music. Furthermore, it guarantees that all the original information of each Spotify music, including ID3 tags, is preserved in the converted files, for easy navigation of your local Spotify music collection.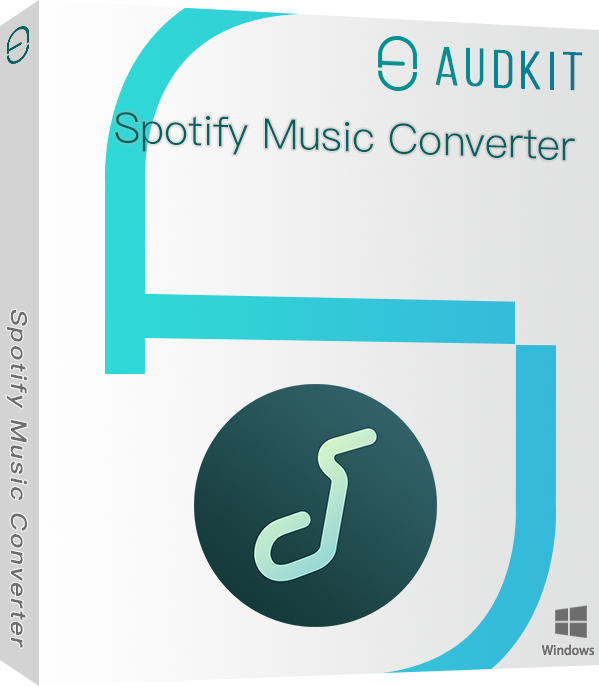 Export exclusive Spotify music as MP3, FLAC, WAV, AAC, and more
Preserve the original audio quality and track info of Spotify tracks
Swiftly convert Spotify tracks offline with 5X speed
Widely use Spotify songs on other devices without ads
To understand how to download songs for FL Studio Spotify, follow the steps below:
Step 1 Add your favourite Spotify songs to AudKit converter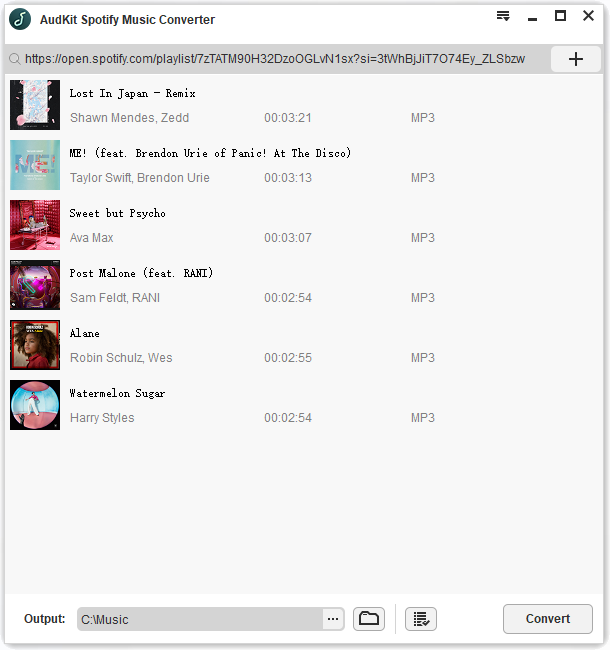 First and foremost, download and launch AudKit Spotify Music Converter on your device. On the Spotify app, browse and pick music, albums, or playlists you want to download. Right-click the selected music, tap "Share", and then "Copy Song Link". Then, on the AudKit text bar, paste the URL into the search field. To import it, click the "+" button.
Step 2 Customize Spotify audio output settings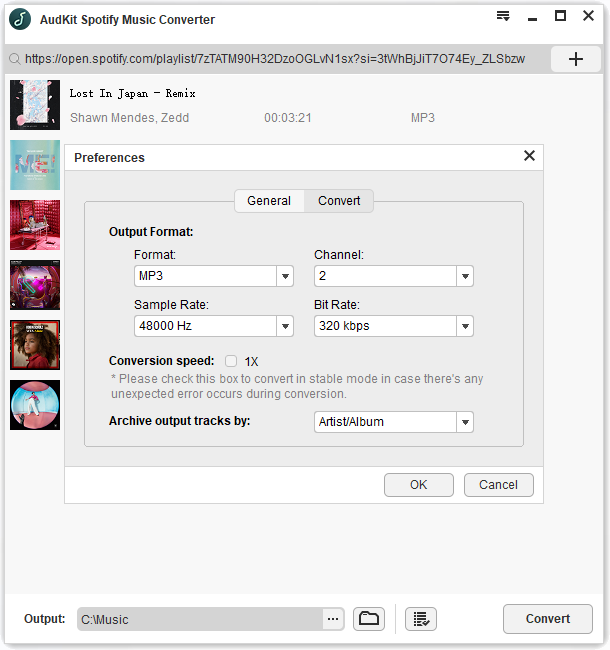 As the FL Studio supports audio like MP3 and WAV, you will need to change the audio formats then. Navigate to the main taskbar of the AudKit application and open "Menu" > "Preferences". In the "Convert" tab, select the format to convert Spotify to MP3 or WAV, and customize settings such as channel, codec, bit rate, sample rate, etc. Then click "OK".
Step 3 Get Spotify as MP3/WAV files for FL Studio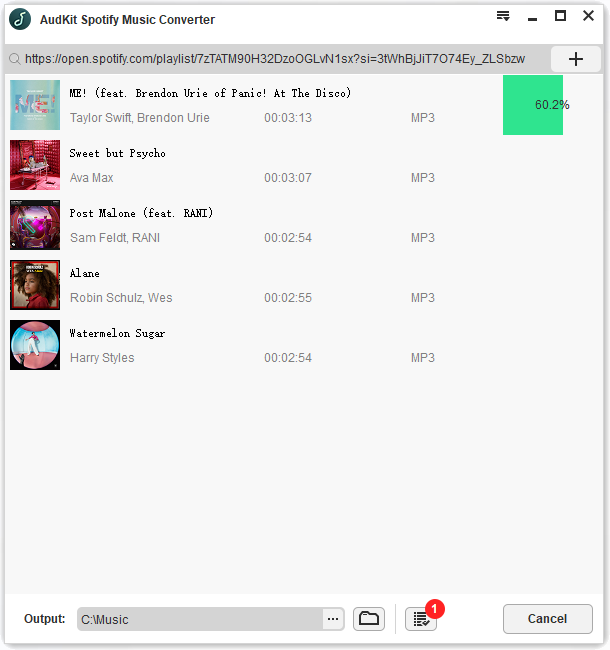 Once all the settings are done, click on the "Convert" button to begin converting the Spotify songs. When the process completes they will be automatically saved to the selected folder on your PC. Simply click on the "folder" icon on the AudKit converter to open the folder if you need.
---
Part 2. How to Import Songs into FL Studio from Spotify
FL Studio allows you to import songs, playlists, or recordings from your local folder. Using this versatile feature, routing the Spotify music and integrating it as a sample into FL Studio is easy than you expected.
Here are the steps on how to use Spotify songs on FL Studio:
Method 1.
The compositions can then be dragged and dropped into the FL Studio interface. Follow these steps.
Step 1. Launch the FL Studio app on your PC.
Step 2. Click the Playlist option under the View tab.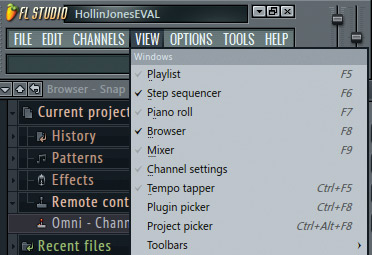 Step 3. Open the folder that is with the converted Spotify files, select one track, and then drag and drop it into a track.
Step 4. You will then be able to use it on the FL Studio to mix it.
Method 2.
Step 1. Run FL Studio on your devices and head to the Channel tab.
Step 2. Select Add one > Audio clip from the showing options.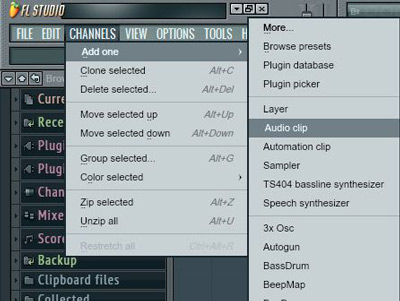 Step 3. In the Channel rack that appears, click the audio clip you added to open more choices.
Step 4. Tap the folder icon in the new window and select the Spotify files to import.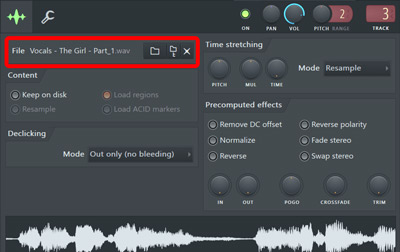 That's how to get Spotify songs into FL Studio.
---
Part 3. Wrapping Up
As seen above, you can easily import tracks from Spotify into FL Studio by following simple steps with the two methods. However, before doing that, you will need to concern about the FL Studio Spotify audio incompatibility. You need to convert music from Spotify to a format that is compatible with the DAW.
And the Spotify downloader, AudKit Spotify Music Converter is a more dependable and user-friendly option for this purpose. It lets you download Spotify music in MP3, WAV, FLAC, or any other popular format without sacrificing quality. Bit rate, sampling rate, and channel can all be modified at the output to suit your requirements better. So what are you waiting for? Download it today to create cinematic music videos with FL Studio.
---