Technology has completely revolutionized the music industry, changing how musicians and producers make and share their work. Professional digital audio workstations (DAWs) like Pro Tools have been the gold standard for recording and editing for quite some time. Its powerful recording, editing, and mixing features make it popular among musicians and producers. With its extensive features, musicians can polish every facet of their compositions.
However, some who want to get the sample would ask whether they can use music streaming services such as Spotify on Pro Tools. It is a difficult task as the songs from Spotify can be added to the workstation to route as both of them don't have a collaboration. Therefore, in this article, we'll explore the best way to play Spotify in Pro Tools so that you can listen to your music library without leaving the DAW and use the benefits of streaming services while you work.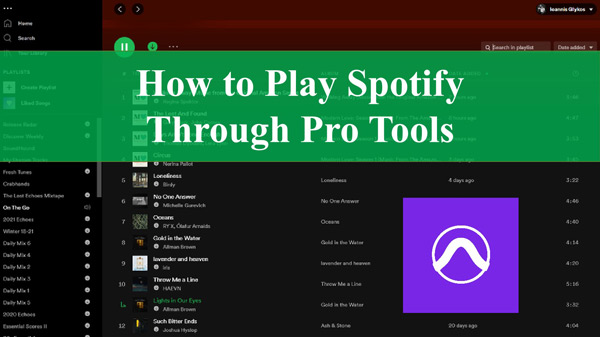 ---
Part 1. What Is Pro Tools?
Pro Tools is a music software that lets you record audio with up to 128 tracks, 60 virtual instruments, and hundreds of effects and sounds. Musicians, producers, engineers, and sound designers use Pro Tools to record, edit, mix, and master audio for music, podcasts, cinema, TV, and games.
All in all, Pro Tools is a digital audio workstation (DAW) that offers a professional and versatile environment for audio creation. It allows you to work non-linearly and non-destructively with audio and MIDI, giving you ultimate control over your sound. Many third-party plugins and hardware devices are also supported by Pro Tools, allowing you to broaden your sonic options and interface with other tools.
And to get Spotify successfully on Pro Tools, you will need to have a clear concept about its supported audio formats. The audio files you can add to Pro Tools are MP3, M4A, AAC, etc., thus converting Spotify to those formats helps the process.
---
Part 2. How to Download Music from Spotify for Pro Tools
Access to high-quality audio files is essential for crafting professional-grade songs as a music producer. While Spotify has a large music catalog, there is no direct ability to download tracks for offline usage or integration into DAWs such as Pro Tools.
This is where AudKit SpotiLab Music Converter comes in handy. As the name suggests, the AudKit app is a top-notch music converter that lets you download Spotify music and utilize it in your Pro Tools projects effortlessly.
It is notable for its flexibility, allowing users to convert Spotify audio into various popular formats such as MP3, FLAC, WAV, AAC, and more. Moreover, it features lightning-fast conversion speed, functioning up to 5 times. So, no more waiting for long hours to convert huge Spotify playlists.
What's more, AudKit Spotify Music Converter stands out from other music converters with its lossless audio export. Using its powerful converting technology, you can enjoy 100% original Spotify music quality while playing offline. Furthermore, the program keeps the original ID3 metadata, such as artist name, album title, track number, and so on, for easy navigation of the downloaded songs.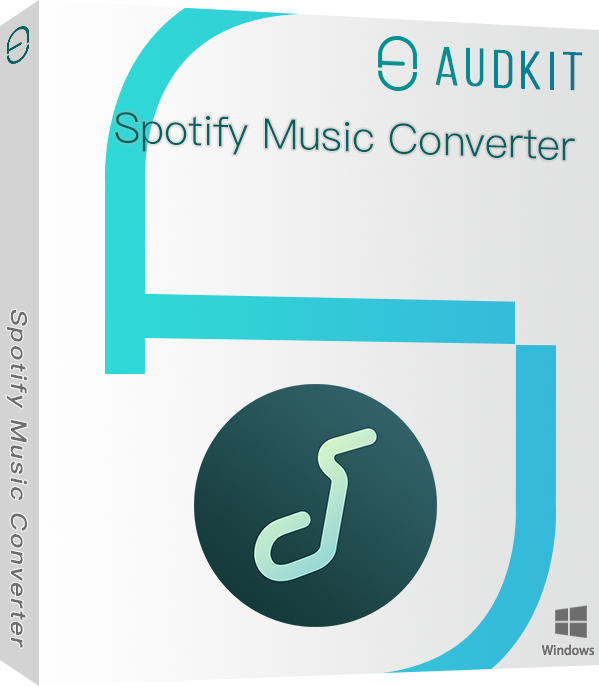 Convert Spotify music to MP3, FLAC, WAV, AAC, and more
Preserve the original audio fidelity and ID3 tags during conversion
Quickly convert entire playlists or albums from Spotify with 5X speed
Play Spotify through Pro Tools without premium and any issue
Follow this quick step-by-step tutorial on how to download music from Spotify for Pro Tools using AudKit Spotify Music Converter.
Step 1 Copy Spotify URLs into AudKit SpotiLab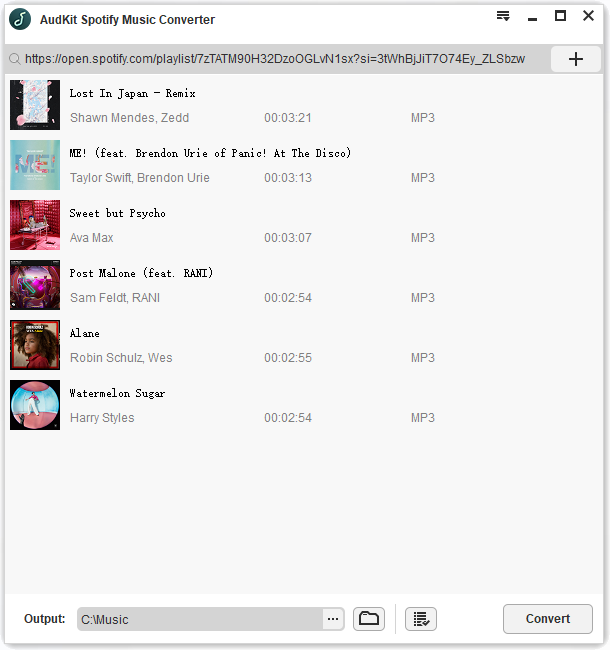 Download the AudKit SpotiLab Music Converter from its official website. Launch it on your PC to get started. Next, head to your Spotify music library and search for your favorite tracks. Then, right-click on the chosen music and tap Share > Copy Song Link. Once the URL is copied, paste it into the AudKit interface's search bar. To import the file, click the "+" button.
Step 2 Personalize the audio settings for Spotify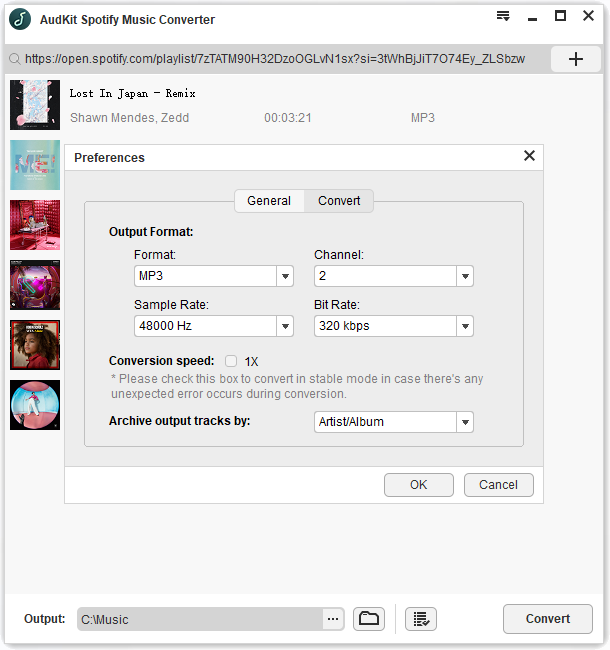 Now, on the main taskbar of the AudKit converter, choose the Menu icon > Preferences. In the Convert tab, change the output format to MP3, AAC, M4A, M4B, FLAC, or WAV. Simultaneously, customize other output settings such as channels, sample rate, bit rate, etc. Click "OK" to save the settings.
Step 3 Download music from Spotify for Pro Tools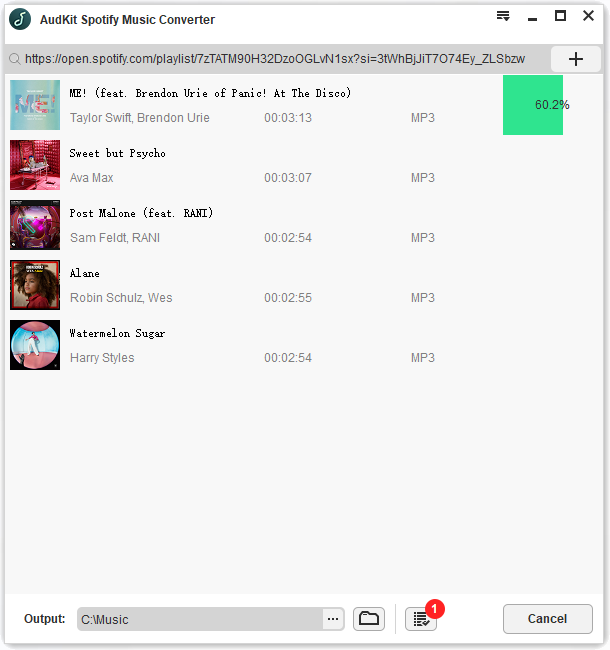 After that, tap the "Convert" button located in the lower-right corner to start the conversion process. It will download Spotify music to your computer as local files so that you can use them on different platforms. When the conversion is finished, track the location by tapping the "folder" icon.
---
Part 3. How to Import Spotify Music to Pro Tools
Transferring Spotify music to Pro Tools is not a complicated process. Once you have converted and downloaded Spotify music as MP3, you can learn how to route Spotify through Pro Tools in two easy ways.
Follow these steps to import music from Spotify into Pro Tools by using the Import Audio command feature.
Step 1. Launch the Pro Tools program on your PC to get started.
Step 2. Choose "File" from the menu.
Step 3. Then navigate to "Import", and click on "Audio".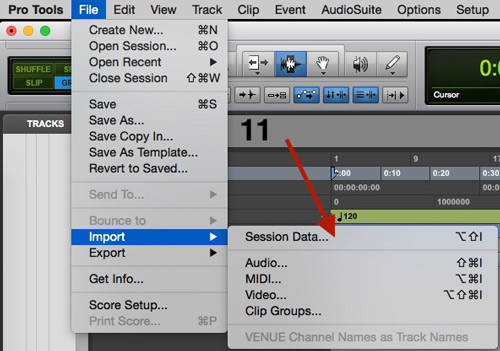 Step 4. In the Import Audio window, select the downloaded Spotify music. Then press the "play" button to preview the selected song.
Step 5. Click on "Add" to add the selected and previewed song to the Import list.
Step 6. After adding all your favorite songs to the import list, click the "Done" button.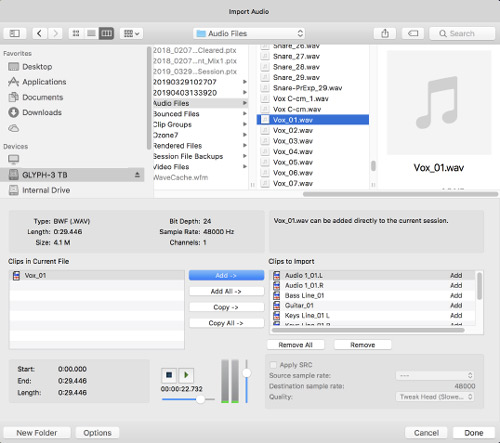 Alternatively, you can patch Spotify into Pro Tools using the drag function. Here's how to do it:
Step 1. After launching Pro tools, open the folder, browse your Spotify downloaded playlist, and choose the tracks you want to import.
Step 2. Then, drag the selected audio tracks and drop them onto the Pro Tool's clip list, existing songs list, or anywhere on the interface.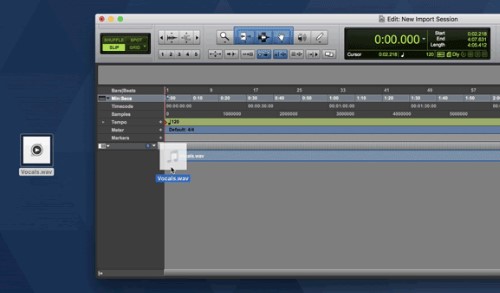 ---
Part 4. Final Words
In conclusion, Spotify and Pro Tools are a mesmerizing combination for music enthusiasts. Using hi-fi exclusive Spotify music with versatile digital audio workstations like Pro tools means new music adventures. And fortunately, with AudKit SpotiLab Music Converter, playing Spotify in Pro Tools is easier than ever. Whether you are a professional or a newbie, AudKit's creative suite of converting features lets you enjoy Spotify music offline seamlessly.
---