If anything to go by then Tidal is superior for high fidelity sound and original content. More so, it presents millions of tracks, suitable for any occasion. Whether you want an ambiance atmospheric chilling music, hits for that jogging session, or an outdoor party moment, then, Tidal's HiFi playlist is just a click away. However, being that the number of Hi-Res songs on Tidal is on the rise, you need a quick guideline on the best Tidal HiFi songs to settle for. We have selected the best 20 tracks for a quick reach.
It doesn't end there! You can also save your Tidal songs to the computer for playing offline. This article also covers how to use the best tool to enable offline access of your download Tidal songs. But first, let's peruse the top HiFi songs to settle for on Tidal.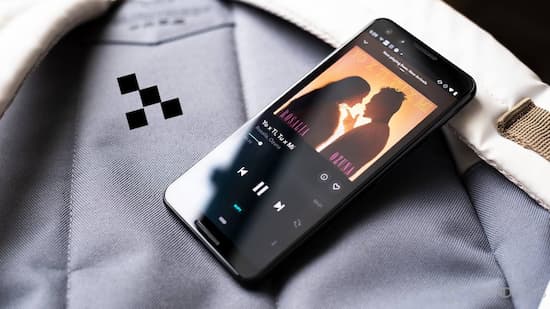 ---
Part 1. Top 20 Best HiFi Songs on Tidal
It isn't an easy task to pinpoint the best HiFi songs on Tidal. This list comes in handy!
1. Find A Way – H.E.R, Lil Baby
This track is not likely to miss in any Tidal HiFi playlist. H.E.R brings across the importance of staying on the path and being committed to everything you do.
2. Family Ties – Baby Keem, Kendrick Lamar
Family ties it all together is Baby Keem and Lamar's message. These cousins complement each other, especially, with the huge age difference. Theirs is a message of two generations able to set a common ground.
3. Orphee – Johann Johannsson
This Tidal HiFi playlist is based on a series of musical ideas from 2009. Right from the start, Johann begins by segregating the instruments and phrases which make the listener quickly relate the passage. Listen to this hit for a happy and rigorous feeling.
4. The Montreux Years – Nina Simone
This song spans Nina's collection of recordings from five legendary Montreux Jazz Festival concerts. The audio quality is superb and will keep you locked for long.
5. Entertainment – Gang of Four
This album is a real entertainer. Get to hear a collection of influences and sounds ranging from funk vibe, rock aesthetic, and punk genre. It is worth giving a try!
6. Cello Song – Nick Drake
This song comes with a powerful message and complimenting instrumental hits in the background. Nick has a personal message that he expresses in Cello Song. He is waiting for the unknown to happen and hoping someone can help him out. His world seems different from the one he enjoyed as a child and perhaps, things will change for the better at the right time.
7. Fool's Errand – Fleet Foxes
Fleet Foxes brings an atmosphere of disappointment which is rather imbued with an uplifting melody. It is an acknowledgment that no frustration lasts forever but will fade away with time.
8. You've Got To Have Freedom – Pharoah Sanders
This track is simply refreshing and beautiful. You'll meditate along the way, trying to find treasures of ideas. You wouldn't even know when the last beat hits. So entertaining!
9. Speaking Gently – Badbadnotgood
Badbadnotgood takes us back to the source of hip-hop while retaining today's modern sound. Even though this track has some heavy percussion, you realize dynamic flute patterns in the background for a balanced piece.
10. Losing Sleep– Dylan Fraser
This is Dylan's latest single revolving around lingering feelings. Get a mix of percussive guitar and synth tones, complimented with scattered drums.
11. Lose Your Love – Joe Goddard
Joe's message is clear – no losing ground. This best Tidal HiFi song will motivate you while keeping you entertained from start to finish.
12. Don't Start Now – Dua Lipa
This song, according to Dua, is about transitioning from one chapter of her life into another. It's a motivational song indicating nothing can stop you from your goals, not even your ex.
13. RockStar – DaBaby, Roddy Ricch
They are indeed rockstars. This single shot to number 9 spot on the Billboard Hot 100 just a few months after being released in 2020. DaBaby and Roddy complement each other and will keep you on toes with this hot hit.
14. Rain On Me – Lady Gaga, Ariana Grande
Theirs is about concurring heartbreaks. This Tidal HiFi music by Gaga and Ariana is an empowering piece about persevering through hardships and finding peace in pain and heartbreak.
15. Life Is Good – Future, Drake
This is another hit worth listening to. Life doesn't have to revolve around luxury brands and high praise from the world. Future and Drake put it across pretty well. The pop beats will make you shake along with the lyrics.
16. I Can't Breathe – H.E.R
This track was inspired by the recent spate of police killings of an unarmed black citizen. H.E.R brings a somber acoustic tune in solidarity to the protesters against police brutality. Quite a consoling piece.
17. Yummy – Justin Bieber
Justin keeps you locked with this fascinating R&B hit. The lyric is simple and you'll definitely keep track of the lines.
18. Adore You – Harry Styles
If pop is your thing then stick to Harry's Adore You. It's all about love and more or less a crush. This song will elevate your moods to that wanted love atmosphere.
19. Tears Run Dry – Malia, Boris Blank
The heart of electronic and electronic is what you get in this track. Sad, but fascinating altogether.
20. My Soul Remembers – Sophie Zelmani
Last but not least is this soul-soothing piece from Sophie. It doesn't always have to end in tears. You can still be remembered and loved even after a long time of separation.
---
Part 2. How to Save Tidal HiFi Songs to the Computer
Remember that when your Tidal Premium expires, you end up losing your downloaded Tidal playlist. To curb this, you need to engage a third-party tool to download and convert your songs for offline playback. AudKit Tidizer Music Converter works well to convert your music to common output formats like FLAC, MP3, WAV, etc.
More so, it will work at a quick speed of X5 rate to complete your files in batches within a short duration. You also get 100% lossless quality of the original Tidal music as well as keep the ID3 tags and other information like channel, bit rate, and sample rate.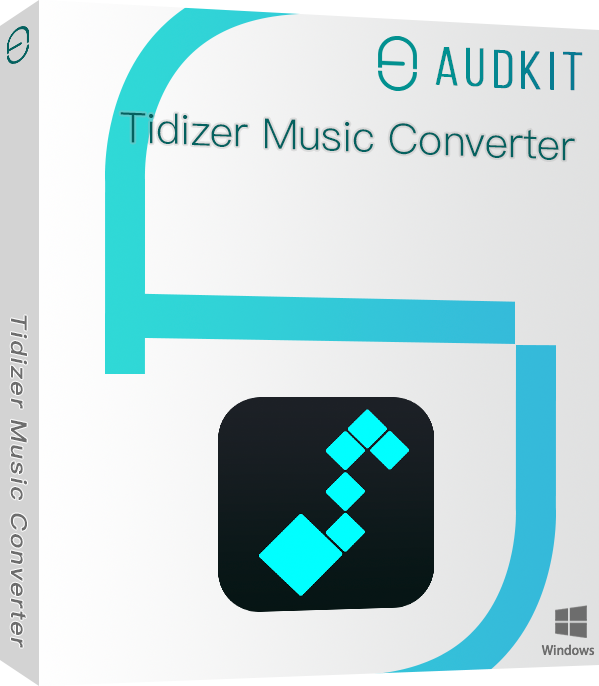 Convert Tidal songs to MP3 and play on multiple devices
Supports various common output formats like FLAC, AAC, etc.
Allow users to reset the output attributes like sample rate, bitrate, etc.
Retains original ID3 tags and lossless sound quality for future reference
A Step-by-step Guide to Use AudKit to Download Tidal HIFI Playlists
Step 1 Reset the output profile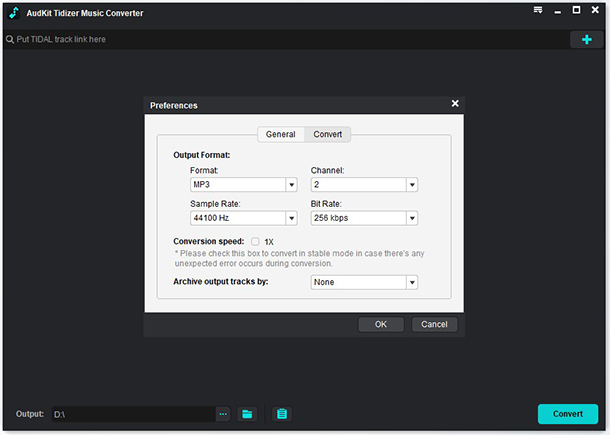 After activation, click on the "Preferences" tab and go to the "Conversion" option. Next, customize the output format and other parameters like sample rate, bit rate, and channel.
Step 2 Import Tidal tracks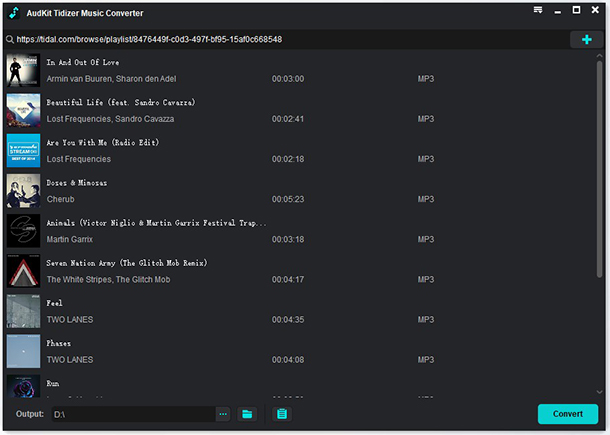 Launch the "Tidal playlist" from the built-in Tidal app and check on the "Add Music" button. Once it glitters, click on it to select a playlist to add to the Converter for conversion.
Step 3 Download and convert Tidal playlist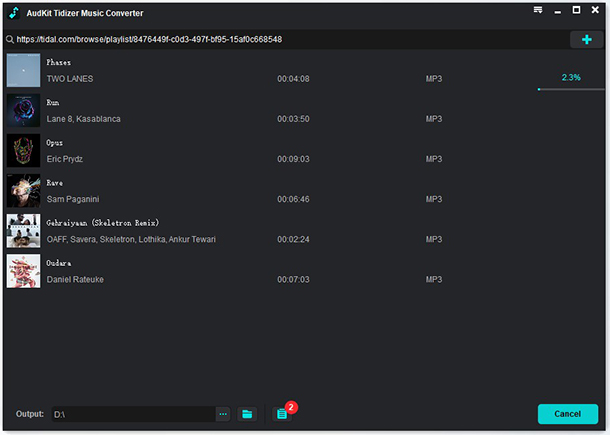 Confirm the settings and then click on the "Convert" tab for the files to be converted to a common output format. You can continue to add more songs to the converter as the conversion process continues. You'll then notice a red tip showing once all the songs have been converted. Open the "Converted" icon to see the list of converted Tidal songs. You can then access the local output folder via the "Search" icon next to the track in the list. Finally, save them to the computer for access for offline listening.
---
Part 3. Conclusion
You just discovered some hot hits on Tidal HiFi. Likewise, there is no need to be glued to listening to your fav-hits online. You can use AudKit Tidizer Converter to download and save your download tracks to the computer. The simple steps just demonstrated how to save Tidal HiFi songs to computer for offline playback.
---