Does Tidal have podcasts? Of course, in addition to high-fidelity music, Tidal has mind-blowing podcasts that capture the attention of its users. Tidal curates a number of extensive podcast series that focuses on intimate stories. These range from priceless moments of discovering artists to behind-the-scenes looks at the creative process and music culture.
Therefore, this article will present two effective ways to get Tidal podcasts for playback whenever you don't have internet access. Plus, here are the top 10 best podcasts on Tidal for you to choose from. Needless to say, keep reading to find out more about Tidal podcast.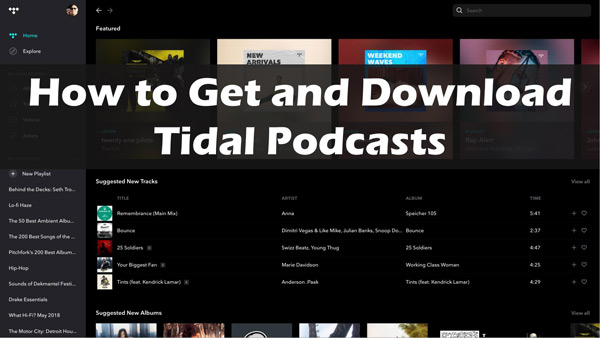 ---
Part 1. How to Get Podcast on Tidal Officially
Tidal is a subscription-based music streaming platform. Once you subscribe to Tidal HiFi or HiFi Plus, then you can enjoy a better music experience and get downloads of Tidal podcasts, playlists and tracks for offline listening.
Step 1. Launch the Tidal app on your computer or phone.
Step 2. Enter the name of the podcast you want to download in the search field on the home page, then browse and find the target Tidal podcast.
Step 3. Slide the Download button and the podcast on Tidal will be added to the download queue and stored on your device.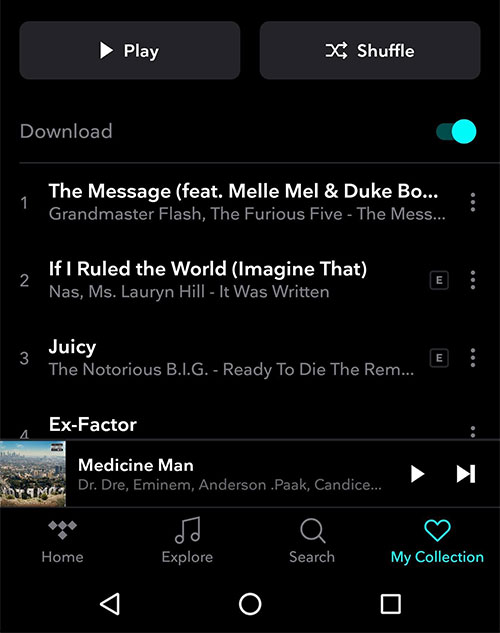 ---
Part 2. How to Download Tidal Podcasts without Subscription
As you probably know, Tidal free users are not entitled to download Tidal podcasts. For this reason, you need to resort to a third-party tool, such as the professional AudKit Tidal Music Converter. This tool makes it easy for you to get Tidal podcasts, albums, playlists, tracks, etc. on your computer locally. Without a Tidal subscription, it allows all Tidal users to download as many podcasts from Tidal as they like.
In addition, it can effectively convert Tidal podcasts to MP3, WAV, FLAC, etc. This way, you can listen to podcasts on Tidal offline on your favorite device whenever and wherever you like. You can also change the audio output settings of Tidal podcast to suit your needs. For example, you can change the sample rate, sample rate, audio channel, etc. to enhance the quality of podcast from Tidal.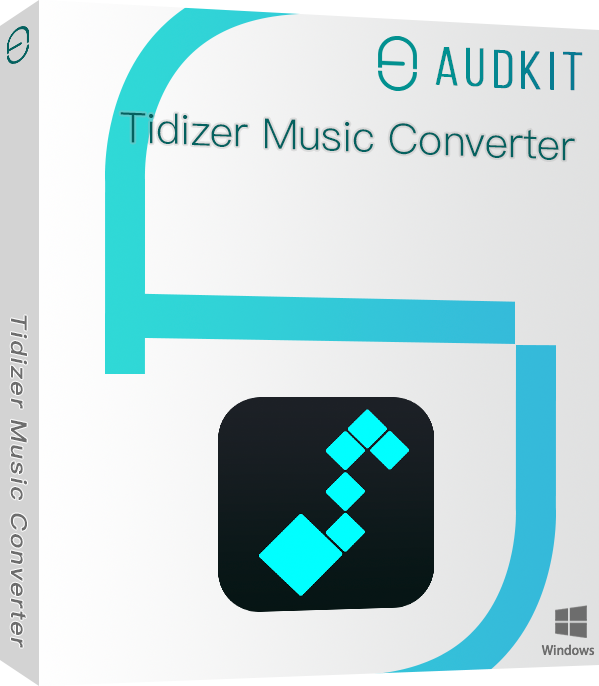 Main Features of AudKit Tidizer Music Converter
Easily download Tidal podcasts, songs, albums, playlists, etc.
Convert podcast on Tidal to MP3, AAC, WAV, FLAC and more
Get Tidal podcast on your computer locally at 5X faster speed
Retain all ID3 tags and lossless sound quality of Tidal podcast
How to Download and Convert Tidal Podcasts Locally
Step 1 Add a podcast from Tidal to the AudKit Tidal Music Converter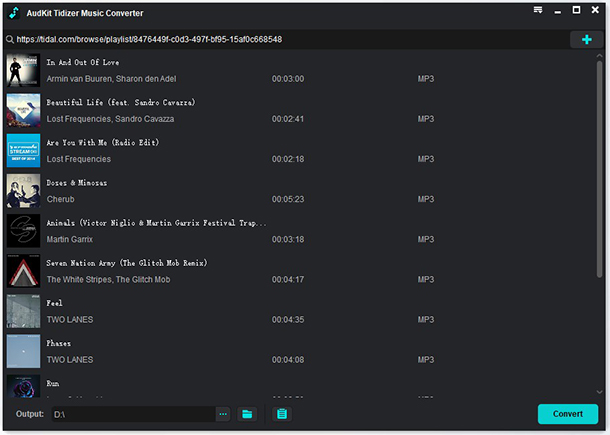 Open the AudKit Tidal Music Converter and the Tidal app will launch. Select your favorite Tidal podcast, copy and paste its link into the search box at the top, then press the Add icon nearby.
Step 2 Change output settings for Tidal podcasts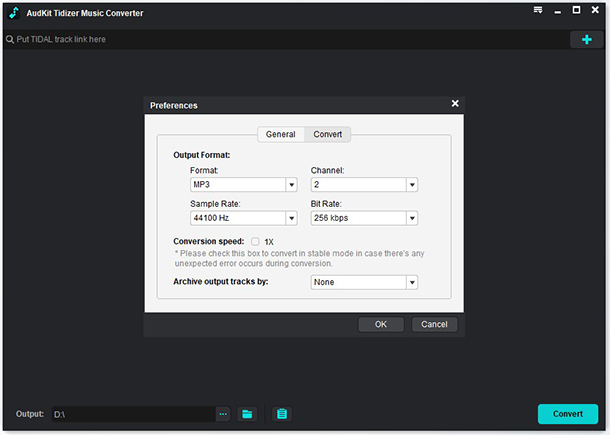 Access the Preferences by clicking the "Menu" button. When the new window appears, select "Convert" to begin customizing the Tidal podcast's output format for free use. Change the sample rate, channel and bit rate to your liking to improve podcast downloading from Tidal.
Step 3 Download Tidal podcasts locally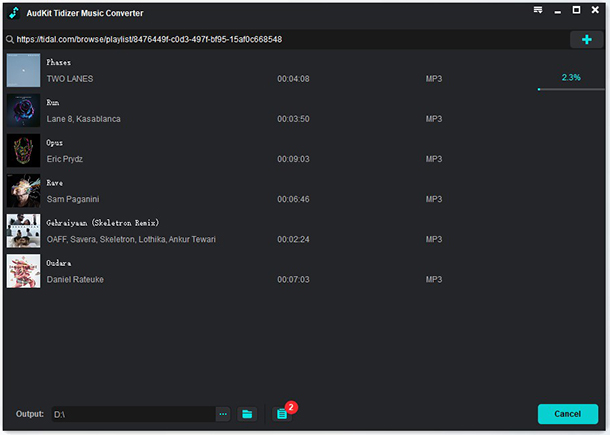 Once you have selected your desired output format and saved the settings, you can convert your favorite podcast on Tidal. Just click the "Convert" button, and podcasts from Tidal will be converted to your computer locally at 5X faster speed.
---
Part 3. Top 10 Best Podcasts on Tidal
1. A Mystery Hour with James O'Brien
It ranges from simplistic to cerebral yet never fails to provide a good time. James O'Brien recruits LBS listeners to find the solutions to the mysteries you've long pondered. Enjoyable guests, insightful discussions and useful information are the hallmarks of this program. We're confident in saying it's one of the finest podcasts available for download on Tidal.
2. The Podcast of the Tidal League
If you are interested in current affairs, listen to Kurt and Trish's podcast on Tidal. This podcast is a forum for hosts to discuss current events in sports, show business and politics. Through this in-depth discussion, fans are given the opportunity to get to know their favorite players and hear about the issues close to their hearts.
3. Discussions on the River Thames
The podcast series Discussions on the River Thames explores London's most famous river in depth. Hosted by Chloe Russell, the podcasts discuss the people and places of the Thames Estuary in a casual, informative and conversational style. If you're curious about the history, ecology, urban planning and wildlife of the Thames, these podcasts are for you.
4. Year of the Tide
Have you ever listened to a podcast where you can hear stories and learn about the outdoors at the same time? If so, you'll enjoy Year of the Tide. Freya Bromley, a writer and freestyle swimmer, hosts. She is genuinely interested in the personal histories that motivate our swimming. The pleasures of swimming are the focus of this series. Each week, she is joined by a different person to talk about their experiences with the water.
5. Tavia and the Diva's Cave
In her podcast series Tavia and the Diva's Cave, Tavia opens up about her thoughts on love, life and finding fulfillment. Entrepreneurship, sisterhood, purpose, relationships, parenting, music and spirituality are some of the topics she and her guests discuss in this podcast. This podcast is an excellent educational and entertaining resource, you should give it a listen.
6. The Podcast of Radio Noise
This podcast series, titled "Static Radio" is all about the bizarre and hilarious things that have happened to two Americans in their daily lives. You may learn a lot about them and their interesting lives just by listening to this podcast.
7. Crowds, Please Arrive
If you're keen on NFL discussion and want to give football betting a try, then this podcast is for you. This podcast covers all things NFL, from the weekly news to the best bets. These three buddies discuss the latest football news and the biggest scandals in the league.
8. This Is The Successful Podcast
Luijy and his associates have put their heads together to produce the Winning Podcast. This podcast is a weekly update to their fans in which they discuss their thoughts, experiences, and antics.
9. The Balance Is Tipped
Offline listeners can tune into Shea Dawson and Tyneeha Rivers' podcast, "Tipping the scales". They share their stories, thoughts and insights in this podcast. Imagine a program that tracks women's progress and culture in all walks of life. Listen to this podcast if you're a woman in need of inspiration.
10. It's time for another episode of the Project Chatter Podcast!
This podcast is a weekly dialogue in which industry leaders in project management from across the world are interviewed, and current trends in project management are discussed. If you are a South African ranting about project technology in Australia, or a project manager looking to improve your skills, this podcast is for you. Specialists, project managers and industry experts share their insights and knowledge in this audio series.
---
Part 4. Conclusion
In short, here are two effective ways to save Tidal podcasts for offline listening at any time. With the best Tidal to MP3 converter, AudKit Tidal Music Converter, you can download Tidal podcasts, songs, albums and more without a subscription. What are you waiting for? Try to play your favorite podcasts on Tidal to your heart's content.
---